Ad Disclosure
Cristiano Ronaldo Next Club Odds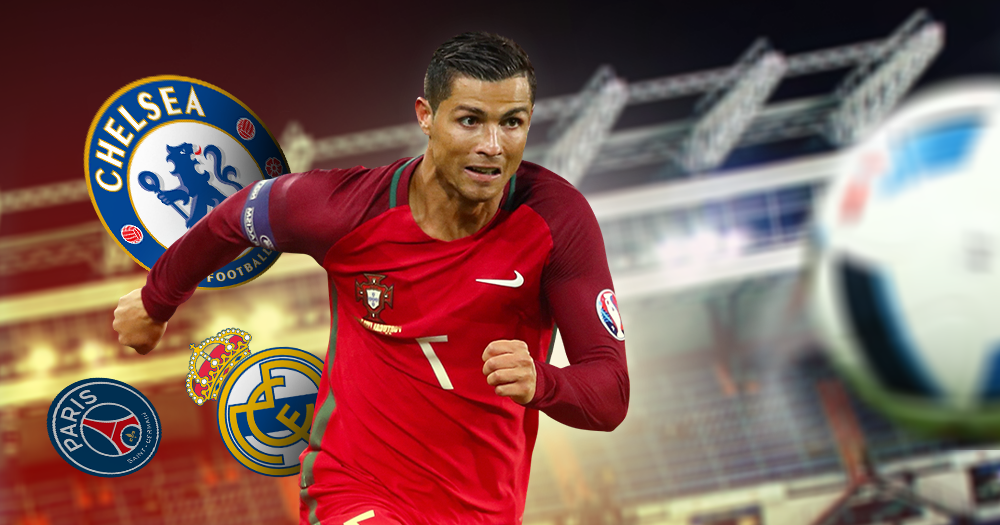 Joel Kelly
Updated:
Cristiano Ronaldo shocked the world before the 2022 World Cup, giving an interview lambasting his club Manchester United leading to the termination of his contract. Ronaldo next club odds have been heating up ever since, so we gathered the most popular Ronaldo transfer odds for you to enjoy below!
Despite his transfer to Saudi Arabia, anything could happen in the future, especially as not many players have spent long stints in an Arab country before. Ronaldo could be tempted by a move back to top-level football to secure his international spot with Portugal and his legacy.
Cristiano Ronaldo Updated Next Club Odds
Odds updated February 2023. Click on the link where the odds are written to go and create an account and place your bet now! You'll also get a chance to enjoy their new customer betting offers.
No odds available currently, we will update this space immediately as they become available.
Ronaldo Transfer - Who are the favourites according to the odds
Players like Cristiano Ronaldo don't move clubs that often, which is why Ronaldo transfer odds at UK bookmakers are extremely popular - but who are the frontrunners for the Portuguese superstar's signature?
Judging by his return to previous club Manchester United just a couple of seasons back, you can say that Ronaldo values his roots quite a bit. This is why the bookies are expecting a return to his boyhood Sporting Lisbon highly, and the Portuguese have shown previously that they would be interested if Ronaldo leaves Saudi Arabia.
Despite the money available in the Middle East, CR7 has always had a burning desire to play at the very pinnacle of the game, which is why similarly former employers Real Madrid seem like the only logical choice from a footballing standpoint. However, Ronaldo's age could be an issue for a return to the Bernabeu.
One likely option is Premier League hotshots Newcastle, who are also under Saudi ownership. If The Magpies end up finishing in the top 4, Ronaldo could be tempted for one last shot at the Champions League next season.
popular betting odds on CR7's next club
The favourites to be the next club of Cristiano Ronaldo according to the betting odds are:
PSG - A link-up with eternal rival Lionel Messi would certainly be a fairytale ending to Ronaldo's career, while PSG are also amongst the favourites to win the UCL this season
Real Madrid - The Galacticos will always hold a special place in Ronaldo's heart, and he will happily return to the Bernabeu if given the chance to do so
Manchester City - If Cristiano's relationship with Manchester United has turned truelly vengeful, a move across town to City wouldn't require relocation, provides a great chance for trophies and would really ruffle the feathers of the Reds hierarchy he has criticized.

However, being understudy to a rising star like Erling Haaland won't be appealing to a man used to being top dog wherever he goes. Ronaldo was close to joining City last summer though, although the Blues deny this.
Bayern Munich - After the departure of Robert Lewandowski, the Bavarians wouldn't say no to guaranteed goals. CR7 has tried his hand at all the top leagues in Europe except for the Bundesliga (+ Ligue 1), and with the club's stature they are certainly an attractive proposition
Any MLS club - The MLS has been the destination for many a "soccer" superstar towards the end of their career, and Ronaldo could well follow this trend
Chelsea - The Blue side of London might not be particularly appealing for Cristiano, but with new owner Todd Boehly looking to make an impact, expect the Blues to go hard for the calibre of player like this
Newcastle - Since the Saudi takeover on the Toon, Newcastle fans have been waiting with their tongs wagging for a true superstar signing. Manager Eddie Howe has so far made do with pretty low-profile names, but with a spot in top 4 currently in their grasp, they may just break the bank for Ronaldo to secure Champions League football next season.