Ad Disclosure
Next Manager To Be Sacked Odds (Premier League)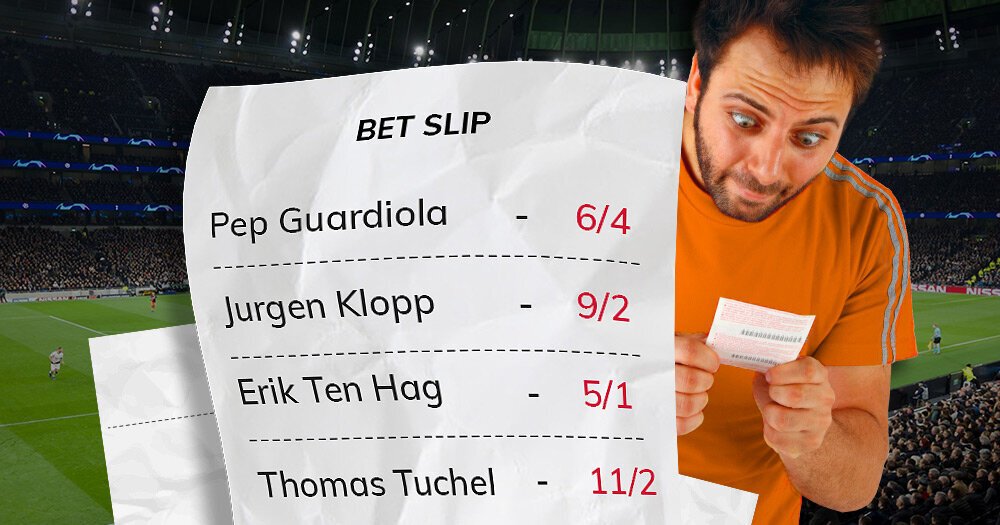 Joel Kelly
Updated:
Next manager odds for Premier League teams in the 2022/23 season are available at many of the biggest bookies, and Premier League sack odds are more popular than ever. Enjoy our list of all betting sites with next manager to be sacked odds below.
On this page we cover the current odds for the next Premier League manager to be sacked, and even some next manager odds for teams like Everton who are currently without a boss, Manchester United, Liverpool and Chelsea. Bojoko also helps you with some general tips on sack odds in the Premier League.
Next manager odds - Quick links
Premier League sack odds for all teams
Below you can find the Premier League manager sack odds for all teams. Like you probably already know, these odds are for the manager in question to be the next one losing their job, or essentially getting sacked.
We have chosen Bet365 as the bookmaker who our odds are from, since after researching the topic they have shown to top the market on almost every single manager in the Premier League at the moment.
Market tops can of course be found at many other sites, which is why we also have a list of all betting sites with Premier League sack odds below. But without further ado, the Premier League sack odds for all teams in the 2022/23 season!
Odds on this page updated 30.5.2023. Odds from Bet365 - enjoy their fantastic bet 10 get 30 welcome offer by clicking the green button below!
No odds available currently...
Enjoy next manager odds at Bet365 »
All betting sites with PL sack odds
Below you can find listed all the betting sites that provide players with odds on the next manager to be sacked in the Premier League. PL sack odds can be found almost always at these Premier League betting sites, and don't forget all the tasty bet sign up offers you can get from them all as well!
Next manager odds - The gaffers under pressure
When a manager comes under pressure, Bojoko's football betting experts are always aware. Of course, most of the time it's pretty obvious when a Premier League manager is under a lot of stress since the results are there for everyone to see, but there are plenty of other aspects to take into account as well - things that the bookies often reflect in their odds.
However, this might not always be the case, and sometimes even staggeringly high odds can be found at a certain betting site when everybody knows about rumours who's going to take charge of a PL team next.
Next Tottenham Manager Odds
Antonio Conte's fiery tenure as Tottenham Hotspur manager finally came to an end on the last Sunday of March. Things had been looking rocky for a while, and now Cristian Stellini has taken charge.
However, his start hasn't been much better, and there are already plenty of odds on how will be the Spurs manager at the start of the 23/24 season.
Bet365 are currently the ones offering the best odds on the next Tottenham manager for the first game of the season, and as a new player you can get £30 in free bets for just a £10 deposit and first bet!
Vincent Kompany - 6/1
Mauricio Pochettino - 14/1
Julian Nagelsmann - 4/1
William Still - 10/1
Luis Enrique - 4/1
Arne Slot - 6/1
Graham Potter - 14/1
Bet on the next Spurs manager at Bet365 »
Manchester United next manager odds
Manchester United is one of the most followed clubs across the world, which of course brings with it massive pressure for their manager. ManU's next manager odds are therefore always of interest to the betting public.
However, Erik Ten Hag is currently still keeping his doubters at bay, as there are no odds available for his successor online. This may change whenever, so keep your eyes open on this page if United's results start struggling!
Liverpool next manager odds
Liverpool's start to the season wasn't exactly what Jurgen Klopp was hoping for with a title challenge against reigning champions Manchester City in mind. This has led to some rumours about his departure, and with over half a decade at the helm the German might be growing tired of the Liverpudlian rain by now.
The candidates for Klopp's successor are comprised of former Liverpool legends and management heavyweights of recent years, but there are currently no odds available online for the next Liverpool manager.
Sack odds / next manager betting tips
Here we have listed some common betting tips that will help you with your next manager bets.
Follow the news - This may seem like a silly betting tip, but when it comes to next manager odds, reliable rumours are everything. If rumours are circling and a team's form is bad, there's usually a reason for it
Follow players & managers social media - Many people don't think about this, but valuable information can actually be found concerning players' and managers' transfers from social media. Seeing who people have followed or unfollowed can often mean something, and when you find these links between managers and teams they can be crucial - act fast!
Find the highest odds - Premier League sack odds and next manager odds have extremely high variance among the bookies, which is why proper research is always necessary when placing your bets. Odds also fluctuate very fast, but not always at different bookies - take the time to find the best odds for your bet!
Know the people making the decisions - Some owners are more patient than others, and the most famous cut-throats like Roman Abramovich gained a real reputation of pulling the trigger on their struggling manager at the first sign of trouble. Study the history of the club's owners in this regard, and you'll be rewarded.
Study the manager's personality - If you have a manager in mind, see if they are a more confrontational personality or yes man. Confrontational people like Jose Mourinho and Antonio Conte would rather walk away from a team on their own terms if their needs are not fulfilled by the owners.
New bookies with sack odds
One tip for betting on the next Premier League manager to be sacked we didn't mention above is finding new bookies with sack odds. Newer bookmakers can often have awesome welcome offers to enjoy.
These deals give you great opportunities to enjoy sack odds for free, and you can find all of them the fastest by checking out our new sports betting sites -page every now and again!