Ad Disclosure
eCheck casino [Canada]
eCheck is an electronic check which can be used to transfer money to online casinos. From Bojoko you can find all casinos accepting eCheck using our unique search tool!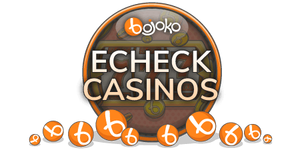 Find the best electronic check casinos - January 2021
Our list will provide you all Canadian casinos that accept eCheck as a payment method. Use the quick filters as a shortcut or create your own custom filtering that matches your exact preferences.
Bojoko: A better way to find an eCheck casino
Electronic checks have become really popular in Canada and eChecks have also landed on gambling sites in recent years. Finding the right place to play where you can use eCheck as a payment method is not always that easy and simple.
Players need to think about safety, reliability, and other features such as bonuses, offers, game selection, etc. We have created a unique search tool to facilitate your process. You can combine and filter different features and for example, find the best eCheck casinos with the best bonuses. You won't find a tool like this anywhere else!
USE QUICK FILTERS TO FIND ECHECK ONLINE CASINOS QUICKLY
We've created quick filters for you, which will give you right away the casinos that are currently the most popular by various criteria. Quick filters are created according to what our users are most looking for and prefer. 
CREATE YOUR OWN FILTERS
You also have the option to create your own filtering and combine different features if you don't immediately find what you like in the quick filters. Just follow these simple instructions on how to do it: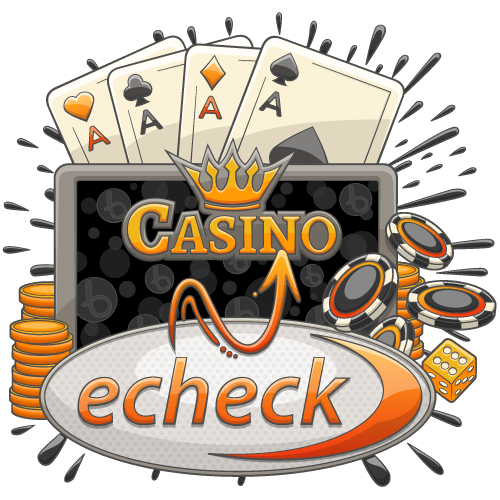 What is eCheck?
Checks have been a common method of payment and a way to transfer money for a long time. However, technology, the internet, and the electrification of things have also moved checks online. The "e" in front of the word simply means "electronic". 
An electronic check works like a normal paper check, where the money is transferred directly from a user's bank account to another user or service, such as an online casino. The whole operation is only made online without any paper needed. Electronic checks contain all the same information as normal checks and can be used in basically any remote transaction.
This is how it works:
You start by requesting payment authorization via an online payment form. In online casino this means, you request an authorization from the casino.
When the authorization has been given, the information of the transaction will be submitted to an online payment processing service. For this step, there has to be a financial service, such as your bank, PayPal, skrill, or any financial institution that can handle eChecks.
The payment information is further submitted to the processing network (depending on the provider), where all eChecks are processed.
The amount is now withdrawn from the payer's bank account and deposited into the payee's account.
Casinos that accept echeck - how to deposit?
Usually, the whole process lasts 24-48 hours to transfer money via eCheck, but in online casinos, this is instant. The casino will deposit the amount of money into your account, even though they will physically receive the money for themselves a little bit later. These transactions are always free and come with no extra charges for players. Therefore, all casinos that accept eCheck can be called instant eCheck casinos.
For withdrawals, eCheck is unfortunately not an option. You can only make deposits with them, but all the winnings can, of course, be withdrawn with other payment methods, such as Paypal, Interac, Credit cards, or whatever method you fancy and the casino accepts.
Easy steps to deposit with eCheck
Select your casino where you want to play 
Register your account
Go to the deposit section
Select Electronic Check (eCheck)
Fill the information needed (routing number & amount of funds)
Get an instant deposit & start playing!
eCheck casino bonuses
One thing we often hear is whether you get a bonus on your eCheck deposits? eCheck is actually one of the best ways to deposit as you will get all the best casino bonuses and promotions available and there are no limitations. 
Several casinos have restricted certain payment methods such as e-wallets and with these, you cannot receive any welcome bonuses at all. eCheck is not limited in any way and you can redeem a wide variety of bonuses such as:
Why should you use eCheck on casinos?
In Canada, players have understood the advantages of eCheck for a long time. There are a lot of more benefits using eCheck than negatives. This payment method is not perfect, of course, but a very good option for Canadians.
Pros
Cons
Looking for different payment methods?
Overall, eCheck is a very recommendable method to use in casinos but if you want you can check different methods as well. There are many ways where you can deposit less than what eCheck allows or if you are not familiar with electronic checks, you have the opportunity to try other methods also.
FAQ
eCheck is an electronic form of a traditional paper check that can be used for deposits on online casinos. eCheck is available if you have a cheque account in any bank or financial service that provides eCheck transactions.
eCheck is a popular payment method in Canadian casinos. You can find all eCheck casinos listed on Bojoko. The list will have all new echeck casinos included when they are launched in Canada.
Using eCheck is totally safe and the transactions are secured. We still advise you to be careful and only play on reputable and licensed online casinos only.
Yes, you can. Casinos hand out all kinds of different bonuses to players and you can certainly claim these promotions by using eCheck. Use eCheck deposits to claim these bonuses for example:
There are some individual casinos worth mentioning, for example, Zodiac Casino which is one of the most popular casinos in Canada. Zodiac Casino offers 80 free spins for only a $1 deposit!
Yes, all eCheck casino deposits are instant and you can start playing immediately.
No, all eCheck transactions to online casinos are always free without any extra charges.
Did you find this page helpful?
Ratings: 1 - Average: 5/5