Ad Disclosure
Guide to online casino games [Canada]
Casino games are a form of gambling. All casino games have their own characteristics but the basic idea is the same: you bet money in the hope to win more. It's also essential to try to have a good time while doing so and enjoying yourself.
On this page, we guide you through the most important online casino games played in Canada. We also highly recommend checking out our massive new Blackjack guide, where you can learn how to master the game with our free Blackjack Trainer app.
Most popular casino games
Slots | Roulette | Blackjack | Baccarat | Poker | Wheel of Fortune | Craps | Sic bo | Scratch cards | Bingo | Lottery | Keno
Play online casino games for real money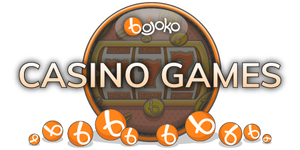 The easiest way to play casino games is to try them online. The game selection in a single online casino can number in thousands, and you can test them with play money before risking your own. To top things off, you can usually play online casino games with bonus money too. Below, we have listed all Canadian casinos with the best selection of online casino games.
In this guide
On this guide, you'll learn everything you need to know about playing online casino games. We cover topics, such as:
What are casino games?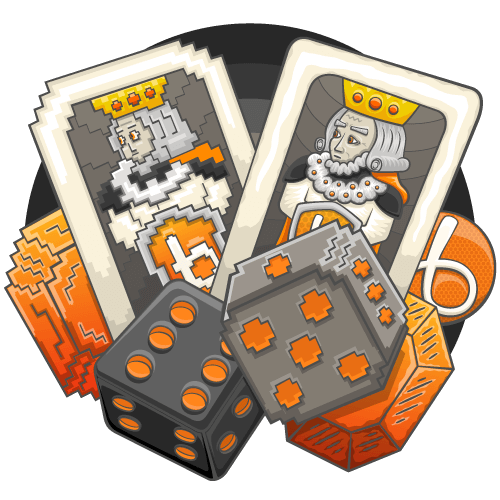 Casino games are games of chance where you can risk some money for a chance to win more money. As the name suggests, you can play them in casinos, both online casinos and offline.
Casino games are based on luck, which makes the result of each round unpredictable.
Some games are 100% down to luck.
In others, skill also plays a role.
Practically all casino games can be played just for fun or with real money. We recommend learning the ropes with play money before risking your own dough.
Main elements of casino games
Every casino game is different, and there are many ways to categorise them. Here are some of the most important features to consider:
Luck
Some games are pure luck. There's no way to predict or influence the result of the round, so you're just placing the bets and hoping for the best.
In pure luck games, the results are based on completely random events. The past rounds don't have any bearing on the next one. The randomness is achieved by using two things:
Equipment that have no memory and create random results (dice, roulette wheel, random number generator)
Simple rules that break the game into short rounds with no decision-making mid-play
Skill
In skill-based games, it's important to know the odds and make smart decisions. Although there's also a large element of luck too, your skill will affect your bottom line in the long term.
What do these games have in common? In all of these, you're required to make one or more decisions after your initial bet. You see where the round is going and adjust your play. Even though the results are completely or partially based on luck, you know the odds and play accordingly.
The amount of skill needed varies between games and also between different variants of the same main game.
The obvious example of this variance is poker. If you play against other players, you need to know the odds and be able read your opponents' play. If you play casino hold'em against the dealer, knowing the odds and payouts is enough.
House edge and RTP
The rules of every casino game are created in a way that gives casinos a slight edge over the player, and this enables the house to make consistent profit.
All casino games have some sort of house edge. Although you may get lucky within a single gaming session, the odds aren't in your favor.
The longer you play, the more you're subjected to the house edge, and the more likely you will end up losing. That's just math.
The house edge varies a lot. In the most generous rule variations of blackjack, the house edge can be as small as 0.5%. In keno and some of the worst slots, the house edge can be more than 15%.
How does the house edge work?
The house edge is given as a percentage of your bet you're likely to lose each round.
EXAMPLE: You play a game with a house edge of 4%. After playing 100 rounds for C$1 each, on average you'll have C$96 left and the casino has C$4 that used to belong to you.
Your mileage may vary. You may win big or lose every round within a single session. Over time, though, the game results will follow the probabilities very closely and the house takes its share.
Also, the higher the house edge, the more you will likely lose.
How does the house edge differ from RTP?
The house edge is closely related to a percentage called Return to player or RTP.
Return to player is the portion of bets that the player wins back on average.
RTP = 100% - house edge.
How is the house edge calculated?
The house edge is calculated from the payouts and probabilities of each game.
EXAMPLE: In European roulette, the payout for a single number is 35:1. This means your original bet is returned and you get 35 times your bet in winnings. However, there are 37 numbers in total and the house edge is 1/37 = 2,7%. Without the house edge, the payout would be 36:1 instead of 35:1.
Variance and volatility
Variance tells you how much the results in a game vary in the short term. It is also tied to the risk and corresponding payouts of the game.
Volatility is another word used for variance.
In low volatility games, the payouts are low relative to your bet. Compared to high volatility games, you have a higher probability to win something on a given round. As a result, you'll win more often, but the individual winnings aren't very high.
Conversely, the payouts in high volatility games are big compared to your bet. However, the likelihood of winning that bet is lower.
Over time, the results of both low variance and high variance games even out and approach the game's calculated RTP. However, in high variance games this takes longer.
Most casino table games are low variance, although there are low variance and high variance bets within those games.
EXAMPLE: Betting on red or black in roulette is a low variance bet. With a 1:1 payout, you're likely to win roughly half of the rounds played. Betting on a single number is a high variance bet. The payout is 35:1 and on average your number will come up only once every 37 rounds.
Online slots are categorised as low, medium and high volatility. Compared to table games, though, every slot is somewhat high variance.
Simple vs complicated
Some games are extremely straightforward whereas others have a lot of things going on. The main considerations for simplicity are:
Simple rules
No decision making mid-game
Logical payouts
Simple rules
Most casino games have fairly simple rules so they don't put off players new to the game. In many simple games, the rules are intuitive and easy to learn. The game layout often supports this by reminding the player of the key elements, such as payouts.
Naturally, there are games that take a bit more effort to understand completely. For example, poker and craps are games that require the player to spend some time learning the ropes. However, this effort is not wasted: if you take the time to learn the game, the more fun it's to play.
Decision making
Many games require some kind of decision making before the round starts. You need to select what you're betting on and how much.
In some games, the different decisions or bets have a different house edge.
EXAMPLE: In baccarat, the banker's hand is statistically more likely to win, even after accounting for the 5% commission.
However, only a handful of games feature decisions after you have placed your initial bet. These decisions combine skill, intuition and pure luck. They make for a more interesting game. At the same time, the game becomes a bit more complicated.
Logical payouts
Most casino table games were originally created to be played with chips. That's why the payouts are also logical so you don't get back a fraction of your chip.
In most games, the basic payout is 1:1. This means you double your money: you get back your original bet and the same amount in winnings too.
The similar logic continues with payouts like 2:1, 3:1, and 4:1. From these payouts, you get your money back three, four, and five-fold, respectively.
Some games also feature more complicated payouts. The most famous example is the 3:2 payout in blackjack.
EXAMPLE: You bet C$10 in blackjack and you're dealt 21 as your opening hand. The win ratio is 3:2. You get back your original bet C$10, plus C$15 in winnings, a total of C$25. In practice, 3:2 payout returns your original bet multiplied by 2.5.
So, most table games feature neat, logical payouts with even numbers. But then we have slots. The winnings from a single spin often include many minor wins from different pay lines. As a result, you may win a weird sum like C$1.36 even though you did bet a dollar.
Bet sizes and table limits
Especially in the brick-and-mortar casinos, different games have different table limits. They set the minimum and maximum bet within the game.
From the casino's perspective, these limits serve three purposes:
The minimum bet ensures the operating costs of the table are covered by the bets.
The maximum bet protects the casino from ridiculously lucky high-rollers.
The narrow range between minimum and maximum bet reduces the effectiveness of progressive betting strategies.
Things are a bit different in online casinos, though. Every game has the minimum and maximum limits, but the range is wider. In addition, there are different tables to suit every budget. You can spin roulette for a penny, stake C$20,000 on a hand of blackjack, or anything in between.
How to find casino games?
Some games are more popular than others, and casinos usually focus on the games that attract the biggest number of players. As a result, some games can be played everywhere and others are harder to find.
Slots, roulette and blackjack form the backbone of every casino's game offering. Baccarat and Wheel of Fortune aren't usually too hard to find either. Everything else is extra.
Find your favorite game suppliers
Online casino games aren't made by the casinos themselves. Instead, they feature games made by online casino game providers. These specialised companies focus on releasing new games (mostly slots) at a merciless pace and making sure that the old ones are technically and legally up to scratch.
The biggest online game providers are NetEnt and Microgaming. In addition to a vast selection of slots, both feature a solid repertoire of table game classics too. Evolution Gaming is the market leader in live dealer games, which are exclusively casino table games.
NetEnt has created different budget versions of staples such as roulette, blackjack, and baccarat punto banco.
Microgaming has released online versions of table game variants that other suppliers haven't seen important enough to touch. So when you get tired of the base game, Microgaming has got you covered.
Other suppliers make solid table games too. However, they often stay on the beaten track and focus on basic versions of roulette, blackjack and baccarat. Here are some other casino table game providers:
How to play casino games
There are hundreds of individual games and game variations available online and offline. We have short introductions of the most important games later on in this article. Meanwhile, let's focus on the big picture:
Choosing a game
With so many games to choose from, picking one to try may seem intimidating. That's why we've compiled lists of games for different types of players.
No skill required:
Slots
Roulette
Baccarat
Wheel of Fortune
Sic Bo
Scratch cards
Tactics and strategy:
Easily available:
Social:
Wheel of Fortune
Bingo
Craps
Blackjack
Lowest house edge:
Blackjack
Poker
Baccarat
French roulette
Learning to play
Most casino games can be tried for free in any online casino. This way you can get comfortable before putting any real money down. We recommend doing this until you have a good understanding of how the game works.
There are different ways to learn the rules. Here's a couple of alternatives, pick one or more that suit your style of learning new skills:
Learn by doing and play the free version
Watch tutorial videos
Read the rules, usually found behind a "i" or "?" icon in the game
Improving your skills
As previously discussed, some games are purely games of luck. In those games, you can't really learn to play them any better.
However, by learning the rules you'll understand what is happening in the game. You'll enjoy the game more and learn to appreciate everything that comes with it: close calls, incredible strokes of luck and also horrendously bad runs.
By understanding the logic of the game, you'll also learn to adjust your risk. You can put your money on likelier outcomes or hope for a bigger payout. These two are usually mutually exclusive.
For actual games of skill, you need to practice, read and practice some more. Unless you've got a very special mind, you won't become a poker star or Rainman overnight.
Money management
Money management is an important skill in gambling, and it's a transferable skill that can be applied to many games.
Gambling is a risky hobby. Even though there's a possibility of going on a winnings streak, hitting the jackpot, and winning an amount of money that can change your life, you shouldn't count on it. Quite the opposite: every game is built so that the casino has an advantage over you, and the more you play, the likelier it is you lose.
You must only play with money you can afford to lose.
Gamblers should set aside a gambling budget and stick to it. This is the amount of money you can comfortably lose without feeling bad or having to worry about making ends meet.
In addition, you shouldn't take that entire amount with you when you play. You may get caught up in the heat of the moment and make bets you later regret.
You should also carefully select the size of your individual bets. We recommend picking a flat bet and sticking with it. You can't change the odds of the game by using betting strategies.
On our responsible gaming page, we explain how you can set yourself limits in an online casino.
Gambling rookie mistakes
Here are some of the common mistakes you can make when gambling. Avoiding these will go a long way towards keeping your game experience fun and safe.
Chasing your losses
Gambling when drunk, tired or otherwise impaired
Not taking breaks from gambling
Playing with money you can't afford to lose
Believing you're "due to win"
Believing you're on a streak and cannot lose
Playing the wrong games or wrong variations
Placing stupid bets in certain games
Not knowing the rules
Casino game bonuses
Most online casinos offer casino bonuses that allow you to sample the games and make your play last longer.  There are a few different forms of bonuses, with the most popular ones being deposit bonuses, free spins, or no deposit bonuses. When it comes to the games, not all of them are equal when in terms of wagering requirements.
Most bonuses feature wagering or playthrough requirements. They make sure that people actually play games with bonus money, not just grab the free cash and run.
Different games have different contribution percentages. They determine the pace with which you get closer to completing the wagering.
EXAMPLE: Slots usually contribute 100%, whereas roulette and blackjack may contribute only 10%. To match C$10 wagered in slots, you need to play C$100 worth of blackjack. 
Some games are excluded from wagering altogether, meaning playing them contributes 0% towards wagering.
Others still may be completely banned while playing with bonus money. Trying them on the casino's cash may result in confiscating all bonuses.
Different ways to access casino games
Online casinos, big brick-and-mortar casinos, and smaller betting shops all have their own way to offer games. Here are some of the most common ones:
Human dealers in a casino
Mechanical slot machines
Games powered by a random number generator (RNG)
Online live dealers
Human dealers in a casino
You've seen them in movies: smartly dressed blackjack dealers and roulette croupiers chatting with players while running the game with ease and confidence.
Playing against a human dealer in a dedicated gaming table is the classic way to gamble. Until the late 19th century and the introduction of the first slot machines, this was the only way to play.
Gaming tables with human dealers like this can usually be found only in proper brick-and-mortar casinos. In some corners of the world, nightclubs, restaurants, holiday resorts, and cruise ships also feature casino gaming tables.
However, the online casinos have introduced a modern, scalable version of human dealers in brick-and-mortar casinos: online live dealers.
Mechanical slot machines
These games are the classic one-armed bandits from the days gone by. With a push of a button or a pull of the lever, the player makes the reels spin and hopes for the win.
Most of these machines have made way for more modern versions, but some casinos still offer them for nostalgia-hungry patrons.
Games powered by a random number generator
A random number generator or an RNG is a piece of software that produces a sequence of random values.
Modern video slot machines and online casino games are powered by random number generators. The game software converts the sequence of random numbers into game results that can't be predicted and thus taken advantage of.
Casino game suppliers operating in the UK and other regulated markets need to have their RNGs tested and certified by independent testing agencies.
Online live dealers
Live dealer casinos bring the classic table games to you, wherever you are. You can play against a real human dealer in any online casino with a live dealer section.
Live casinos offer the best of both worlds: you enjoy the flexibility and accessibility of an online casino game, but share in the social experience of playing against another person.
Check out our live casino page, where we explain how live dealer casinos work.
Casino game reviews
On Bojoko you can read reviews and experiences about different casino games. All member of Bojoko can share their own opinions and preferences, plus we have our own casino game testers, who systematically test different games and gives them a rating.
Casino game reviews by testers
It makes perfect sense that a slot game set in a Chinese royal garden is called Great 88. The number 88 is consid...
In a sleek twist of words, one of the most memorable films in history has been made into an online slot called The Slotf...
Sin City Nights is a shiny, spunky slot that gives an outstanding tribute to the 'Las Vegas' theme. In the world of onli...
Cuteness and overload are two words that can best summarize Betsoft's Kawaii Kitty. This is a game of five reels ...
casino game reviews by members
Come to win a lot lot of money
Street Fighter II is one of the weirdest slot games I've seen from NetEnt. The bonus game where you get to destroy a car...
Space Wars on täydellinen esimerkki siitä, mitä ikä tekee pelille. Kun se ilmestyi, muistan kuinka peliä hypetettiin maa...
Vanha kunnon Immo! Tämä oli kova slotti aikanaan. Onneksi uudelleen mikrossa lämmitetty versio löytyy edelleen useimmilt...
Top 12 most important casino games
Slots
Rules can be either very simple or extremely complex
No skill
House edge varies
Variance varies
Widely available
Slots come in all shapes and sizes. However, the basic concept remains the same from the physical one-armed bandit of a brick-and-mortar casino to the modern mobile video slot.
Slot machines are the easiest game to play. You just pick your bet, make the reels spin and hope for a win. No skill involved, slots are 100% luck.
There are different winning mechanisms, themes, features, and payouts.
On Bojoko, you can find information about how slots work and use our handy tool to compare over 1000 online slots.
Roulette
Simple rules
No skill
Low house edge
Low and high variance betting options
Widely available
Roulette is one of the easiest games available in every casino. It doesn't require any skill, the rules are easy to learn and the payouts easy to remember.
Roulette features a wheel with 37 numbered pockets, ranging from 0 to 36. Next to the wheel, there's a betting area with the corresponding numbers.
Players can bet on single numbers or different groups of numbers. For example, a number can be either red or black, odd or even and big or small.
After the bets are made, the dealer spins the roulette wheel and launches a small white ball inside the wheel to spin in the opposite direction. As the ball slows down, it will bounce off the reflectors for random results, and eventually land in one of the pockets. This number is the winner.
The payout for each bet depends on how many numbers your bet covers. For single numbers, the payout is 35:1. If you guessed the colour correctly, the payout is only 1:1.
Blackjack
Quite simple rules
Requires skill
Extremely slim house edge
1:1 and 3:2 payouts in the main game, more variance available in side bets
Widely available
Together with roulette and slots, blackjack is one of the cornerstones of any casino's table game selection. It's simply a must-have.
In other perspectives, blackjack is the opposite of roulette. Although the rules are fairly simple, there is a learning curve in blackjack strategy.
Blackjack is played against the dealer with a standard 52-card deck. The object of the game is to get a higher value hand than the dealer by taking more cards. The trick is to not go over 21: if you do, you lose instantly.
Blackjack is an interesting, brainy game, where the odds for every possible situation have been carefully calculated. You don't need to know the odds by heart: there's a basic strategy chart that tells what to do with any given hand.
Although some of these moves may initially feel counter-intuitive, they can shave the house edge all the way to 0.5%.
In our complete blackjack guide here, we will introduce you to the basics of the game and also cover more advanced topics such as:
Basic strategy
Blackjack variations
Side bets
Card counting
In addition, we have our very own Bojoko Blackjack Trainer app you can download for both Android and iOS:
Baccarat
Simple rules
No decision-making mid-play
Low house edge
0.95 or 1:1 payouts in the main game + side bets
Often available
Baccarat is a casino table game shrouded in ritual. It has the image of an exclusive game for players with deep pockets and/or a licence to kill. However, most casinos have it, and especially online, it can be played for small bets too.
The most widely available version of baccarat is punto banco. There are two main betting options: Player and Banker. These are just names of the two different hands that play against each other. They have nothing to do with you playing against the dealer. You can bet on either one, and your objective is to guess which hand is going to win. Apart from this, you don't make any decisions.
Baccarat card values and hand values
Baccarat is played with a standard 52-card deck, and there are usually 8 decks in a shoe. The card values are as follows:
A = 1
2 to 9 = pip value
10 and faces = 0
The maximum value of a hand is 9. If the total goes to 10 or over, the 10 is deducted.
EXAMPLE: 8+8 is counted as 6 instead of 16.
Gameplay
After the bets are placed, the dealer deals out two cards face up for both hands.
If the hand's total is 8 or 9, this is known as a "natural". A natural automatically wins against other hands and the round ends.
If there are no naturals, the player and the banker hands may either stand or receive a third card. This is based on preset rules. More on these below.
After this, the value of hands are compared. The hand closer to 9 wins.
Payouts
The default payouts in baccarat are as follows:
Player bet pays 1:1
Banker bet pays 0.95:1
In case of a tie, your original bet is returned
You can also bet on a tie, but this is a sucker bet for two reasons:
The house edge for the tie bet is a whopping 14.36%, and
If there is a tie and you had bet on either player or banker, you get your money back anyway.
House edge and RTP
In baccarat, the house edge differs between different bets:
Banker bet: house edge 1.06%, RTP 98.94%
Player bet: house edge 1.24%, RTP 98.76%
Tie bet: house edge 14.36%, RTP 85.64%
Instead of paying a flat 1:1 on both banker and player hands, casinos deducts 5% of all banker hand winnings. This is known as the "commission". Casinos use commission because the banker's hand has slightly better odds of winning than the player hand.
The banker bet commission and the underdog setting of the player form the house edge in baccarat.
In the light of math, betting on banker is a smart move in baccarat.
Casino poker
Complex rules
Skill required
Low house edge
Low and high variance betting options
Usually available in some form
Poker is a card game that combines strategy, skill, psychology, and a bit of luck. It's traditionally played against several opponents. In a casino version, you usually play against the dealer.
There are many different variants of poker available in casinos, but most of the versions have some shared characteristics:
A common hand for all the players and one hand for the dealer
An ante bet before the first cards are dealt
Extra betting rounds before more cards are dealt
Community cards that can be used by the dealer and the player
Payouts based on your hand value
Here are some of the poker versions available in casinos online and offline:
Casino Hold'em
Texas Hold'em
Caribbean Stud
Three Card Poker
Bet on Poker
Wheel of Fortune (Dream Catcher and Monopoly Live)
Simple rules
No skill
Medium house edge
Low and high variance betting options
Available in most live dealer casinos
Money wheel or wheel of fortune is one of the simplest casino games available.
The most widely available money wheel version is Dream Catcher by Evolution Gaming. The company has also released MONOPOLY Live, a very similar game. Both can be found in most live dealer casinos.
Playing a live money wheel game is a social experience, even online. The chatty host creates a game show atmosphere, and people can post comments and questions in real-time chat.
Dream Catcher features a big wheel with varying amounts of numbered sectors. Here's how you play it:
Place your bet on one or more numbers
The dealer spins the wheel
The wheel stops on a winning number
You win your bet multiplied by that number
In Dream Catcher, you can bet on 1, 2, 5, 10, 20, and 40. The number determines:
Who wins
How much they win
What are the implied odds of winning
The amount of sectors for each number differs, and there are a total of 54 sectors. For example, number 1 appears 23 times, whereas number 40 appears only once.
EXAMPLE: The payout for number 5 is 5:1, and the chance for the wheel to stop on 5 is roughly 1 out of 5, minus the house edge.
Multipliers
The wheel also features two bonus sectors: 2x Multiplier and 7x Multiplier. If the wheel stops on a multiplier, it's spun again and the wins from the next number are then multiplied.
The rules allow for the wheel to stop on the multipliers several times in a row. Those multipliers are then multiplied again, creating potential for massive wins. However, the odds for this happening are slim.
Dream Catcher RTP
The RTP of Dream Catcher varies from 90.57% to 96.58%, depending on which number you play. When it comes to odds, 10 is your best bet; 40 the worst.
Some really unlikely events (e.g. hitting the 7x multiplier twice in a row before landing on 40) have also been factored into the maximum RTP. Subsequently, the RTP in a single session may vary a lot.
MONOPOLY Live
Monopoly Live is an updated version of the Dream Catcher. It has the following betting options:
The numbered slots work just like they do in Dream Catcher: you win your bet multiplied by the number.
The 2 ROLLS and 4 ROLLS sectors start a 3D bonus game, featuring the classic Monopoly board game. You'll only get your share of the bonus game winnings if you have placed a bet on the 2 ROLLS or 4 ROLLS sector.
The dice are rolled and the animated Monopoly guy in a top hat starts walking on the board. He starts from the GO square and gathers multipliers wherever he stops.
The multipliers grow towards the end of the lap, but there's also the jail and an income tax to worry about. You can also get random rewards from Chance and Community Chest.
The actual wheel also features two Chance sectors, with multiplier rewards.
Craps
Complex rules
Decision making possible after every roll
Low house edge
Low and high variance betting options
Rarely available outside US land-based casinos
Craps is a dice game that's especially popular in America. It's notoriously confusing to explain, but by playing it, you'll get the hang of it in no time.
Craps is a social game played with two dice. You usually go with the crowd and bet for the shooters to hit the total number they need in order to win.
Here are the main phases of a round of craps.
Comeout roll
The comeout roll is the first roll on the betting round, and it's used to resolve the Pass line bet. This roll has three possible outcomes:
7 or 11 - Pass: the shooter wins 1:1.
2, 3 or 12 - Don't pass: the shooter loses.
4, 5, 6, 8, 9 or 10 - number just rolled becomes the Point and the game proceeds to the next phase.
Pass line bet
If the shooter didn't roll an instantly winning or losing number in the previous phase, the pass line bet is resolved this way:
The number from the Comeout roll is the point.
The shooter tries to roll that number again before rolling a 7.
If they get the point number, the pass line bet wins 1:1.
If they roll a seven before that, they lose.
In case the shooter wins, they still continue to roll until they roll a 7. This is done to resolve other bets, explained below.
When the shooter rolls a 7 and loses, it's time to pass the dice to the next player.
Come
Come is like a pass line bet placed mid-round, i.e. after the comeout roll. Here's how come bet is resolved:
7 or 11 - come bet wins 1:1.
2, 3 or 12 - come bet loses.
4, 5, 6, 8, 9 or 10 - this number needs to come up again before the shooter rolls a 7.
Field
Unlike pass line bet and come bet that may take several rolls to resolve, field bet only applies to the next roll. Here's how the field bet works:
2 pays 2:1
3, 4, 9, 10 and 11 pay 1:1
12 pays 3:1
5, 6, 7 and 8 loses
Sic Bo
Simple rules
No skill
Medium house edge
High variance options available
Limited availability
Sic Bo is an ancient dice game originating from China. Sic bo features 3 dice, and your objective is to guess what combination the next roll will result in.
The sic bo board with tens different betting options may look confusing, but it's actually fairly simple. You can bet on:
Total sums
Even or odd total sum
Doubles or triples
Featured individual numbers
Exact combinations of two or three numbers
The payouts vary between versions and brick-and-mortar casinos.
Online, sic bo is just starting to find its global audience. Currently, there's only one widely available live casino version, Evolution Gaming's Super Sic Bo.
The payouts closely resemble the actual odds and the house edge is relatively modest. With the optimal RTP of 97.22% for the Big/Small bet, it's on par with European roulette.
Scratch cards
Simple rules
No skill
Medium house edge
High variance
Limited availability
Scratch cards, scratchers or scratchies - this form of gambling has many names. In addition to the physical version sold in shops, you can play scratchcards online.
The winning mechanisms in scratch cards vary. You usually need to reveal a specific amount of the same symbol to get a win. Different symbols usually feature different winning amounts.
Scratch cards feature different themes, game types, payouts, and purchase prices. The physical versions in the UK range from £1 to £5. In the online versions, you can usually pick the bet per card yourself.
Although the appearance and winning mechanism of an online scratch card is similar to the physical version, the gameplay mostly resembles a single spin of an online slot. Sure, you can get in the mood by scratching your screen and revealing the symbols one by one, but no amount of hocus pocus is going to make a difference. The results of a round are determined by a random number generator.
Bingo
Simple rules
Online bingo is automated and doesn't require any skill
In live bingo, you need some reaction speed
Medium house edge
High variance
Limited availability
Bingo is a social gambling pastime, usually associated with senior citizens. In addition to the brick-and-mortar bingo parlors, the game can also be enjoyed online.
The idea of bingo is simple:
Buy a bingo ticket
The ticket features one or more grids with numbers.
The announcer calls out numbers and you highlight those numbers on your ticket.
When you fill out a row, you yell "Bingo!" and get a win.
The game continues and the next player needs to get 2 rows for a bingo.
The round ends when the player with 5 rows (full grid) yells "Bingo!"
Alternatively, the round ends when a specific amount of numbers is called.
Bingo rules vary somewhat between games:
Ticket price
Payouts
Different amount of possible numbers
Horizontal rows only vs horizontal + vertical
The most popular bingo variant in the UK is the 90 ball bingo. The ticket features one or more 3-by-9 grids. They have both numbers that are already filled-in and some blank spaces. You only win from the horizontal rows of numbers. 
Online casinos specialising in bingo offer many different versions of live bingo. In addition, many sites feature RNG-based bingo games you can enjoy at your own pace.
Lottery
Simple rules
No skill
Big house edge
Extremely high variance
Limited availability
Lottery games are a very slow-paced form of gambling with the potential to win millions on one go. Here's how lottery works:
Buy a lottery ticket.
You wait for the draw. Depending on the lottery, there may be 1 to 3 draws every week.
You win if the numbers on your ticket match the numbers drawn.
If you match all the numbers, you hit a jackpot. This can be millions of pounds.
The rules and winning mechanisms vary between lottery games. Here are some of the key elements:
How much is the ticket?
What's the main prize?
Can you choose your own numbers?
How many possible numbers are there?
How many numbers are chosen?
How many numbers are drawn?
How often is the draw?
Are the winnings paid out all at once or in installments?
There are different kinds of lotteries available online and in betting shops. In online casinos specialising on lottery, you can take part in fascinating lottery draws around the globe, including:
Euro Jackpot
Powerball
El Gordo (the Spanish Christmas lottery)
Keno
Simple rules
No skill
Massive house edge
High variance
Limited availability
Keno closely resembles the lottery, but there are some key differences:
Keno has more frequent draws, but the jackpots are smaller.
You can choose how many numbers you play.
Payouts are in relation to how many numbers you played, not just how many you hit.
You can choose your bet.
Keno is a fun, simple game that offers far more betting options than lottery. However, it has a high house edge compared to most other forms of gambling. Depending on what version you play and where, the house edge in Keno can be over 10%, sometimes even more than 20%.
FAQ
Casino games are a versatile form of gambling and feature a vast range of games. Some are hundreds or even thousands of years old and originate from ancient civilizations. Others are more recent innovations.
With the older games, the name of the original innovator has been lost. From the more recent game inventors, we can list:
Blaise Pascal - A 17th century French mathematician and inventor of the roulette wheel
Charles August Fey - Invented the first coin-operated slot machine in San Francisco in 1894.
Geoff Hall - Created and patented Blackjack Switch in 2009 and has invented other recent blackjack variants.
Most casino games are purely games of chance. This means you have no way of affecting the outcome of the game or improve your chances of winnings.
Other games have some element of skill: by making smarter decisions, you can significantly lower the house edge in these games. Games with an element of skill include blackjack and poker.
While we cannot offer a sure way to win in casino games, there are ways you can limit your losses. For example, see what we have to say about money management and gambling rookie mistakes.
Online casino games are powered by a random number generator and a mathematical model that determines whether you win or lose. Behind the flashy images and intuitive user interface, it's just computer code.
Many game suppliers don't bother with coming up with new mechanisms for every new game. As a result, a new online slot may just be a reskin of an older game with different themes and graphics.
Depends on what you're after.
The casino game with the smallest house edge is blackjack, providing you play it well.
If you're not interested in paying your dues and spending the time necessary to master the blackjack basic strategy, you should check out our section on how to choose a casino game. We list different games best suited for different preferences.
Blackjack. Providing your strategy is perfect, you can take the house edge down to 0.5%. This means that for every C$100 you bet on blackjack, on average, you win back C$99.50.
However, learning to play blackjack well enough takes some effort.
If you're looking for a game with a small house edge and no skill involved, check out baccarat. Remember to bet on the banker, as this bet has the lowest house edge, around 1.06%.
Blackjack
Baccarat
Red dog
All variations of poker
Casino games are games of chance with a built-in house edge. By playing them, you take a conscious risk that you're going to lose more than you're going to win.
Does this mean they're rigged? No.
Online casino games have to undergo a rigorous inspection before they can be offered to players. When online games are published, they are tested and certified by independent testing agencies.
Without such a certificate, the game supplier has no business operating in regulated markets, such as the UK.
Inspection bodies include companies such as Gaming Laboratories International, BMM Spain Testlabs, and eCOGRA. Some are competent to test only online casino games, whereas others can also certify physical slot machines, bingo games and casino equipment.
Depends on the definition. There are a dozen or so main types of classic casino games. However, each has several variants.
For example, there are dozens of rule variations of blackjack and several versions of roulette. Are these separate games?
Online slots are the biggest category of casino games. On Bojoko alone, we have listed over 1,000 slots. And that's just the tip of the iceberg.
This depends on whether you're playing online or offline. Online casino games offer more flexibility and usually a wider selection of games too.
In online casinos, you can start betting as low as:
Roulette: 10c on individual numbers or outside bets
Blackjack: 10c per hand
Slots: 1c per pay-line
In brick-and-mortar casinos, there are human dealers operating the table games, and those people need to get paid. That's why the minimum bets can be quite high compared to the online casino. In a land-based casino, expect to bet at least:
Roulette: C$1 on individual numbers, C$5 on outside bets
Blackjack: C$5 per hand
Slots: 1c per pay-line
Did you find this page helpful?
Ratings: 1 - Average: 5/5