SimplePlay casinos UK
SimplePlay is one of the fastest-growing slot game providers in the region. Their team consists of some of the most experienced professionals in different domains of the industry.
SimplePlay has product managers who are savvy with the latest market trends, creative artists who create some of the best artwork in the industry, as well as animators who make all characters lively and real.
With great passion and vision, they bring the joy of gaming to the next level. Creating infinite business opportunities and raising revenue for its clients, SimplePlay is the choice for expanding the Asian market!
SimplePlay's games are created by veterans of the industry. Having worked in the industry for years, these market-savvy and tech-savvy specialists know how to make games loved by clients and players.
As the team comprises experts from different domains, they are capable of creating exciting products that suit all needs. SimplePlay can think from the perspective of its clients.
All games of SimplePlay are accessible under one single E-Game Lobby, where players can bookmark their preferred games as favourites. They can also check the real-time ranking of players, using criteria like Payout Top Win or Jackpot Top Win.
SimplePlay has a progressive jackpot system where every spin in every slot contributes to the jackpot (Major, Minor and Mini). The desktop version also supports Split Mode, allowing up to four games to run in the same window.
Unfortunately, SimplePlay games are not available for UK players as the provider is not at the moment licensed by the UK Gambling Commission.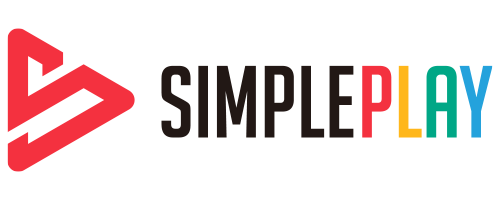 Number of games
Desktop games: 54
Desktop slots: 53
Desktop table games: 0
Mobile games: 54
Live games: 0
Jackpot games: 53
Game types available
Live dealer games: No
Jackpot games: Yes
Scratch cards: No
Virtual sports: No
Videopoker: No
Lottery games: No
General information
Supplier name: SimplePlay
URL: www.simpleplay.com
First game released: 07/2019
Licence: -
Game currencies: EUR (€)
Game language: English, Japanese
Desktop games
Currently, SimplePlay has more than fifty self-developed slot games, as well as Fishing Games that enjoy a huge reputation in Asia. They contain high-quality multimedia elements – images, sounds and animation.
The games are absolutely joyful to play. They create immense value for clients. Fishermen Gold, SimplePlay's Fishing game, takes players on an undersea trip for fish-hunting. Allowing a maximum of four players in every room, players can use different types of bullets to shoot at the fish for rewards!
Covering a great variety of themes – from famous Western folklore to popular Asian legends – as well as various ways to play, SimplePlay's Slot Games have different features where mini-games in Free Games allow players to determine the number of Free Spins won (Mystical Lamp) or the feature to be applied (Vanessa).
It has also made featured games like hot model slots. The innovation of SimplePlay never ends, as new titles are added frequently to their library. Here are some of the particularly popular SimplePlay's slots:
Vanessa, is one of SimplePlay's flagship games and describes how a schoolgirl single-handedly saves the world by confronting the lady villain. Players can spin the Lucky Wheel to decide the feature to be applied during Free Spins.
Mystical Lamp is a slot featuring the genie of the lamp. During Free Spins, players can choose from a handful of lamps where the genie will reveal the number of Free Spins they won.
Shu Dynasty is inspired by the Three Kingdoms Period in China. It involves 3 different scenes, each with a unique reel pattern. All patterns allow extension during Free Games, allowing a maximum of 2,000 ways.
Bomber Squad is a slot featuring two bank robbers who tried to blow open the vault using dynamites. During Free Games, players can choose different types of dynamites, which offer players different combinations of Wild Multipliers and a number of Free Spins.
Chang Thai is based on elephants, the national animal of Thailand. Its Free Games allow players to have extra Wild Symbols across the reels. Players can choose to have more Free Spins but fewer Wild Symbols, or more Wild Symbols yet fewer Free Spins.
Sparta's Honor reminds players of the brave warriors from ancient times who fought until their last breath. Top Payout Symbols can match Wild Symbols to double the payout. In Free Games, Top Payout Symbols can be stacked to turn into Wild Symbols for winning up to 1,000 times the total bet.
Number of desktop games: 54
Mobile games
In response to the fast-growing mobile market, SimplePlay APP is a convenient way to launch the E-Game Lobby when players are using a mobile device.
Specifically developed for iOS and Android platforms, SimplePlay APP allows players to log in using QR codes or gestures. It also supports both landscape and portrait modes, allowing screen rotation at any time.
Those who do not wish to have an application pre-installed can also opt for the H5 Mobile version. The mobile web version is compact and requires no installation. Players can enjoy mobile gaming on both Android and iOS devices and play wherever they would like.
Number of mobile games: 54
Live games
SimplePlay doesn't offer any live games. You can find alternatives from our dedicated best live casino article.
Number of live games: 0
Jackpot games
SimplePlay has a different approach to online jackpot slots. All of their slots are jackpot games, and they all share the same progressive pot. Every single spin in any of them will increase the pot for all.
Every player has a chance to win the jackpot when they spin any of the slots. This way the games don't have to compete with each other for players and everyone has the same chance of winning. When a jackpot is won, there is a notification across the Lobby.
Number of jackpot games: 53
Licences
SimplePlay's games are built to comply with common legal requirements and restrictions. They can be easily added into any casino, as they fit under any licensor's requirements.
All game licences:
-
Safe and responsible gambling
SimplePlay has received RNG Certificates for all of their RNG Games. This certificate was granted by BMM Testlabs, one of the world's leading game testing laboratories, and it caters for most European jurisdictions. The games comply with the technical and also legal standards required.
Currencies
SimplePlay's game lobby is very versatile when it comes to different currencies. It can adapt to any currency the operator accepts.
Supported game currencies:
EUR (€)
Languages
All HTML5-powered games support major Asian languages including Thai, Chinese, Vietnamese, Indonesian, and more.
English is always available for international players. Clients can rest assured that players around the world can enjoy SimplePlay's games.
Supported game languages:
English, Japanese, Indonesian, Thai, Vietnamese, Chinese
Check out more game studios