What's a safe online casino?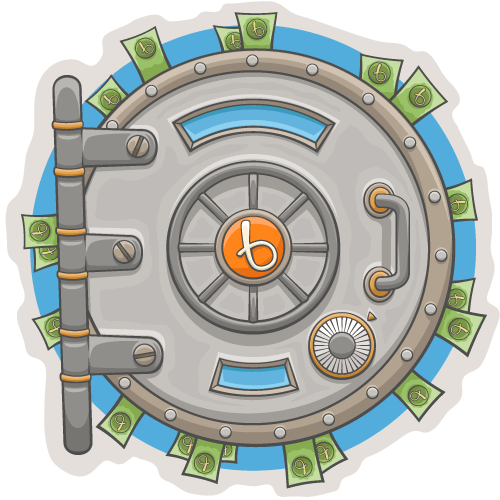 Security is the one thing players assume and pray for when visiting an online casino. Anyone new to online casinos is more likely to feel apprehensive than confident about betting with their money online, especially since all transactions are conducted virtually.
Experienced gamers know that robust security is a standard common to all good online casinos. Playing in a safe online casino should be no riskier than shopping for a must-have clothing item.
We only feature reputable, licensed casinos on Bojoko. Even with our basic benchmarking, security levels still vary between licensed casinos. As with any purchases or transactions you make online on a new site, common sense and consumer savviness should be applied.
Although players don't have control over everything, there's a lot you can do to make sure your casino experience is safe and secure. The main thing is to pick one of the trusted online casinos to play in.
Here are some key aspects to consider when choosing your next place to play:
Reputable casino licence

Data encryption protocol

Game outcome fairness and random number generators (RNGs)

Accreditation by independent testing agencies

Safe and secure banking methods

Responsible gaming

How online casino security has improved through the years
EARLY DAYS OF THE WEB
In the early days of online casinos, the World Wide Web was still a new frontier. Online laws and acceptable behaviour were seen more as a polite gesture than something binding.
Understandably, casino sites were not an exception: without regulation and common standards, early online casino players had to keep a close watch for rogue casinos.
SELF-REGULATION
At first, many efforts to make casinos safer were voluntary acts of self-regulation. It was important for industry pioneers to highlight their player-friendly approach. Independent testing agencies like eCOGRA soon emerged to guarantee casino quality and reputability.

Strong risk and fraud analysis plays a big role in improving casino safety and compliance. In order to prevent money laundering, underage gambling and credit card fraud, all casinos now perform thorough checks.
"KNOW YOUR CUSTOMER" PROCEDURES
From the player's perspective, KYC ("Know your customer") procedures may seem like an extra hurdle to taking off with the games immediately. These checks actually benefit you too, in addition to making online casinos compliant with the law.
When casinos ask you to evidence your identity, age, residence and possibly even financial information, you can rest assured that no rogue money or players are making their way into the system, minors are protected and everyone is safe.
Learn more about KYC documents in our complete guide to casino terms and conditions.
ENCRYPTION
Technical security has also advanced considerably. SSL (Secure Sockets Layer) encryption has become the standard on all reliable websites – online casinos included. Encryption means your sensitive data is converted into illegible code so that it can only be read by you and the website you're using.
The stronger the encryption, the safer your data. Most trustworthy online casino sites are now upgrading standard 128-bit encryption to the 256-bit version, which is an approximately 340 billion times tougher nut to crack.
Nowadays many of these improvements have become mandatory when a casino applies for a gaming licence.
UK casinos licensed by Gambling Commission
In the UK, online casinos achieved full legal status in 2005. Regulation was then introduced to prevent casinos with a poor track record of service from catering to UK players. Since 2014, every online casino providing its services to players based in the UK must obtain and maintain a licence issued by the Gambling Commission.
Putting players' welfare at the centre of its mission, the Gambling Commission regulates the entire sector in the UK. It acts as a watchdog to ensure online casinos adhere to social responsibility, anti-money laundering and technical protocols, leaving British players to enjoy nothing but a safe experience throughout.
By British law, only UK licensed casinos can offer their games to UK residents. You're safe in this sense on Bojoko, because we block the presence, content and links of non-UK licensed casinos based on your IP address. This makes sure you don't accidentally play in a casino without a valid licence.
For players hailing from elsewhere, there are plenty of options to choose from. In the EU, the most prominent international licensing bodies are the Malta Gaming Authority and the Gibraltar Regulatory Authority. Estonia has also started to issue licences to online casinos.
To widen your toolbox for smart playing, start looking out for a valid gaming licence yourself. You can locate the casino's licence information and registration number in the footer on the homepage of the site, or in the "About" page.
Our online casino gaming licences guide walks you through the fundamentals of licences in detail.

The most reliable online casinos with a UK licence
Play in legitimate online casinos for UK players. These sites have a proven track record of fairness and a solid reputation among players far and wide. Be at ease, there are no rogues here.
Third party accreditation improves casino safety
The most reliable online casino sites couple the latest technology with an ethical approach to deliver a robust casino experience that doesn't put players' sensitive personal or financial data at risk. This work is constantly monitored and put to the test by third party accreditation agencies.
The verdict of accreditation bodies carries weight in the casino world. In the early 2000s, the focus was on casinos' self-regulatory efforts in an unregulated market. Nowadays these agencies help secure online casinos comply with increased mandatory regulation, both at home and abroad. This advances safe and fair gaming by:
Making sure the games are fair and generate random results (random number generator [RNG] testing).

Constantly testing casino software and banking methods for security issues.

Combating casino fraud and money laundering.

Protecting vulnerable player groups.

Preventing underage gambling.

Promoting responsible marketing.
Internationally, the most recognised testing and certification organisation is eCOGRA (eCommerce Online Gaming Regulation and Assurance). Founded in 2003 and based in London, it was the first company to offer an accredited self-regulation program for the online casino industry.
eCOGRA is no longer alone in its efforts for a better and safer casino industry. There are many companies and organisations specialising in different aspects and helping casinos with technical and compliance issues: Gaming Laboratories International, iTech Labs, Technical Systems Testing and Technical Services Bureau, to mention just a few.
Just like the licensing information, you can often find the testing agencies' certificate badges in the footer. When a casino is certified by eCOGRA, it receives eCOGRA's Safe and Fair seal, usually displayed at the bottom of the page. A site with such a badge can be considered a trusted online casino.
RNG TESTING
Random number generators (RNGs) keep the games going by providing an endless stream of unpredictable results. They work persistently in the background and come up with millions of results in a second. That means there's no point trying to time your spins.
In online casinos, everything except live dealer games utilise RNGs to determine the outcomes of the game.
From a technical standpoint, RNGs works like this:

The random seed generator comes up with numbers (seeds) based on a patternless, real world source like cosmic radiation.

A pseudo-random number generator calculates seemingly random numbers based on the random seeds. In online gaming, public domain algorithms like Mersenne Twister are often used.

When you initiate a game round, the result is based on the random number and calculated by the game algorithm.
The testing agencies make sure all of these different elements perform as they should. They inspect the code thoroughly and see that the RNG gives out random, unpredictable and non-repeatable values.
When the game is certified, the results of the tests are also reported and published. A casino can place a certification seal on its site and link to the testing agency's original certificate so the user can see they play fair.
Choose a safe banking method
There are many banking methods available for playing in online casinos. Choosing the right one for you is a matter of preference, but security should be one of the top things on your mind. Once again, it's about your money. Resorting to only the safest online casino payment methods should be a matter of principle for all players.
CREDIT CARDS
Credit cards are one of the easiest payment methods in online casinos. Using one can be both a good and a bad option security-wise. In theory, all your credit card transactions are insured by the card company: if something goes wrong, it shouldn't come out of your pocket.
Credit card payments have different ways of verifying who you are, depending on the casino, card and bank in question. The simplest and least secure way to pay with your credit card is submitting your card number, expiry date and the CVV code. You have to really  trust the site's data encryption to leave it at that.
Other casinos ask you to verify your identity by logging into your online bank in a separate window. Verified by Visa and Mastercard SecureCode are the most common. Using these services adds an extra layer of security.
The downside of credit cards is that you may have to send the casino a picture of your card front and back when submitting KYC documents. If there's no way of submitting these directly through the site, you'll probably need to email customer support. You don't need a tin foil hat to alert you that this isn't very safe.
TRUSTLY
Trustly works very much like Verified by Visa and Mastercard SecureCode. Instead of charging your credit card, the casino deposit is paid for directly from your bank account.
When paying with Trustly, you log in using your online banking credentials. All your data is protected by strong encryption and the bank's security system.
Your KYC is also made considerably easier because the casino takes your banking credentials as legit by default.
WIRE TRANSFER
Depositing and withdrawing money via an online bank transfer is a slow but secure banking method.
Just like with any other bank transfer you make, your money is protected by the bank's own security system. However, it may take 2 to 5 business days to reach its destination.
ONLINE WALLETS
Skrill, Neteller and Paypal are the most popular online wallets available. You can link them to your credit card or bank account and enjoy dead easy banking after the initial setup.

From a security perspective, online wallets are a good option, and you can make them even better by setting up two-factor authentication. This works by codes sent via SMS or a separate app like Google Authenticator.
The downside to using e-wallets is that they are disqualified from most bonuses.
PAY BY PHONE
"Pay by phone" is an umbrella term for several different payment methods. You can deposit using either your phone bill, prepaid balance or a separate invoice. The brands include Boku and UK mobile carriers' own system, Payforit.
These services are very safe: you only grant the casino your phone number and the confirmation code you receive by SMS. There's a flipside though: you can't withdraw your winnings using the same services.
If you'd like to use your phone to make deposits, you can do so with pay by phone casinos.
Tips for making your casino experience safer
Licensed online casinos are secure places to gamble. However, same as with online shopping, there are simple steps you can take to make your experience safer:
Create logins with strong, unique passwords and don't use the same password twice.

Keep your passwords in a safe place and update them regularly. You can use a secure password vault like LastPass to manage them.

Only use a secure internet connection, not public WiFi.

Make sure the website uses SSL protocol with the address beginning with "https", not just "http".

Use only banking methods you're comfortable with. Check if there are any extra fees for deposits and withdrawals.

If you're asked for casino documents, blur any sensitive information the casino doesn't explicitly need, for example the CVV number on the back of your credit card.
Practice responsible gaming
Playing can turn addictive so it's good to recognise the signs of problem behaviour early on and take steps to avoid it in the first place. 
Here are some basic tips to start with, but you should also check out the full guidelines for responsible gaming.
Set a gaming budget and time limits, and stick to them.

Don't try to win back money you've lost.

Use self-exclusion tools provided by casinos and game suppliers.

Take breaks.

Don't gamble when drunk, tired or stressed out.

Talk to someone if you have trouble controlling your gambling.