Ad Disclosure
Best Online Pokies NZ
Bojoko helps you find the best pokies. Online pokies are the modern version of slot machines you've seen in brick-and-mortar casinos. They range from classic fruit machines to the latest video slots and jackpot games.
There are thousands of games available for Kiwis and it is almost impossible for one player to try them all out. This is why we are here. We will help you find what you like and skip the pointless games.
We have detailed reviews of over 2000 slots available in NZ casinos. Use our selection tool to find the NZ online pokies to suit your taste.
Find the biggest selection of pokie slots
The amount of online slots offered by licensed casinos in New Zealand has climbed steadily, but there are still huge differences in the size of game selection. The best slot casinos constantly add studios and games to their roster. We have compiled a list of casinos with the biggest selection of online slots in New Zealand.
On this page
Here, you will learn all about pokies, or video slots, however you want to call them.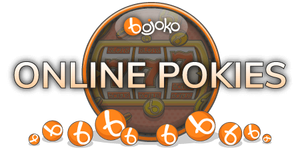 Bojoko helps you find the best slots
There are thousands of slots available online, but it's not always easy to find reliable information about them.
Our online slot listings have tons of data to help you decide what to play. They cover the basics, including the release date, RTP and volatility. In addition, there's plenty of information about the special features. Finally, every slot listing features the stats section, where you can see how this game fares compared to others.
The listings are completed by an honest analysis from our slot experts. Every single game doesn't have an expert review yet, but we're working our way through the list, starting from the usual suspects.
We've also created a selection tool to make your choice easier. You can filter slots games based on over 50 variables, or use our ready-made filters.
Find the best pokies
How do slots work?
When it comes to basic mechanisms, most online slots resemble the physical slot machines. As a legacy of the old "one-armed bandits", there are many familiar elements:
Reels
Winning symbols
Paylines
Info pane
Bet selection
When you start a round, the reels begin to spin. You want to line up similar symbols to consecutive reels, starting from the left. If you get enough of the same symbol on a payline, you win. How much? That you can find on the paytable, accessed via the info pane.
Before each round, you have the option to adjust the size of your bet.
REELS
The main game area consists of vertical reels stacked together. The most prevalent layout is 5 reels with 3 symbols showing on each.
However, there are both bigger and smaller layouts. The traditional 3-by-3 reel setup is still popular in classic slots. The biggest go up to 6-by-12 or 9-by-9.
SYMBOLS
The winnings are based on getting symbols on the reels in pre-specified combinations. The highest paying symbols are usually chosen to match the theme of the game. The low-paying symbols are usually:
Card deck suits: ♣️ ♦️ ♥️ ♠️
The top value cards of the deck: A, K, Q, J and 10. Sometimes also 9 is included
PAYLINES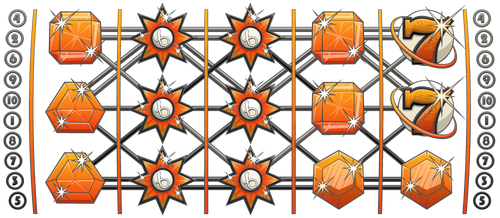 Most games feature specific paylines on which you need to get rows of symbols. In most games, the paylines only go from left to right, meaning your winning combination needs to start from the leftmost reel. The longer the row of symbols you get, the bigger your win.
The number of paylines varies. Few games may even have only one paylines; most feature about 20, and some boast hundreds or even thousands of paylines.
When the number of lines exceeds the 100-mark, you can usually stop looking at the actual paylines. Instead, game suppliers speak of e.g. "243 ways to win". As long as there are the same symbols on the consecutive reels starting from the left, you're in for some winnings.
In the early days of online gambling, some slots had the option to choose the number of active paylines. However, it's quite rare now.
INFO-PANE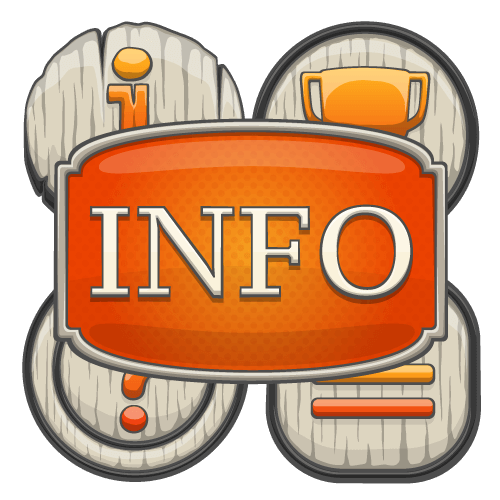 The info pane button is usually located in the corner of the game screen and marked with one of the following symbols: i, ? or 🏆.
From the info pane, you can view the:
Payouts for different symbols
Number of symbols needed for different wins
Descriptions of the special features
Payline layout
Rules of the game
Check out the info pane and you'll better understand what's happening in the game.
BETS
Apart from certain jackpot slots, you can select how much you want to bet per spin. The total bet size is affected by:
Number of paylines (sometimes shown as "bet")
Number of coins per payline (level)
Coin value
EXAMPLE: There are 9 active paylines with 1 coin per payline and 10p coin value. Your total bet per spin is 9 x 1 x 10c = 90c.
This may sound complicated, and some game suppliers have made choosing the bet size unnecessarily confusing.
Many game providers like to goof around with coin wins. Having a thousand coins clattering to the virtual money tray may sound appealing. However, with coin size at 1c, your joy may be short-lived.
Some suppliers have taken a different approach. Instead of tweaking the coin amounts and sizes, you can just pick the total bet from a list.
Pokie special features
Video Slots are the most popular game type of online casinos. In addition to unique themes and dazzling graphics, they come loaded with special features. These include different versions of:
Wild symbols
Scatter symbols
Free spins
Bonus games
Re-spins
Expanding reels
Big symbols
Win both ways
Below, you'll find detailed descriptions of all special features. Use our NZ slot list to filter games based on your favourite features.
WILD SYMBOLS
The wild symbol helps you create more winning combinations. It works in a similar way as the joker in poker. Whereas the joker replaces the missing card in your hand, the wild symbol fills in for the missing symbol on the payline.
The wild symbol replaces any base symbol of the game. If the same wild is on multiple paylines, it can simultaneously stand-in for several winning symbols.
However, the wild symbol doesn't replace special symbols, e.g. scatters.
In addition to standard wilds, some games feature more specialised wilds:
Sticky wilds stay on the reels for another round
Walking wilds travel on the reels between rounds
Stacked wilds appear on the reels as tall columns of wilds
Random wilds are sprinkled on the reels after the spin
Multiplier wilds multiply the winnings from the participating combinations
SCATTER SYMBOLS
Scatter symbols are the slot special symbols that unlock free spins, bonus games or coin wins.
Unlike ordinary symbols, scatter symbols don't need to land on a specific payline. You only need to get a certain number of them on the reels. In many games, you need 3 scatters to launch the free spins or the bonus round.
FREE SPINS
Free spins is a confusing term. It can refer to free game rounds that casinos use to attract new players. On our free spins page, we tell you how to get no deposit free spins. This is one of the most common forms of casino bonuses.
In-game free spins are a completely different cup of tea. You don't get them as a bonus from the casino; you win them by playing the game. You usually need to land 3 scatter or free spins symbols on the reels to start this feature.
You always get a certain amount of free spins. In some games, the exact number of scatters landed may affect the spin amount. In others, you can win more spins during the feature itself.
The spins are given in the same bet size you used on the round where you unlocked the spins.
EXAMPLE: You play with a NZ$1 bet and win 20 spins. Every one of these spins is worth NZ$1, landing you a total of NZ$20 worth of spins. While you're playing the free spins, they don't use up your real money balance.
When the free spins start, the appearance of the game often changes to make them distinct from the main game. The free rounds may also have some extra perks compared to the base game. Here are a few examples:
There may be a multiplier for all free spin winnings
Some low paying symbols may be removed from the game during the free spins
You may get additional wilds
There are also free spins games, where you can decide the exact nature of the feature. For example, you may choose between a larger number of spins with fewer extra perks and a smaller number of spins with more winning potential.
You may need to hit the feature several times to unlock all the options.
BONUS GAMES
Bonus games are special features which often offer much bigger wins than the base game. You usually need to land a certain number of scatters on the reels to start the bonus game. In some slots, you can launch the bonus feature by paying a lump sum. This is known as Buy bonus.
Bonus games differ a lot from each other. Some may require decision making or quick reactions. The simplest and most common version is the pick-n-click type of game. You reveal coin wins, free spins and other rewards by clicking treasure chests.
RE-SPINS
Re-spins let you spin some or all the reels again without placing an additional bet.
Just like there are many kinds of wilds, there are also various types of re-spins:
Walking re-spins make the reels spins again and again until the special symbol exits the reels
Cascading reels explode all the symbols of the winning combination to make way for new wins
Sticky re-spin re-rolls all the spaces that aren't part of a winning combination. This continues until there are no new wins
Sticky wins
The sticky win isn't exactly a re-spin, but it resembles this feature class a lot. When you win, the winning combinations stay on the reels for an additional round. You need to place a standard bet, though.
OTHER FEATURES
Expanding reels
Expanding reels copy themselves on one or more neighbouring reels or add completely new places for symbols. This helps create longer, more valuable winning combinations.
Colossal symbols
Colossal symbols are bigger than the standard 1-by-1 symbols. They help create big clusters of the same symbol.
NetEnt's Spinata Grande is one of the most popular slots with colossal symbols.
Win both ways
In most slots, the paylines only go from left to right. You'll only get wins, if:
You have the same symbol
On the same payline
On the consecutive reels (no gaps)
Starting from the left-most reel
When you have a slot with wins both ways, the paylines can go from right to left and left to right. This practically doubles the number of wins.
The most famous slot with wins both ways is NetEnt's mega-hit Starburst.
Different types of online pokies
The online pokies market has expanded exponentially over the last few years. Kiwis now have a bigger and more thrilling choice of games to pick and choose from. These games are available in a myriad of themes, including:
Video pokies: Video pokies include the classic three-reel fruit machines and 5-reel video pokies, featuring wilds, scatters and even, free spins bonus rounds.
Fruit Machines: A three-reel slot game popular across bars and arcades in New Zealand. Popular symbols include bells, fruit and the number 7.
3D Pokies: These are similar to online pokies but with enhanced graphics. Popular 3D pokies include Gonzo's Quest, and Turning Totems.
Progressive Jackpot Pokies: Pookies with an increasing prize pot paid off by a percentage of the player's stake.
Branded Pokies: Themed pokies based on movies, TV shows and rock bands. Popular titles, including Guns 'n Roses, Motorhead and Game of Thrones.
Try different types of online slot machines for real money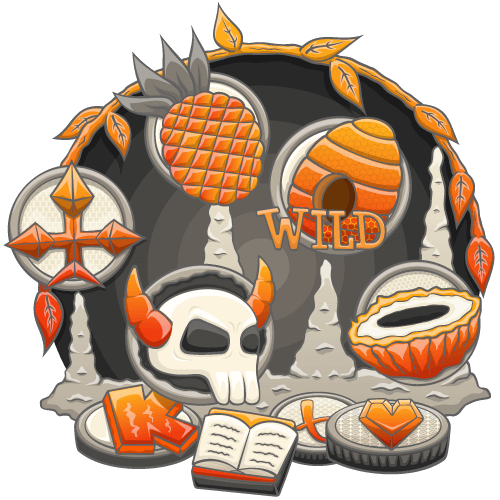 Real money slot machines are the favourite game category for most casino players. There are many different types of online slot machines available at NZ casinos.
Below, we'll cover the main aspects of these games. Discover your favourites and play slots online.
MODERN VIDEO SLOTS
Modern video slots constitute the bulk of the online casino slot games in the NZ market.
Bursting with cool themes, features and graphics, these games can be very elaborate. They often feature storytelling, engaging animations and prolonged features to keep players on the edge of their seats.
There are many options to choose from, and it's not always easy to find the perfect game by trial and error. On Bojoko, you'll find:
Detailed information about about the slot and its features
Tools to discover and compare similar slots
Lists of casinos where to play these slots for real money
FRUIT MACHINES
Fruit machines are some of the simplest slots available. Modelled on the physical, coin-operated pub slots of times gone by, the online versions give the fruit machine a modern spin.
Online fruit machines can be divided into two categories:
Classic slots closely replicate the old pub slot machines
Fruit-themed slots use the familiar fruit symbols but include some modern features too
PROGRESSIVE JACKPOT SLOTS
Progressive jackpot slots feature a jackpot that grows until someone wins it. Whenever you make a bet on a progressive jackpot slot game, a portion of the money goes to the slot machine jackpot. The pot grows continually until some lucky player hits the winning combination.
Progressive slots offer the most lucrative potential out of all casino games out there. You can play them at most licensed online casinos.
PENNY SLOTS
Penny slot machines are the budget-friendly solution for many slot fans. With a minimum bet of only 1c per payline, you can spin for hours without making a big dent in your bankroll.
Most slots now have fixed paylines. Before you venture out to play penny slots online, you need to make sure to pick a slot that allows you to select the number of active paylines.
Return to our online pokie list and apply the Penny slots quick filter to see slots you can play for 1c per spin.
HIGH LIMIT SLOTS
High roller slots are the best option for slot fans with deep pockets. The maximum bet goes up to hundreds or even thousands of dollars per spin. These high limit slots are a natural choice for players who aren't afraid to risk big to win big.
On Bojoko slot reviews, you can see the maximum bet and pick accordingly.
MOBILE SLOTS
Mobile slots are the mobile-friendly version of the desktop slot games. Usually, the game is 100% the same, whether you play it on your computer, smartphone or tablet.
Sometimes, the controls may be optimised for a tiny screen, making it easier to use with just one hand. Some slots are also optimised for both screen-orientations (landscape and portrait mode).
In 2021, all new releases are published on mobile. The support for Flash - a technology which used to dominate the desktop slots - ended in December 2020. That's why practically every game studio has switched to the mobile-friendly HTML5 technology.
On Bojoko, you can find HTML5 slots by using the filter called Support all devices.
Some of the old, obscure games are going to disappear from the game libraries for good. However, many studios are re-launching their older classics in a mobile-friendly format.
BEST PAYOUT SLOTS
High RTP (Return to player) slots have the smallest house edge of all online slot games. The RTP percentage tells you the share of your bets you can expect to win back.
These are averages calculated over thousands of spins. The results within a single gaming session may vary significantly.
We have listed the best payout online slots in New Zealand based on their RTP. Go back to the slot list and apply the Highest RTP quick filter. You'll see the top 10 best payout online slots available in New Zealand.
Free pokies vs real money pokies
Playing for free has its advantages, providing you with an excellent way to practice and to learn the ropes to a game without spending a cent.  Some players prefer to dive right in and to play online pokies for real money.
Here are the pros and cons of each of the below methods:
Free pokies
You can play free pokies without downloading or registering for an account
Play a variety of titles without worrying about bankroll management
Free practice without risking your own money 
Learning how the games work
You won't earn loyalty points or claim other casino bonuses
You are unable to win real money when playing free pokies
Real money pokies
Playing real money online pokies gives you the chance to play and win progressive jackpots
You have access to a wider range of games
You can claim casino bonuses and promotions
You'll need to make a deposit and sign up for an account o play
You have to be careful of your bankroll and not spend everything in one go
Compete in slot tournaments online
A slot tournament is a form of casino competition. There are different types of slot tournaments online. In some categories, you have to hit the biggest coin win in one or over several spins; in others, you need to wager the most in a certain slot.
You can find all the casino competitions and slot tournaments on our Casino offers page.
Read online slots reviews
We have just completed a major overhaul of Bojoko online slot reviews. They are a great source of detailed, accurate information about real money slots in a format that is easy to digest.
In addition to basic information, our slot listings feature:
Reviews and ratings from Bojoko community
Detailed and honest accounts from experienced slot experts
Bojoko score based on the numeric data and features
Check out our latest slot reviews.
casino game reviews by members
Very good and helpfulness when you need anything
Huonompi versio alkuperäisestä Moon Princessistä: - 3D-mallinnukset liian vahanukkemaisia - Uusilla 3D-malleilla ei ...
Very fun and easy to play.. enjoyed playing it
Easy fun and exciting for anyone
Best pokie providers in New Zealand
Since online pokies real money come in various shapes and forms, sometimes it can be confusing finding the right games to play. Pokies are created by a variety of game suppliers.
Here you can find some of the biggest game suppliers on the online gambling market:
Microgaming: This game supplier has been around since 1994 and it is responsible for the progressive slot game with the biggest jackpot, Mega Moolah.
Playtech: Playtech is also an established game supplier and is mostly known for its progressive jackpot pokies in the Age of the Gods series.
NetEnt: This pioneering game supplier is renowned for its interesting features. It is also responsible for creating Starburst, Gonzo's Quest and Hall of Gods.
Aristocrat: This Australian game supplier is behind popular slot games, Queen of the Nile, Zorro and Lucky 88.
Betsoft: better known for its 3D online pokies, Betsoft games are jam-packed with bonus features and prizes.
Play'n GO: This game supplier's online pokies explore a variety of themes. One of their biggest games is Book of Dead, along with Golden Ticket and Wild North.
IGT: This developer is known for its slot machines Cleopatra and the Da Vinci Diamonds, which come with huge jackpots.
New Zealand mobile pokie sites
Since the online gambling industry has come far, there is no need for you to be confined or constricted to your desktop PC. Online pokies are now available for easy access on your mobile phone or tablet.
This is convenient, since you can play progressive jackpot pokies, and online pokies real money on your sofa, during your lunch break or as you are travelling to work on a mobile casino. 
Not too long ago, mobile pokie sites offered a limited number of games, with frustrating waiting times and basic graphics. These days, the games are akin to those of their desktop PC counterparts, boasting supreme graphics, realistic sounds and faster loading times.
Online pokies, like the best online casinos in New Zealand, are now adapted with HTML5 making them easily accessible on any mobile or tablet device. Regardless of your operating system, the games work on Android, iOS and Windows phones. 
Online pokies tournaments
An increasing number of online pokies sites are also hosting slots tournaments based on one or more online pokies. These tournaments are designed for players to participate and challenge themselves in a bid to win a cash prize. 
The prizes can vary from one casino to another but can include cash, trips abroad, gardens as well as cars. These online pokies tournaments are usually hosted in collaboration with a leading game supplier in a bid to give prominence to a specific game.
Players who are looking to play against other players, online pokies tournaments provide valuable prizes.
Online pokies with the latest progressive jackpots
A good number of kiwi pokies players have won life-changing amounts by playing the best progressive jackpot pokies at online pokies sites in New Zealand. 
Players all over the world have gone on to win millions by striking it lucky at one of the below games. These games have been around for years bestowing upon players 7-figure sums.
Mega Moolah
Hall of Gods
Arabian Nights
Beach Life
Major Millions
Best online pokies games for 2021
There are some online pokies that are universally popular all over the world, including Mega Moolah, Gonzo's Quest and Rainbow Riches.
However, a number of new online pokies have since been garnering attention since launching in 2020, including:
Gems of Adoria
Immortal Glory
Happy Riches
Age of Conquest
Mayan Eagle Nobleways
Online pokies and responsible gaming
Pokies are fun to play and can feel lucrative. Make no mistake, they are a form of entertainment where the casino will eventually win. Pokies are not a way to make money or solve any financial problems.
Gambling is always risky activity and pokies are no exception. They are fast-paced games, which makes them especially dangerous to those with gambling problems. Remember to take breaks, slow down and keep a careful track of you money.
Understanding the mathematics behind pokies can help you become more responsible, but you need to remember that you are playing a game with negative long-term outcome. The games don't have hot or cold streaks, they have no memory of previous rounds and you are not due for a win.
Online Pokies NZ: FAQs:
It depends on what you are after. Some players might prefer a massive range of online pokies, whilst others might have their eye on specific game suppliers, such as Microgaming Casinos and NetEnt Casinos. 
Whatever it is you are after, you should always look for trustworthy and licensed online casino operators to ensure fair gaming and fast withdrawals.
Online slots are very simple to play:
Log in to an online casino
Pick a game
Pick the bet size
Click the spin button
The reels start to spin together and stop one by one. Whether you win or lose depends on the symbols you land on the reels and the active paylines of the game.
You can see the paytable and rules for each slot by clicking the information button once you've opened the game.
To put it bluntly, there's no way to beat a slot machine. You can win, but it's all random and there's nothing you can do about it.
Some players believe they can determine when a slot is going to pay out. Others use different betting strategies to maximise their chances of winning. This is nonsense.
Slot machines have no memory and the odds stay the same from one spin to the next, even after a jackpot is won.
Instead, you can enjoy slots for a longer time without losing too much. Manage your expectations and your spending well in an online casino:
Play for the right reasons. Gambling is a form of entertainment, not a way to make money
Set aside a gaming budget you can comfortably lose - and stick to it!
Keep your individual bets small relative to your overall gaming budget
Don't chase your losses or raise the stakes after a bad run
If you win big, withdraw your winnings
The overall player profitability will largely depend on the return to player percentage. Also known as the payout percentage, it all depends on the range of games with the highest RTP available.
You should seek online pokies games with a high RTP or progressive jackpot games (these have a lower RTP) in order to maximise your chances.
Yes. You can definitely win real money by playing online slot games. Online slots real money games are available to New Zealand players. The maximum payout will vary from one slot game to another.
You can easily find thrilling new online slot games when you sign up for an account at one of New Zealand's leading casino sites. We are continually updating on all the newest slot games, so you can know what's out.
There are numerous ways you can boost your chances of winning at online pokies. Though they are games of chance, you can take advantage of online slots bonus offers as well as free spins promotions, in order to start with a bigger bankroll.
Most importantly, you should look for online pokies with a huge RTP at reliable NZD casinos. Check the pay tables and know when to call it quits. It is important that you have win and loss limits in place before sitting down for a session.
You can play thousands of mobile casino pokies on your phone or tablet. You can either download a mobile casino app or else, access the mobile casino via your web browser.
There are various online pokie sites that offer no deposit bonus offers. Have a look at our no deposit bonus page to discover the best New Zealand casinos with no deposit bonus deals.
No. It usually varies from one casino to another. Usually, free spins bonuses offers are usually limited to specific online pokies. You should always read the bonus terms and conditions before making a deposit, in order to learn if your favourite online pokie is included in the promotion
Yes, especially if you are looking to win real money. The RTP informs you of how profitable each online pokie is. If you are playing for fun and not interested in winning real money, the RTP rate is not important, but if you are looking to maximise your profits, you should do your research before sitting down to play.
Yes. Gambling at real money online casino sites is perfectly legal in New Zealand.
The odds of winning when playing a high volatility pokie are much lower, but the wins pay more. As a general rule, high volatility online pokies are usually more rewarding than low volatility slot games.
On the other hand, low volatility online pokies provide you with a higher chance of winning, but the wins tend to be smaller.
Yes. The rules are similar, but online pokies have a higher RTP rate. You won't know the RTP rate of a land-based slot game. Most importantly, you have access to online pokies 24/7, so you can play whenever you feel like it.
There is no way of knowing since they are games of chance. However, it is important that you keep an eye on the payout rate in order to boost your chances.
When you play slots for real money, choosing the game is always a matter of personal taste. You may already have some solid favourites, but trying something new makes a world of difference.
These are the main factors to take into account when picking the best slots to play:
RTP
Volatility
Minimum & maximum bet
Special features
Mobile usability
Theme
Jackpots
Use our slot selection tool to find games to suit your preferences.
Find NZ casino reviews
Did you find this page helpful?
Ratings: 2 - Average: 5/5