Behind the scenes of Bojoko imagery
29 May 2018
by
Maria Mangion
If you've been hanging around our 'hood, you might've noticed that our site is bursting with colour and cool graphics. This is no accident, of course. 
A lot of creative and technical labour was pooled into the making of the money trees, treasure chests, glasses of bubbly and other shiny things adorning all four corners of Bojoko.
Not stumbled upon these jewels yet? Check out our main page or sign up.
Here's a sneak peek so you'll see what we mean: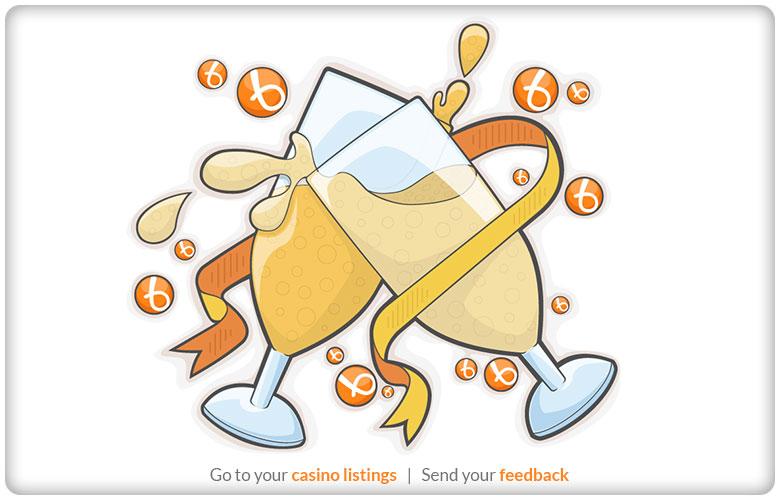 We've been toiling away for months to build Bojoko's visual identity. The glowing comments we've received so far have only stoked our fire with more passion for what we're doing! 
In case you're wondering what that is, we're designing an iGaming platform that doesn't just look good, but also blows a breath of fresh air called UX/UI excellence into the affiliate sector of the industry. 
So if you're of the opinion that our site is easy on the eyes, here we part the curtains and present you Bojoko's imagery up close and personal.
Meet our chief artist
THE MAN BEHIND THE TITLE
Ilkka Tauriainen might shy away from the spotlight in real life but he's no demure daisy when it comes to his art – the domain where he's most comfortable expressing himself. 
A graphic designer 15 years deep into the business, he has now evolved into a tour de force for crafting brand narratives that capture you from the get-go.
Our Art Director is a mean drawing machine with a strong background in traditional arts and can almost sketch in his sleep! 
Originally from the Finnish city of Oulu and now based in the Mediterranean island of Malta, Ilkka plays online with this friends from Finland in his spare time and says that this nourishes a perennial connection with his roots.
CREATIVE INDEPENDENCE AND INFLUENCE
In our chief artist's wise words:
Smart design toes the balance between creative independence and influence.
We couldn't agree more! 
For Bojoko's imagery, Ilkka wanted to create something that stood out from the sea of affiliate sites out there. Yet he still had to work with a (loose) brief...
This pain is felt by most graphic designers. Not one to bow down blindly to orders, our Art Director tapped into one of his favourite childhood cartoons – Donald Duck – to deliver a bright and detailed visual palette for Bojoko. 
At once inspired and irreverent, the imagery reveals a clear nod to American illustrator Don Rosa but also proves how Ilkka designed everything outside the box.
His advice to the newbies: aim for a confident blend of standing behind your ideas and being open to whatever your work throws at you. 
And a postscript for good measure: designers must also master the fundamentals, so a solid grounding in design education is essential.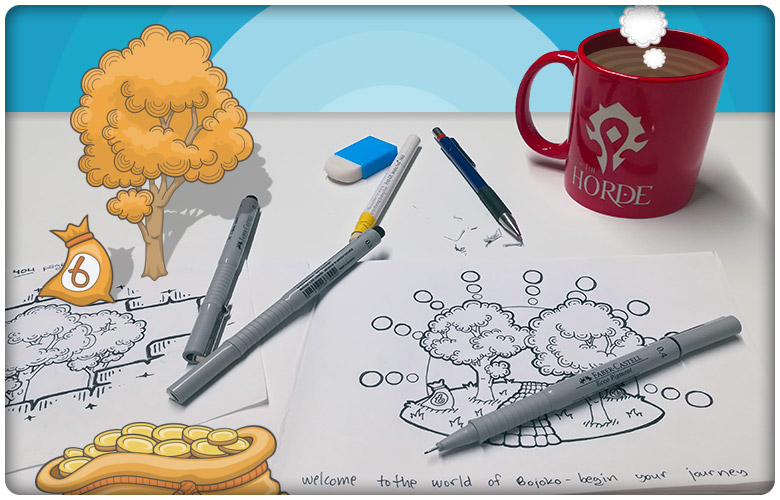 The visual story of Bojoko
FROM IDEA TO ITERATION
In its early gestation period, Bojoko was pretty much a blank canvas. No orange balls or swirling landscapes existed in our world at that point, but they were already brewing in Ilkka's head.
When he took on the gargantuan task of drawing the brand's story, his experience in 2D cartoonish design signalled the starting point. 
Conceiving Bojoko as much more than a website – rather, a world with full complexity – he initially imagined the platform as a virtual board game. 
This element certainly recurs site-wide, from the shuffling function of our sorting tool to the playing card feel of our casino offers. 
The end result is that you look forward to losing yourself in the Bojoko world. Just what Ilkka and us wanted to achieve!
And as with all great journeys, we encountered stumbling blocks. New regulation from the Gambling Commission necessitated a change in art direction, but this was also a blessing in disguise.
GRAPHIC STYLE
This is Bojoko distilled into three words by the designer himself. 
Bojoko's graphic style conveys Ilkka's playful personality, keeping imagery down-to-earth, colours simple and focusing most of the design dynamism on usability.
Most gambling affiliate sites are either copies of other sites or a chaotic drain on the user's brain. 
Bojoko's design supports a site more densely packed with features and overall value which as a bonus, also looks cleaner.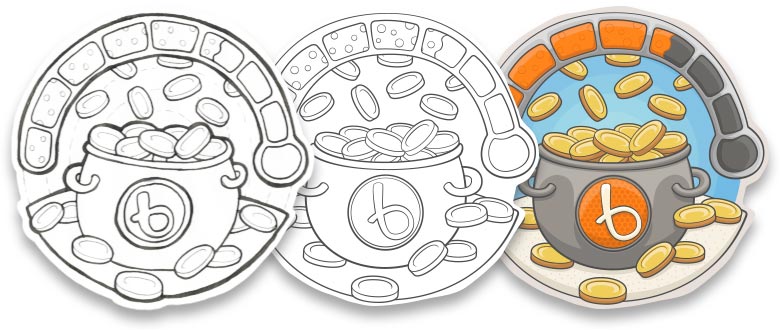 How our graphics are made
DESIGN PROCESS
All graphic designers harp on about process and this remains the crucial roadmap for a great design product. 
At its core, the best design solves problems. Bad design creates more of them!
Conceptualisation, wireframes, colour schemes and other fancy design tricks are there to serve this single purpose. 
Anything else is icing on the cake and should be used sparingly to avoid severe tummy aches!
Ilkka's process begins with scanning the text content of a page. Instead of slapping on any stock image to symbolise online casino bonuses or free spins, he uses quirky turns of phrase in the writing to produce a story packed into pixels.


After visualising the concept, the components of the image are planned. The picture is converted into words and things like backgrounds and layers are defined.


Time to get the "Bojoko pictures" notepad out! This is where the first hand-drawn sketch is pencilled. First comes the spatial planning of the drawing area, then lines and filling in detail. This step can take as many as three different rounds to perfect.


Ilkka then erases the sketch and redraws it with a fine black marker pen, paying attention to the linework most of all.


Once the ink sketching is done, he takes a snapshot and uploads it to Illustrator. This is where the design magic happens.


At this point, the drawing is still monochrome but the colours have long been figured out. Ilkka sticks to the Bojoko colour template dominated by warm hues of orange, yellow and green. The outlines are injected with colour just as you would in an adult colouring book!
HANDMADE, UNIQUE, INSPIRED DESIGN
By now you might have grasped the dedication underlying Bojoko's design.
Even if you're not a designer or lack the eye for it, today's savvy web surfers can spot a crude copycat or slothful sleaze from the very second they land on the site.
The collage-like images found on other affiliate sites or even some new online casinos are a dime a dozen and not particularly inspiring.
Very often, copyright laws are also infringed with these practices, as the characters and images are borrowed from the most popular online slots.
Bojoko's imagery has a personalised feel. Ilkka proudly notes that we're creating something new and he's keen on seeing how people respond to his emphasis on quality.
How you stand to benefit
Conclusion: awesomely designed sites don't happen overnight.
Having created our signature imagery from scratch, we hope you feel welcome in the freshness and lightness of the Bojoko world.