Grand designs of the future: casinos for millennials
Land-based casinos all over the world are having to reimagine the design and layout of their gaming floors to engage the highly lucrative (and notoriously hard-to-please) millennial demographic. Hear it from the horse's mouth on the way casinos' floor design is expected to evolve to draw in the younger generations in the coming years.
Millennials are considered the most powerful consumers in the world.
They're the largest, most diverse and culture-commanding demographic on the planet, and despite having come of age in the wake of a financial crisis, they're estimated to be spending a combined $10 trillion over their lifetime.
This can only mean one thing: brands and businesses are not only casting their nets in their direction, but reimagining the nets themselves to capture this cohort of young, bright and wild things. 
And it's proving to be a tough task. The message is in the moniker: millennials are different in many ways.
Namely, super savvy, conscious spenders with high conscientiousness and expectations for how, when and where they part with their precious pennies. 
The likes of Apple and Netflix have certainly cracked the code, but others are still not clued into this victorious formula. And the casino industry certainly falls within this bracket.
Why don't casinos and millennials mix well?
Millennials do still have a penchant for high-end holiday destinations like Las Vegas and Macau, but their cash isn't flowing into slot machines and poker chips.
Instead, they're spending it in nightclubs, beach bars and restaurants. Then Instagramming the whole affair to ignite the envy of their friends.
Rather than chasing the thrill of a jackpot win in slots, this wave of 20- and 30-somethings is craving cultural experiences and unique attractions.
Memories over monies, mate. Especially if the latter is not free.
Most of the newer casinos reflect this shift in consumer demand; less space is being allotted to the one-armed bandits of slot machines and the impossible glam of roulette wheels as the establishments morph into integrated resorts with theme parks and shopping malls.
Still, millennials are not averse to gambling – bingo is surprisingly popular among this group and they're also very comfortable with staking money on outcomes in video game titles the likes of Call of Duty and Fortnite.
Spurred by the turn of the wheel, casino operators are having to reimagine their gaming floors to cater to these divergent needs and wants.
Skill-based games are crushing slot machines in their likeability and popularity. Not to mention that new technologies such as mobile, virtual reality and augmented reality are increasingly becoming the norm in gaming floors.
Defining this elusive demographic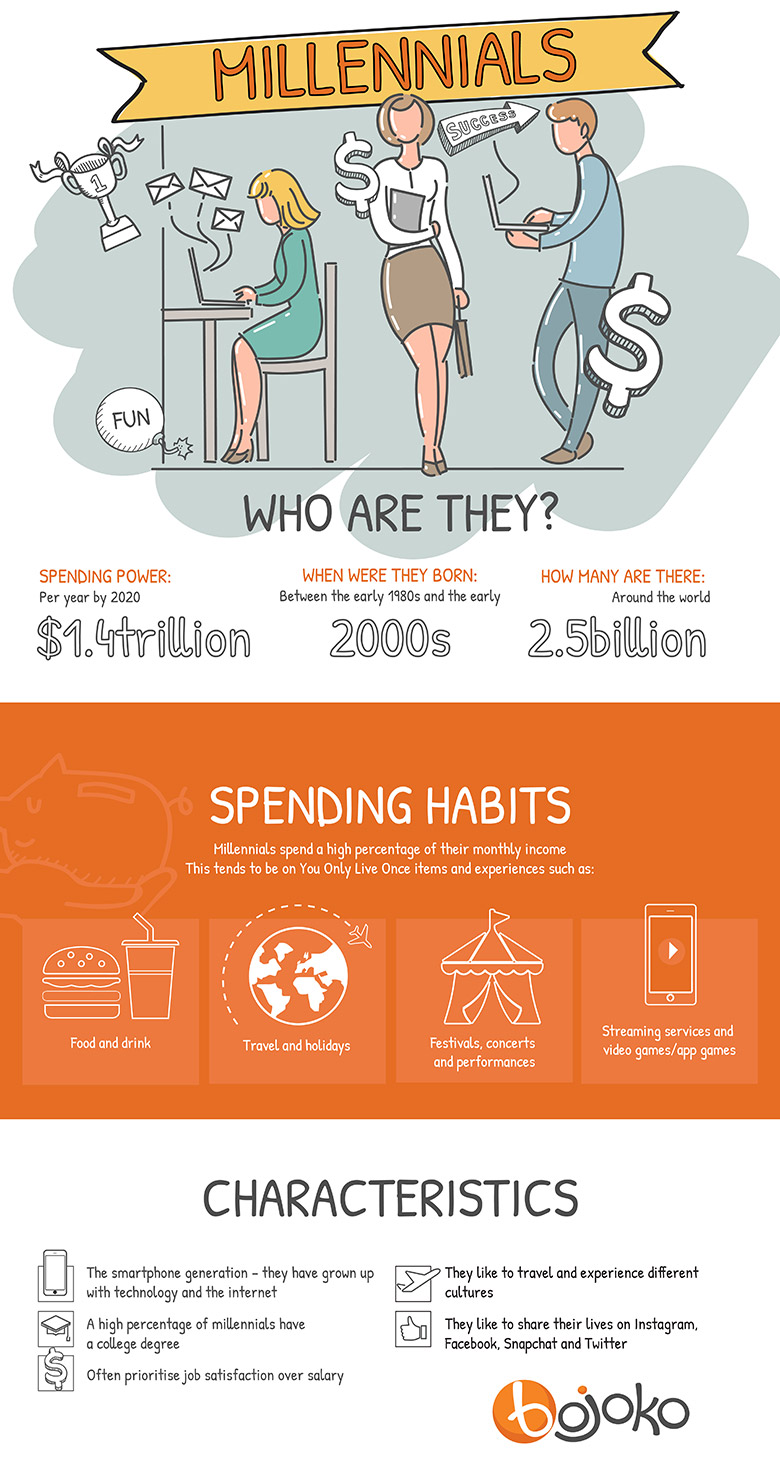 Millennials, also known as Generation Y, are the youngsters sandwiched between Generation X and Z.
There's no clear age range as the term is still a bit of an informal catch-all, but the consensus seems to be that those born between 1982 and 2002 are millennials.
Estimates point to more than 75 million people around the world which fit this demographic.
They're the generation that grew up with technology and the last ones to remember a life without the internet, smartphones, tablets, etc. in their day-to-day life.
They've also been shown to be discerning consumers, comfortable spending money as long as they've emotionally connected with the brand or product.
They're incredibly social and use the technology at their fingertips to communicate with others. Social media and instant messaging have been huge drivers of this shift in interpersonal relations.
Millennials also like to travel and experience different cultures and customs.
Why traditional casinos lose the young 'uns 
These are the key stumbling blocks keeping traditional casinos at arm's length from their most coveted clientele:
The design and atmosphere is not to their liking.
They don't offer games that appeal to their desires and motivators.
They don't facilitate social interaction.
It's not an experience that they aspire to. 
Understanding the culture gap
THE FLOW AND FEEL
Design philosophies change over time. In the past, casinos have been built in a manner likened to a "rat maze".
This is particularly true of those designed and run by long-time casino consultant, Bill Friedman. His strategy was to design labyrinthian gaming floors that would make players feel trapped and disoriented, encouraging them to keep on gambling.
If you've ever been to one of the big Vegas casinos, you might have noticed that once you're inside, it's hard to find your way out. Low lighting, concealed exits, little in the way of signage and no clocks make it nigh impossible to leave effortlessly.
This approach worked back in the day – Friedman's casinos were among the most profitable of all Las Vegas casinos.
Generation Y, however, is also much smarter than the ones that preceded it and these tricks don't impress anymore. Actually, they drive millennials away from their ethical, educated ideals.
THE WRONG TYPE OF GAMES
The thrill and anticipation of landing a big win remains the number one reason for people gambling in casinos. As such, slot machines – especially those hooked up to big jackpots – have historically been the most popular type of casino game.
Sure, table games like blackjack, roulette and poker have a strong fanbase, but it's the slot machines that dominate the gaming floor with their flashing lights and constant dings, bells and chimes.
Of course, slots require no skill to be played and whether you win or lose is purely down to chance. But that's the opposite of this generation's preference and it's where casinos are losing millennials.
Millennials shun the soporific kind of games that play out in the field of a mindless lull. We prize player involvement over anything else.
And this comes from our love of video games. Titles like League of Legends and Counter Strike: Global Offensive are now considered to be professional sports in their own right, and players can train to better their skills.
Table games are also considered games of skill, but in most cases, they don't offer quite the same level of excitement and action as video games.
AN ISOLATING EXPERIENCE
Playing a slot machine is an individual activity and has little to no social value. Casinos have tried to foster player interaction by changing the layout of slot machine from long lines to small clusters in the hopes of treating this problem.
Still, this pales in comparison to the interaction present in other forms of entertainment. When playing video games, for example, players communicate via headsets or live stream their game footage to their friends.
Oliver Lovat has advised some of the largest operators on how to improve the design and layout of their gaming floors to ensure they appeal to different player demographics.
Millennials want to feel like they're entering a place that's interesting, exciting and entertaining, rather than being somewhere you wouldn't tell people you're visiting because it relates to gambling. It's about creating physical environments that are engaging.
So what can and should casinos do to attract younger players, beyond the barely perceptible tweaks to the old formula?
Revolutionising casino design for millennials
When it comes to the layout of the casino floor, Lovat suggests operators move away from the philosophies and practices of Freidman and adopt Roger Thomas' way of thinking.
Thomas designed light pathways and writes that the casino is not a static place. The customer behaves in different ways at different times. In old casinos, if you walk in at 2 o'clock in the morning or 2 o'clock in the afternoon, it's the same music, the same look and lighting.
Lovat says that Wynn and The Cosmopolitan in Las Vegas have done a great job at changing this, and offer environments that evolve during the day and into the evening.
The Cosmopolitan has been a defining property when it comes to casino design. There will never be a casino design again without reference to The Cosmopolitan. It was the first property built for millennials.
The Cosmopolitan was one of the first casinos to adopt the "playground" layout to make the gaming floor much easier to navigate and to create an inviting, special environment where to bet.
Raising ceilings and improving the lighting with stunning chandeliers has created a glamourous space, while floor to ceiling glass walls offer incredible views over the Las Vegas strip and add a serious "wow" factor.
If you create an environment where people are happy, they come back. We like environments that make us feel nice and special, not places that make us feel cheap. People like a sense of belonging and ownership of the space they're in.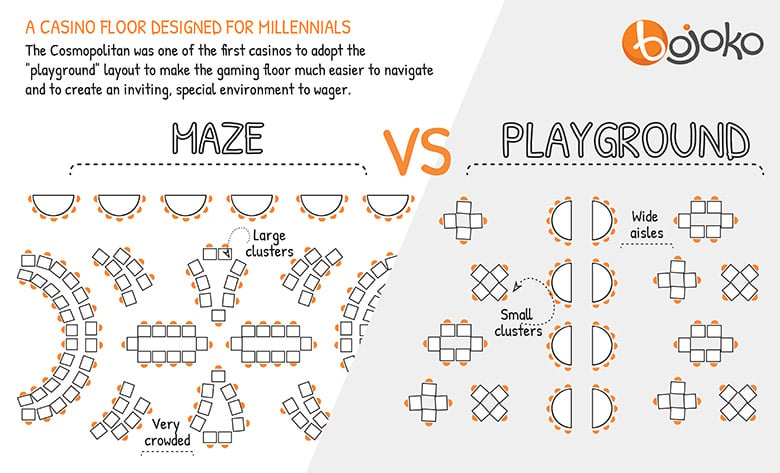 Wynn and The Cosmopolitan also excel when it comes to customer service, an area that's critical to engaging millennial players. Generation Y seek out "experiences" and want to feel well looked after.
This means dealers and employees must be trained in the art of hospitality as well as the art of gambling. Dealers in particular need to be able chat with players and ensure they are having a good time while customers are sitting at their tables.
For players who prefer slots or other types of casino game, it is important that waitresses and managers engage with them and ensure they are having a great experience while in the
casino.
It's about giving players the VIP treatment, even if they're not necessarily VIPs.
Wynn and The Cosmopolitan have also gone to great lengths to make their casinos more sociable and to offer gambling experiences with added competition and fun.
The Cosmopolitan, for example, runs regular slots tournaments and events.
"Unlock and Reveal" involves players using their loyalty card to play on any slot or video poker machine in the casino and earning points for the game. Once they hit a certain number of points, players receive a key card which they scratch to reveal a prize.
Another way casinos are looking to engage millennial players is in the games they offer. Skill-based games have been designed for a wide range of players, but appeal to younger generations because they require input from the player.
The rise of skill-based games
Skill games combine video and mobile game entertainment with the ability to win cash prizes. Gamblit Gaming is a market-leading skill game developer, and has created a wide range of titles including Pac Man Cash Chase, Jetpack Joyride and Catapult King.
Most of its games are based on popular mobile gaming titles available via the Apple App Store and Google Play store, but have been reimagined to include an opportunity to win cash based on the outcome. They are also played on a physical machine.
They appeal to millennials for several reasons:
Response-based gaming activates and engages the evolved, problem-solving instincts of this generation rather than tempting basic impulses as happens with the passive play central to slots.
Skill-based games replicate many features found in mobile games that appeal to younger, tech-savvy players.
Digital media has become the most popular method of entertainment consumption amongst millennials.
Reward-based gaming is aspirational and popular with the millennial generation.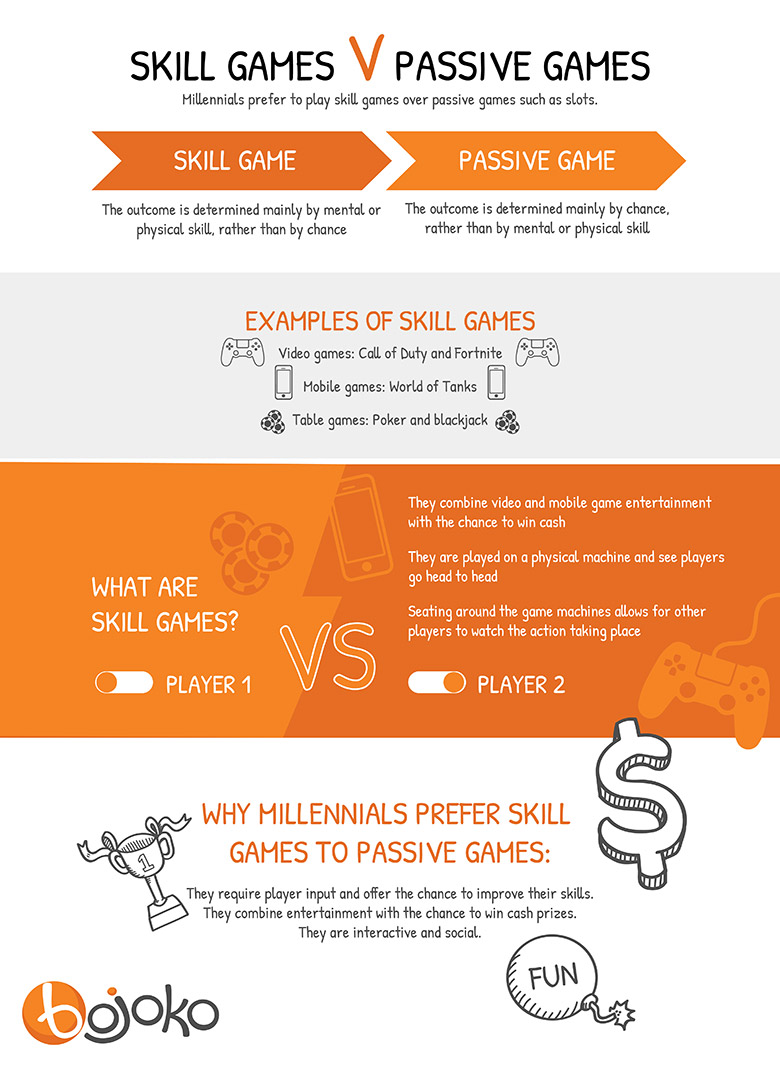 Millennials have more of an addiction to being entertained than gambling, and skill games deliver this.
Marcus Yoder is Vice President of Regulated Markets Business Development at Gamblit Gaming and confirms that millennials don't want to play slots or poker and think table games are too aggressive.
"If the only thing the slot machine is doing is providing a fantastical visual stimulation, but the user is still just pressing a button, it's just not attractive to a millennial or tech-savvy player.
"We have games that are just a really fun way to engage and place a wager. But then we have others where if you are better at the game, you have the chance to win more than someone who is not good at the game."
Skill games are delivering the interaction and group activity that younger players seek. Gamblit puts benches around its games so that other patrons can watch those playing the machines. Yoder says if there are no benches then people just grab stools.
"What we're seeing is two people playing one game together on one wallet, which is great for couples and friends. We think a lot about that experience and providing that ability to have a social experience while gaming and gambling. That's the best combination we can provide.
"The more people you can have involved in that experience, the more the millennial likes to do it," he adds.
Brainier entertainment for social beings
Gamblit Gaming has a busy production line with plenty of new titles set for launch over the coming months. Its next game will be Cut the Rope, a mobile gaming global hit with more than 1 billion downloads to date.
What we've tried to do is look at the game genres that are popular no matter what. We take the games that are familiar and 'gamblify' them. That's part of our intellectual property, our 'special sauce'. We're going to be bringing out Cut the Rope soon, which is a global hit mobile game with a billion downloads. People know how to play it already.
Gamblit is helping casinos to bridge the gaping void separating casinos from millennials through the smart strategy of making games of skill based on titles players are already familiar with.
VENTURING INTO ESPORTS TERRITORY
Another popular millennial pastime is esports, so casinos have quickly recognised the need to adapt their design and layout to accommodate this.
Esports, or professional video gaming as it's also known, has taken the world by storm and is tipped to one day reach the level of an Olympic sport.
In short, it sees teams of pro games compete in titles such as Hearthstone, Rocket League and League of Legends.
These contests are played out in areas and in front of a packed-out audience of fans. It's a highly visual, highly energetic experience with stages that resemble the backdrop to music concerts performed by global superstars.
Some larger casinos have events spaces and areas attached to the property, and are now hosting popular esports tournaments in these stadiums.
The desired lucrative millennial demographic is on-site, they just need to find ways of incentivising them to enter the casino.
One way this can be done is through sports betting, or placing wagers on the outcome of contests. Casinos usually have sportsbooks and some are now offering odds and markets on esports tournaments taking place on their properties.
STUDIO POWER
In addition, we are also seeing casinos open dedicated studios from which tournaments can be live-streamed to fans all around the world. In 2017, for example, Caesars cut the ribbon on a 48,000 square foot studio just off the Las Vegas Strip.
These studios help casino operators build brand equity and trust among esports fans. This is a tough task given that millennials are smart consumers and know when they're being aggressively marketed to.
By building a studio, Caesars becomes a key partner in delivering an experience esports fans are attracted to so a genuine connection is formed.
Of course, if the casino has not been designed and laid out in a way that makes it appealing to these younger players, even if they trust the casino operator and are already on site attending a tournament, they will simply refuse to enter the gaming floor.
Operators understand this, and that is why the majority are now considering ways of redesigning their gaming floors and wider entertainment offerings to ensure they appeal to younger players, but to also offer a superior experience to all of their patrons.
This good news means that casinos will no longer be places you can't escape, but places you won't want to escape. And that will make all the difference.