Founders' story
This is a story about how Good Game and later Bojoko got started.
Good Game Ltd was established by me (Toni Halonen) and Ville Sissonen in Malta in 2011. Ville and I have known each other since we were kids. We are second cousins and were born in a small town in East Finland called Ilomantsi. As kids, we used to play all kinds of sports together in the same teams. Whenever we weren't at school or playing ice hockey, floorball, football, Finnish baseball, etc., we were playing hours of Monopoly or Magic the Gathering and computer games.
So, games have always been in our lives since we were kids. However, having a profession from the games didn't really occur to us until we were in our mid-twenties, the schools were over and we absolutely had to think about work-life. I had some ideas about starting something of my own and I worked a bit for my brother's online store, but these were nothing serious. It was too comfortable and easy to just study and not to worry about what you want to do with your life until you actually have to do something with it.
That moment came in 2008 after my graduation from university. I was spending that summer as Ville's flatmate and we were bouncing ideas of starting our own poker website. It took two years from that to actually have our first own site up and running.
The site was Spungershow.com. The name came from Ville's poker nickname and we did almost everything wrong with that site. :) But you have to start from somewhere, right?
Our passwords for affiliate programs were along the lines of "BuyMercedes2012" and our half-joke motto was "maximisation of passive income". :) The site didn't exactly run passively and we were nowhere near in maximising our income.
I remember once telling about Spungershow to my university colleague who was at that time already a successful entrepreneur in Finland. Normal small talk on Facebook finished immediately when I mentioned the site. Not a single message from him since. :D
I am telling you about this colleague that you would understand how it all started from the bottom of the pit. How almost naive it was to dream about fancy cars and passive income without practically any knowhow how to actually achieve it. We just worked hard, learned new tricks and got lucky while grinding day in, day out.
Nevertheless, Spungershow cost us 150€ to launch and it paid our rent in Malta where we moved in February 2011.
We saved pretty much everything that was left after the rent payments and invested the money to our next site which was launched in November 2011. At this time Good Game was already registered in Malta and the company was two months old.
This time around the site was supposed to be an international poker site, but soon we were adding sports betting and casino to the mix, as well. The project wasn't a huge success and eventually, we sold our poker player base to a Finnish competitor at the end of 2012 when Ville started working for them. The site was kept alive by me updating it every once in a while without a specific goal where to take it.
In summer 2013 through Ville's colleague, we met Jussi Kauppinen. After meeting a couple of times, we decided to start building sites together. Jussi knew a lot more about SEO and how to make money online than us, so in the beginning, we pretty much did what he had in mind.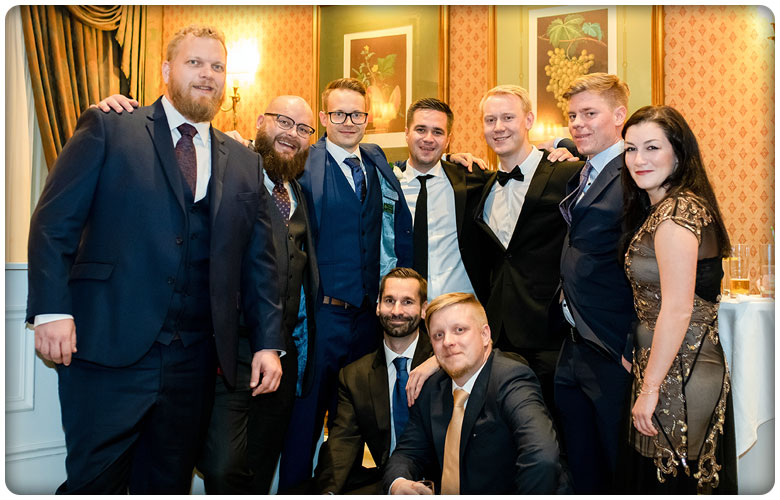 This is pretty much the only crisp picture of Jussi, Ville and me (we are in this order from the left) together. It's taken in my wedding in December 2018. The rest of the group consist of fellow Good Gamers. At the top right next to me is Eppu, Jussi V, Elmeri and Maria. Toni S and Ilkka below. 
So, even though it were I and Ville who registered Good Game in 2011, the Good Game which is up and running today only started when Jussi joined the company and therefore he's one of the co-founders, as well.
The 2011 launched website was still up at this time and with Jussi, we revamped it and started focusing only on casino affiliation. So, sports betting content had to go and thanks for Jussi for the first time we actually started having an SEO strategy in place.
During the first couple of months we tried with one small exact match domain as well but quickly abandoned that idea. The way we did things was just easier to accommodate to building one great site at a time. I think this is true for most companies. Focus is the key.
The first year or so was pretty slow with the traffic. It took 1.5 years to get 50 new depositing players to casinos during one month. It wasn't great, but then again none of us, I, Ville or Jussi, was working full time for the site and we didn't have any developer or designer in the house yet.
I quit playing poker completely in December 2014 and started working full time for our site. I took care of the content creation and website updates, Jussi handled the SEO and wrote content and Ville negotiated our deals with the casinos. We had different strengths with slightly different personalities, so it was a good mix for a team. We compensated each other's weaknesses and didn't have major fights ever. What we had in common was the will to win, succeed with our own company and make some good money.
In May 2015 we saw the first really good results and it only fueled our enthusiasm. We knew that whatever we were doing was working. People say that you learn from your mistakes. That's true, but you learn the most from the things you actually do the right way.
It's a strange feeling when you see the first users using your site and finding it valuable. "This actually works." :) It's even odder when everything happens online and you don't necessarily have any contact with your users.
That summer 2015 we saw steady growth in our site's traffic and I think it was August when Ville got a call from his old friend telling him that someone would like to buy our website.
That someone was Catena Media and Erik Bergman who were building up their muscles for their Spring 2016 IPO. It wasn't Catena though who called and made the first contact, but Ville's and Jussi's old colleague and friend, Martin Franke von Zweigbergk. He's well known from all kinds of different projects and not just in iGaming. Now he's running the successful Cash Game Festival.
Franke acted as a middle man between us and Catena and the three of us spent time with him before and after the deal. He is a character and fun to be around and he played a role in sealing the deal with Catena without hiccups.
At the same time as we were planning on selling our current website, we were spending all we had in the bank at that moment to a Finnish casino domain. It was the best domain name for a casino site in Finland and we knew that it would be a gold mine in our hands.
We were able to buy that domain and maybe a week or two later we had negotiated a deal with Catena. It was a 7-figures deal and pocketing it felt so damn good. For the first time in our adult life, we didn't have to worry about money anymore. Well, at least for a couple of months we didn't.
Since we now had that great domain, we pretty much invested all we had from the Catena deal to this new project. We launched the new site a month after finishing the hand over period with Catena in April 2016.
We grew up a lot as a company during the 6-month hand over period. Good Game moved to an office for the first time, started employing people and started having things like budgeting and weekly meetings for the first time as well.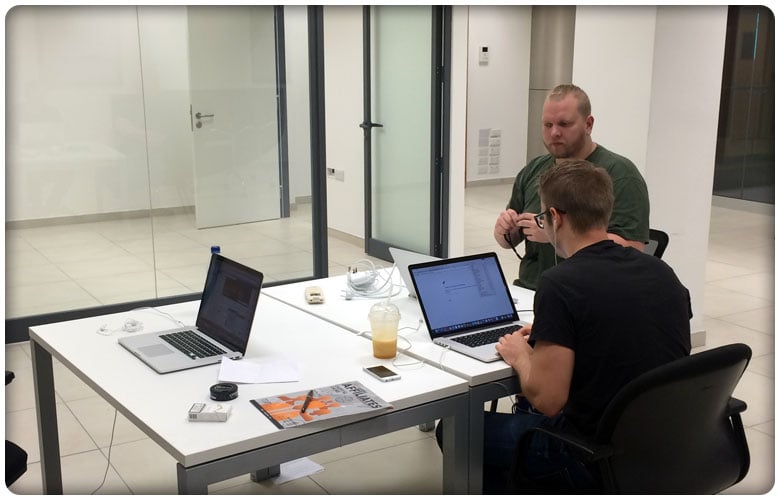 I and Jussi at our first office when us three were the only employees of Good Game. Let the grinding begin. Photo credits go to Ville.
It all went pretty painlessly when moving from the hobby leagues to professional life. Most of it was because Ville, Jussi, our CFO, John Farrugia, and our CTO, Toni Saloranta, had experience from big iGaming companies and running teams in them. Plus, we were very lucky with our hiring and managed to get many talented individuals to work with us. We built an exceptional team around them and the core of it has stayed the same for the most part since 2016-17.
One of the biggest reasons for good employee retention has been our 6-hour workdays. I think it was Jussi who came up with this idea he had seen tried out in Sweden. 6-hour workdays fit well for an affiliate company where the work is highly creative and the business model is based on somewhat passive income. Like many times when faced these kinds of big decisions, we didn't really ponder it long. We decided to just try it out because, with a gut feeling, it felt like a good decision.
The beginning of 2016 saw our first full-time employee start at Good Game. Employee number 1 is our CTO, Toni Saloranta and he is still with us. Same time as we were offloading our old casino site to Catena, we were building a new one with Toni. Alongside this casino site, we were also running a sports betting website in Finland which we had launched in May 2015.
With the casino site, we knew what we were doing, but the sports betting took quite a long time to figure out. In casinos, we saw the first promising results only after a couple of months, and we started being one of the top sites in Finland after 8-9 months. After that, we saw a steady increase in results month after month and it may have even felt too easy sometimes. At least it felt easy when we compared casinos to sports betting where we tried many different things before finding success.
The idea of Bojoko came to me for the first time in the Autumn of 2016. Ville, Jussi and I had been talking about launching an international site at some point. Unlike with our previous sites which were in Finnish and concentrated on one gambling product, I wanted it to have no limits of where it could go. There had to be a chance, however slim it would be, that if we were successful, we could take it to the moon.
So, if the site was "limitless", the name shouldn't restrict it in any way. I started searching for translations to "good game" online. I didn't really know what I was looking for exactly. I just had a hunch that there could be two words in some languages that would make "good" and "game" put together sound nice. I didn't expect these words to come from a country where I had lived and am very fond of.
I was using this website which translates words into multiple languages simultaneously. And there were the words, "bo" and "joko", each on a different tab of a browser. I thought, "that sounds good" and looked more carefully the languages these words were from.
Both of them happened to be from Spain where I have lived on two occasions. "Bo" is Catalan and Galician and means "good", "wholesome", "fruitful". "Joko" is Basque and means "game".
And that's why this website is called Bojoko.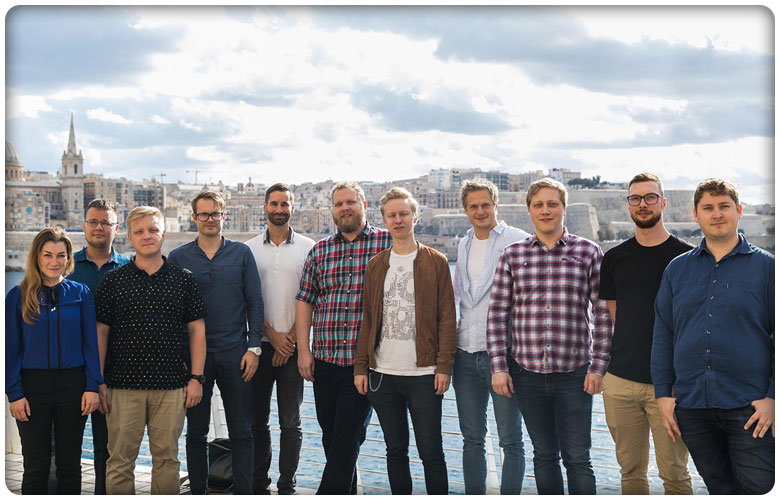 This is the team which kicked off Bojoko in November 2017. From the left, Maria, Lauri, Ilkka, Toni H, Toni S, Jussi, Teemu, Joonas, Aleksi, Esa and Tuomas. Missing from the picture: John, Jussi V and Eppu. You can see the capital of Malta, Valletta, in the background. 
In the early summer of 2017, our main casino site was in the Top2-3 sites in Finland. It became difficult to climb any higher, so we started talking about selling the site once again. This time it was us who initiated the first contact.
Ville contacted a few different affiliate companies which we thought could buy a site worth of over 10 million euros. One or two were genuinely interested in what we had to offer, but there was at least one company who used the opportunity to just get information about the Finnish affiliate market. That's part of the game and something you need to be prepared when offering to sell your asset.
Summer 2017 went by and those couple of approaches we made didn't lead to anything solid. We thought that we wouldn't be selling our site that year after all. And then in October, we heard from Ville's contact that XL Media could be interested in acquiring the site.
We met with XL Media shortly after. Our contact from their side was David Levy. David is a great guy and we hung out with him in Malta and Tel Aviv and it wasn't just hardcore negotiations all the time with him.
The deal-making took quite a long time this time and Ville and David were responsible for most of it. Everything went through in good spirits without any bigger back-and-forths in singular issues.
We shook hands and signed the contract in January 2018 and said farewell to our flagship site in March with "set for life" money in our bank accounts. It was one of the biggest acquisitions for an iGaming affiliate site to that day and definitely the biggest one for a Finnish site.
After the sale, we made a company trip to Punta Cana, Dominican Republic. We worked a little and relaxed a lot on boat trips, by playing beach volleyball and golf and sophistically tasting the local rums and cigars. Life was good.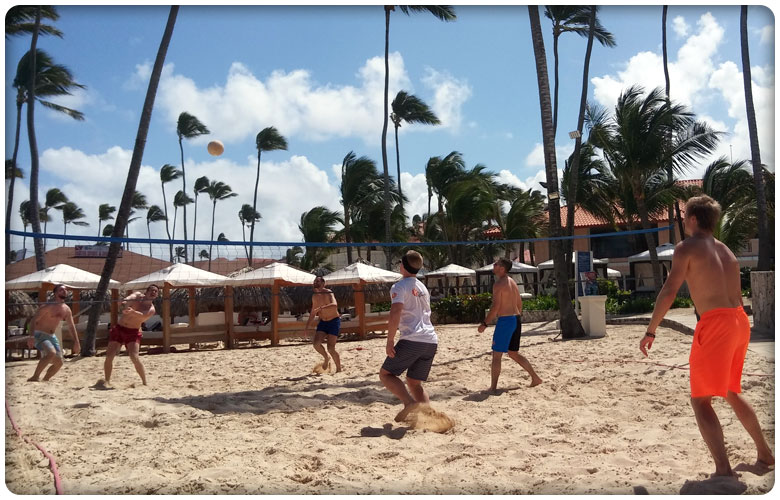 Beach volleyball Bojoko vs. Good Game in Punta Cana in February 2018.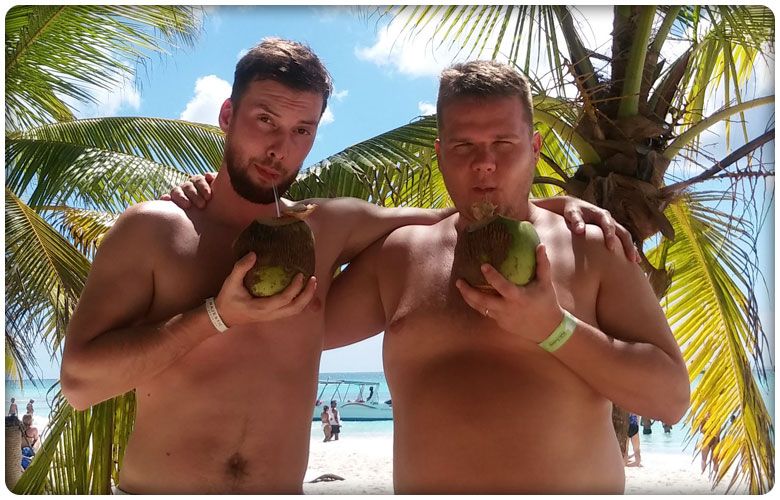 Rum Diaries Punta Cana 2018
Around that time in March 2018, Bojoko was four months old. However, the first ideas were laid out already in Autumn 2016, first designs were drawn up in April/May 2017 and the site was launched 1.11.2017. It has been educational 1.5 years in the UK so far. Since it's a new market for us, we have had to learn new things in marketing, user intent, website building and so on. I think after working for almost three years now on Bojoko, it finally seems to be taking solid steps as a very good affiliate website.
You could describe Bojoko as the Airbnb or Tripadvisor for online casinos. Our mission is to make the consumption of online gambling as frictionless as possible. At the moment this means that we connect users with many different online casinos and make their casino selection as easy as possible.
One core idea when launching Bojoko, was to take us, the affiliate, out of the picture as much as possible. Therefore, a) ratings should come from our users and not from us and b) casino reviews should come from the casinos and not from us.
In other words, casinos are presenting their product to players and players are giving feedback back to casinos on what's working and what's not. We create the space where these two meet; casinos create the products and users show with their actions what they want more and what less and together we create better iGaming. That's it. :)
There are a lot of things we want to bring to Bojoko, but I think the fundamentals are pretty much on the site now. Next, we want to expand from the UK to other countries and upgrade, improve, refine and tweak the existing features.
We surely have the team capable of delivering a great product and all we basically need is time to build a site which will eventually land on the moon. You should follow our story to see how we are succeeding in the upcoming moon landing. 
Let us know how you liked this story below!