Casino dress code – what to wear to a casino
Bojoko has teamed up with renowned UK stylist and fashion writer, Sarah-Rose Harrison, to bring you a definitive guide of what to wear to a casino.
You'd be forgiven for finding casino dress codes a little complex. What to and what not to wear can vary significantly between casino, country and continent, yet it doesn't need to be complicated.
I have teamed up with Bojoko to break down the styles and rules to ensure you'll be suitably suited wherever you're playing.
Jump to:
If you're heading to a proper casino holiday, I've also compiled a list of ten mix-and-match items for Las Vegas that allow you to travel light and gamble in style.
Common fashion sense
So, let's start with the basics: before getting dressed, check the casino's dress code ahead of travelling there.
Some might request formal attire, requiring gentlemen to wear a tie and women to wear cocktail dresses, whilst others might simply not let you in with shorts and trainers.
You can adapt your wardrobe easily to these dress codes, adjusting and adding accordingly. Simply phone ahead or search online to avoid the embarrassment of arriving over-dressed or being turned away for a look that's too casual.
Taking a chance at the roulette table is a risk which can often pay off, but taking a risk with your wardrobe rarely does.
Try sticking to staples you know and are familiar with when picking your casino look as your comfort throughout the evening is key.
The last thing you want is to feel restricted in an ill-fitting shirt or tight pair of shoes as you play: you don't want to have to worry about anything other than your game at the casino tables.
Dress codes for casinos
DAY/NIGHT MATTERS
As a rule of thumb, casinos employ a dress code which increases in formality as the day progresses.
For morning to mid-afternoon games, an "appropriately casual" dress code is usually in place but no sleeveless items (for men), beachwear or flip flops are permitted within the atrium areas.
That said, between 2pm-7pm city shorts and smarter, sports-type shoes will be tolerated. However, from 7pm onwards the formality shifts to "smart casual". 
This code of dress is used by casinos to set a stylish ambience that's both relaxed yet smart for their patrons.
The casino may also prohibit workwear – think chef's whites, paint splattered polos and hi-vis jackets as well as trainers and steel-toed shoes.
What's more, wearing ripped or distressed clothing, vest tops, tracksuits or tops featuring offensive imagery or lexicon will generally lead to your entry being refused.
It shouldn't really come as a surprise that if you arrive in an unappealing look, you'll be turned away.
"Smart casual" is more of a guide to ensure that as a player you arrive feeling confident, relaxed and ready for action.
COMFORT BOOSTS CONFIDENCE
You might be familiar with the phrase and well-rounded confidence tip, "fake it on the outside and you'll feel it on the inside". Well, think of smart casual in this way.
Whether you're playing live blackjack or sitting at a roulette table in Vegas, ensuring you're happy and confident with both your look and your image is a great way to minimise distractions and focus on your A-game.
It's something worth considering when you're trying on outfits ahead of your casino trip: will your top sit on you well? Will there be any gaping or tightness that may irritate or distract you? Will you be anxious about the way your jacket or dress falls?
If the answer is yes, pick another option. Feeling content with your look will help remove unwanted distractions and maximise your confidence, posture and attention as you play.
It also sends the right message to the people around you: dealers, onlookers and especially other players will know you mean business and are in for the kill.
Expert styling tips for casinos
FUNCTIONAL FOOTWEAR
With trainers banned at almost all casinos, finding suitable footwear is a surprisingly spot on place to start, with the opportunity to style and select your look from the shoes up.
For women, whilst heels are a classic and popular choice when visiting a casino, pointed flat pumps are an equally chic option. 
A practical alternative to heels, there's no need to compromise on style with labels from Miu Miu to Malone Souliers offering cool and covetable pairs.
Pointed-toe styles work best, looking just as chic with tailored trousers as they are paired with dresses.
However, if you're keen on sky-high styles to add a literal notch to your confidence at the table, or on the slots, opt for a style that you know you'll be able to wear for hours and hours without discomfort.
One element of the evening which often gets overlooked for women is how well heels might move with the casino's carpet: pin-thin stiletto styles can catch as you ascend staircases or move from room to room.
Chunkier heels don't require you to compromise on style either, with labels like Charlotte Olympia and Prada both renowned for their playful approach to platform styles.
Rich, velvet textures add a little drama, whilst delicate embellishments are a lovely way to add a sparkle to your step, catching the light as you make your way to the table.
You don't want anything to disrupt your streak when you're in the zone.
Similarly, when it comes to footwear for men, there's an almost endless array of options available; which leaves the question, why would anyone elect to wear trainers when there are so many alternative styles?
From loafers to derby shoes and brogues, boat shoes and Chelsea boots in shades of tan, taupe grey and black to choose from, the options are almost endless.
If you're heading on a weekend trip to the casino, I recommend you pack either a classic pair of brogues or loafers (or both!) as these styles will work well with tailored trousers and jeans alike.
FLIRTY FROM THE FEET UP
When it comes to selecting the rest of your casino look, take time to find outfits which reflect your personality.
While adding a little glitz and glamour never hurt anyone, it's important to remember that you don't necessarily have to stand out from the crowd – especially if that isn't your thing. It's all about working out what works for you and your game.
Classic and contemporary styles are the preferred choice, allowing you to move from table and gaming floor with ultimate ease, as the burden of varying your outfits is instantly eliminated when you tick all the boxes of the standard dress code.
Admittedly, most men will aspire to the timeless cool of 007. In casual-but-crisp fashion: no one wants to look like a hapless tourist ready to hand over the contents of his wallet at the first roll of the dice.
To achieve that sleekly suited and booted look, opt for darker hues like deep navy and classic black.
Focus on fit and ensure you're as comfortable in your shirt, jacket and trousers standing as you are seated.
Break up monochromatic palettes by mixing in tonal shirts and contrasting fabrics – think selvedge jeans paired with a navy oxford shirt and tan leather shoes (not trainers) for the daytime.
The days of dressing to the nines and emulating the Rat Pack might be over, but smart evening wear is always a hit: both for your confidence and your general mood.
SIZZLING AFTER SUNDOWN
For an evening at the casino, simply layer a double-breasted navy blazer over a crisp, white shirt and tonal pressed trousers, finishing off your look with polished brogues for a night-time look that doesn't feel too over the top.
If you do still want to emulate that Rat Pack vibe, modernise your approach to the classic suit by dressing yours down with a tonal T-shirt – grey is always a great option – and loafers. You might not win big, but you'll look like you did.
For women, on the other hand, the power of an LBD (little black dress) absolutely cannot be overlooked.
A signature staple within every woman's wardrobe, this classic style can be effortlessly elevated as the night (and your streak) progresses by simply adding a bold red lip – pick a deep, rich shade like Charlotte Tilbury's Red Carpet Red for night-time gaming.
Pair with a camisole with wide leg trousers, finishing off your look with a sleek clutch and pointed pumps. Accessorise your outfits with either delicate or bold statement pieces to add a little flair, sweep your hair back to showcase either a pair of statement earrings or a bold necklace – never both.
BAG IT WELL
With so much to consider, you could be forgiven for forgetting about your bag option. Yet this is the accessory you can have the most fun with – switching between mini bags, belted bags and clutch bags, for instance.
If you're keen to go hands-free, a classic cross-body style such as Valentino's Rockstud shoulder bag will enable you to safely store all your essentials and eradicate the fear of leaving your winnings – or phone – under your seat.
Renowned for their hand-poured acrylic clutches which you can customise according to occasion, Edie Parker's clutch bags provide a fashion-forward way to celebrate special occasions.
From hen do's to honeymoons, a black and gold "Mrs B" clutch will not only act as a quirky conversation-starter but also as a permanent memento of a special trip and potentially big win.
Let's break down the options…
Casino wear for men
When it comes to effortless day-to-night looks, you'll notice that most outfits are grounded around a pair of dark selvedge jeans.
Straight-leg styles are a great investment, enabling you to style the contrasting turn-up (as illustrated below) for a more casual vibe, or folded down entirely for smarter settings.
Working just as well when worn over tonal Chelsea boots as they do with your go-to trainers (these are ideal for exploring the city outside of the casino), this classic style looks smart enough for a serious game at the roulette table when paired with a textured, green sweater.
Try layering over a crisp, white T-shirt for a contemporary edge. Finish off with a pair of modern tortoise-shell glasses so you don't miss a trick.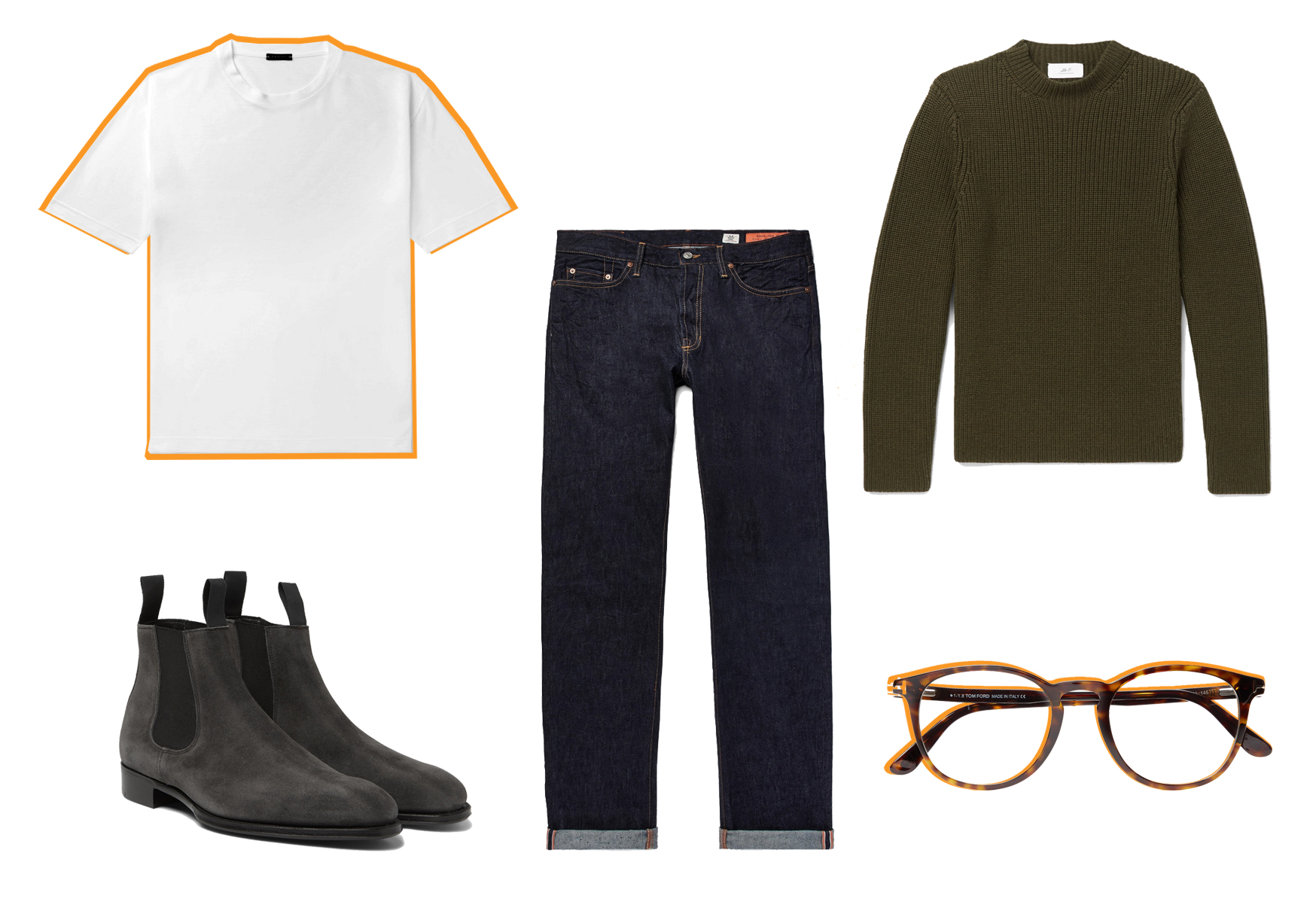 Clockwise from top left: Cotton T-Shirt, £30, J.Crew; Selvedge Jeans, £300, Jean Shop; Wool Sweater, £165, Mr P; Acetate Glasses, £175, Tom Ford; Chelsea Boots, £595, Kingsman
For the days, and games, when jeans just don't seem like the right option, pair your look around a neutral chino – greys, beiges and navy always look great. 
Opt for a straight-leg or skinny fit but avoid super/extra skinny styles. Even though they might appeal to you on the hanger, comfort in the casino is a must and they might not fit the bill.
Sitting in super slim-fitting chinos for a long game of baccarat won't be fun!
Elevate this look by pairing your beige chinos with a dark navy shirt, which can easily be layered over a white T-shirt during the day and then fully buttoned up after 7pm when the evening's gaming commences.
Add tonal accessories such as a taupe suede belt and khaki leather watch to tie the shades together. If boots aren't quite your style, try a boat shoe. Cool and comfortable, you'll feel confident in any of Quoddy's suede styles, which work seamlessly with jeans and tailored trousers alike.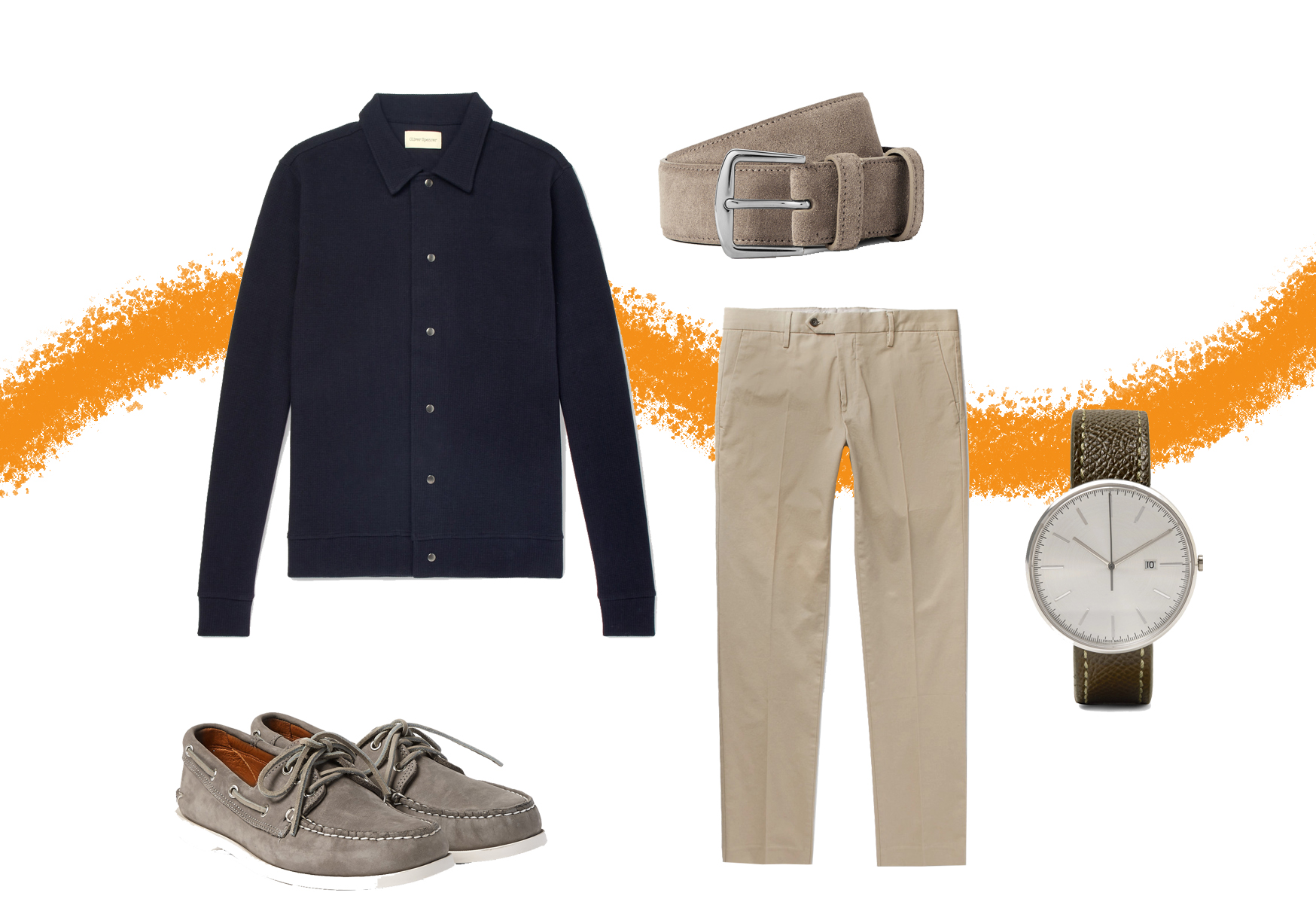 Clockwise from top left: Cotton Shirt, £140, Oliver Spencer; Suede Belt, £365, Loro Piana; M40 Leather Watch, £325, Uniform Wares; Twill Chinos, £120, NN07; Nubuck Boat Shoes, £155, Quoddy
If you want to up your confidence at your next casino trip and game, opt for a sleek navy suit over classic black.
A contemporary alternative to the monochrome palette of the Rat Pack, a navy suit will afford you far more styling options.
It's worth investing in a sharply tailored suit as you'll be able to style each element separately, pairing the blazer with dark wash chinos and a cream sweater.
Or try mixing the trousers with a grey knit and tan loafers. Pairing the matching blazer and jacket together, dress yours down for maximum comfort, layering the jacket over a tonal sweater, rollneck or T-shirt – grey always looks best.
Coordinate your accessories and match your watch to your belt and penny loafers. Add a spritz of Tom Ford's Oud Wood before you hit the casino floor.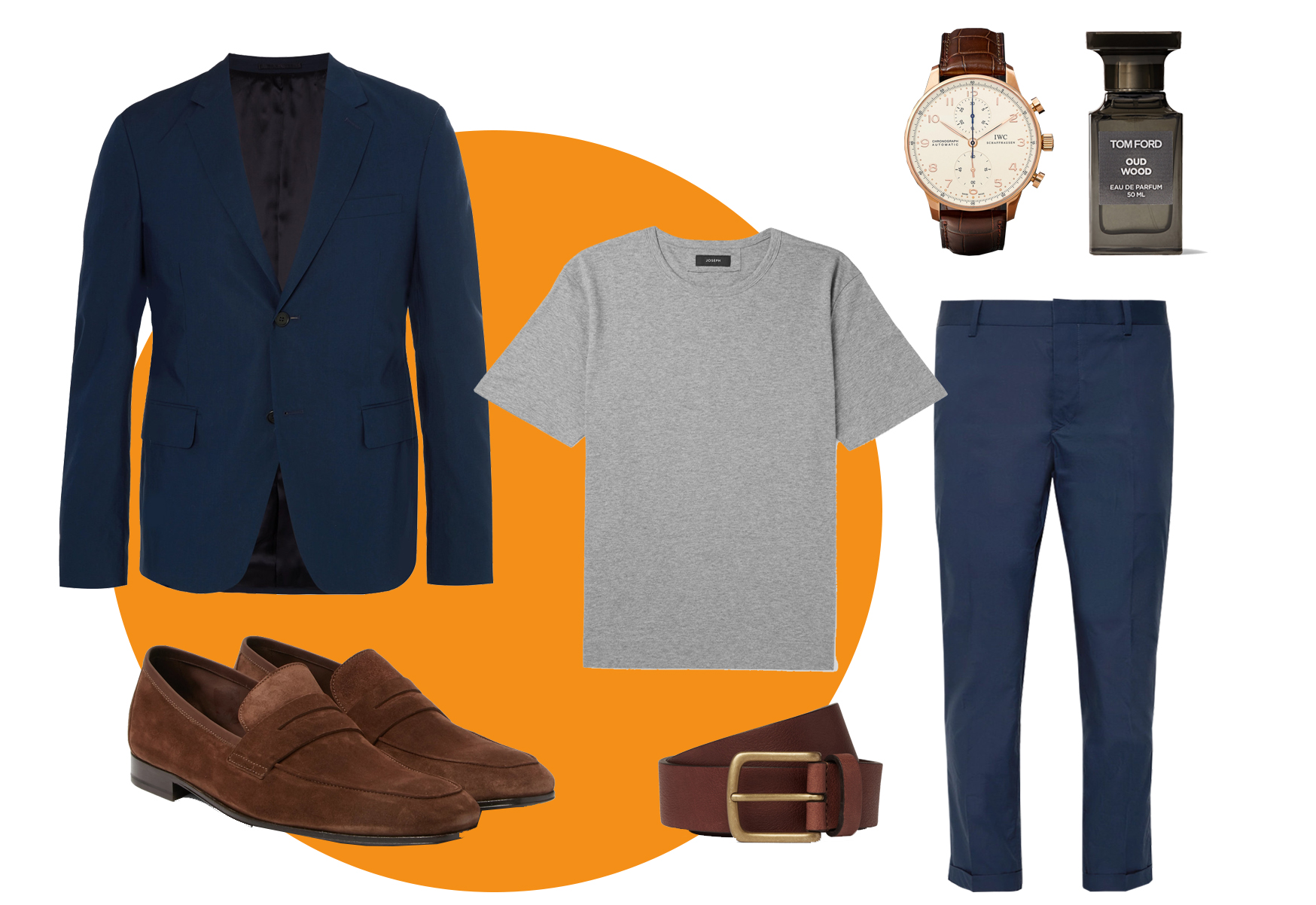 Clockwise from top left: Cotton-Poplin Jacket, £920 Prada; Cotton T-Shirt, £65, Joseph; Portugieser Chronograph 18-Karat Watch, £13,950, IWC Chaffhausen; Oud Wood Eau De Parfum, £158, Tom Ford; Cotton-Poplin Trousers, £390, Prada; Textured-Leather Belt, £95, Anderson's; Suede Penny Loafers, £285, Paul Smith
Casino wear for women
Contemporary, with the right amount of cute, a pastel pair of wide-leg trousers are a chic alternative to jeans, dresses or skirts.
Temper proportions by opting for a high-waisted style that sits high on your hips and pair with a sleek, silky camisole such as this ivory bodysuit by Alix.
With sculpting fabric around the waist and base, this camisole/bodysuit will eliminate any bunching fabric or the fear of your camisole becoming untucked mid-game.
Pair with gold-toned accessories and a flattering point-toe pump for a sleek look that'll go from day to night with ease.
Toughen up the pretty, pink hue of the trousers by pairing with a contrasting bag.
A colour-clash, cross-body style like Valentino's iconic Rockstud bag is ideal for hands-free gaming, with this compact style roomy enough for your wallet, lipstick and playing chips.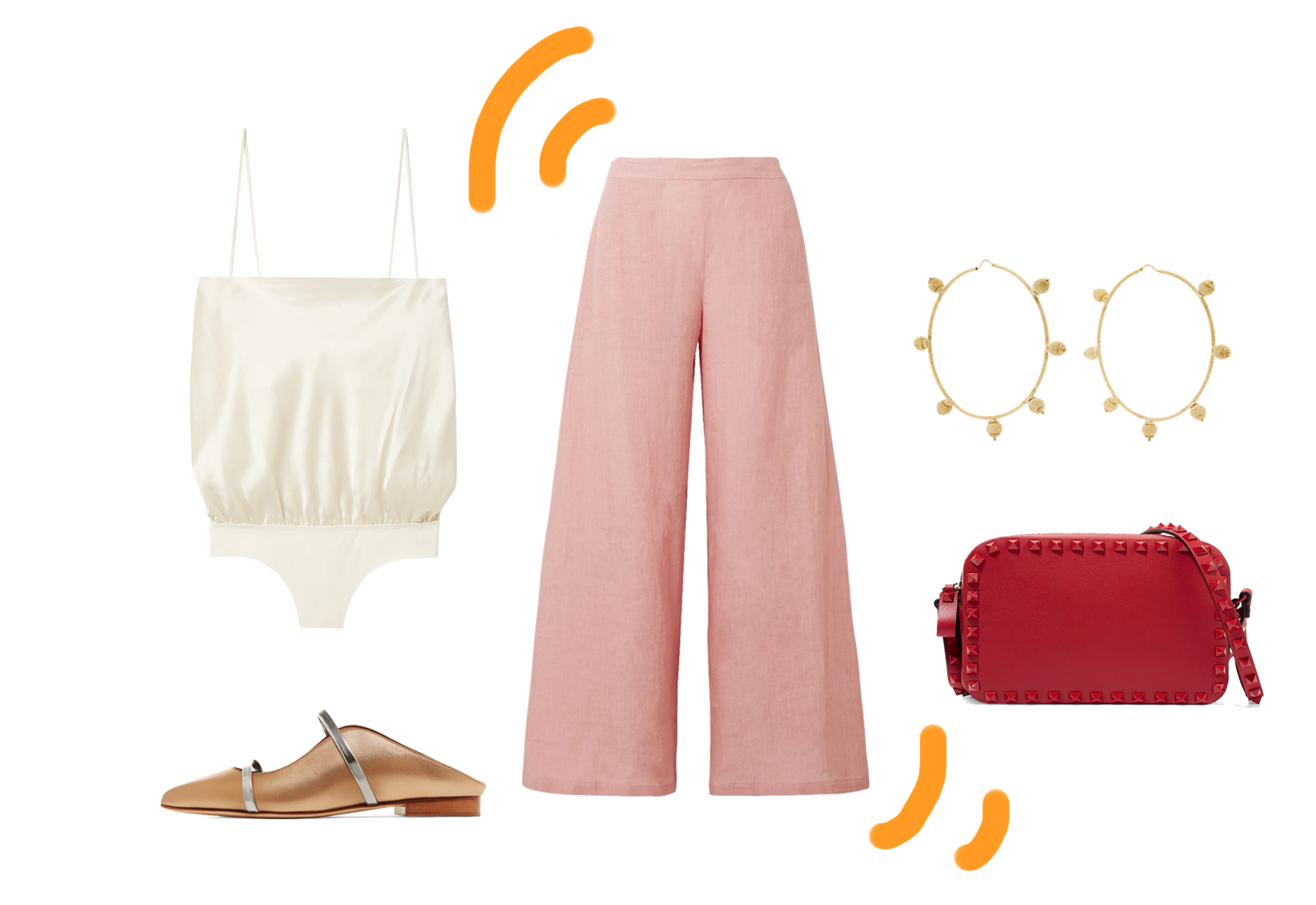 Clockwise from top left: Silk Bodysuit, £205, Alix; Wide-leg Pants, £455, Mansur Gavriel; 18-karat Earrings, £2,230, Carolina Bucci; Rockstud Leather Shoulder Bag, £905, Valentino; Point-Toe Flats, £425, Malone Souliers
The LBD (Little Black Dress) has been solving every sartorial drama since day dot. The ultimate fashion fail-safe should be the first port of call for all casino visits.
The classic, form-fitting, knee-length style first made famous by Coco Chanel will take your after-dark look to a whole other level.
Amp up both your confidence and the drama of your LBD by pairing with platform sandals (ideal for gliding across casino carpets) and glitzy, gold accessories.
Finish off this evening look with a rich red lipstick and a generous spritz of Bella Freud's "Close To My Heart".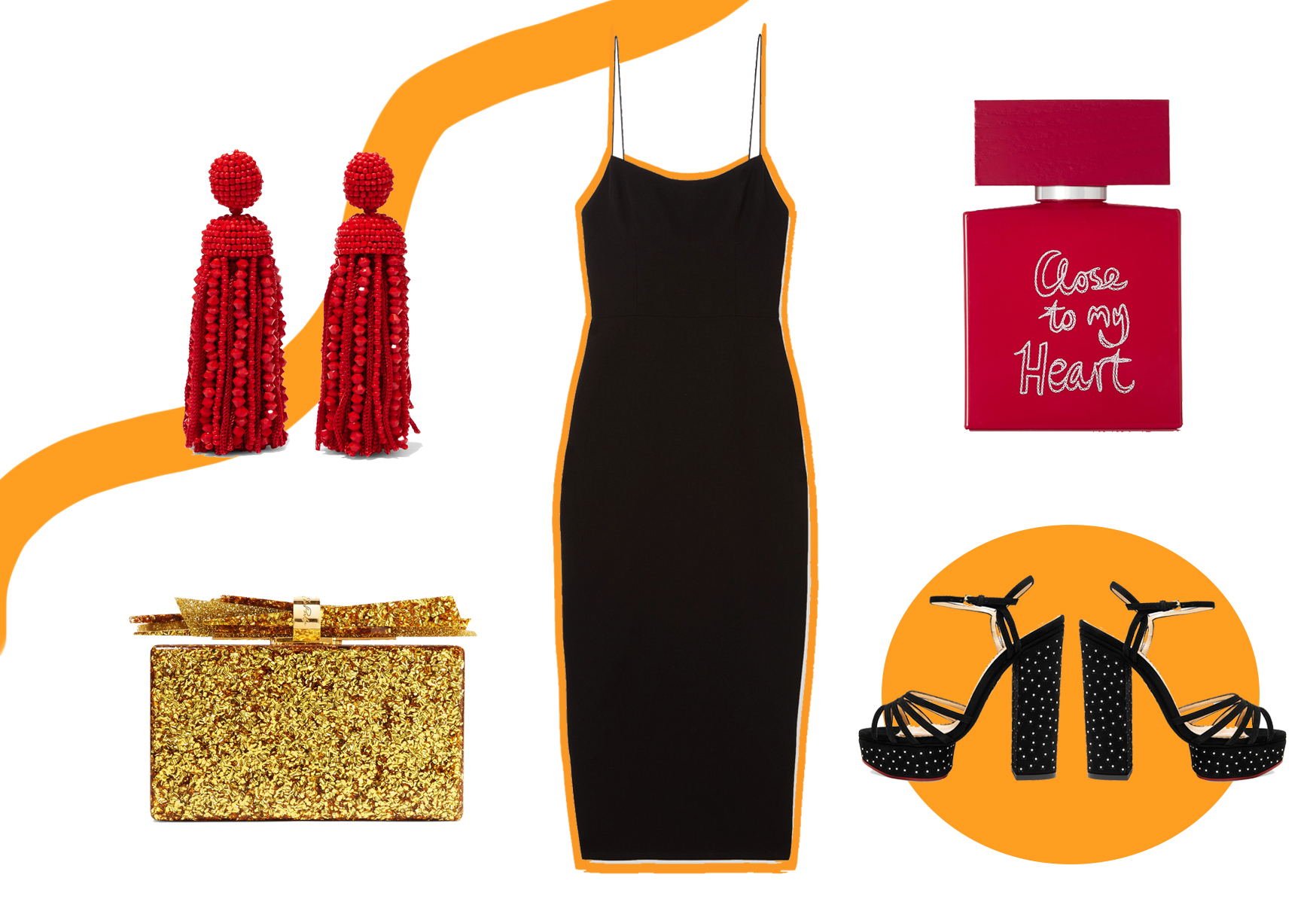 Clockwise from top left: Earrings, £310, Oscar De La Renta; Dress, £600, Alex Perry; Close To My Heart Parfum, £95, Bella Freud; Swarovski-Crystal Embellished Platforms, £755, Charlotte Olympia; Clutch, £1,295, Edie Parker
If you thought we could compile a guide on what to wear to a casino without featuring an outfit fashioned around Bojoko's signature shade, you'd be wrong.
This tangerine hue silk was too good to omit. Designed for a slim-fit, this beautifully bold style will ensure you stand out for all the right reasons.
Offset its asymmetric draping by pairing it with a top equally as dramatic to reach maximum casino confidence.
Intensify the contrasting shades with a smoky eye and nude lipstick, finishing off your look with metallic accessories and a pair of gold Jimmy Choo's to add a subtle sparkle to this statement look.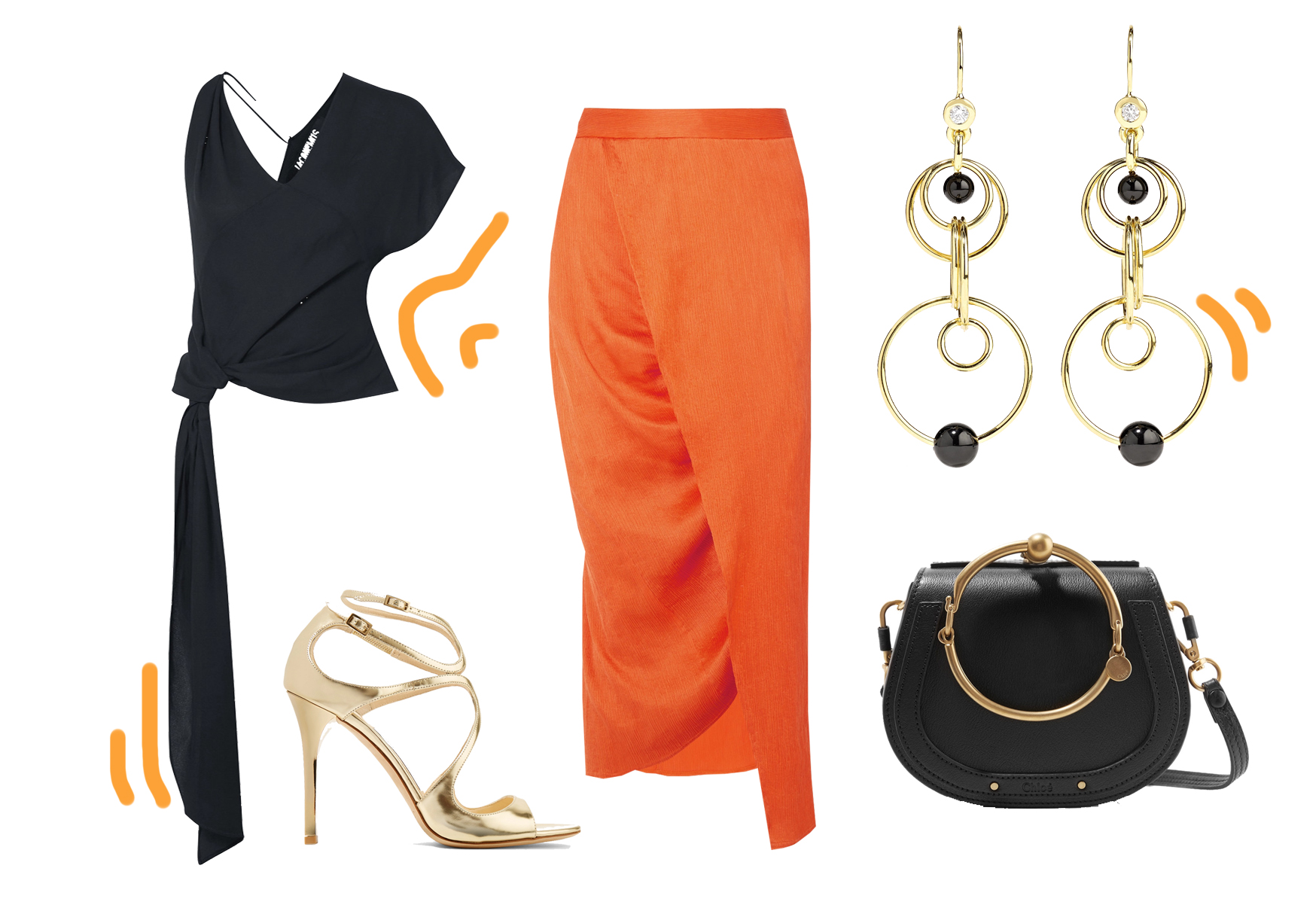 Clockwise from top left: Asymmetric Top, £345, Jacquemus; Silk-Satin Midi Skirt, £620, Sies Marjan; 18-karat Gold, Diamond and Onyx Earrings, £1,990; Nile Bag, £1,190, Chloe; Lang Sandals, £575, Jimmy Choo
Once you have your look in order, it's time to hit the casino floor and have some fun. But you don't always have to go out – you can select any UK online casino from Bojoko's wide range of quality and trusted casinos and they all can be played in from the comfort of your home – even in your pyjamas.