How we're winning the race towards regulatory excellence in iGaming
13 August 2018
by
Maria Mangion
If there's something that keeps the iGaming industry on its toes, it's regulation. It's the invisible overlord that commands change for the better, even if it's felt as a medium-hard pinch for operators and other stakeholders in the short term.
But as far as regulation and many other long-term life stuff goes: no pain, no gain. So how is Bojoko setting an example for affiliates in making regulation a top priority? We're sharing our insights here. 
Here's to iGaming moving in the right direction!
Straightening a bumpy road
With almost a decade of experience in iGaming, our team has witnessed the industry morph continuously.
Like any other fledgling sector, the early days were marked by a dose of uncertainty, a "wild west" environment and a lack of guiding principles and protective structures to safeguard players.
Think of the internet in the 1990s! It was a marketplace built on stilts, with crappy-looking websites, tentative technology you couldn't really rely on, and a very limited pool of choice for players.
There was nothing to control things from going awry (and they often did), or someone to turn to if some rogue casino didn't pay out your winnings.
And boy, how things have changed. The industry is currently maturing.
WHAT DOES THIS MEAN?
High-profile acquisitions and mergers are the order of the day in iGaming. But that's not the only sign that the industry isn't wearing its baby bonnet anymore.
Regulation has went from being non-existent two decades ago, to a flourishing worldwide phenomenon that started with the UK Gambling Commission drafting the Gambling Act 2005.
This was the first real attempt at smoothing the creases in an offline industry that suddenly blossomed online and experienced more growth than it knew what to do with.
The UK's centuries-old gambling culture was first effectively liberalised and moderated by this first modern act of regulation.
It now continues to evolve and every serious operator, affiliate and supplier is vying to keep up.
The other option is to pale into insignificance, or die a an explosive death. (It's estimated that the number of online casinos going bust each year is about the same as new casino sites opening up shop).
ROOTING FOR EVERYONE'S RIGHTS
The forward march of regulation has the desirable effect of creating the right conditions for innovation to speed up, apart from tightening the whip on some of the low-quality, non-compliant practitioners.
Traditionally, regulators are tasked with:
Preventing gambling from being a source of crime or disorder, being associated with crime or disorder, or being used to support crime.
Ensuring that gambling is conducted in a fair and open way.
Protecting children and other vulnerable persons from being harmed or exploited by gambling.
Source: UK Gambling Commission
Many observers agree that it should become much more difficult for children to wiggle their way around the rules and access gambling websites and products, amongst other things.
But when the Gambling Commission introduced stricter guidelines for gambling advertising with particular appeal to children in October 2017, it didn't quite have the ideal consequences.
Quarreling over pictorial representations of children's books and movies as well as over what one word or another implies is not helping anyone. And the UK Gambling Commission's latest rulings have actually caused namely that – an unstoppable bickering between operators and affiliates, operators and regulators, affiliates and regulators, etc.
This policing can be seen as a restrictive burden to some, but the team behind Bojoko saw an opportunity in joining the cause for safe and responsible gambling.
Providing a fresh start
As the big fish keep rounding up responsible gaming departments and investing in experts and initiatives to suck up to regulators and maintain an image of squeaky clean compliance, we're doing our own thing in this new playing field.  
Bojoko is the first iGaming platform built around everyone's needs. 
Players and users come first, but we haven't sidelined operators, suppliers and other stakeholders.
Instead, we've tried to harmonise everyone's interests into a single site that serves all these different agendas. 
We believe that the industry should welcome greater discipline before stronger regulation ties our hands, as opposed to shunning it altogether and suffering regulatory consequences in the future.
And even more boldly, we're confident that promoting a regulated environment through self-discipline and social proof is beneficial for the entire iGaming ecosystem, from players to operators and everyone in between.
Here's how we're doing it.
PROBLEM #1: BIASED REVIEWS
A common gripe is that there are tons of online gambling sites (mostly affiliates) that dupe players with casino reviews that aren't honest and unbiased.
And the ones that do tend to be missing real player reviews, which are the true benchmark for a casino's quality and reputation.
HOW WE'RE TACKLING IT
Our casino reviews are written and managed by the operators themselves. 
It does mean you'll be reading their own account of their strengths, but by no means should this be misleading.
We've got player reviews to weed that stuff out.
All users can review casinos, comment on other reviews and basically call anyone out if anything is not as promised. Just like you'd use TripAdvisor to choose a restaurant based on others' experiences.
When the players have a say, truly the best online casinos rise to top.
PROBLEM #2: OUT OF CONTROL MARKETING
Operators use affiliates to getting players to their casinos, but some affiliates have unsavoury tactics for driving players to their partners' sites.
Once a casino outsources its advertising and marketing to someone else, it basically loses control over the way its brand is represented.
And who are regulators punishing for breaches of the rules? Operators, without question.
HOW WE'RE TACKLING IT
We're giving back casinos total control of their branding.
Operators can create an attractive listing on Bojoko, detailing the full spectrum of their casino's offerings.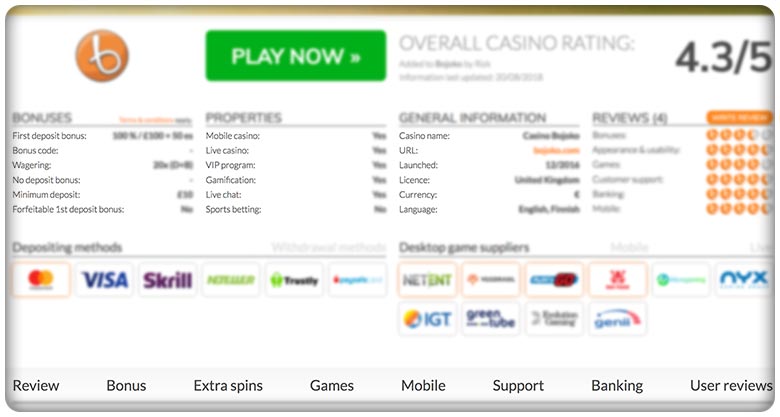 This way, no stone is left unturned when it comes to conveying the brand message accurately.
And the casino can update its review on Bojoko anytime, so the branding can be maintained and shaped in line with the casino's operations AND regulatory requirements at the same time.
When an operators launch a new look or update their new player bonus package, they don't have to chace down affiliates to get the fresh info out.
No hassling over getting slapped with a ludicrous fine from regulators because of an affiliate's advertising anymore! This applies for game suppliers too.
PROBLEM #3: AFFILIATE UNACCOUNTABILITY
Who's affected: Affiliates
Affiliates often get a bad rep in the industry for the reasons mentioned above.
Advertising standards are generally not great, there's little accountability and regulators never really enforce their own ideals on the major advertising wheels of the industry.
HOW WE'RE TACKLING IT
We've designed a platform where compliance is key and rogues are out.
No unlicensed casinos will ever be on Bojoko, and those with a licence have to abide by regulation and follow the rules we lay down.
We watch the Gambling Commission's updates closely and instruct casinos on how to remain compliant, leading the way in the affiliate space.
We're the first iGaming affiliate to progress the right terminology for bonuses, banning use of wording and imagery that wrongly suggests that the bonus is "free" if wagering requirements and other conditions apply.
On Bojoko, we only allow operators to promote free spins when there are no requirements for wagering or depositing.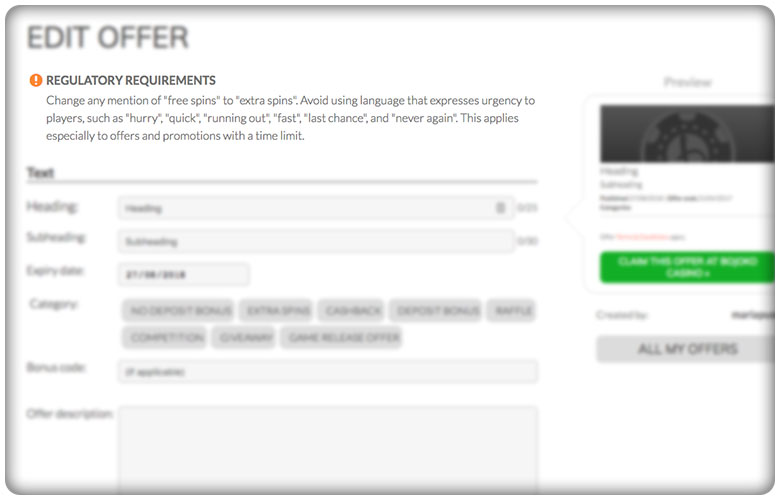 PROBLEM #4: INVISIBLE RESPONSIBILITY MEASURES
Let's face it, every industry could do with a bit more giving back, but this is especially true in ours.
Responsible gambling might be the industry's mantra but it amounts to little more than lip service if it's not spelled out to the general public and applied in practice.
HOW WE'RE TACKLING IT
Raking up huge profits equals a lion's share of the responsibility, so we're giving suppliers (and soon, casinos) the opportunity to outline what they do to foster safe and responsible gambling in society-at-large.
Some operators have developed handy self-assessment tools, other stakeholders regularly contribute to good causes in their local community, and yet others show a strong commitment to promoting transparent and fair gaming in their establishment.
Suppliers creating a listing on Bojoko are invited to discuss their safe and responsible gambling initiatives, which then appear in their published review.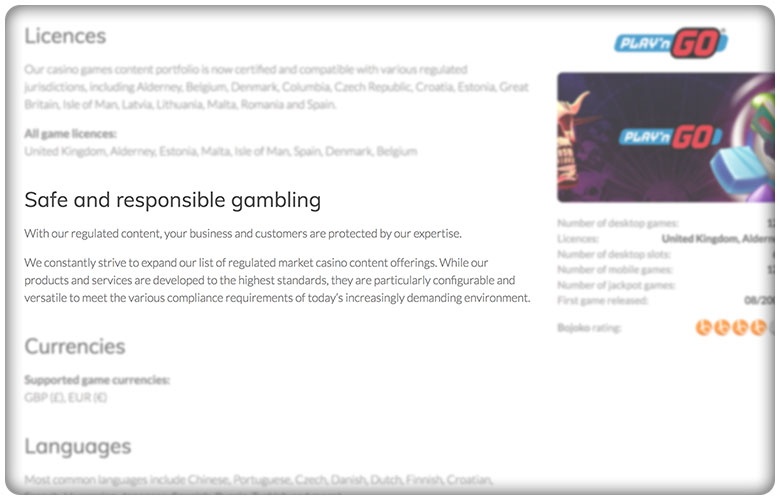 Players can easily browse through the various statements and leave their own thoughts about the company's efforts in this department.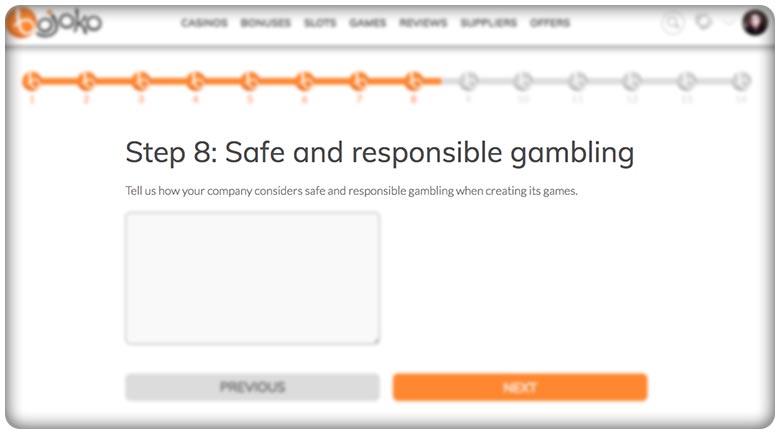 What do you think of our approach to regulation? If you whink we can do more, give us a shout in the comments below.