What is blackjack?
Here's a quick introduction to blackjack by Andrew Uyal, a pit boss turned blackjack pro. Andrew shares his 5 practical tips to play the game better and make your sessions more enjoyable:
Blackjack is a card game played against the dealer. The object of the game is to build a hand value that is higher than that of the dealer's without going over 21.
A hand of blackjack plays out as follows:
You place a bet
The dealer gives you two cards face-up
The dealer receives two cards, one face-up and one face-down
You assess the value of your hand and decide whether to take more cards or stand
The dealer makes a move once you've finished.
The winner is the hand with a value that's closest to 21 (or 21 exactly) without going over.
The overall objective in blackjack is to beat the dealer's hand. If you get a total hand value of 21, then so much the better. However, you can beat the dealer with any number higher than what they have, as long as you don't go over 21. You also win if they bust by going over 21 and you have any total under 21.
Sounds simple, right? Well, in theory, it is. However, there are certain subtleties that come into play. It's these nuances that make blackjack entertaining and, importantly, a game where you can introduce various tactics and strategies.
In this guide, we'll cover all of these features in more detail. However, before we do that, you need to know the basics and how to play.
Blackjack card values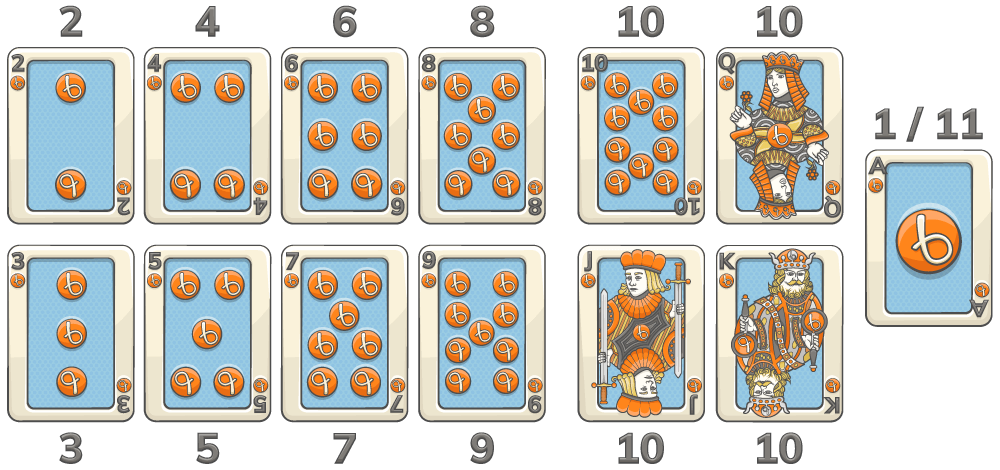 The rules on card values in blackjack are very simple. Here's how they work:
Numbered cards are worth the face value on them: 5 counts as 5, a 7 as 7 and so on.
All of the picture cards (also known as face cards) count as 10. This includes the Jack, Queen and King.
The ace can count as either 1 or 11. It's the most versatile card in the pack.
Jokers aren't included in this game.
Blackjack is played with a standard deck of 52 cards. The colours and suits of the cards don't matter. All that counts is the value associated with the card.
How to work out the total of a blackjack hand
To get the total of any hand, you need to add up each of the cards in it.
EXAMPLE: You're dealt a 7 and an 8. This hand is worth 15. If you then get dealt a 3, the total goes up to 18.
If your total exceeds 21 at any time, you've gone "bust" and the hand is lost. The same rule applies to the dealer.
Determining the value of your hand really is that simple. The only time that things get more complicated is when you get an ace.
How to make a blackjack: the power of an ace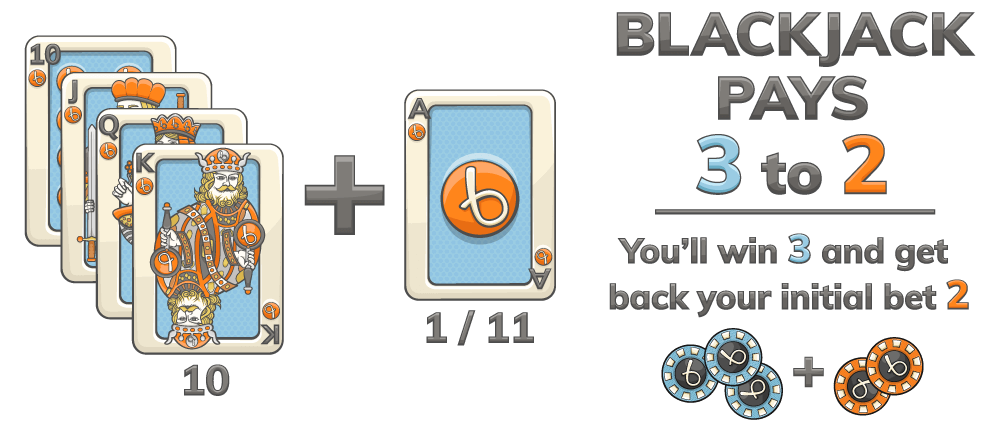 In blackjack, an Ace can be worth 1 or 11. Therefore, if you get a 10 and an Ace as your first two cards, your total is 21. This is known as "blackjack".
At other times in the game, an ace can be worth 1 or 11, depending on what works best under the circumstances. In these situations, the concept of "hard" and "soft" hands comes into play (see section below).
If you have a blackjack, you automatically win the hand as long as the dealer doesn't also have a blackjack. When you win with blackjack, your payout is 3:2 (in most variants) instead of the standard 1:1. In simple terms, 3:2 means you'll win 3 chips for every 2 chips you bet. Alternatively, you can say that blackjack is worth 1.5X your stake because 3/2 = 1.5.
EXAMPLE: If you wager £2 and hit blackjack at 3:2, your profit will be £3. You'll get 3 chips for the 2 chips you've staked. Since you also receive your stake back on a win, your total return will be £5 (£2 stake + £3 profit).
If the dealer also has a blackjack at the same time as you do, the hand is a tie. However, if the dealer creates a blackjack and you have any other total - including 21 built with three or more cards - the dealer wins.
When the dealer has an ace showing as an upcard, you can pay to take out insurance against them having a blackjack. If you do this and they have a blackjack, you'll receive a 2:1 payout on your insurance bet.
Hard hands and soft hands
You may come across terms such as "hard" or "soft". This tells you whether the cards contain an ace that counts as 11 or not:
Hard hands =
A hand that doesn't contain an ace
or
A hand where the ace can only count as 1
EXAMPLE:
10 + 5 = Hard 15
10 + 2 + Ace = Hard 13
Soft Hands =
A soft hand includes an Ace that can be counted as either 1 or 11
EXAMPLE: You're dealt 4 + 5 = 9. You take a third card: Ace. Your total is now either:
10 = 4 + 5 + Ace (1), or
20 = 4 + 5 + Ace (11)
There are two main reasons for understanding the difference between hard and soft hands.
The first one is that it affects the strategy that you use. If you look at the basic strategy chart, you will see that the decisions you make will differ between hard hands and soft hands. For example, if you have a hard 16, the strategy chart might tell you to stand. But a soft 16 could lead to you hitting.
The other situation is in terms of what the dealer does. Different casinos and games will have varying rules. For example, the dealer may have to hit on a soft 16 or stand on a soft 17 and so on. However, in most online variants, the dealer hits on all 16s and stands on all 17s.
Blackjack rules
The rules are simple. Anyone can learn how to play this game in little time - that's probably one reason blackjack has proved to be so popular over the years.
Placing a bet
To get started, you need to place a bet. This is usually done using chips that each represent a cash value. You simply place the amount that you wish to wager and wait for the cards to be dealt.
The chips are colour-coded and typically have their value written on them. Individual blackjack games each have lower and upper betting limits that you need to stick to. These are called table limits.
You may choose to play with two or more hands at once in some multi-hand versions of the game. This means placing a separate bet on another player position at the same table.
Blackjack is played against the dealer, not against other players. Other players' hands don't affect the results of your own hand.
Dealing the cards
The casino will use a dealing shoe that contains a number of decks in it. Normally, four, six or eight packs of cards are used. Standard 52-card decks without jokers are used in blackjack.
You'll get your first two cards face-up. The dealer's first card will be face-up; the second is dealt face-down. This means that you are partially aware of how strong the dealer's hand is.
At this point, you need to make a decision on what to do next. Depending on your hand, you can do one of these moves:
Hit = Take another card. Repeat if necessary.
Stand = Don't take any more cards and pass your turn to the dealer.
Split = If you have two cards with the same value, you can split them into two hands.
Double down = Double your stake and get one more card.
Surrender = Quit the hand and get back half of your stake.
Below, you'll find more detailed descriptions of each move.
Hit or stand
To hit is to ask for another card, to stand is to stick with what you have.
The closer you can get to 21 without going over it, the better. You can keep on asking for more cards until you are happy with your hand. When you stand, the play then moves onto the next hand, before finally reaching the dealer's turn.
The dealer doesn't make these decisions as you do. They need to follow set rules that tell them when to hit and when to stand.
In the standard version, the dealer hits on any value below 17 and stands on any value of 17 or more.
Splitting your hand
You can split your hand into two if you have two cards of the same value in it. This means making another bet to the same value as your original stake. You can then carry on playing with both hands.
You may be restricted to just one additional card after splitting a couple of aces. With other values, there usually are no such restrictions.
Doubling down
This lets you double the original stake. However, if you choose to do this then you will only get one more card added to your hand. This is an exciting move that adds to the risk but gives you the potential for a bigger win.
You can only double down on your initial two-card hand. Some rule variations only allow doubling down on certain hand totals, e.g. from 9 to 11.
Surrender
Surrendering means that you forfeit the game and lose half your initial stake. It can only be done at the start of the game before you ask for another card.
Not all casinos and blackjack versions have the surrender option, and it's especially rare in online blackjack.
There are two versions of the surrender rule:
Early surrender - you can surrender before the dealer checks their hand, meaning you can't lose to a blackjack hand.
Late surrender - the blackjack is resolved before the surrender, i.e. you will lose to a dealer blackjack.
Insurance
Insurance is only offered when the dealer's visible card is an ace. By taking out insurance, you protect yourself against the possibility of the dealer having blackjack. The amount you put on this is usually half of your stake. It pays out as 2:1 to you if the dealer has 21 in their first two cards.
Insurance is a sucker bet and should never be taken. Read our complete analysis of insurance odds and payouts to learn why.
Even Money
This is similar in some ways to the insurance option. Even money is a side bet offered when you have a blackjack hand and the dealer has an ace sitting face-up. If you accept this, then you receive an even money payout before the dealer checks their other card. This means that you are protected from a push if both you and the dealer have blackjack.
Just like insurance side bet, the odds for the even-money bet are not in your favour.
Blackjack payouts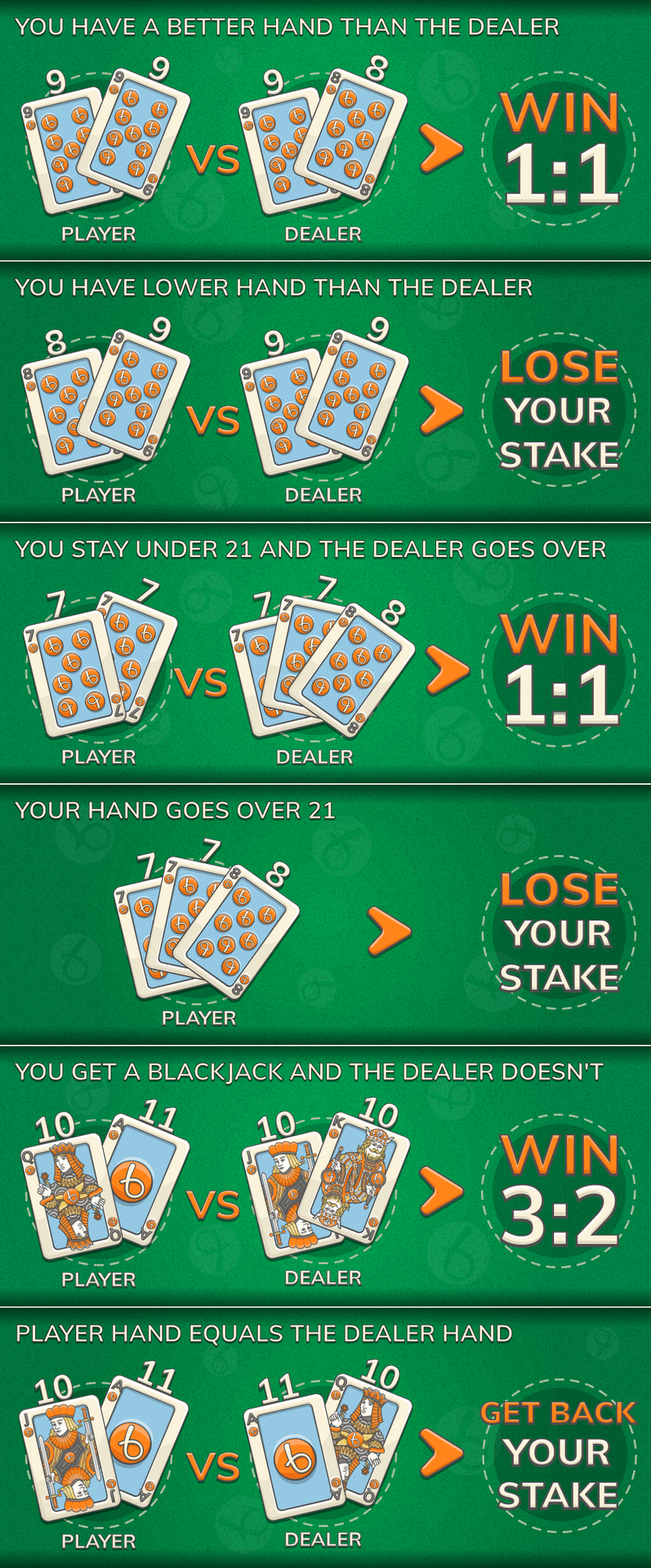 If you have a higher number than the dealer and have 21 or less, you win
If the total of your hand is over 21, you lose
If the dealer's hand has a value higher than yours but doesn't go over 21, you lose
If you are under 21 and the dealer is bust, you win
If your hand goes over 21, you bust and lose
Wins are paid out at 1 to 1
If you have blackjack and the dealer doesn't, the payout is 3 to 2
If you and the dealer get the same total, it is a push and your wager is returned to you