Ad Disclosure
Work for Bojoko
Bojoko helps players find online gambling sites. Read on and discover why you should join the Bojoko team.
Careers opportunities with Bojoko
We're always interested in talented people. In addition to your education, know-how and professional experience, we appreciate the right attitude towards life and work. For us, this means:
"Can do" attitude
Continuous self-improvement
We're especially keen to find skilled web developers, graphic designers, content writers and UX experts.
Why join the Bojoko team?
The ace up our sleeve is the 6 hour working day. In addition to a shorter day, we offer our employees all these benefits:
Flexible hours
State-of-the-art equipment in a modern office
Possibility for periodic remote work
Relaxed and ambitious startup atmosphere
27 days of paid annual leave + Maltese public holidays
All the Red Bull you can drink*
Health insurance, including dental*
Customisable annual employee wellness package (e.g. gym membership, yoga classes)* 
300 days of sunshine every year in Malta* 
* Only for employees based in Malta.
What it's like to work with us?
Open positions at Bojoko
Currently, we're looking for a software developer and freelance casino experts for the US market. You can read more about these positions below.
We are hiring a Software Developer based in Malta.
The project we are hiring for is Bojoko, a service on the gambling industry launched in 2017. Technologies used include Symfony, PHP8 and Javascript. We utilize a modern CI/CD-pipeline, code reviews and other best practices of the IT industry.
What we offer:
Salary 3,000-3,700€/month depending on experience
6-hour workdays
Flex time
Gym membership
Private healthcare
Private dental care
From you we expect:
2 years of previous work-related programming experience
previous experience of PHP, Java or some other OOP language
fluent verbal and written English
relocation to Malta
Previous experience in Symfony or Laravel PHP frameworks is a big plus.
We're looking for experienced players or casino professionals to write expert-level reviews of US online casinos on Bojoko. We're looking for people who are ready to commit to the job for more than a couple of months.
What do we require of our experts?
You need to be based in New Jersey or one of the other regulated states
You have several years of experience in playing in online casinos and/or working for the igaming industry
You can review casinos and communicate your insights clearly to Bojoko users
You're comfortable with publishing the review on Bojoko with your own name and face
What do casino experts do?
Test the casino with real money
Assess all the important aspects of the casino, including the signup process, banking, bonuses, bonus conditions, mobile gaming, usability and appearance
Write a comprehensive expert review that expresses your opinion and gives valuable information about the casino to Bojoko users
We brief our experts thoroughly and pay a competitive rate for every review. You'll need to send us an invoice and we pay the compensation to your bank account.
Do you create videos for YouTube or other platforms? Does your social media account attract thousands of followers? We're interested in working with you, especially if your channel covers casinos and casino games.
Get in touch and tell us more about your channel and your audience.
Landing your dream job in online gambling
The global online gambling sector employs thousands of people across hundreds of exciting roles in locations around the world. This is how to be a part of it.
The different types of online gambling companies
Online gambling organisations are not just limited to the brands that offer casino, live casino, sports betting, bingo, poker and lottery games to players.
In order to run these sites, operators have to work with other businesses from technology and platform providers to regulators and lawyers via accountants and marketing agencies.
Below, we list the different types of companies that operate in the online gambling sector and explain what role they play in the industry.
Operators
Online casino operators are the brands that offer online slots, live dealer games, sports betting, poker, bingo and other games to players. Companies like 888and PlayOJO 
These organisations often employ hundreds and in some cases thousands of people across a huge range of roles and positions, including management, tech, finance, marketing and customer support.
Operators vary in size from titans of the industry such as Kindred which owns brands such as Unibet and 32Red right down to new operator brands such as MrQ and Hyper Casino.
Suppliers
Suppliers fall into several different categories, from technology firms that provide the casino platforms that power online casinos to game development studios, gamification specialists and more.
Roles at these organisations tend to be more technology and development focused, but game studios, for example, employ designers, mathematicians, accountants and salespeople.
Just like operators, suppliers vary in size. Microgaming, for example, is one of the largest platform and game providers in the world, while 4ThePlayer is a start-up developer with huge promise.
Affiliates
Most online casino operators use a network of affiliates, such as Bojoko, to help attract new players to their online gambling brands and sites.
Affiliates, also known as online gambling comparison sites, provides players with all the information and tools they need to decide which online gambling brands are best for them.
Job roles at affiliates include website developers, content writers, graphic designers as well as account managers and business development officers.
Regulators
Online gambling is regulated in the UK and other European markets like Sweden, Spain, Italy and Denmark. This means gambling is legal, but operators and suppliers must apply for and hold a licence.
Regulators such as the UK Gambling Commission are responsible for setting the rules, ensuring operators and suppliers meet them and also handing out licenses.
Roles at regulatory bodies include legal, financial, technical, account management and senior roles such as chief executive officer and chief operations officer.
Legal
The online gambling sector is complex when it comes to different laws in different countries, but also when it comes to actually operate a business in the industry.
This can include things like operators entering agreements with suppliers to take their games, operators applying for licences and even companies merging and acquiring one another.
Some companies have their own in-house legal teams to handle this work while others rely on law firms to provide the advice and support they are seeking.
PR and marketing
The online gambling sector is highly competitive, so most businesses have a dedicated marketing and PR department to help make consumers and clients aware of their products and services.
Some companies may out-source this activity to PR and marketing agencies who create campaigns and generate coverage in the press on their behalf.
Marketing and PR is a broad area and there is a wide range of roles available across acquisition, retention, social media, SEO and more.
Plenty of gambling companies to work for
The online gambling industry has been in existence for more than 20 years now, and over that time a huge number of companies have been set up to operate in the space.
Some organisations such as Microgaming and Playtech have been there from the start and today are absolute titans of the industry employing thousands of people in offices around the world.
The same goes for operators like 888 and Unibet. These brands have been offering online gambling for decades and are now large organisations employing hundreds of people.
But the online gambling sector is not just dominated by large organisations. There are plenty of smaller companies that are making a name for themselves in the space.
The industry is also a hotbed for entrepreneurs, innovators and start-ups all of which offer exciting roles and the chance to be a part of a fast-growing company.
This is great for those looking to work in the online gambling industry as they can choose whether to apply for roles at big, corporate organisations or smaller companies with a more relaxed culture.
Some of the roles available
There are literally hundreds of roles available across the online gambling sector, but recruitment specialist BettingJobs.com breaks this down into 12 key verticals.
These are:
Executive
Technical
Commercial
Marketing
Trading
Finance
Analytics
Operations
Product
Legal
Compliance
Game studio
In its comprehensive salary survey, BettingJobs.com lists the most common roles at online gambling companies under each vertical as well as the minimum, maximum and average salaries for each.
Below, we list five entry-level roles and five senior-level roles available at online gambling companies and the average salary you can expect to earn for each.
Entry-level
Account manager (commercial)
Average salary - £40,000 per annum
Data analyst (analytics)
Average salary - £26,000 per annum
Marketing executive (marketing)
Average salary - £30,000 per annum
Junior trader (trading)
Average salary £23,000 per annum
Customer service agent (operations)
Average salary - £26,000 per annum
Senior-level
Head of the studio (game studio)
Average salary - £110,000 per annum
Chief compliance officer (compliance)
Average salary - £150,000 per annum
Director of the product (product)
Average salary - £150,000 per annum
Chief technical officer (technical)
Average salary - £130,000 per annum
Chief executive officer (executive)
Average salary - £250,000 per annum
Perks in online gaming
In addition to offering good salaries, most online gambling organisations provide their employees with incredible perks and incentives.
Daniel Fryar from online gambling jobs board JobsFactor.co.uk says it really is "perks galore" for those working in the sector.
The online gambling sector is highly competitive and cash rich so companies can afford to spend money on ensuring their employees are well looked after and happy.
"Most companies will offer employees things like free gym memberships, discount cards for popular restaurants, the choice to further educate and develop their skills and lots of incredible parties."
"Most companies also work out of modern offices and provide a fantastic environment and culture in which employees work."
"This is because the online gambling sector is highly competitive and cash rich so companies can afford to spend money on ensuring their employees are well looked after and happy."
Case study: Bojoko and its six-hour working day
Toni Halonen is the CEO of Good Game, the parent company of Bojoko. Halonen explains why he decided to implement a six-hour working day for those based in the Bojoko office.
"When we started employing people, we asked ourselves what kind of company we would like to work for. We'd done content writing jobs in the past and know that doing it for eight hours every day can be very tedious. We'd heard that some companies in Sweden have had good results with 6-hour workdays, so we said we would try it."
I ask my staff to come to work anytime between 8 am and noon, but ultimately, it's up to them.
"As a result, staff retention has been very good which has saved us a lot of time on recruiting and training new people."
"Our shorter work-day has also become part of our brand and it has people in the industry talking."
"I ask my staff to come to work anytime between 8 am and noon, but ultimately, it's up to them. The extra time gives them a chance to do more of what they like."
Online gambling is a truly global business
One of the best things about the online gambling sector is that it is global, with businesses based in countries all over the world.
The number of countries which allow operators and suppliers to offer legal online gambling to players is also on the rise.
For those working in the sector, this provides a great opportunity to work in different countries around the world from Europe to the USA via Africa and Asia.
That said, there are a handful of key gambling jurisdictions where some of the larger companies are located which we list below.
UK
The UK Gambling Commission is one of the most respected regulators in the world and as such there are a large number of online gambling organisations located in the country.
Others have offices in the UK because they are large enough to be listed on the London Stock Exchange – I am talking about the likes of 888 and Playtech.
There are also a number of game studios that are based in the UK, including Iron Dog and iSoftBet, while some of the larger developers have satellite offices up and down the country.
Malta
Online gambling contributes around 12% of the total economy in Malta with a huge range of companies calling the island home, including Bojoko.
The Malta Gaming Authority is another highly trusted regulator and the island's tax and VAT structures make it attractive for businesses.
Just some of the companies based in Malta include operators like Videoslots as well as developers like Push Gaming, Quickspin and Evolution Gaming.
Isle of Man
The Isle of Man is another licensing jurisdiction and home to several online gambling organisations including Red Tiger and Microgaming.
The Isle of Man Gambling Supervision Commissioner is also a trusted regulator with other ancillary companies in finance, law and compliance also based on the Island.
Just like in Malta, online gambling organisations are drawn to the island because of its regulatory and industry expertise, but also because of its favourable tax and VAT systems.
Gibraltar
Gibraltar is another key online gambling jurisdiction with companies such as Grace Media, BetVictor and NetEnt all having offices on the Rock.
Gibraltar is a regulatory jurisdiction with the Gibraltar Gambling Commissioner handing out licences to operators and game studios.
Although Gibraltar regulates fewer gambling companies than Malta, the licensees include big players. Tax benefits are the biggest feather in Gibraltar's cap, but there's also a large pool of talented iGaming professionals available. The gaming industry employs over 1,800 people, over 12% of the workforce of this overseas territory.
New Jersey
Legal online gambling is slowly rolling out across the United States of America, with New Jersey one of the first to legalise the activity back in 2013.
As such, there are a growing number of operators and suppliers establishing offices in the Garden State, as well as in New York, Florida and Las Vegas as the market continues to grow.
Some USA-based companies have been keen to onboard online gambling employees and experts from established markets in order to help them launch their own brands and businesses in America.
Travel and relocation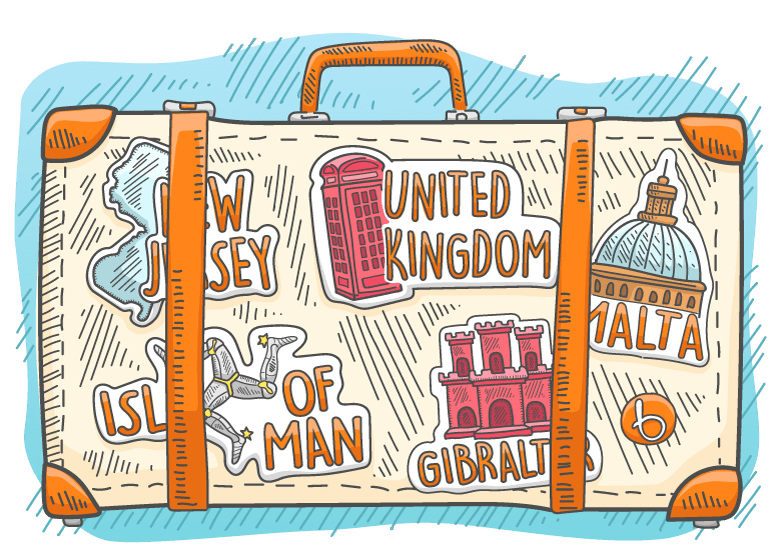 Given the global nature of the online gambling sector, employees can expect to travel extensively with their work, and some will even be relocated to different countries.
Will Sawney from The Conexus Group, which owns recruitment giant Pentasia, explains how relocation works for those in the online gambling industry.
"Relocation is often provided for those with specialist skills or industry experience. Packages cover the cost of travel and setting up in a new country."
In 2018/2019 we helped people relocate to regions including Estonia, the UK, the Bahamas and Australia, among others.
"In regions where talent demand outstrips supply, employers are increasingly looking further overseas. Let me give you an example."
"For example, limited supply of technology skills in Europe has increasingly encouraged employers to offer relocation packages to exceptionally talented candidates from locations like Brazil, Africa and India."
How to get a job in the online gambling sector?
With hundreds of exciting roles at a wide range of companies, with great salaries, incredible perks and the chance to travel the world, it is no wonder so many people want to work in the sector.
So how do you get a job in the online gambling world? It requires a combination of skill, enthusiasm, hard work and persistence.
Some roles may require you to obtain a certain qualification or degree – this is most likely in legal and financial positions – while others will require more personal qualities.
Here are four key skills that apply regardless of whether you are applying for a role that requires a qualification or not.
Be digitally-minded: online gambling is a digital business, so it is vital that you have a good understanding of the digital space and how technology works.
Educate yourself: the online gambling sector employs people from a range of different backgrounds and disciplines, but to stand out you should research the sector and develop a solid understanding.
Learn quickly: online gambling is a fast-paced and ever-changing industry, so it is important to be able to learn and adapt quickly. Those that do can enjoy rapid progression.
Be confident: the betting and gaming space is highly innovative and technologically advanced, attracting top talent from a range of sectors. To move up the ladder, you too must be confident.
The next step is to apply for roles at online gambling companies and Sawney has a few tips for how to identify the right opportunities based on your skills.
Be strategic: be selective in the roles you apply for and make sure they match your skills, qualifications and interests. Don't apply for several different roles at the same company.
Build a network: use tools such as LinkedIn to connect with people in the industry and enquire about any roles that may be available. Ask for introductions, too.
Tailor your CV: edit your CV based on the roles that you are applying for so that the relevant skills and experience are clear to whoever is reading it.
Never give up: this is a hugely popular industry where the competition for roles is fierce. Believe in yourself and be persistent and you'll land the right role for you.
Five reasons to work in the online gambling industry
Progress is constant, fast-paced and exciting
You will be challenged
It is inclusive and welcoming
Employers treat staff well
You'll have some serious fun
How to progress once you have landed a role in the online gambling sector?
Daniel Fryar from JobsFactor.co.uk says that the online gambling sector is the "perfect ladder to climb" because "proven skills and hard work are noticed and rewarded".
I personally know someone who started out as part-time customer support and is now the chief operating officer of an international brand that turns over more than £500 million per year.
"That incredible rise took place over just four years and thanks to the candidate's determination and desire to learn combined with their proven talent and skill."
Here are some tips for rising up through the ranks at an online gambling business.
Plot your route to the top
The best approach to career progression is to identify where you would like to be at the end of a certain period of time, say five years.
Look at the role you currently hold and what you will need to do to achieve the necessary promotions to move towards your goal. Sometimes this might mean taking a sideways step.
Consider if you will need any additional qualifications and enquire about how you can obtain those qualifications either via your employer or in your own time.
Sometimes progression means moving into a different part of the business or moving to a new business altogether. Having a plan will help keep you on track.
Look at how others have reached the top jobs
Consider the people in the roles you would like to achieve and enquire about how they got there. Did they come from a different sector or have they worked their way from the bottom, up?
Perhaps even ask their advice on how they have climbed the ladder to achieve the title they currently hold and whether they would have done anything differently.
That's not to say you should replicate what they have done as it might not work for you and you may have your own skills and abilities to offer, but it is always good to talk to those with experience.
Spot areas of development and improvement
The best way to progress through any business is to spot areas that need to be improved and developed and to then come up with a solution.
This will mark you out as someone that is highly skilled, innovative, confident and a true leader that has the potential to rise up through the ranks into a senior role.
Bring other skills to the job
You may have skills that you have developed that are not required for your day to day role but that can be used in other areas of the business.
Perhaps you work in customer support but have a talent for social media and devising campaigns that have attracted a large number of followers.
Perhaps you work in the marketing department but in your spare time develop mobile apps and have an idea for how to improve what your company currently offers.
If you do, track down employees in the relevant teams and book a meeting with them to discuss your idea. If they like it, you may find they move you over to their team.
Case study: How I got a job in the online gambling sector
Phil Pearson is Head of Sales and Account Management at iGaming Platform. He tells us how he landed his dream job in the online gambling sector.
Bio
Name: Phil Pearson
Role: Head of Sales and Account Management
Company: iGaming Platform
Location: Malta
Education: GCSE's x11, AS levels x3
Experience: Professional poker player
I used to play poker for a living. For three years I played online and in live casinos and learnt about how online gambling sites work, how they market themselves and how affiliates work.
I decided to start looking for a full-time sales role and felt that online gambling would be the best fit for me. I moved to Malta and started looking for suitable positions.
I noticed a position was available with iGaming Platform and applied. I then had an interview with the CEO and a week later I started.
My advice for those looking to enter the sector is to work hard and work up. Learning the industry and how departments work can lead to huge career leaps and quickly.
Initially, my targets were to achieve a certain number of new clients signed up to the platform but after 12 months we had grown 620% on the previous year.
From there I entered a "left alone to do what you want territory" because of the part I played in the company's success so now I have a lot of autonomy and freedom.
This means that I am happy with what I am doing career-wise and remain motivated to help the company continue to grow.
My advice for those looking to enter the sector is to work hard and work up. Learning the industry and how departments work can lead to huge career leaps and quickly.
People have moved from customer support to C level staff in less than five years. Anything is possible as the industry is growing so fast and job loyalty has not kicked in yet.
Case study: How I built a business in the online gambling sector
Toni Halonen, the co-founder of Good Game Limited, the company that operates Bojoko.com, explains how he built a business from scratch in the online gambling sector. You can read the complete account of Good Game history in our Founders' Story.
Good Game Limited was established by myself and Ville Sissonen in Malta in 2011. Ville is a childhood friend and we have always been interested in sports, games and gambling.
During slow times, you just need to keep on working diligently and trust that someday it will all pay off. It's not always easy, though.
In 2013 we met with an SEO expert Jussi Kauppinen, who would become a co-founder of Good Game. I think for all three of us the two main reasons to run our own company were
freedom to do what we wanted
have no limits how much you could earn if you succeeded
The beginning was very slow and it took 1.5 years to generate enough income for one of us to start working full-time. During slow times, you just need to keep on working diligently and trust that someday it will all pay off. It's not always easy, though.
After two years of building our first casino site together with Ville and Jussi, we sold it for a seven-figure sum. It was six years after we launched our very first site with Ville and around seven years since we started studying affiliation. And we invested almost everything from this sale on building a new Finland-facing online casino affiliate site.
2016 was a big year for us and we grew as a company. We had a real office for the first time and also onboarded more team members – many of whom are still working with us today.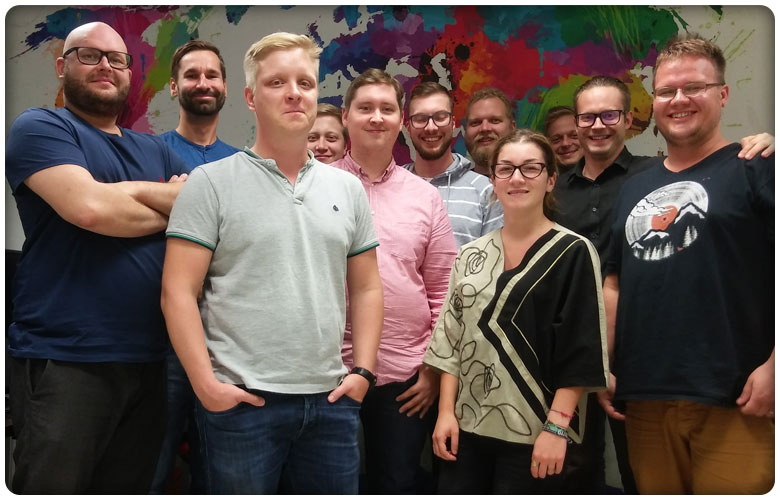 In Autumn that year, we first came up with the idea for Bojoko and began developing a plan for what we wanted the site to be.
By next summer, our online casino site in Finland was in the top 2-3. Driving more growth was becoming difficult, so we decided to sell. In January 2018, we signed a contract with XL Media to sell the casino site for around €15 million.
It was a huge deal for us and has allowed us to invest more time and resources into Bojoko. We are now very focused and have big plans for the site over the coming months and years.
Advice from an online gambling recruiter
Of course, establishing your own business is not for everyone. Those looking to obtain a job in the online gambling sector often use recruitment firms to help find and match them to roles.
Will Sawney from recruitment firm Pentasia answers our questions about getting a job in the online gambling industry and why it is such an incredible sector in which to work.
How many roles do you fill each year?
In 2018/2019 we placed a total of 870 individuals in positions worldwide and we receive more than 10,000 applications each year.
Which roles are the most commonly available?
The size and growth of the global online gambling industry mean there's always a wide range of new job opportunities on offer.
At entry-level, roles include customer service, digital marketing, technology development and more. Senior roles include C-level and executive, analytics, operations, sales, product and marketing.
Which roles are the most difficult to fill?
The online gambling industry is suffering from a dire skills shortage in multiple key departments. Tech, regulatory compliance and product specialist skills are all in high demand.
Competition both within the sector and from other industries is fierce and employers are having to fight hard to attract talent.
Which transferable skills do employers find most desirable in a successful applicant?
Language skills are critical. Communicating with customers worldwide in their native language is vital for many betting operators' success as business is increasingly global.
This makes the sector ideal for those with an interest in international business. In addition, a passion for online betting, sports and technology is also prized.
Since this is a competitive, fast-moving sector there is always a need for people who love what they do and bring enthusiasm to work.
What makes online gambling different to other industries?
Few industries are as innovative, exciting, well-funded and highly regulated as online betting. The business of gaming is a serious one but one that professionals are generally passionate about.
They are often also personally invested in their work, be it in sports betting, casino, social gaming or any of the other related businesses working in the sector.
For specialists of all different areas, online gambling gives incredible scope for achieving the best of what you do. The challenge, global market and investment ensure it is a great sector to work in.
Work for Bojoko?
Send us your application with your CV to jobs(a)bojoko.com. If you didn't find an open position matching your skills, you can also send us an open application.