Ad Disclosure
Political Betting Sites UK
Do you want to place a bet on politics? You are not the only one; politics betting is one of the hottest markets at the moment.  Bojoko is here to assist you to find the best political betting sites, election odds and betting tips. 
All politics betting sites
According to the Forbes article US presidential election 2020 was the single biggest betting event ever in the UK. Not surprisingly, many betting sites (new bookmakers and old ones) offer a wide range of odds for UK and international election betting, like the timing of the next general election or the name of the UK's next prime minister. No bookmaker wants to miss out on a betting rush like 2020. Below you will find a comprehensive list of all UK politics betting sites. 
Table of content - Betting on politics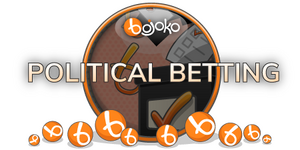 The best political betting websites
Many betting sites offer betting odds on various elections and political bets. Yet, the quality of odds, markets and betting terms varies widely between bookmakers.
At Bojoko, we have selected the five best political betting sites for you. All the sites listed below are reliable UKGC-licensed bookmakers with vast markets and high odds on political bets.
Smarkets
Betting exchange Smarkets is one of the most versatile bookies in the UK. The brand offers a lot of different political markets, and their odds are top-class, thanks to exchange-based odds calculation.
If you are not already intimate with this 2008-launched bookmaker - It is time to check it out!
✅ High odds
✅ Easy-to-use mobile interface
✅ £20 free bet for new customers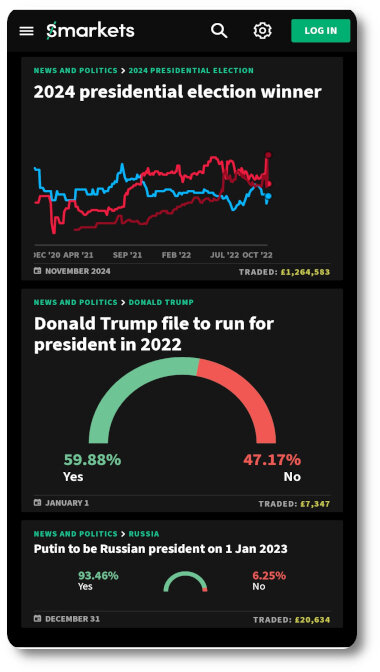 10Bet is a long-established betting site that keeps up to date with European and North American election odds.
Best of all, the 10Bet mobile interface and app are both user-friendly packages and offer the possibility to bet on politics on the go.
✅ Several political betting odds from across the globe
✅ A highly rated and praised mobile app
✅ 50%/£50 sign-up offer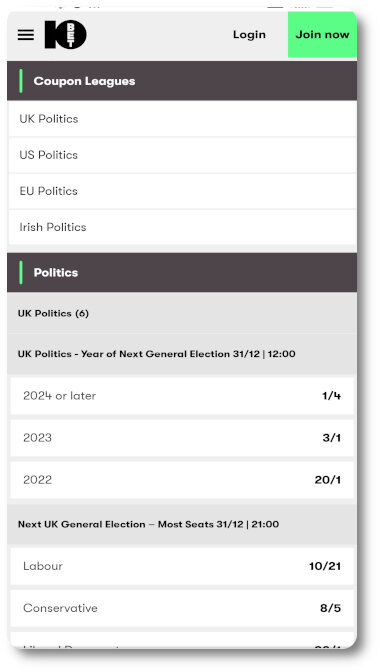 Does this bookmaker even need a better introduction? William Hill is perhaps the UK's best-known betting site, and the brand has a comprehensive range of political odds, among other things.
Sometimes, however, you may not find the odds you want on the site, but there is no need to worry. You can always request them via the William Hill #YourOdds feature.
✅ A well-known and trusted bookie
✅ Multiple odds betting on politics
✅ £40 free bet offer for new players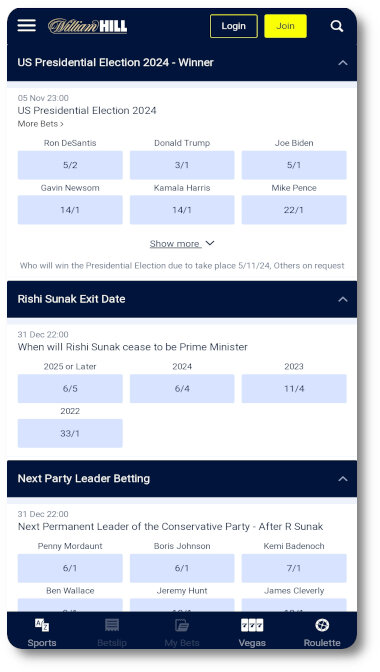 SpreadEx offers its customers both a betting exchange and a fixed odds section. For political punters, in particular, the betting exchange offers good value and a convenient way to find high political odds.
SpreadEx actively offers betting advice and assistance. For example, the brand has published a practical video guide on how to bet on the UK General Election.
✅ Good odds on the betting exchange
✅ Lots of advice and tips on political betting
✅ £40 free bet + 50 free spins for new punters
StarSports is a British betting site which covers all the UK election and politics betting markets well.
The brand also has an interesting "betting people" section where you can find interviews with a number of experts and professional bettors. In this section, you will also find interviews with people from the world of election betting.
✅ Extensive range of UK politics odds
✅ Political news and articles supporting betting
✅ Multiple betting offers for new and old customers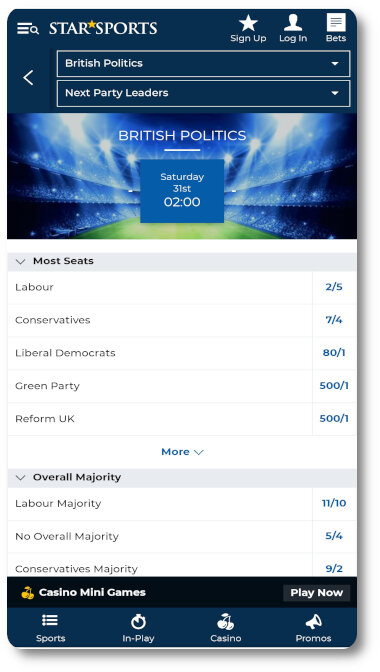 Political betting sites comparison
One of the main factors when comparing betting sites is comparing their odds and payout percentages. However, comparing political odds on a one-to-one basis between different brands does not provide reliable information about differences.
Smarkets and SpreadEx have tremendously good odds, but they operate on the principle of a betting exchange rather than traditional fixed odds. William Hill, for example, offers momentarily increased odds, and Star Sports increases the value of the odds by not offering a sign-up bonus.
Instead of comparing political odds, we have compared brands' bonuses and political betting markets for the UK and US elections.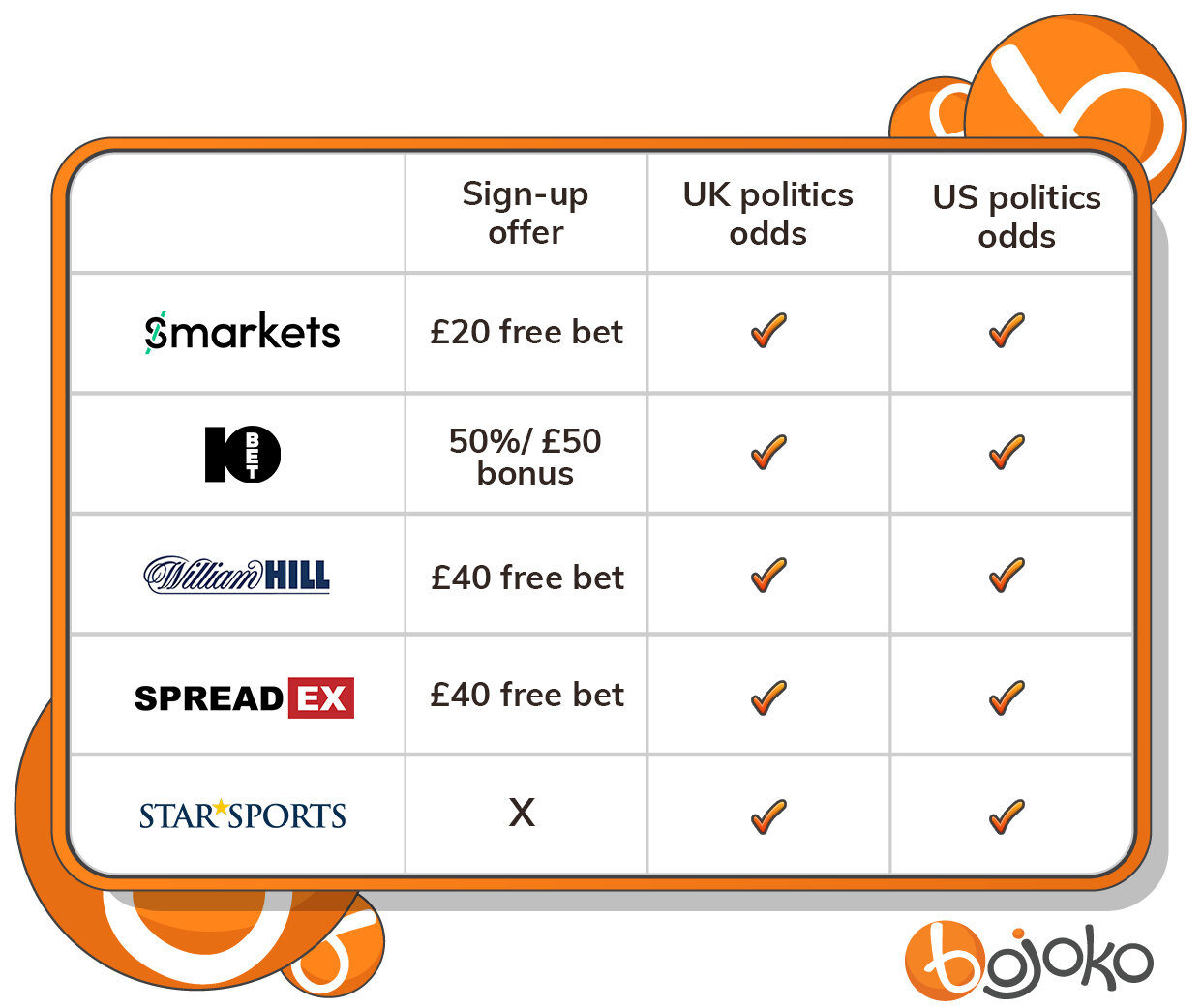 How to bet on politics
Placing a bet on political betting markets is no more difficult than sports betting.
In a nutshell, it works like this:
Choose a betting site that you prefer, for example, 10Bet
Login or create a new account
Find politics or election markets in the navigation bar
Choose the odds you want to bet on
Place a wager
Get excited about the outcome of election night and your bets!
Politics betting doesn't sound difficult, no?
Keep reading, and you'll learn how to improve your chances of making a profit with political betting.
Bet on politics - Pay attention to these things
Political betting is spellbinding but quite different from sports betting.
Typically, political betting odds are available on outright bets. However, over/under odds regarding the elections and slightly more entertaining markets, such as "what politicians will say or do", are commonplace.
Live betting and the Asian handicap, popular sports betting markets, are absent in political betting.
Don't just stare at the winning bets - The most popular betting market in political betting is, of course, a bet on the winner of the elections. Yet, it is worth remembering that the favour of the market also means that the stakes are high, and the odds decrease as turnover increases.

For this reason, a sharp political punter will not put wagers only the outright bets but also, for example, the next prime minister's/president party, the winner of the votes in a particular geographical area, or other smaller markets, for instance, H2H bets between candidates or parties.


Look across different markets available and get it on to spread the risks.
Political betting rarely offers instant wins - Betting on politics and elections is a marathon where patience is the key.


Take the US presidential election, for example. The odds for the US Presidential election of 2024 launched at the same time when Joe Biden was elected President of the United States in November 2020. So the opportunity to bet on the next USA President opened four years before the actual elections!

Hence why should you bet years in advance? Because the betting odds live to vary on a big scale, it gives a long-term bet holder a good chance of making a better profit than someone who bets on the last night! Today's underdog could be the favourite four years from now...

Remember to take advantage of the cashout - As noted, politics betting seldom offers quick wins, and sometimes it needs to wait years for bets to settle. However, the best betting sites allow the withdrawal of winnings with the cashout feature. 

Typically, the candidates' position as frontrunners varies, and sometimes there are situations where the bookies offer bettors a bigger sum than the original stake but lower than potential winnings.

Check out the statistics and use your media literacy skills - Traditional sports betting relies on decisions driven by the current condition of athletes and sports teams, home advantage, goal scoring and other significant statistics. Similar data interpretation skills are also needed in political betting but remember that not everything is so black and white.

Many newspapers and other publications share ideas with various political parties or views. Polls and surveys published by different newspapers may give the same results, but still, headers could be very different. Authors like to present ballot results in a way that suits the line of the newspaper, so the bettor has to understand the numbers behind the headlines. 

Also, social media channels such as Twitter and Facebook are handy tools for bettors. Many politicians share their views on social media, and following the reactions to their initiatives gives a good indication of public opinion and interest. Twitter also features several acknowledged and verified journalists and analysts who share good assessments of the developments in each election.

Beware of fake news -  Strongly related to the previous point, beware of fake news. Making politics has become more and more populist in recent years. With populism, politics has become closer to the people and more interesting in its way, but with it has come outright lying and misrepresentation in the name of self-interest. Image manipulation and deep fake videos can influence voters' opinions and betting behaviour, regardless of party affiliation. 

Pay attention to surprises  - In 2016, there were two elections where the outcome was against mainstream perceptions.

Donald Trump's presidential election victory and the UK's Brexit election showed that even if the press and those with an eye for an opinion say something, it is the deep and narrow ranks of the people who ultimately make their own decisions.

A great bettor finds the best odds and the profitable bets outside the box.

Be objective, don't bet on your favourites by force -  Then there is one of the most significant things in betting: Be honest about the possible outcome and don't force yourself to pick your personal favourite - if they are unlikely to win. As mentioned above, watch the polls and public debates, read statistics and poll numbers, and analyse newspaper headlines, but do so with an outsider's eye.

For example, in the 2109 UK general election, the winning bet against the majority of the Conservative Party was like throwing money down the toilet, whatever your party affiliation is. All polls favour a Tories victory, and the party won by the highest margin of any party since 1979.
Enjoy the best Politics betting sites >>
Upcoming political betting markets
Many different generals and parliamentary and presidential elections are held among nations every year. Most of these have been years ignored by bettors, but times are changing. Late stats from betting sites show that elections such as the Australian general and the Brazilian presidential election in 2022 attracted bettors.
We have listed below some of what we think are some of the most interesting upcoming elections. Keep an eye on this page and the list regularly because we will publish time-to-time election-specific articles and the best odds to help you with politics betting.
There will be a number of interesting general elections in the coming years. From a domestic perspective, the hottest topic is naturally the 2025 UK general election.
Before that, there will be EU parliamentary elections and elections in several major European countries that could affect the ability of Europe as a whole to act. This is also strongly linked to betting on which country will be the next to leave the EU. 
Ukrainian parliamentary election - 2023 
Turkish parliamentary election – 18 June 2023 
Spanish general election – 10 December 2023 
Greece legislative election – July 2023 
Argentine general election - 29th October 2023 
Bangladeshi general election – December 2023 
European Parliament election - 2024 
South Korean general election – 2024 
Belgian federeal election - 2024 
Indian general election – April 2024 
South African general election – May 2024 
Mexican general election – 7th July 2024 
UK general election – January 2025 
Dutch general election – March 2025 
Irish general election - 2025 
German general election – 2025 
Japanese general election – Before 31 October 2025 
Australian federal election - 2025 
45th Canadien federal election - 2025 
Betting on the 2024 US presidential election is already buzzing, with most betting sites offering odds to Donald Trump and Joe Biden to win. But let's not forget, in the heat of the US elections, that there are several other supreme presidential elections ahead before the election of the new host of the White House.
In 2023, you can bet on, among other things, whether Turkish President Recep Tayyip Erdoğan will charge the country for at least 4 more years. 
In early 2024, there will be interesting presidential elections in Ukraine and Russia.
Czech presidential election – 14 January 2023 
Bangladeshi presidential election – February 2023 
Pakistan presidential election – 2023 
Turkish presidential election – 18 June 2023 
Argentine presidential election - 29th October 2023 
Finnish presidential election – 2024 
Ukrainian presidential election – March 2024 
Russian presidential election – March 2024 
Mexican presidential election – 7th July 2024 
Romanian presidential election – November 2024 
US presidential election – 5 November 2024 
Venezuela presidential election – 2024 
Polish presidential election - 2025 
No attractive political odds available at the moment - Try entertainment betting
Do you want to bet, but sports betting doesn't interest you and politics betting doesn't offer any absorbing betting opportunities at the moment? In that case, you should check out entertainment betting and other speciality markets.
In particular, entertainment/novelty betting is a bit like politics betting because it is also long-term gambling. You can draw conclusions about the eliminations and winners of TV shows by following the reactions in the news and social media At Bojoko, we actively publish odds and tips in our betting news & article section on entertainment and special events. 
Here are some of the most popular markets at the moment:
Political betting / FAQ
Making political bets is an utterly easy task, at least in a theory. Just pick a betting site and place bets on your winning candidate or party. However, if you want to increase your chances of winning, you should check out our politics betting tips to avoid the biggest pitfalls.
You can bet on politics at several UKGC-licensed betting sites. We've, for example, listed the top five sites in Bojoko's opinion.
We also offer you the chance to check out a few more bookmakers through our politics betting site list.
There are several elections around the world every year to bet. You can find out more about the next elections via our calendar.
The next UK general election will be in 2025
The next US presidential election will be in 2024