Ad Disclosure
NFL Betting UK 2022/23
NFL betting is gaining popularity in the UK, and betting on American football has never been easier at the bookies. From this page you can find the best NFL betting sites, Bojoko's NFL betting guide and plenty more useful information if you want to bet on American football.
Quick links for betting on american football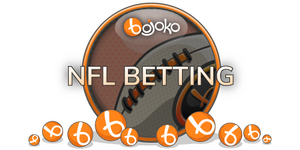 Best NFL betting sites 2022
How to bet on American football through Bojoko
1. Check out our list of NFL betting sites
Find a bookie to bet on American football
Use the search filters of our bookmaker tool
Compare NFL betting sites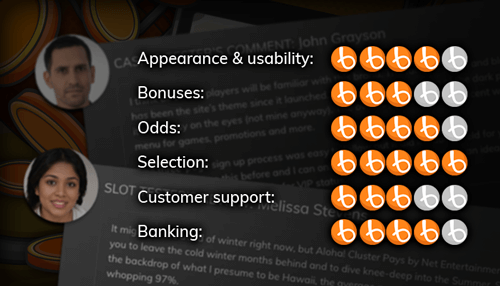 2. Go to the betting site
Choose the best NFL bookie for you
Click on the Play Here button (green)
Continue to the bookmaker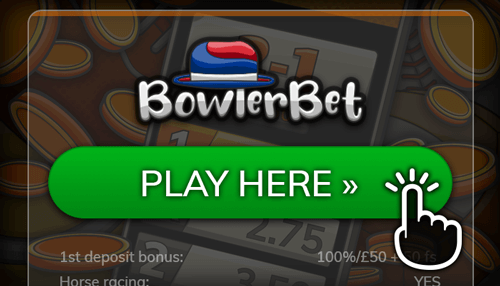 3. Create your account at the bookie
Fill the required information in the registration form
Click create account
Confirm your account
Claim the welcome offer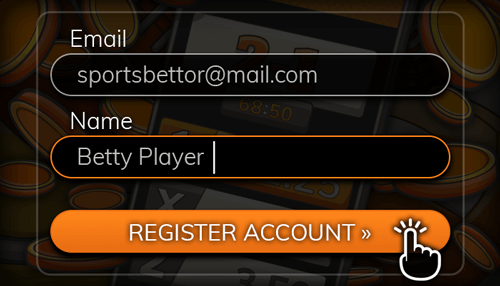 4. Get started with your NFL bets
Enjoy the best NFL odds
Take advantage of NFL betting offers
Bet on American football and win!
Enjoy the best NFL betting sites
Top 2 best sites for NFL betting in the UK
Below you can find in Bojoko's opinion the top 2 best sites for NFL betting in the UK. These two have been chosen for a number of factors, chief of which are their high NFL odds, betting markets available and great welcome offers.
SBK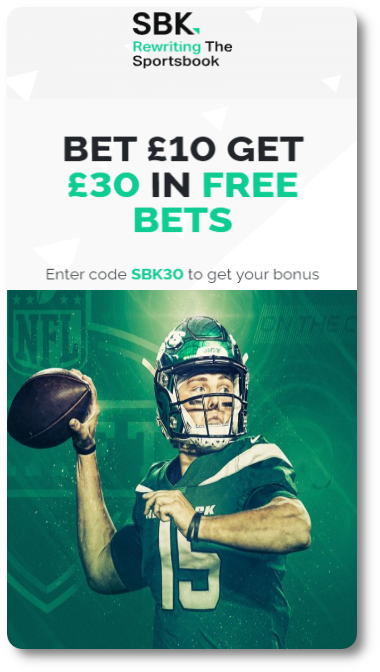 SBK is the bookie of choice for the NFL if you are a mobile bettor, since the site is not in fact a site, but a mobile app! Desktop betting is therefore not available at SBK, but the NFL odds available more than make up for it.
The high odds that you can find through the app come almost directly from their sister site Smarkets, which is a betting exchange - meaning higher odds for players to enjoy. The same value for money can of course be found from other sports as well.
By downloading the app through the link below you can also enjoy the welcome offer of the app, which gives £30 in free bets for new players who deposit and wager £10 using debit cards or Trustly. You can use your free bets in denominations of £10, £20 or £30, and the stake of your bets will not be returned, although the possible winnings are free of any wagering requirements.
Enjoy the best NFL odds at SBK »
Betfred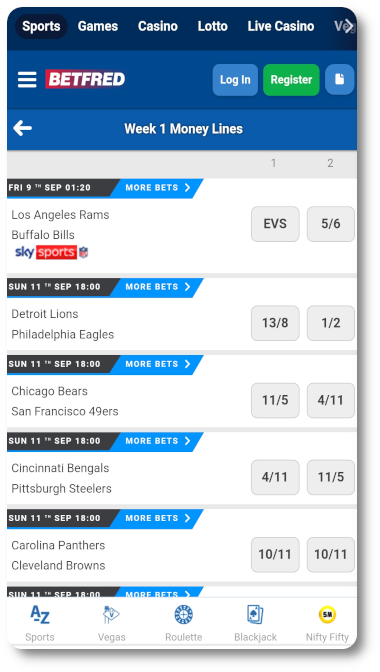 Betfred has a close relationship with the NFL, as they are one of the biggest partners of the Cincinnati Bengals. Fred offers players decent odds for the NFL, but their true standout is their campaigns and special offers concerning American football.
These can be found with amazing consistency, and the welcome deal isn't bad either, as by depositing and betting £10 you will earn £60 in free bet bonuses!
First you will receive a £30 free bet, a £10 lotto bonus and 50x20p free spins, while the final £20 free bet will be added to your account after 5 days from you completing your qualifying bet.
Get £60 in free NFL bets at Betfred »
Free NFL bets
In addition to the welcome offers mentioned in the brand showcases above, you can find NFL free bets from many other bookies as a new player. You can find these deals from the list on this page, or alternatively go to one of these pages, where the NFL free bet deals are explained in more detail.
These welcome deals can of course be used on many other bets as well, not just on ones concerning American football. Only if it's explicitly specified is a free bet limited to a certain sport. The best deals can usually be found from our new betting sites 2022 list.
Our criterias for online NFL betting sites (UK)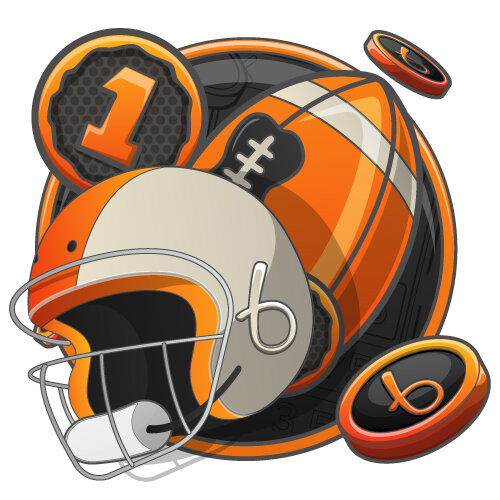 At Bojoko we want to give our readers the best possible understanding of any bookmaker they're creating an account on. You can find our criterias for online NFL betting sites in the UK below, and we have our own betting experts who have reviewed the bookies you can find through Bojoko.
In these reviews, our experts test the best betting sites in their entirety, all the way from creating the account to enjoying the site's services to withdrawing your winnings. But now, the things our experts look at when they're reviewing NFL betting sites:
UKGC licence - Being licensed by the UKGC is the minimum requirement for a bookie to be listed at Bojoko. Therefore you can count on that all the sites you find here have the license that guarantees the bookie is operating legally and gives players tax-free winnings, along with of course the safety of said site.
NFL betting odds - You always want to place your NFL bets with the best odds available out there, which is why our experts place heavy emphasis on the odds that a bookmaker can offer. It's also smart to have accounts on many of the best NFL bet sites, since this ensures that you can find the highest available odds from one of the sites.
NFL betting markets - In addition to the odds, it's also important to find enough betting markets available to enjoy with your bets. The more bets are available, the better and more versatile your betting experience of the site will be.
Practical matters - Our experts also test all the practical matters of the site in their reviews. These include the likes of deposits and withdrawals, customer service, KYC matters, sending documents, mobile betting and many other, smaller aspects of the bookie.
The welcome offer - There are all kinds of welcome offers available nowadays at bookmakers: You might receive free NFL bets, a sports betting deposit bonus, a cashback or something completely unique. Our experts will have tested this offer on all the NFL bookmakers, and this of course includes any possible wagering requirements.
NFL odds 2022/23
Below you can find the best NFL odds for the 2022/23 season. We have chosen outright winner and MVP bets for our lists here, but there are plenty of other NFL odds to enjoy at the bookies.
NFL winner - Super Bowl odds 2022/23 (SBK)
Odds updated 04.10.2022
Buffalo Bills - 43/10
Tampa Bay Buccaneers - 11
Kansas City Chiefs - 37/5
Los Angeles Rams - 33/2
Green Bay Packers - 23/2
Los Angeles Chargers - 28
Denver Broncos - 47
San Francisco 49ers - 20
Dallas Cowboys - 37
Baltimore Ravens - 19
Cincinnati Bengals - 29
Indianapolis Colts - 74
Cleveland Browns - 99
Philadelphia Eagles - 39/5
Arizona Cardinals - 99
Las Vegas Raiders - 59
New Orleans Saints - 119
Minnesota Vikings - 26
Miami Dolphins - 24
New England Patriots - 219
Washington Commanders - 499
Tennessee Titans - 74
Pittsburgh Steelers - 299
Carolina Panthers - 299
New York Jets - 299
Detroit Lions - 189
New York Giants - 279
Jacksonville Jaguars - 64
Seattle Seahawks - 299
Chicago Bears - 499
Atlanta Falcons - 299
Houston Texans - 999
Find the best NFL winner odds at SBK »
NFL regular season MVP odds 2022/23 (Unibet)
Odds updated 04.10.2022
Josh Allen - 3
Patrick Mahomes - 4
Tom Brady - 40
Justin Herbert - 11
Aaron Rodgers - 30
Joe Burrow - 20
Matthew Stafford - 50
Russell Wilson - 50
Tua Tagovailoa - 30
Lamar Jackson - 6
Kyler Murray - 33
Jalen Hurts - 5
Derek Carr - 50
Jonathan Taylor - 150
Cooper Cupp - 100
Bet on the NFL MVP at Unibet »
Online NFL bets - What are the best NFL bets?
There are plenty of different ways to enjoy online NFL bets, but what are the best NFL bets to choose from that are available at bookmakers? We have listed some of the most popular NFL betting lines with short descriptions below.
NFL moneyline betting
If you want to keep things as simple as possible, we recommend relying mostly on NFL moneyline betting. This form of bet simply aims to predict the winner of a certain match, including overtimes.
Moneyline NFL odds can be found at all bookmakers who provide NFL betting markets to their customers, and usually they are also the NFL bets with the highest average payout percentage at a bookie, meaning that they're also the smartest bet available for bettors looking to maximize their results.
NFL handicap betting
If an outcome of a match seems too simple to predict, NFL handicap betting is an excellent option to try out. In these forms of bets one of the teams gets a handicap, that can either be positive or negative.
The amount of points the positive/negative handicap is can be seen when placing the bet, and there can often be different size handicap bets available for a single match.
NFL prop bets
NFL prop bets are an interesting choice, since they are bets on events during a game that don't affect the outcome of a match. The most common prop bets concern a player, usually a star player of a team.
These include the likes of pass yards, rush yards and receiving yards, but basically anything that can happen in a NFL match can be a prop bet.
NFL parlay odds
If you want a higher risk & reward to your NFL bets, then NFL parlay odds are your choice. Parlay odds are basically an accumulator, since they are a series of bets that must all win for your bet to be a winner.
This of course means that just one unlucky occurrence will sabotage your whole bet, so Bojoko recommends not going overboard with parlay odds. The less matches you have on your betslip, the safer and more sustainable your betting will be.
Live NFL betting
Perhaps the most exciting way to bet on the NFL is live NFL betting. Live NFL odds can be found at nearly 100% of bookmakers who offer NFL odds, and in some cases you might even be able to watch NFL live streams for free at the betting site!
This usually requires an account at the site that has money in it, and while you watch the stream you can also enjoy the many NFL odds live that are available.
NFL betting guide - Bet on American football profitably
There are plenty of things that you need to take into account when betting on the NFL, some of which have absolutely nothing to do with the quality of the two teams. By taking these factors from our NFL betting guide to heart you can bet on American football more profitably in the long run.
The weather - Like with all outdoor sports, the weather can play a major part for betting on American football. High winds and rain increase the likelihood of a low-scoring game, which is especially important for over/under bets.

Some teams in the NFL also play in a stadium with a roof, which in turn means that the weather won't play any part at all in the outcome.


Home advantage not as prevalent - Compared to many other American sports, in the NFL home advantage used to be a big thing, with teams winning on average between 56-60% of their home games.

However, in recent years this number has fallen below 52%, and this might not be reflected in the odds. Home advantage counts for a couple more percentages in the playoffs, so when it counts, the crowds seem to come alive to cheer on their team.


Bye weeks - In the NFL teams have bye weeks, which means weeks when they are not playing. Each team has one bye week per season, and after this rest period teams will be more rested and tactically prepared for the next game, indicating higher chances of success.

You should also take Monday & Thursday Night Football into account. Usually NFL games are always played on a Sunday, and longer rest periods following a Thursday game and a day shorter after a Monday game shouldn't be ignored.


Injuries - Injuries to a starting quarter-back can cripple a team, but changing a few less influential starters for bench players won't affect a team too much.

Sometimes the bookies can go overboard with their odds when players are injured, so always take a look if the injuries aren't in fact too important for the team and their success.


Stay calm - The NFL is an extremely tight league, although this is not always reflected in the results of single games, next week can be completely different. Blowout results rarely mean too much, so always approach a bet calmly and don't place too much emphasis over the last result of a team
FAQ about NFL betting
Betting on the NFL in the UK is just as easy as with any other sport. You simply create an account on one of the bookies on our NFL betting sites list, make a deposit, enjoy the welcome offer like a free NFL bet and start looking at and enjoying the many NFL betting odds available in 2022!
In 2022 there are more ways than ever how to bet on American football available at the bookies. These NFL betting markets include single games, points bets (over/under), NFL spread bets, moneyline bets, bets on the whole season like MVP bets & winner bets and live bets. These aren't even nearly all NFL betting odds available at the best sites, so explore and have fun!
There is no single clear favourite to win the NFL in the 2022-2023 season, but there are a number of teams that are expected to do well. The bookies' favourites before the season are the Buffalo Bills, the Tampa Bay Buccaneers, the Kansas City Chiefs and the Los Angeles Rams. You can find the odds of all teams to win the NFL here.
NFL moneyline betting is the most popular form of NFL betting. It's harder to find a more simple form of betting, since the bet is simply placed on who will be the eventual winner of the match, including overtimes.
Overtime counting in NFL bets is a great question, since it actually depends entirely on the NFL betting site you have chosen. Usually overtime counts unless it's been specified that it doesn't in the rules of the bookie, so be sure to read the terms and conditions of a bookie first. These can be found concerning all the bookies at Bojoko. Overtime will not count with NFL bets on a specific time frame, like halves and quarters.