Immortal Romance casinos UK
Immortal Romance is a vampire-themed slot produced by Microgaming, one of the pioneer names of modern online casino games. In the Immortal Romance slot, you get to experience the tale of forbidden love between the vampires and humans, as you follow the story of Amber, Sarah, Troy, and Michael. Descend to the Chamber of Spins and watch out for the swarming bats!
Check these casinos where you can play Immortal Romance slot, UK-licensed every single one!
Slot information - Are your ready for the fright?
Immortal Romance is a cinematic slot. It has an intriguing story that advances as you play and hit certain wins.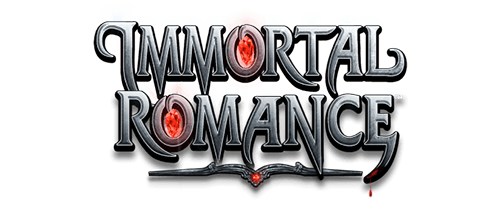 Supplier: Microgaming
Release date: 2011 (2020 remastered)
RTP: 96.86%
Volatility: Medium
Max. win: bet x 12,150
Min. bet: £0.3
Max. bet: £30
Immortal Romance slot game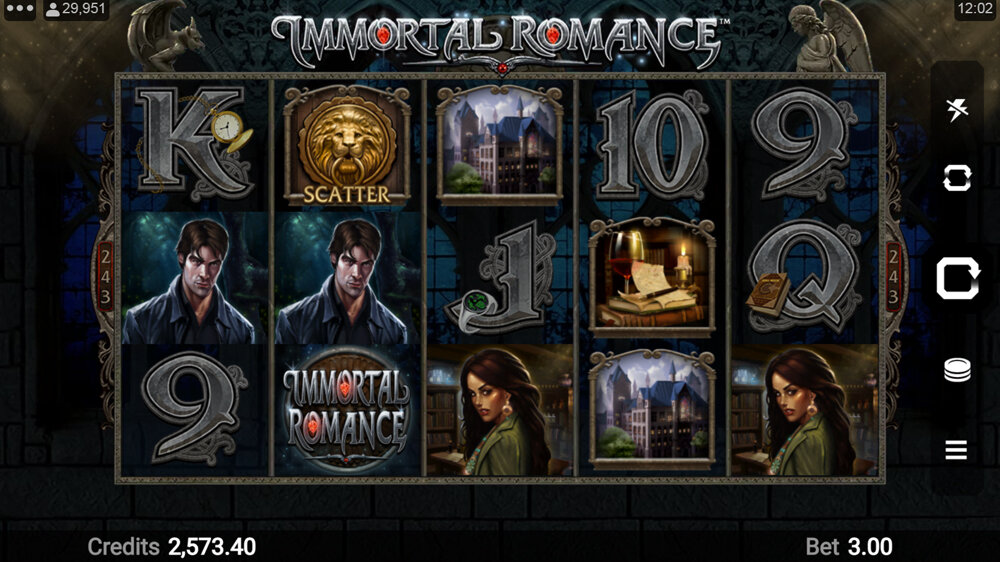 Microgaming's Immortal Romance is a 3x5 slot game with 247 ways to win. Immortal Romance RTP is 96.86% and its volatility is medium, so here's a good combo for those who think high volatility slots are too risky for their pockets.
It was originally released in 2011 and it is one of Microgaming's most well-known slots. The game was amazing when it came out and is still worth playing even now almost ten years later. The only problem was that the game's engine was getting a bit outdated.
Microgaming wasn't just going to let a legend get lost in time, so they decided to fix it. In May 2020, Immortal Romance Remastered was released. The updated version fixed the engine and made the game feel more modern.
Perhaps the biggest update was the mobile version. The old slot was very hard to get working anymore, but the new version will work with any phone or tablet. Today, you can play Immortal Slot on mobile with any modern mobile or tablet device!
If you aren't familiar with the game, it is an interesting story-driven slot about vampires. This game has tons of depth and you can unlock new features by playing.
Symbols & Features
The reels of Immortal Romance are filled with a bunch of good-looking symbols, and I do mean filled. There are twelve regular symbols and two special ones, a doubling wild and a scatter.
The regulars are divided into two categories, low-tier card numbers and high-tier picture symbols. I do have to point out that only some of the high-tier symbols are actually valuable. Two-thirds of all the symbols are basically worthless.
That is the crux of the game. The volatility is high and the pay structure is top-heavy. You won't get far just by hitting those small wins. You need to go for the special features and try to get those character symbols on the reels.
Speaking of the special features, they are quite interesting. The game has a free spin feature that opens up as you play the game. The more times you activate it, the better spins you can get. Note that the feature is not linked to your wager, so you can open it up with tiny bets.
Features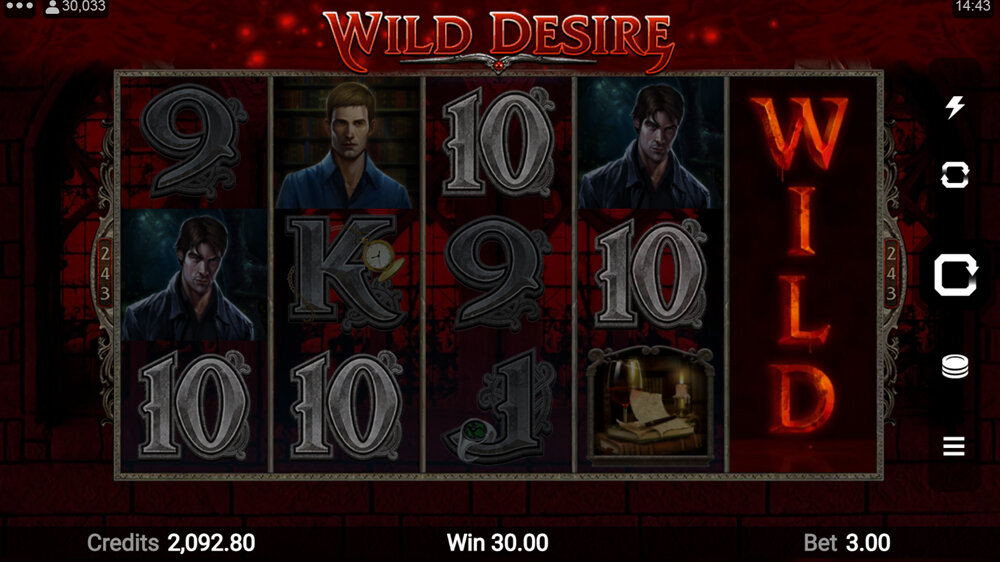 Immortal Romance has quite a hefty jackpot. You can win up to 12,150 times your bet with a single spin. Just activate the Wild Desire feature and get all five reels to turn into wilds.
Wild Desire: A sudden and powerful thirst for blood
Occasionally your vampires will get hungry. Dark red clouds cover the skies and blood will fall on the reels for you to feed on. Wild Desire is a random feature that can activate at the start of any regular spins.
When Wild Desire activates, up to five reels can be completely turned into wilds. This is the way to get the single-largest win in the entire game. If you hit all wilds, you win 12,150x your wager.
Chamber of Spins: Free Spins that just keep getting better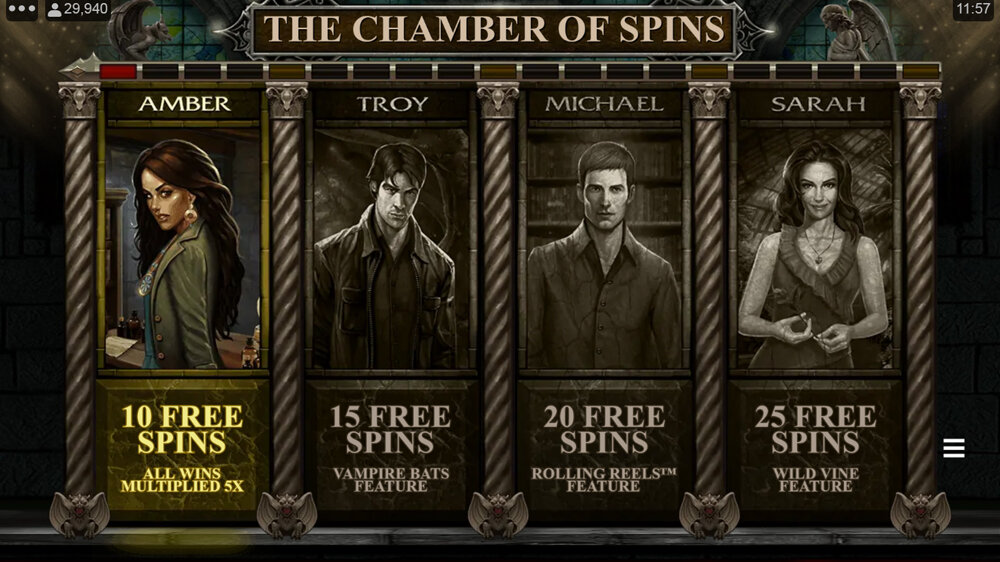 Knock on the door to enter the Chamber of Spins and if you are loud enough, you may enter. Get at least three door knocker symbols and the door will open, revealing the Immortal Romance free spins selection.
Each of the characters has their own feature. They include some story, which is revealed even further if you win big with a character symbol.
Amber: 10 spins. All wins have a 5x multiplier.
Troy: 15 spins. Vampire bats can show up and change symbols into multipliers. Maximum is 6x for each spin.
Michael: 20 spins. Cascading Wins will chain up wins and increase the multiplier with each cascade.
Sarah: 25 spins. The Wild Vine on reel three will spread and turn other symbols into wilds. You can win more free spins with a minimum of two scatters.
You can choose any of the available characters after you have unlocked them. Note, that the Wild Desire feature can only activate during base game spins, so it can't occur during free spins.
Paytable Achievements: Play longer and unlock new features
Immortal Romance is built on the idea that players should be rewarded for simply playing. Every time you activate the Chamber of Spins, you fill your tracker by one. For every five hits, you unlock a new character. Amber is available from the start and the rest will open in order.
The features you unlock will stay open even if you quit. Just go back to the same casino and you can continue where you left off.
With the new Remastered version, sometimes the unlocked features won't transfer from the old game to the new correctly. If this happens to you, contact customer support. Many casinos have given people free spins if they lost their progression.
Immortal Romance: Mega Moolah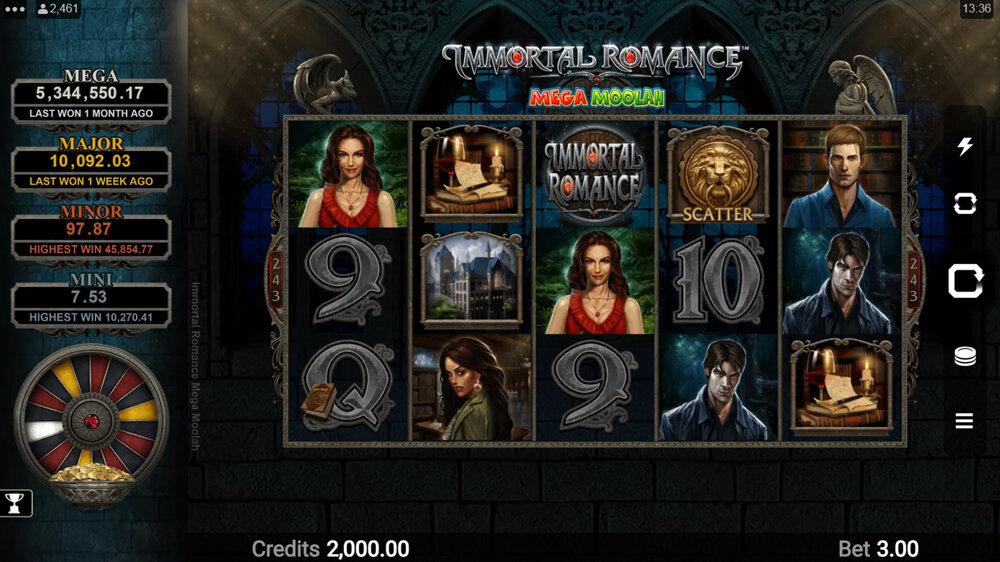 Most online gamblers instantly recognise the name Mega Moolah, as this is one of the top progressive jackpot slots out there. The way it works is when the player spins the reels, they might randomly trigger the Mega Moolah bonus game. The bonus game is essentially a wheel of luck where the player wins one of the four available jackpots.
Today, Microgaming has released a handful of slots with the Mega Moolah bonus game as kind of an add-on feature. Immortal Romance: Mega Moolah is one of these games.
Basically, the game works just the same as the regular version, but there are progressive trigger coins scattered over the symbols. Also, the volatility in the Mega Moolah version is very high instead of medium, and the Mega Moolah version has a reduced RTP of 93.40%. 
Immortal Romance compared
Immortal Romance is already over a decade-old slot, but you wouldn't really know it by the looks of the game. When Microgaming revamped this ageless classic in 2020, they mainly focused on giving it a little "facelift" and also having the game run better on mobile - so the remastered version doesn't look much different from the original.
Usually, you can quickly tell if a slot game is getting on in years. In many cases, it's the graphics giving it away, but sometimes it's the lack of special features or a clunky user interface. Immortal Romance avoids all of these potholes and is just downright charming. Some games just age well, and Immortal Romance is definitely one of them.
To put it short, Immortal Romance stands strong in comparison with almost any new slot. The theme might be a tad past its prime from the 2010s vampire craze with the era of Twilight movies and TV shows like Vampire Diaries and True Blood. But, next to your usual themes of Egypt, Vegas, and Asia, vampires can be a nice change. 
Want more immortal romance slots? try these
Same theme: Wild Blood 2, by Play'n GO
More vampires: Blood Suckers II, by NetEnt
Similar gameplay: The Finer Reels of Life, by Microgaming
Our verdict: Vampires and romance just works
When Immortal Romance was originally released, it made waves. The slot was technically advanced and was full of interesting features. It was a major hit, no questions about it.
Even though the original version of the slot was still looking great, technically it was getting a bit old and I'm really glad that Microgaming wasn't just going to let this game fade away. The remastered version will let a new generation of players enjoy this classic on desktop and mobile. It's still not on the same level graphics-wise as the most modern 3D casino slot games.
I love to play Immortal Romance but do so too rarely. Thanks to this new version, I'm sure to pick it up a bit more often. I've always enjoyed it, but there are just so many options these days.
If you haven't ever played Immortal Romance, I highly recommend trying it out. There is a reason why this game is still talked about a decade after its original release and why Microgaming went to the lengths for making the remastered version.
Game design: 5/5
Gameplay: 4/5
Features: 5/5
Game sounds: 4/5
Mobile: 4/5
Originality: 4/5
Immortal Romance FAQ
Originally, Microgaming released Immortal Romance in 2011. The remastered version came out in May 2020.
Immortal Romance has been one of the most popular slot games in the entire game library of Microgaming, and not without some good reasons. It has several bonus features and a relatively high maximum win of 12,150x, so it does not pale in comparison with modern-day slots.
The RTP for Immortal Romance is 96.86%. However, keep in mind that many game suppliers (Microgaming included) distribute their games with several RTP options from which the casino sites can choose one to present in their game library.
Most of the casinos that house Microgaming games do include this classic in their slot catalogue. You can check our list of Microgaming casinos to find your new favourite place to play Immortal Romance on mobile or desktop.
Have a look at our list of Immortal Romance casinos where you can play this slot for real money. You can also filter and sort the casinos to fit your preferences, may it be the best free bonuses or the best first deposit bonus offers. 
Find casinos with Immortal Romance