Why pay by mobile phone in online casinos?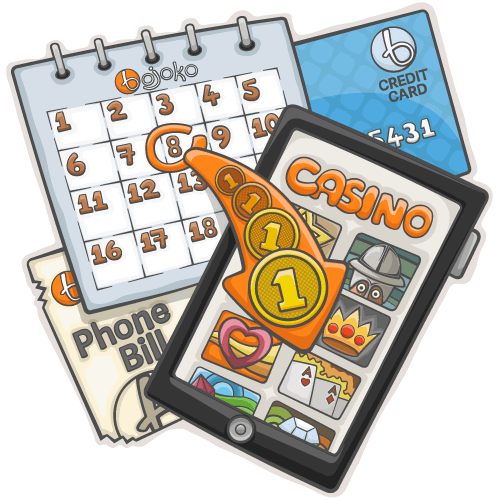 There are plenty of advantages to playing in a pay by mobile phone casino. If you've tried this money transfer method before, the benefits won't come as a surprise to you. We're about to enhance your knowledge, however. Here's how online casino mobile payment makes your life easier:
No cards, accounts or sign-ups needed
Instant and free deposits
One-click or one-tap payments
Robust authentication system shielding your money and data
Low daily limits encouraging gambling in moderation
Plan and tailor your payments to your needs
Mobile billing casinos offer all the convenience you can wish for. This is a payment method designed for anyone, anywhere, to be used any time.
Remember, however, that most other casino banking options available on desktop (such as cards and e-wallets) can also be used to make mobile deposits.
Deposit and play in a pay by phone casino (not Boku)
Here are our pay by mobile casinos – not Boku. We've left this mobile payment out so you can easily sift through the other options. You only need your phone to deposit and play in these pay by mobile casino sites. Maximum entertainment and zero hassle, starting now!
How do mobile payment casinos work?
If you opt for a pay by mobile casino, you can choose between two options:
Pay by phone bill (invoice)
Phone credit (top up)
On pay by phone bill casino UK sites and mobile top up casinos, you can deposit money and start playing without the need to settle your payment on the spot.
If you make a casino deposit by phone bill, the charges are included in your next phone bill. When you pay in a mobile casino using phone credit, the money will be deducted from your available balance right away. You can top up your phone as you normally do if you need more credit to make your desired deposit.
Paying with your mobile phone is as simple as that. If you're mostly a mobile player who relies on smooth apps to glide through modern life, don't think twice about trying online casino mobile payment.
Depositing methods for mobile top up casinos
If you want to deposit money into an online casino and pay via mobile billing or top up, there are several methods you can use. At the moment, Payforit, Boku and Apple Pay can be used in a casino to pay by phone in the UK.
PAYFORIT – UK MOBILE CARRIERS' COMMON PLATFORM
Many UK casinos support Payforit, a direct mobile billing method created and adopted by all these major UK network operators:
Other minor phone network providers might also offer this option, but be sure to check with your operator first.
Even though Payforit is the most prevalent direct mobile billing service for casinos, you may find one of these alternative options or even the Payforit method under a different name instead.
If you see one of the following payment methods listed in an online casino, you know you can deposit with your phone bill or pay as you go credit:
Pay By Phone
Pay Via Phone
Charge to Mobile
Charge to Bill
Mobile Pay
The only drawback with mobile deposit casino banking methods is that you can't use them to withdraw your winnings from the casino. You'll have to resort to another banking method to cash out your dough, and confirm this method by making a deposit and wagering it.
BOKU
The leading mobile payment provider for online casinos in the UK is Boku. With Boku, you can use just your phone to deposit in a pay by mobile phone casino. No need to use a credit or debit card, a bank account or sign up for an online payment service such as those offered by e-wallets.
It's as easy as selecting the "pay by phone or mobile" option in the casino, entering your mobile number and confirming your deposit amount. If you've already deposited using Boku in the pay by phone casino, your number will already be saved.
Look out for the text message to arrive so you can authorise the transfer. After you're done, the money will be waiting brightly in your player account, ready to be played with. The deposit amount will either be added to your next phone bill or deducted from your "pay as you go" credit.
Find the best pay by mobile phone casino supporting Boku from our selection. You can transfer money effortlessly and focus exclusively on enjoying your gaming experience!
APPLE PAY
Apple Pay is quickly becoming the favourite payment method for iOS users all over the world. By these we mean the lucky owners of the latest iPhones, iPads and Apple Watches!
Apple Pay is extremely convenient to use at store checkout points as it basically acts as a scannable digital wallet, doing what credit and debit cards do but with highly improved technology. The feature pulls your cards' data from the app to make instant, secure deposits with your device.
Apple Pay scores some major points due to its unique feature. You can withdraw money from your player account with Apple Pay, unlike with other online casino mobile payment methods. Use Apple Pay if you have the latest Apple tech and want to deposit and withdraw in online casinos with just one sweeping tap.
Deposit by mobile slots
Pay by phone casinos are the perfect option when you want to enjoy some slot action on the go.
You can play real money online slots in a matter of seconds when you deposit by phone bill.
Online casinos with the pay by mobile phone bill option usually offer a handsome selection of slots, tailored especially for smartphone users.
Other benefits of pay by phone casinos
CONVENIENCE
When you make a casino deposit by phone bill, forget about creating accounts or signing up for any service. No matter who you are or what your financial status or background is, a pay by phone casino clears the way for you to just play. All you need is a UK mobile phone number to fund your casino session!
New mobile phone operators are added to pay by phone casinos (as well as the Boku platform) all the time. You don't even need to download any apps to pay with your phone with Boku.All that happens is you confirm your payment on your phone via SMS.
What's more, Boku works on any mobile phone – from a fancy iPhone X to old classics like the Nokia 3310. All models and operating systems are supported!
Bokucan be used in leading digital marketplaces like Sony, Facebook and Spotify, so you can transfer its convenient cross all the most popular entertainment platforms.
Instead of trickling your deposits into the casino one by one, you receive a complete invoice with your deposit totals and phone charges at the end of the month. Then pay everything at one go in a jiffy!
EFFICIENCY
A casino deposit by phone bill or mobile top up is processed instantly and never carries any transaction fees. Boku won't charge you for making deposits in online casinos.
The funds will be transferred to your player account at once so you can indulge in games without further ado. It's a true play now, pay later casino experience.
A pay by mobile casino is where you can transfer money instantly at no cost with just your mobile phone. The option of depositing now and paying later by invoice is also an appealing one for players!
SECURITY
You're opting for one of the safest ways to transfer your money in a mobile billing casino. Boku is regulated by the Financial Conduct Authority (FCA). This is a seal of approval for the mobile payment providers' operations and payment system, verifying its high standards of financial security.
Your personal details and financial information remain discreet since you don't sign up with any third party service to use Boku. Your sensitive data is never shared with your pay by mobile phone casino.
Boku has a two-way authentication system that only requires your phone and verification codes sent via SMS to work. The text messages asking you to authenticate the payment offer a security boost, preventing anyone who has your phone number from being able to make money transfers.
A pay by sms casino provides a remarkably secure payment landscape due to the close-to-nil risk of your financial details being leaked online. Deposit freely knowing that your money and your data are always benefiting from 100% protection.
CUSTOMISABILITY
Sculpt your payments around your own calendar when paying by phone. Whether you deposit in a casino by phone bill via Boku or any other method, you can deposit money in your casino of choice now and sort out the payment later.
This feature of online casino mobile payment is great for players who want to customise their banking. We all have different paydays, bill deadlines and so on. It makes sense to plan your payments around these instead of having to part with your cash there and then.
You might also be treated to special rewards and promotions for depositing and playing in a pay by mobile casino. Look out for these offers on the casino website or the first email communication after you sign up.
Don't pay by mobile phone in online casinos...
If your mobile network operator is not supported by the mobile payment provider.
Although it's extremely unlikely, your mobile network operator might not yet be affiliated with Boku or the other mobile payment methods. This could be the case if it's a minor, unknown network. If so, you might wish to make the switch to one of the larger operators or acquire a SIM card that will allow you to use Boku and others in a pay by mobile phone casino.
If you want to transfer more than a small amount of money.
You're limited to transfers of £10 per transaction and a daily transfer total of £30 when using Boku and Pay by Phone. Other mobile payment providers might not impose such low limits but a deposit by phone bill casino might not be your best choice if you're looking to make frequent transfers of large amounts. High rollers, take note!
If you want to use your mobile phone to withdraw as well as deposit.
The major downside to paying by mobile phone in online casinos is that withdrawals are not supported by all mobile payment providers. You'll have to use Apple Pay or turn to another method for collecting the money you won. If you prefer using the same method for deposits and withdrawals, the general mobile payment option and Boku aren't the ones for you.
If you want to take full advantage of a deposit match bonus.
If your pay by phone casino of choice is offering a mouthwatering deposit match bonus, you won't squeeze all of its juice with the measly deposits you can make with Boku and other methods. You can still redeem the bonus, but you won't be using it to its full potential due to the daily transfer limit of £30. If it's a large deposit match like 200%, starting off with a bankroll of £300 from a deposit of £100 is much better than playing with £30 after depositing £10. It's your call!
Try other mobile depositing methods in online casinos
Apart from all the methods mentioned above, mobile depositing can also be carried out using banking methods that are available for both desktop and mobile.
INSTANT BANKING
Instant banking services like Trustly are accepted as a payment method in mobile casinos. You'll need to choose Trustly as a checkout option first, and then use your online banking login details to make deposits using your mobile phone. With this method, your mobile phone enables you to make a casino deposit directly from your bank account.
CREDIT OR DEBIT CARDS
If you want to make a payment using your mobile phone and a credit or debit card, you can complete the transaction in your smartphone's browser. Saving a debit or credit card for use in online casinos is another good mobile payment alternative.
E-WALLETS
You can also use e-wallets such as Skrill and NETELLER to make mobile deposits. Log in and you'll be able to transfer the funds stored in your e-wallet in just a few easy-to-complete steps in your player account dashboard.
Use your phone to make a deposit in a single tap with PayPal One Touch and other mobile-friendly services. Skrill has rolled out its 1-Tap feature too.
You'll need to input your card details in the Skrill 1-Tap payment panel, including the card number, cardholder name, expiry date and CVV code before saving the card.
Any deposits or payments made using a credit or debit card saved on Skrill usually incur a 1.99% transaction fee. Once you've saved your card and paid, the funds are immediately transferred to your pay by mobile phone casino.