Ad Disclosure
Best Volleyball Betting Sites UK 2022
Want to make a profit by betting on one of the most popular ball games in the world? Look no further! Bojoko helps you to find the best Volleyball betting sites, odds, and free bet offers. 
Volleyball offers punters a great chance to make earnings with little effort. That's why it is surprising how overlooked volleyball betting is among bettors. Read more and discover how to place good volleyball bets by using trustworthy volleyball betting sites.
Table of content
All volleyball betting sites
Below you can find the best volleyball betting sites from our point of view. These bookmakers offer the best volleyball odds, the vast volleyball betting markets, and worth-of-money betting offers for new players.
To get the free sports bets and other welcome offers immediately, click on the "Play here" button in the list.
TOP 5 Volleyball bookmakers
Below you can find our picks for the top 5 best sites for volleyball bets. Some are new sites, and some are older, still all equally good for volleyball betting.
We have chosen these bookies for reasons. The most important is their high volleyball odds. The other reasons are the number of volleyball betting markets and the quality of welcome bonuses.
21.co.uk
21.co.uk offers a comprehensive range of volleyball betting markets from the Korean League to the World Cup. The bookie also covers all the hottest Beach Volleyball matches. 
+£10 free bet offer
+ High average payout 
+Great mobile app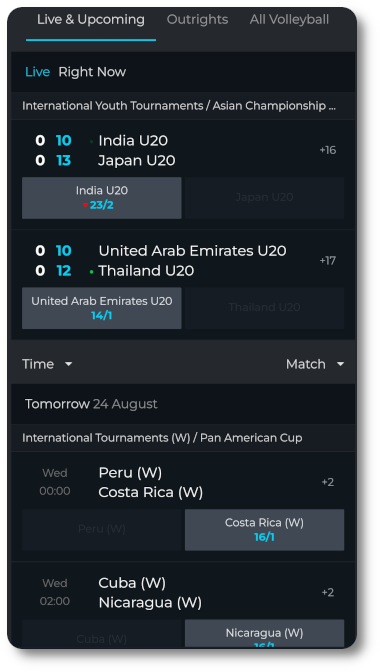 BetUK
offers the chance to bet on over 30 sports, including volleyball and beach volleyball. Best of all, all pre-match markets are also available for live betting. The bookie also offers a lot of outright odds to different volleyball events and leagues.
+ £30 free bet
+ BetUK specials
+ Dedicated especially for British players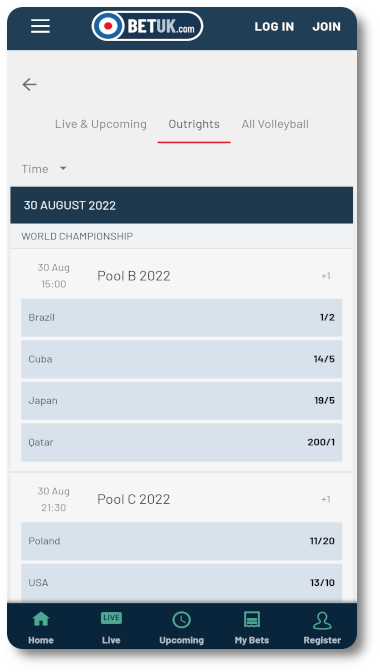 Do you fancy a bet on women's volleyball? Then
Betgoodwin
is the place to visit. The bookie offers women's volleyball odds globally, for example, Argentina Liga de Honor Women, Germany 1. Bundesliga Women and South Koren Women's Cup.
+ £25 free bet offer
+ Lot promotions
+ Fresh, 2022 launched, sportsbook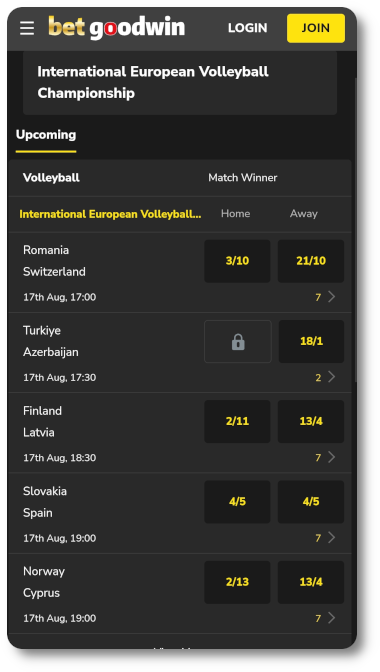 Jeffbet
has some pretty convincing volleyball odds from several continents to offer. The bookie also provides dozens of betting markets per game. Punters can, for example, bet on 1 set total point, winning margins and correct scores at Jeffbet.
+ £30 free bet
+ Lot of volleyball betting markets
+ Functional live betting section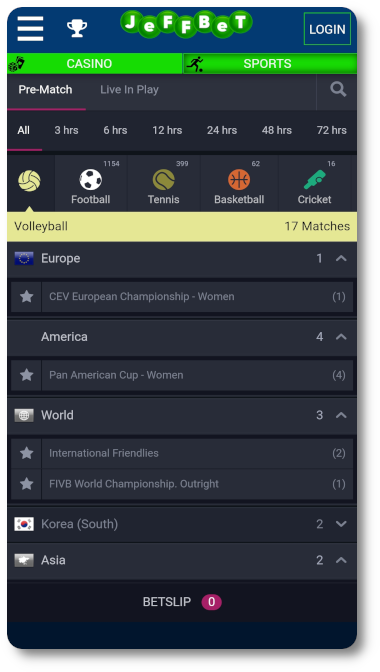 Betting giant
Ladbrokes
will not leave any volleyball bettor cold with its range of markets. The bookie offers volleyball odds to men's, women's and youth tournaments from South America to Africa and Asia, without forgetting the top European leagues.
+ £20 free bet offer
+ Large volleyball betting markets
+ Volley- and beach volleyball live streams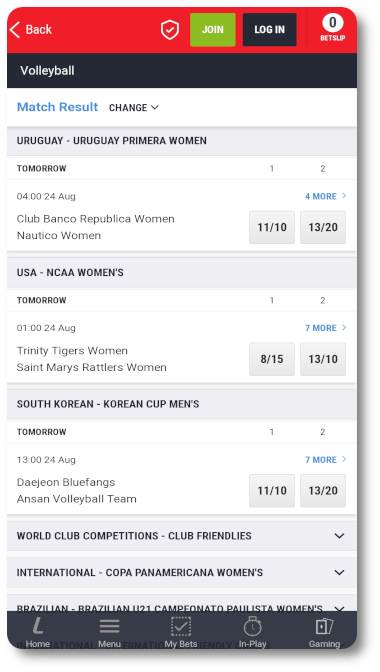 Volleyball betting sites odds comparison
Which of the above five betting sites has the best theoretical odds for volleyball betting? You can find the answer in the image below. In practice, this means that the higher the "RTP" percentage a betting site has, the better the odds it offers its customers.
The payout percentages for the betting sites in the comparison are based on calculations made in August 2022. The odds comparison includes matches from the Women's Pan American Cup, the Men's World Championships, and a few selections from other national team tournaments.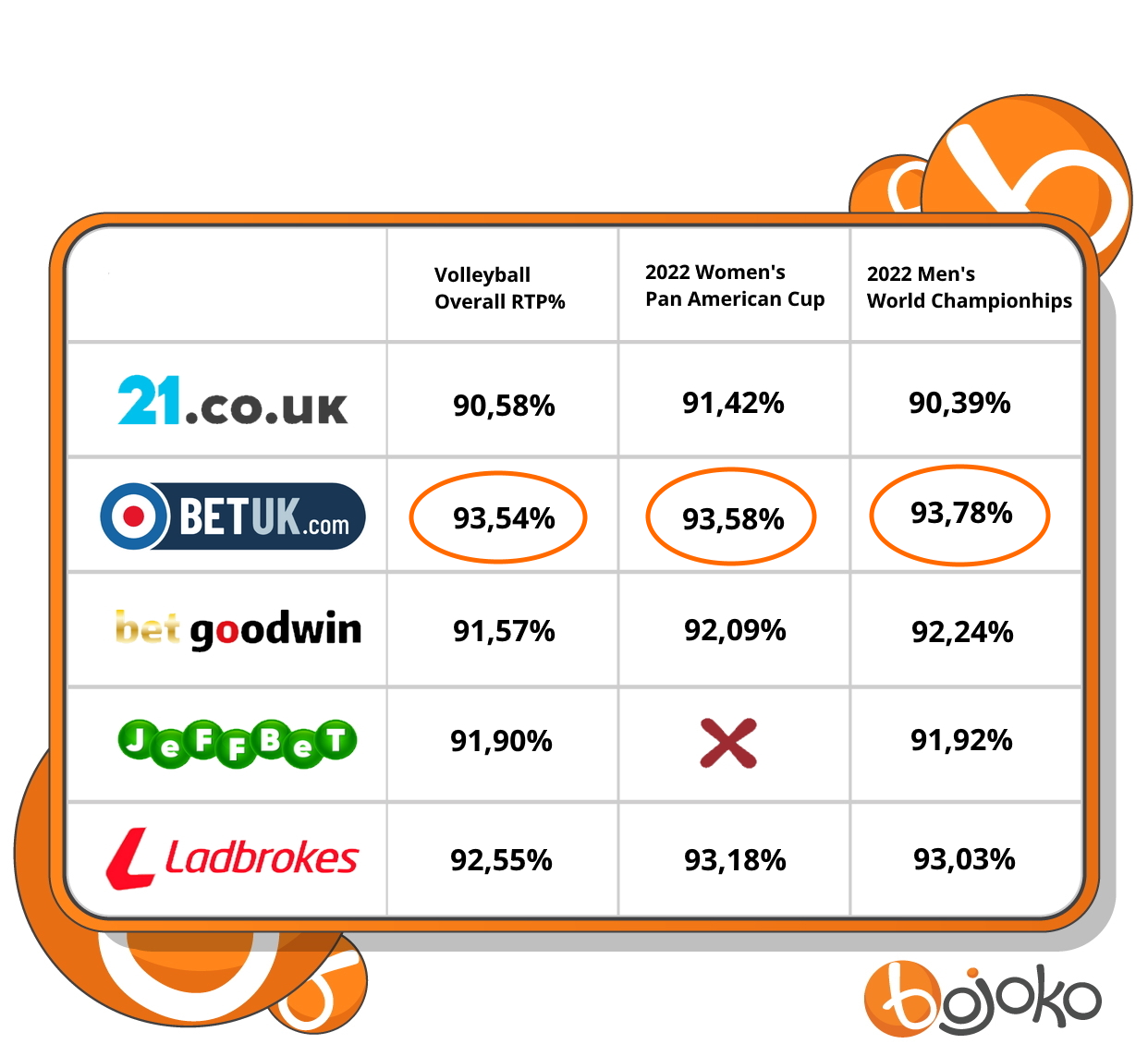 The many faces of volleyball
Roughly speaking, there are three categories of volleyball: Men's volleyball, Women's volleyball and Beach volleyball.
The most common variation is volleyball played indoors. With this setup, the game typically occurs inside a structure like a gym or sports arena.
Both men and women play volleyball with six court players on a court of the same size. However, in men's volleyball, the net is 19cm higher than in women's volleyball.
Here are the simple rules of the game:
Differences between men's and women's volleyball
Based on physical differences, men's volleyball tends to be more power-based than women's. Usually, you will see more side-outs in men's games. It means that the serve goes to the opposing team when the serving team fails to score. In men's volleyball, an attack is the best defence and ball rallies are often short.
Women's volleyball is typically a game that emphasises finesse. Women don't try to win games with furious power shots into the court. They build situations calmly and try to place shots behind the defence. In women's volleyball, you can often see acrobatic performances and long and exciting ball rolls. It's no wonder that women's volleyball is a popular sport, and betting sites offer many odds on it.
Beach volleyball
One variation of traditional volleyball is beach volleyball. This sport is played in a courtyard, as the name would imply, and if not on a sandy beach, then at least on a soft sandy surface. In beach volleyball, there are only two players on the court for each team. The game is fast-paced, spectacular, and fun to watch. You can learn the beach volleyball rules from here. 
Beach volleyball is popular among betting sites. Many leagues and international competition is well covered. There are also frequently free live streams of beach volleyball games available. For example, Ladbrokes streamed all the beach volleyball European Championship games.
Different volleyball competitions and leagues
You may notice how many volleyball betting opportunities are available on betting sites. Volleyball is played globally in many different leagues. For the bettors, that means extensive coverage of volleyball betting odds. Below you will find an overview of some of the most popular volleyball competitions that you can bet on.

The most popular volleyball tournament in betting terms is the Olympics. The world's best male and female volleyball players meet only every four years. The next Olympic volleyball tournament will see daylight in the summer of 2024 in the French capital, Paris.

Like the football World Cup, the FIVB World Championships are on the calendar only every four years. Men's next World Championship tournament after the year 2022 is in 2026. 
After the men's tournament, it's time for the women's one. Women's Volleyball World Championships will be held in Poland and Netherlands between 23 September - 15 October 2022.

As you may know, every football season, the top four teams in the
English Premier League
qualify for the Football Champions League. Volleyball also has the Champions League at both men's and women's levels.
CEV Champions League is the most competitive club competition in volleyball in Europe. Champions League season starts in the fall, and betting sites offer odds for every game of the season.

Of the individual men's volleyball leagues, the Italian SuperLega is definitely worth a mention. Italian clubs are maybe the best in the world, and the best players can earn Stivale over £800 000 per season. Many punters also like to watch SuperLega games. If you are interested in Italy SuperLega volleyball live stream, check out
Bet365 live streams
, for example.
When it comes to women's international volleyball, the United States is one of the powers in the sport. The country is the reigning Olympic champion and number one in the FIVB women's rankings. Yet, there isn't a major professional women's volleyball league in the United States. All the US best women players play abroad but all of them have started building their sporting careers in women's NCAA volleyball.
The NCAA Division I Women's Volleyball Tournament includes 64 teams (colleges), and matches attract over 10,000 spectators at best. So it's no surprise that this volleyball league is also popular with bettors, and NCAA betting is the real deal. There's even a study: "Analyzing and predicting NCAA volleyball match outcome using machine learning techniques" made at Indiana University.
By checking out our listed volleyball betting sites, you will find NCAA women's volleyball betting odds to bet.
Volleyball betting odds
Now that you're familiar with the differences between men's and women's volleyball, beach volleyball and the various leagues, it's time to explore the betting odds. There are five main markets for both traditional volleyball and beach volleyball betting. 
Match bet / Money line bet
The Money line in volleyball refers to wagering on the winner of the match, just like in NHL or NBA betting. There are no draws in volleyball matches, so you need to place a bet on which team you think will win. 
Total points
In total point betting, bookies will set a value, and it will be up to you to predict whether the game contains over or under points that value. 
One volleyball round ends when one of the teams scores 25 points, and three round sets are needed to win the match. So each volleyball game must score at least 75 points. For example, in a match that ends 25-10, 18-25, 15-25, 11-25, there is a total of 154 points. 
In betting terms, this means that if the value set by the bookmaker is over/under 155.5, you win by betting total points under 155.5. 
Beach volleyball betting follows the same principles as total point betting. To win a beach volleyball match, the team must win only two sets, and a one-set win comes off by 21 points. Therefore, there are fewer points in a beach volleyball match than in an indoor volleyball match.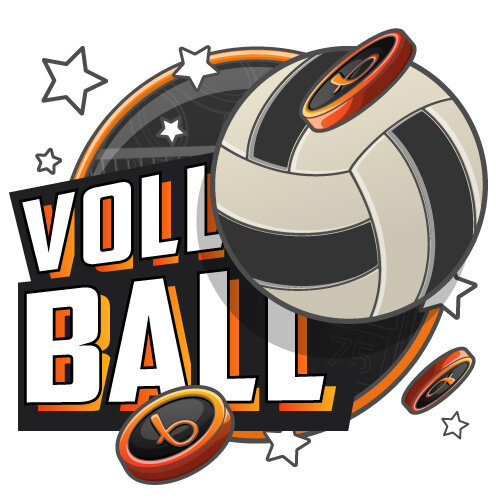 Total sets
Total sets follow the same guidelines as total points betting. For example, you can bet on whether the match will last at least over 3,5 sets or will be over in three straight sets. Total sets are a good bet for evenly matched pairs where it is difficult to bet on the winning team. 
Volleyball handicap betting
When one team is the clear favourite against another, handicap betting is the punter's best friend. Betting sites will provide a handicap on the number of sets in the winning margin. 
For instance, a wager on a team with a -2.5 handicap will profit if they win sets 3-0.  
Betting on the opposite team at +2.5 will pay off even if they lose the game, as long as they win at least one set. 
Future / Tournament bets
Currently, the betting sites are rushing to offer winning bets on the FIFA Qatar World Cup. Many people may not realise that volleyball is another sport where you can often bet on the future winners. Just now, the hottest topic is betting on the Volleyball World Championship winner. 
Volleyball live betting
Volleyball is a striking and fast-paced sport. Situations change rapidly, and matches often surge from one team's control to another.
For the reasons mentioned above, live volleyball betting is exciting and popular. One of the great things about live volleyball betting is how different the matches are between men's, women's and beach volleyball. You can bet on all the same betting markets in-play as pre-match.
In the UK, several bookies offer live streams of volleyball and beach volleyball, including these three bookmakers:
Volleyball betting tips & strategy
One of the best tips for volleyball betting is to remember that you can bet on the sport practically all year round. Various leagues and tournaments are going on all the time. So don't just focus on betting on Olympics and World Championships games!
Below you'll find a few other tips which assist you with placing volleyball bets:
In volleyball, as with any sport, the home team has a slight advantage over its opponent. A 2009 study published in the US government-run National Library of Medicine has demonstrated the importance of home advantage. Key points of the research are:
Home teams always have more probability of winning the game than away teams.
The advantage of home teams is more notable at the beginning of the game (first set) and in the two last sets of the game (fourth and fifth sets).
Read the publication here, and be one step ahead of other volleyball bettors. 
Focus on a few leagues and teams: 
Several betting sites offer volleyball betting in dozens of different leagues. A single bettor can't hold all the strings and keep up to date with the strength of the teams. So we recommend focusing on just a few clubs at a time. For example, there are plenty of NCAA women's volleyball betting odds available in the 64-team league - We recommend keeping the focus on teams that are familiar to you!
Volleyball is a team sport with Capital T: 
In volleyball, team play and team dynamics are more important than individual skills. Even the best hitter in the world can't win points in a match unless he gets good passes from teammates. If a team is highly ranked and on a winning streak, then individual line-up changes do not change the balance of power, as long as all the players on the court do their job. 
Volleyball is one of the most interactive games going. It is a game of intuition, imagination, improvisation—but most of all, of reciprocity. Of teamwork. There is no way to freelance in volleyball.
Volleyball is the fifth most popular sport in the world. Despite this, it has remained on the margins among bettors. In a way, that's a good thing because a nimble volleyball bettor can make a good return for little effort. As long as the turnover in volleyball betting remains moderate, bettors will have good odds at their disposal. Make a little study with volleyball stats and predictions, and you are one step closer to winning.
Volleyball betting / FAQ 
You can find all the best volleyball betting sites from Bojoko. We have made a list of
fifteen volleyball betting sites
and have raised for special consideration five of them:
In a match point total bet, you predict how many points teams score combined. A volleyball team needs 25 points to win a set and to win a match teams need to win three sets. If the game ends 25-10, 25-20, 25-17, the match point total is 122. 
Read more about match point betting from here.

A set handicap in volleyball can occur in two different ways:
The favourite has sets deducted from their total
The underdog team starts the game with extra sets
Click here to read more about set handicaps in volleyball.