Independent casinos UK
Independent casinos are online casinos which are running on their own platform. Because their only unifying factor is the lack of sister sites, independent online casinos are a varied bunch. Prepare for a unique gaming experience and pick an independent casino!
List of independent casino sites
Generally, online casino companies that are only getting started in the gambling business launch their first brands on white label casino platforms. Building your first site from the ground up is rare, although not unheard of.
An independent casino site without a third party platform is usually a casino company's first attempt at creating something that really matches their vision and ambitions, without the limitations of a ready-made template. If the independent online casino site becomes successful, the subsequent brands are usually launched using the same code, thus creating a new online casino platform.
Browse our list of independent casino sites listed on Bojoko!
On this page
Here, you can learn all about independent casino sites and how they work.
Overview of white label casinos & platforms
There are various online casinos offering a variety of services presented in a way that is unique from others. Though you might not realise at the time, there can be clusters of casinos built on the same platform that share some features, including KYCs, licences and game providers.
What makes these clusters of casinos special is also the fact that they offer added security to the player. If a player self-excludes from one brand, he can also effectively and automatically self-exclude from all brands in the same group.
There are also independent casinos who don't belong to any cluster and come standalone. When it comes to independent platforms, you can find something unique and special not widely available. You might still find popular game suppliers, but they are also smaller and might not have the same tools as widely available as those of bigger companies.
What makes independent casinos unique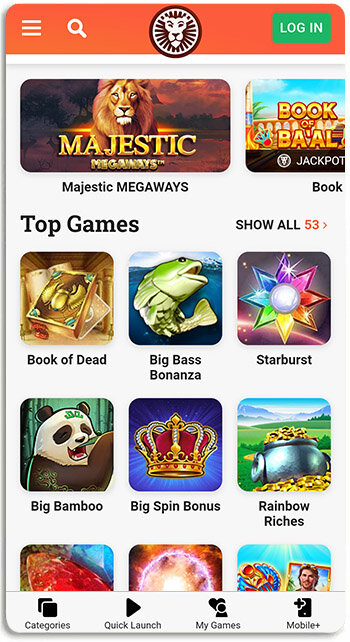 EXAMPLE: LeoVegas is one of the best independet sites on the market.
Here are some advantages of independent platforms and casinos:
Demo play: Although this is a widely available feature, not all big casinos offer this option to UK players. 
No limits: Independent platforms are more flexible and don't necessarily place staking limits.
Here are some disadvantages of independent platforms:
Not linked to self-exclusion programs: Since they are standalone casinos, you can't actively self-exclude from all casinos. You can opt for Gamstop.
Limited banking methods: Independent platforms might not have a wide range of payment methods available.
New independent casinos
Independent casinos don't follow any kind of a schedule, as they are not tied to one another in any way. It is impossible to say how often new independent casino operators join the market.
What can be said is that there are plenty of new casinos popping up every year. Of those, we filter out casinos that are not suitable for UK players and simply not worth your time. What is left can be seen right here. You can check out the casino list at the top of this page to see all the new independent casinos that are reviewed here on Bojoko.
Game suppliers
Just because they are smaller casinos, it does not mean that they won't have any big-name powerhouses. In fact, smaller casinos will go all out with great marketing campaigns and partner up with reliable game suppliers in order to attract new players.
Depending on the casino of your choice, you can find big names including NetEnt, Quickspin, Microgaming and Evolution Gaming amongst others. You might also find newer and slightly more niche suppliers as well.
There are also those older veteran casinos, who have been operating before casino groups were really a thing. Those can have a huge number of different developers, as these casinos have had ages to grow.
Payment methods
Similarly, independent casinos and platforms are a wild card when it comes to payment methods.
The smaller ones might not offer a wide range of payment methods, but you can still find all standard methods, including debit cards such as Visa and Mastercard, prepaid vouchers such as PaySafeCard and e-wallets such as Skrill and Neteller.
The big independent casinos are sure to have all the most popular methods available. They have been in the business for so long that they have had time to see what players like to use and what options are safe.
Licences
Being independent has its ups and downs when it comes to gambling licences. Independent casinos can obtain any licences they desire without having to worry about the group as a whole. The other side of the coin is that the parent company doesn't already have these licences available, as simply adding one new trade name is basically a formality.
Independet sites either go for the most valuable and wide licences, or the cheapest and easiest to obtain. The latter group is the one that is not adviced for UK punters to use.
Common choices for independent casinos are:
United Kingdom Gambling Commission licence
Malta Gaming Authority licence
Gibraltar Gambling Commission licence
Curaçao Gaming Control Board licence
You need to check the licence of each casino separately, as they can have any licences as independet operators. Checking the casino licence is a good practice in general, which should be done every time you go to any new online casino.
Independent Platforms FAQ
As long as they are licensed and regulated by the UK Gambling Commission and use SSL encryption technology, they are considered safe. The ones promoted on Bojoko meet all standards.
Yes, as long as they are UK-licensed casinos. Just make sure to look for signs of a certificate in the footer.
Your first stop should be the UK Gambling Commission. Some independent casinos also have a third-party resolution system, which you can complain to, including eCOGRA.
Find independent casinos