Virtual Sports betting
Betting on virtual sports is a very interesting new trend in online betting. More and more betting sites in the UK are offering virtual sports betting, which means 24/7 simulated sports games that you can bet on. The animations and the whole experience of betting on virtual sports is already top-notch these days and in fact, it has grown to be one of the most popular forms of online betting in the UK.
Betting sites with virtual sports
Check out all the best virtual betting sites below and claim their welcome offers.
Read more about betting on virtual sports
Top 3 Virtual betting sites
Ladbrokes virtual sports
Ladbrokes is one of the biggest betting sites in the UK and along with real sports, they offer a massive amount of virtual sports. 11 different virtual sports are offered along with a £20 free bet for new customers.
✅ 11 different virtual sports to bet on
✅ Very easy to use on mobile
✅ £20 free bet for new customers
Ladbrokes: Move on to bet on virtuals »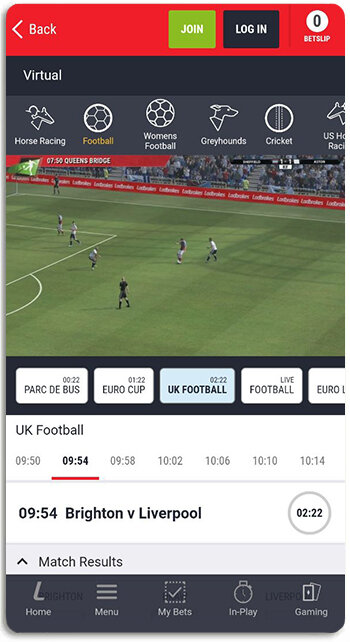 Coral virtual sports
Coral offers a vast amount of virtual sports games and a lot of different markets to bet on. Their excellent graphics offer a great virtual betting experience and Coral has one of the best customer services of all betting sites in the UK.
✅ Trusted UK brand
✅ 11 different virtual sports games on offer
✅ £20 free bet for new customers
Coral: Move on to bet on virtuals »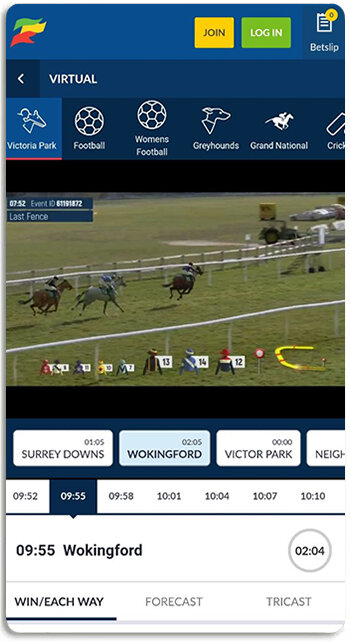 Betway virtual sports
Betway is a well-known sports betting site in the UK and offers a good amount of virtual sports. Football, Horses, Cycling, Motor Racing, Speedway, and Trotting are all available.
✅ Stylish graphics
✅ Lots of betting markets
✅ £30 free bet for new players
Betway: Move on to bet on virtuals »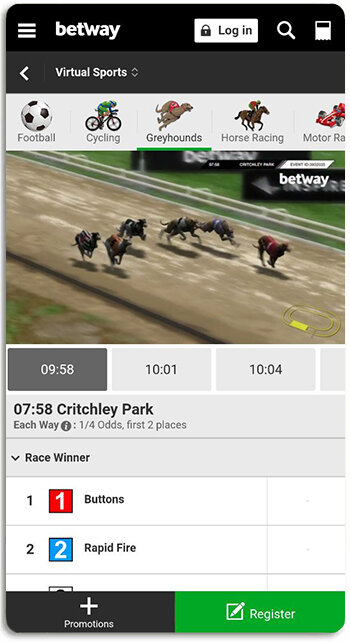 Betting on virtual sports
Virtual sports betting has taken huge leaps in recent years, with better animations and more realistic games. Nowadays, for example, virtual football on betting sites looks very much like the FIFA video game. The quality of virtual betting has gone up, but so has the overall betting experience. The amount of betting markets and options for bettors to bet on different things is growing all the time, as well as the number of sports.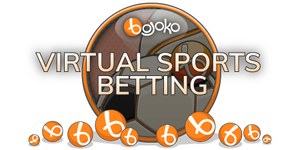 How does it work?
Virtual sports games are simulations of different sports that are basically running all day long. The bookies will give you odds normally for different outcomes just like in real sports. The outcome of the events is based on the randomness built into the games and the computer will decide the outcome based on an algorithm.
Virtual games are also quicker and can be enjoyed very frequently compared to their more traditional counterparts. For example, in many cases, a virtual football game lasts only 3 minutes.
virtual sports games
The most popular virtual sports games are:
Virtual football
Virtual horse racing
Virtual dog racing (greyhounds)
Virtual Tennis
Virtual basketball
Virtual motorsports
Previously,  bookmakers were offering pretty much only virtual football, virtual horse racing, and virtual dog racing, but the offering has been growing steadily and more and more sports are being animated and brought into virtual sports betting. The best betting sites today offer over a dozen different sports in the virtuals section and even bonuses, like free bets or deposit bonuses for betting.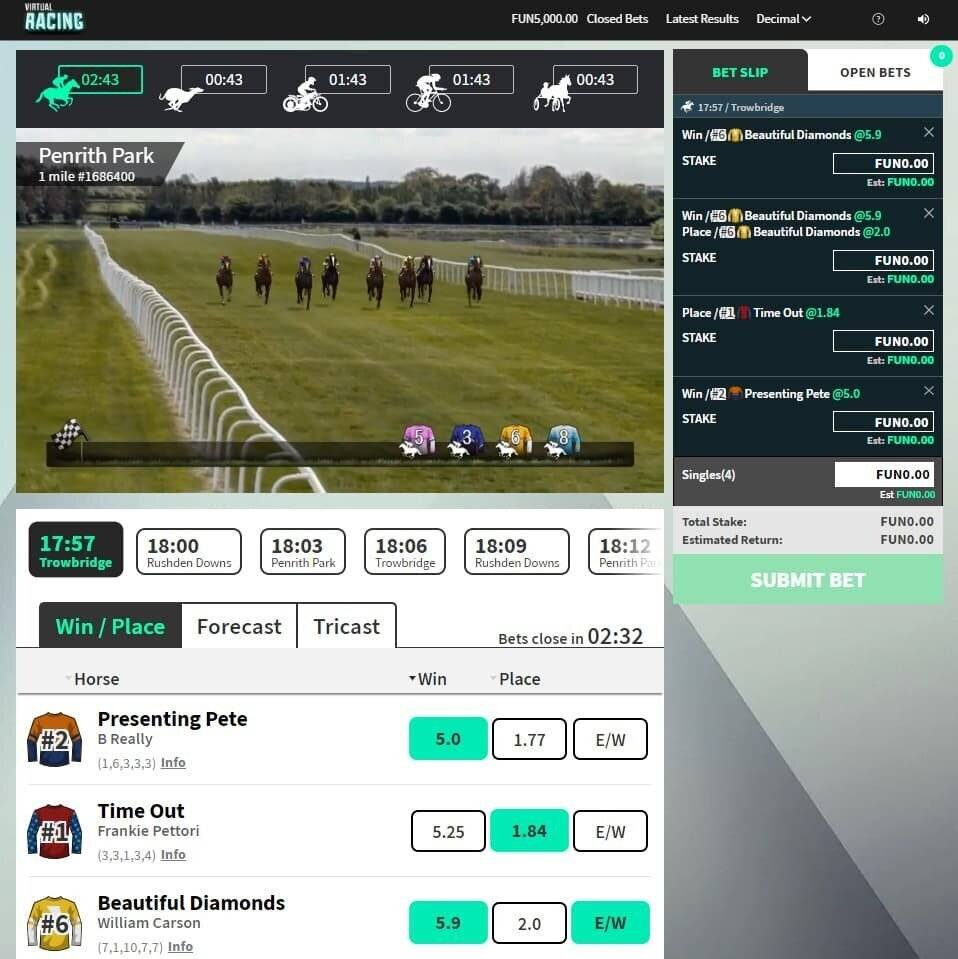 Image of Leap Gaming's virtual horse racing game and odds
Differences to real-life sports
There are obvious differences between real-life sports and virtual sports, even though virtual games try to simulate the real ones as well as they can. Some of the main differences are:
Virtual games are running 24/7
Virtual games outcomes are decided by computers, not real athletes
Shorter games and races
Lack of variables that happen in real sports, like weather, emotions, referee, or other variables
Virtual sports betting tips & strategy
Betting on virtual sports compared to real-life sports is similar but still different. There are certain things to consider if one wants to succeed in virtual sports betting. Firstly, you have to understand that the games are run by computers and unless you know the exact algorithm, you can't really find an edge for yourself as you can in real sports. Therefore, be very cautious if you see anyone giving "hot tips" for virtuals because you can't. Stay away from virtual sports tipsters.
It's impossible to give tips on virtual sports, since everything is decided by an algorithm
The best strategy for virtual sports betting is to apply good risk management, allocate fewer stakes from your bankroll than normal and bet only the amount that you are happy to lose. We encourage you to only bet on virtual sports for entertainment purposes only.
If you do win, as many do, congratulations but don't think it's because of your own skills. Hard fact is that winning in virtual sports is down to luck as it's again, a computer-programmed game with a set RTP for each betting market.
Virtual sports betting explained - FAQ
Virtual sports betting simulates real sports, but they're in fact computer generated games that are run by algorithms. For casual bettors, it doesn't really make a difference, as many betting sites offer plenty of odds and similar betting markets as for normal real-life sports. 
You can bet on virtual football, horse racing, motorsports, dog racing and many others.
The best betting sites for virtual sports are the big established brands in the UK. Ladbrokes, Coral, or Betway are worth mentioning, as they have good welcome offers for new players and plenty of virtual sports games on offer that are of good quality. You can check a bigger list of virtual sports betting sites here.
In virtual sports betting, you need to understand that the games are run by computer algorithms. Therefore, each game has a set RTP (return to player) and in the long run, will follow exactly that number. Therefore again, there are no secret ways to win more in virtual sports betting. You should only bet for entertainment purposes, and if you do manage to win, good on you, but don't expect to outsmart the game, because you can't. 
You can try to limit your losses and nerves by applying sensible staking and risk management. We also encourage to play with smaller stakes than normal sports betting.