Leap Gaming
Leap Gaming is a game developer specializing in 3D Virtual Sports and slots. Leap Gaming has gained a good foothold in virtual sports games in the UK and you can see and play their games on many different betting sites. 
On this page, you will find a lot of information about Leap Gaming's virtual sports games, an interview with Leap's virtual sports product manager, and a list of all betting sites in the UK where you can play Leap Gaming's virtual sports games.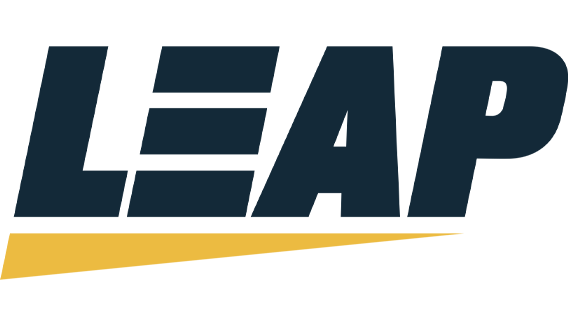 QUICK LINKS
Leap Gaming betting sites in the UK
You can find Leap Gaming virtual sports games from all these UK betting sites listed below.
Leap Gaming virtual sports
Virtual Sports is Leap Gaming's main product. As seen on the list above, an impressive amount of UK betting sites offer their games to customers and the portfolio is extensive and growing.
Leap Gaming divides its virtual games into two categories - Instant Sports and Scheduled Sports. Let's have a look at what those contain at the moment. 
Instant Sports
As the name suggests, Leap Gaming have wanted to offer players the opportunity to play different games exactly when they want. Instant Sports games start exactly when the player wants. For example, in Greyhound racing or Horse racing, you can set your wager and start the race immediately, while the Scheduled Sports games start at a separately announced time.
Currently, Leap Gaming has 12 different Instant Sports games from 8 different sports. For Dogs, Horses, and Football there are several games to choose from with slight variations. 
List of Leap Gaming Instant Sports games:
Football Streak Champions
Greyhounds Streak
Horses Streak
NASCAR Streak
Football Streak
Euroleague Instant Legends
Instant Horses
Instant Football
Instant Greyhounds
Instant Speedway
Instant Trotting
Instant Velodrome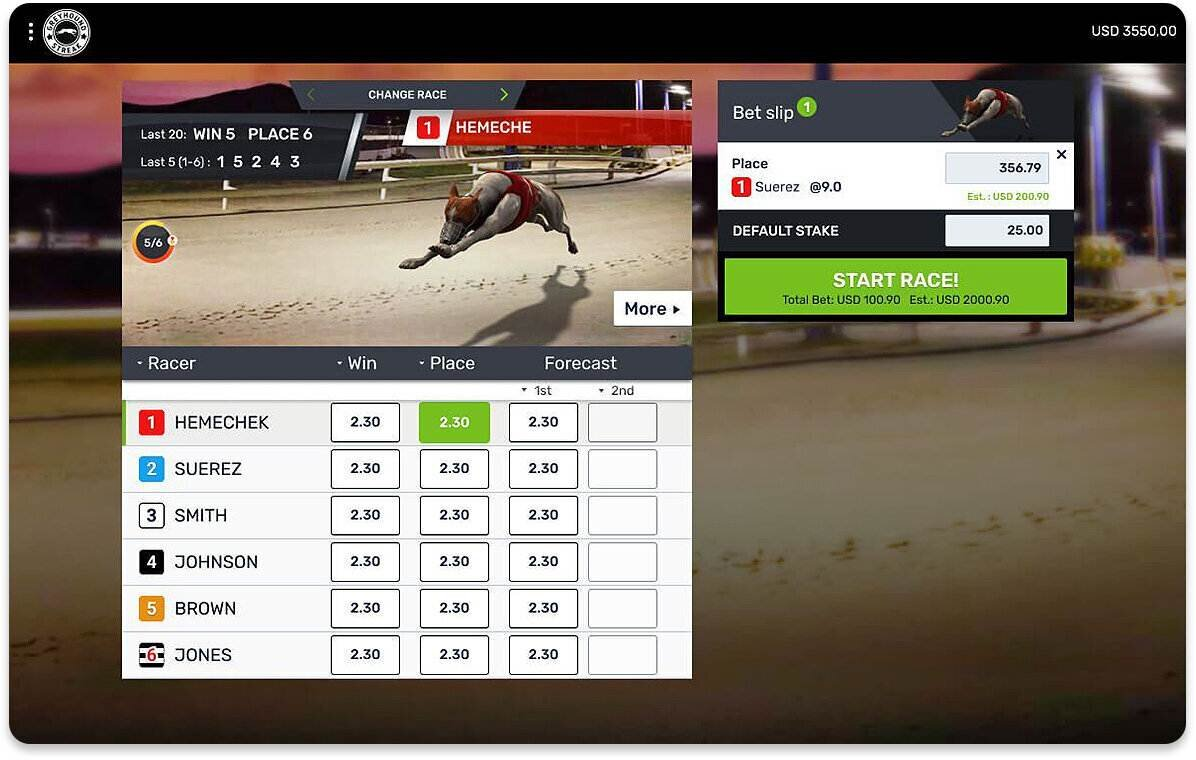 This is what placing your bets on the Greyhounds Streak Instant game looks like.
Scheduled sports
Scheduled Sports games always start at a certain time. Most of the games start at a very fast pace, so you don't have to wait long for these games anyway. For example, Football or Horse Racing games start every few minutes. 
There are a total of 12 Scheduled Sports games on offer at the moment, with the newest being a Football World Cup game.
List of Leap Gaming Scheduled Sports games:
Football Cup - World
Virtual Football League
Football Penalty Duel
Virtual Football Cup
Virtual Golf
Virtual Greyhounds
Virtual Speedway
Virtual Trotting
Virtual Velodrome
Virtual Football - Scheduled
Virtual Horses
Virtual Tennis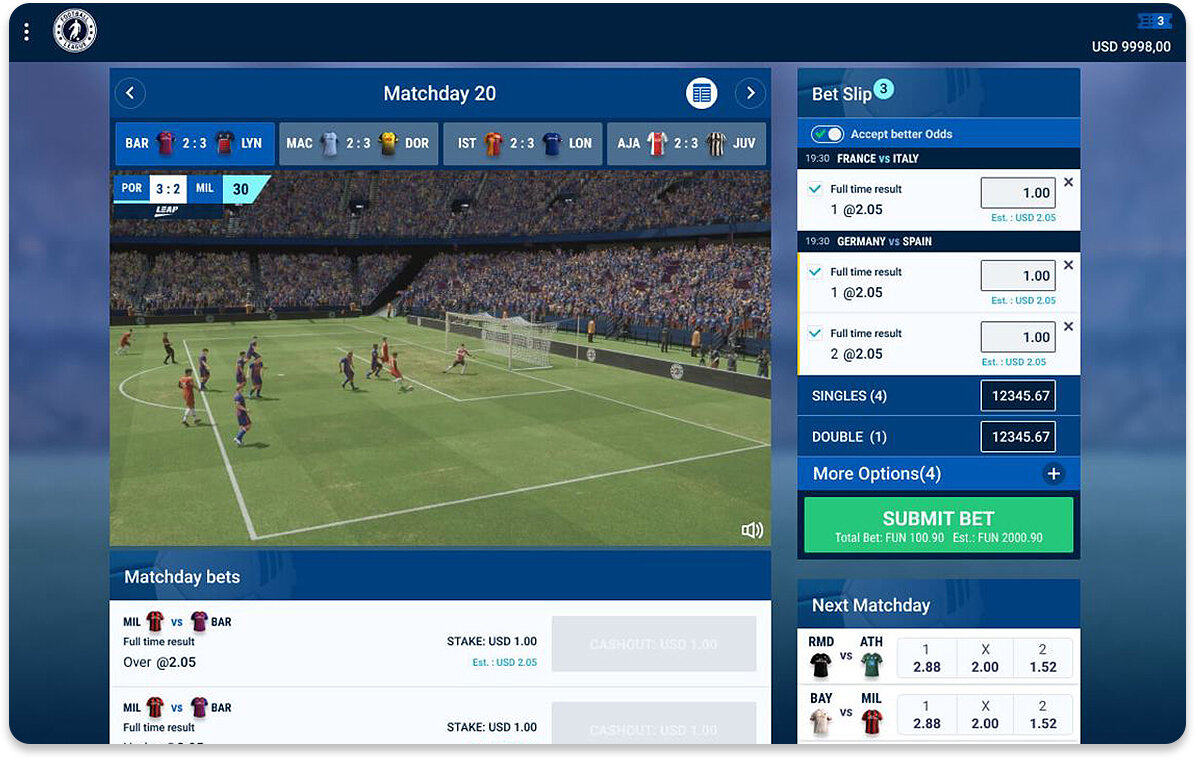 This is what the Virtual Football league Scheduled game looks like.
Interview with Pantelis Theocharides from Leap Gaming
We got a chance to talk with Pantelis Theocharides, Virtual Sports Product Manager at Leap Gaming about his views of the Virtual Sports industry and their company.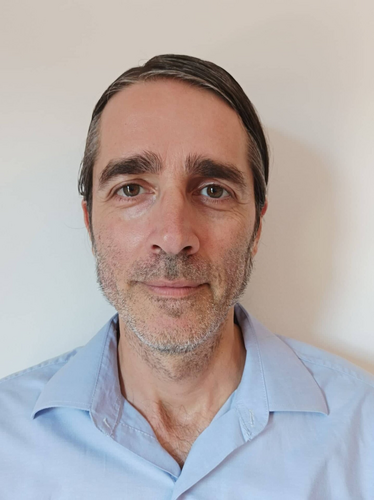 BOJOKO: Can you give us a quick introduction about what is Leap Gaming, when was it founded, and what is your role in the company?
Pantelis: Leap Gaming serves the gaming markets since 2018 and is a gaming provider with extensive experience in creating ultra-realistic 3D games deployable on multiple platforms. We are devoted to offering high-end gaming content. Our games are offered by myriad online and retail gaming operators worldwide and generate tens of thousands of engagement points with end-users. We strive to introduce best-of-breed games, driven and backed by state-of-the-art technologies. Our heavy investment in R&D, especially in our 3D generation infrastructure (human capital, proprietary development tools, art, and frameworks) has placed us at the forefront of realistic 3D game production. This is instrumental in offering high-end, immersive, and customizable gaming content.
It is our mission to serve our operating partners attentively and rigorously, while continuously gathering data and adapting our games to improve our product market fit in the fragmented and highly demanding global user base. Our attention to detail in our solutions and services is manifested in the modular engagement terms we offer operating partners. It is also evident in our dedicated designs for the various gaming platforms out there – online (web/mobile) and retail. I am the Product Manager for the whole Virtual Sports Vertical. I am responsible for writing comprehensive product specifications and acceptance criteria, producing detailed industry gap & product analysis (including performance analysis), Defining exceptional features that keep customers excited to use our virtual products, working with & guiding virtual solutions and development teams to deliver our best-in-class product and Conducting product sign off's.
At the end of the day, a Product manager is defined by the product the company creates and I am lucky enough to work with a very skillful and knowledgeable team (both as individuals and as a collective force) to help me transform our vision into high-end products that everyone enjoys.
BOJOKO: How long has Leap Gaming been offering Virtual Sports games in the UK?
Pantelis: Leap Gaming got its UKGC license in May 2022 which is when we started offering our content in the UK.
BOJOKO: What differentiates Leap Gaming from other Virtual Games providers?
Pantelis: LEAP was the first virtual sports provider to introduce in-play betting, on-demand, cashouts, and dynamic odds to the market. We did that because we truly believe that it is beneficial for both Virtual Sports providers and users to be engaged in the games. Via cash-out for example, we offer the excitement to the users to wait until Half time to see if they can cash out or not. And at the same time, they are also enjoying our high-end animations of the selected sport. Leap Gaming also offers bonus rounds in various of our games. For our scheduled games we have a unique bonus that is based on team matchups. We take the first 3-4 teams on the league table, and when they play against each other, we offer elevated odds to the users. This way they can take advantage of the better odds on those games while enjoying the bonus match-up.
For our instant games we offer bonus rounds that become active after some requirements are met in the games (e.g. in football streak champions, if a game has more than 5 goals scored you collect a football icon. As soon as you receive 6 of those icons, you are directed to a bonus game). This is us rewarding users that are engaging in our games often. It's all about bridging the gap between real sports and Virtual sports. And this is very important to us. We do not simply want people to start a game and then forget about it. We want to offer them the whole experience. And we started doing that with our innovative solutions, which had the user in mind. Also, we create our own Virtual Sports from start to end. That means animation is done in-house, UI/UX teams are working tirelessly to make sure our games are offering top-tier user interface, we create our own math and thus the odds and we are a self-sufficient company creating its own content. Which allows us to differentiate ourselves from our competitors.
Bojoko: What do you see Virtual Sports can offer that traditional sports cannot?
Pantelis: First and foremost Virtual sports are easily accessible to everyone 24/7. They never stop. So, they can satisfy more users just by the simple fact they are available whenever a user decides they want to have a go. Also, they are very easily customizable which makes them fun to play and watch. We can deviate from the norm of what real sports offer, both in terms of games and markets, and thus make them more appealing to a generic audience that are not necessarily sports enthusiasts. 
Another advantage of virtual sports is their simplicity. You do not have to be an expert in sports to try and play virtual sports. You only need to know the basics, and then their interface helps you go through your virtual sports experience. Having fun watching animations also helps in amplifying the experience for novice players. One of the most important aspects of Virtual Sports, at least to me, is that they offer almost instant results. You do not have to wait for minutes or hours to see if you won or lost. Many games can get you the results in under 10 seconds. This works well with people that just want to experience the fun of it, but they are lacking the patience of waiting long to see the results. With many virtual sports, this is instant. Obviously, we do have scheduled sports and in-play sports that take a bit longer to finish, but then again, they are a lot faster than traditional real sports.
Bojoko: In your opinion, what makes a great Virtual Sports experience?
Pantelis: Virtual sports are all about experience and how the user responds to the variety of virtual sports offered. One needs to consider all aspects of virtual sports and not just animation. Here at Leap Gaming, we are always striving to offer the latest innovations technology has to offer. We have our in-house animation department which uses the latest technologies to create our animations, we have our own UI/UX designers to make sure that every single detail of our offer is not only user friendly, but it is also innovative and creates a fun overall experience for the user. We also create our own odds, and we make sure each user knows the RTP our games offer.
The whole package of Virtual Sports needs to be appealing to give maximum satisfaction to the users. So, all aspects of Virtual Sports need to excel, since they are competing indirectly with Real Sports. Animations need to be based on the latest technology to offer the users a visually pleasing experience, the odds need to be competitive to attract both novice and experienced users, and the interface of how Virtual Sports are structured needs to be as simple as possible without sacrificing the user needs. Finally, for us at Leap Gaming, a great virtual sports experience is one that offers the users game satisfaction, either via the gamification of the games, or by bonus offers, so that users are interested in the games, and they feel they are engaging with them, the same way they do with Real Sports.
Bojoko: What can players expect to see from Leap Gaming in the future?
Pantelis: Leap Gaming will always strive to offer to our customers the best quality products. We are doing that by trying to understand the users' needs, what the new generation of players demands and wants, and how to incorporate all those elements in a user-friendly virtual sports context, without making any sacrifices in terms of quality products. As a company, we want to bring Virtual sports closer to the users and offer them a similar experience to real sports. We will create more content in terms of Virtual Sports, we are planning on some innovative solutions that will change how users interact with our games and planning on offering more gamification options for our products to keep our users engaged and satisfied. What can be promised is that moving forward, Leap Gaming will use all of the available tools in terms of technology, to make sure our product meets the standards of the industry.
Without revealing too much, exciting times are ahead of us in terms of Virtual Sports development and the future.
Bojoko: How do you see Virtual Sports developing in the future as a whole?
Pantelis: First and foremost, there is a huge room for improvement in terms of Virtual Sports content. Virtual Sports started by duplicating the most popular sports, like football and horse racing, but there are so many sports that are still untapped in the Virtual Sports context. Also, and this is food for thought, companies can now start creating Virtual sports that do not even exist in the real world is possible. Even though this is not an easy task because one needs to consider whether they will be positively perceived among the users and if we can do them justice by offering them as virtual sports, the technology is there for this to happen.
Another area for improvement will be more branded virtual sports. We believe the sporting federations are now taking notice of virtual sports and we can use that to our advantage. Such partnerships will be beneficial for both. On the virtual sports aspect, we will be offering easily recognizable content to our users, and on the side of the federations, there will be free promotion of their products.