Ad Disclosure
Best Live In-Play Betting Sites UK
Find the best in-play betting sites through Bojoko! On this page we have covered all bookmakers that provide live betting odds, including live streaming betting sites for UK players.
Best in-play betting sites 2022 - Top 3
There are plenty of in-play betting sites available for UK players online, but some are leaps and bounds above others. Bojoko has listed our teams' three favourites for the best in-play betting sites of 2022 below, so you can get a short introduction to what live sports betting can be at its best.
Unibet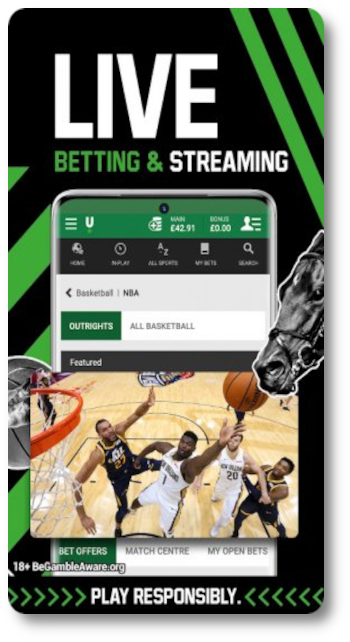 Unibet is one of the biggest betting companies in the Nordics, but luckily their fantastic services are available to enjoy for UK players as well. In-play betting is one of their biggest strengths, and there's also plenty of live streams to enjoy.
The live odds available are some of the highest on the market as well, and you can enjoy full screen viewing of the streams on both the mobile app and desktop version of the bookie. Read our full Unibet betting review to find out more.
If you don't have your own Unibet account yet, you have an interesting sports betting deposit bonus to look forward to. The offer doesn't work like a normal deposit bonus, but instead you will receive a matched amount of bonus money in accordance of your first bet between £1-40 if your bet loses!
Enjoy Unibet's live streams here! »
10Bet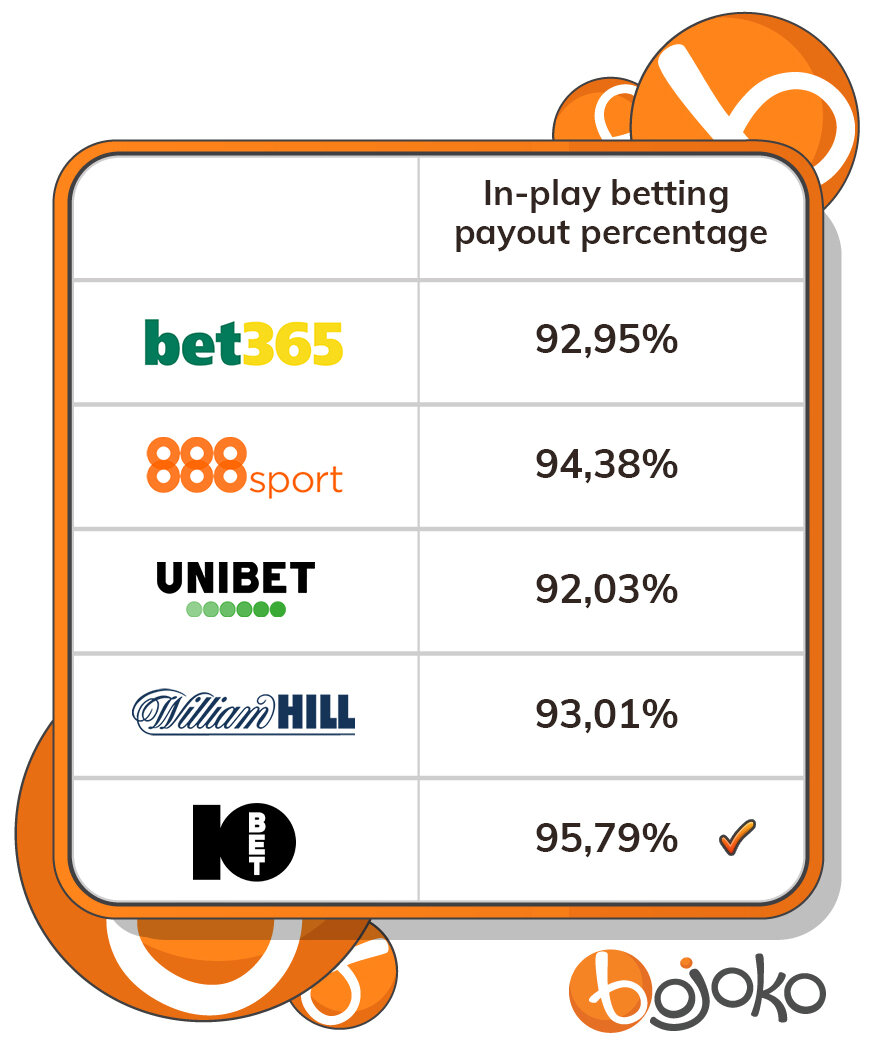 If you simply want to maximize any possible profits from live sports bets, 10Bet is an optimal choice, as illustrated by our table of the payout percentages of in-play betting sites here.
Although the site isn't quite a perfect 10 in terms of all of their services since there aren't any live streams available, the simple monetary value of betting at the site makes having an account at them a must.
New players will also be treated to a 50% first deposit bonus up to £50 as long as you deposit at least £15 with the code PLAY10. You can find more info of the bookie from our full 10Bet betting review.
Find great live odds at 10Bet here! »
Bet365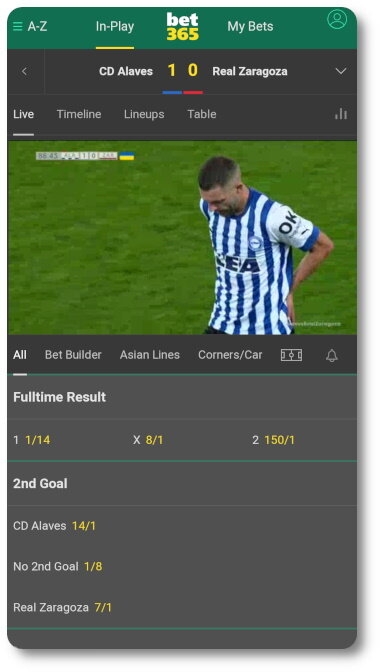 You've probably already heard of Bet365 if you enjoy betting, but if you don't yet have an account on the site as a live bettor, now's the time! The company is known for providing excellent odds pre match, and luckily the same applies to the in-play as well.
Being one of the biggest betting companies in the world means first class services in all aspects from playability to customer service. The in-play client is especially impressive, mentioned as the number 1 in the UK by many of our contemporaries.
By creating an account by clicking the button below you will also receive their welcome offer, which is an incredible £50 free bet if you make a first bet of just £10 with minimum odds of 1/2! Read our Bet365 betting review for more info.
Bet 10 get 50 at Bet365 here! »
List of all live betting sites
In-play betting - Quick links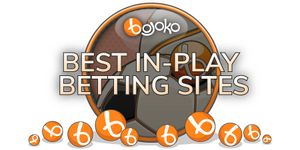 How Bojoko helps you with live sports bets
Bojoko's goal is to help everyone find the right betting site for them, and this of course includes friends of live sports bets as well. In-play betting is in bigger demand than ever, which is why a lot of bookies have put extensive effort into their live bet selection.
Here on our pages you can find comprehensive reviews of all the best UK bookmakers that offer live betting odds amongst their services. In these reviews we have tested:
How to create an account
Betting on the normal and mobile version of the site
How to get and wager the bonus or free bets available
Tested depositing and confirmed withdrawals from the site
Talked and tested the bookmakers' customer service
Made sure the bookie abides by KYC laws, has a UKGC licence and keeps your information safe
In addition to this, you can also use our lists to filter so you can see only the kinds of bookmakers that you want, such as the ones on our new UK betting sites 2022 list, bookies with certain deposit & withdrawal options or betting sites with free sports bets for new players.
Most common live bets available at online bookies
There are dozens of betting odds available pre match, but the most common live bets available at live betting sites can still provide ample opportunity for both fun and possible monetary profit.
At larger bookmakers there are a massive amount of other options as well, but these live betting odds can be found for almost all markets at bookies who provide live bets:
Outcome of the match
Over/under bets
Handicap bets
Next goalscorer
Timeframe bets
Specials
Live stream betting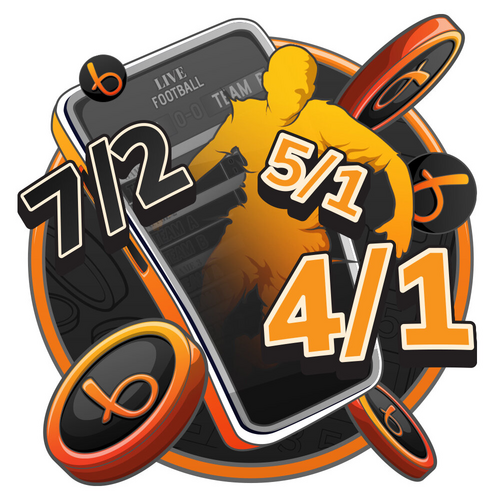 If you are going to be enjoying in-play bets, the most entertaining and smartest way to enjoy them is via live stream betting. Many of the biggest bookmakers also provide live streams of the biggest sporting leagues in the world. For example, the sites listed below provide live streams for players with an account at them on:
Football, such as Serie A, La Liga, Bundesliga, Ligue 1, FA Cup, Internationals
Basketball, such as the NBA, European Leagues and International games
Horse Racing from the UK and across the world
Tennis, such as Grand Slams and the ATP & WTA Tours
Greyhound racing from the UK
Other UK favourite sports, such as the NFL snooker & darts
Of course all the bookies don't have all of these streams available, but the best ones have a good combination of most of them. Having accounts on many of them means you can always enjoy live stream betting while watching the match in question.
There is no extra charge to watch these streams, as you only need an account at the site that has money in it, or that you've placed a bet in the last 24 hours. To get started with live stream betting, follow the steps below:
How to enjoy betting sites with live streaming through Bojoko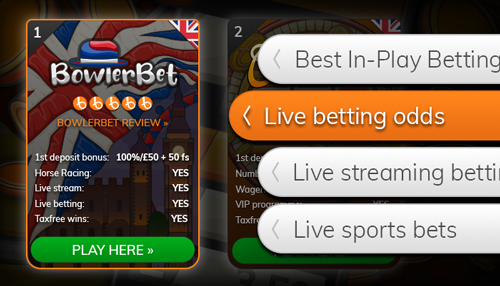 1. Scour our list for the right live stream bookie for you
Check our list for the best live stream betting sites
Use our search filters to enhance your search
Compare different live bookies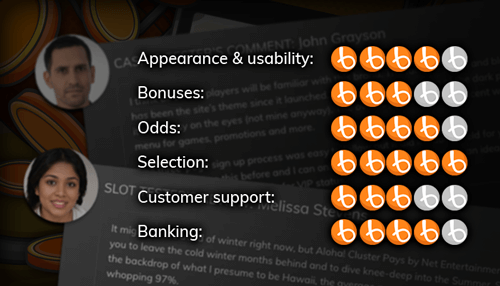 2. Click on the link that takes you to the bookie
Choose the best live bookie for you
Click on the green Play Here button
You will be taken to the betting site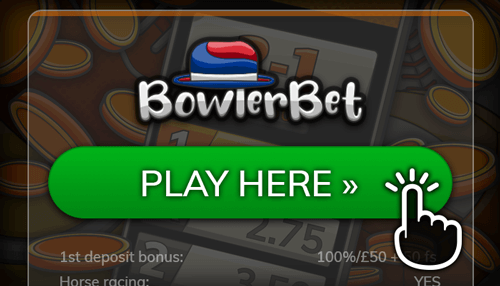 3. Create your account and deposit
Fill the forms to create an account
Confirm your information if necessary
Claim sign-up offers if the bookie has one
Make a deposit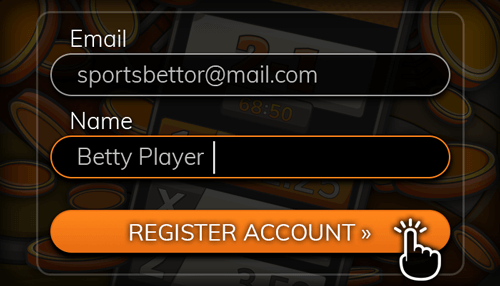 4. Enjoy the live streams and bet
Click on the Play logo to watch a stream (or other equivalent)
Keep at least £1 in your account to enjoy the live streams
Place in-play bets while watching the games and enjoy!
Start live stream betting here
All live streaming betting sites
In-play betting tips - Bojoko's live betting guide
Watching the live streams of matches that you are betting on is absolutely crucial to your live sports betting success. If you don't know exactly what you are betting on, you might as well be making shots in the dark.
Live streaming betting sites are the best choice as your bookie for this reason, since they provide the opportunity to both make your analysis and place your bets in the same place. However, it's perfectly fine to watch the game elsewhere as well - just as long as you're making deductions.
Whenever you place a live bet without using the best live odds available, you are making a mistake. This is why it's smart having accounts on many different in-play betting sites, which you can create through our list fast and easily.
Although a single bet placed without the best live betting odds out there isn't a disaster, little strokes fell great oaks. Doing your due diligence when it comes to the odds can affect long-term profits greatly.
The only better thing than placing your bets with the highest odds available is betting for free, which is luckily possible as a new player on many different betting sites. If you're looking for free bets as a new player, check out these lists of welcome offers:
Arbitrage means a betting situation where you are a sure-fire winner. This can happen if you place two opposing bets on different betting sites, but with the odds differing enough that your return percentage goes over 100%.
This happens for example if you find say fight where one bookmaker offers odds of 21/20 for the other fighter and another bookie 29/28 for the other. In live betting arbitrage opportunities are often available, but only if you have account on many different sites and you operate with speed.
In-play betting can be an intense experience, and you really don't have time for hesitation. If you see a great opportunity, you have to go for it fast based on your analysis of watching the game through live streams before the odds are corrected.
However, it's also important not to get carried away, but this is more to do with bet sizes and psychology. When you're going for in-play bets, you should never be chasing losses, betting against yourself or betting on many games at once.
Live betting - FAQ
In-play or "live" betting is exactly what their name says, meaning betting during the play of a match that is going on live. In-play betting is available for all meaningful matches at nearly all UK bookmakers, and the bigger and better the bookie, the more live betting options you will find.
Like you can probably guess or hope for, live streaming betting sites are online bookies where you can watch the matches live while you make your bets. Betting live streams can usually only be found at the biggest and best bookmakers, but you can find plenty of options from Bojoko's list of live streaming betting sites.
Betting sites with live streams are otherwise completely free, but if you want to watch said streams you are often required to have an account with money on it on the site. However, this amount is usually only between £0,1-1, so you won't need to invest much to enjoy free live sports streams. You can also watch the streams if you've placed bets recently enough on the site with a balance of £0.
If you are a professional bettor, in-play betting can well provide you with the best opportunities to make a profit. This is due to the hectic nature of how in-play odds work, with plenty of arbitrage opportunities available due to often miscalculated odds. By watching the games through live streams you can make quick bet choices and take advantage.
Live betting odds are without a doubt much harder to calculate than regular odds, since there is a very limited time for the odds compilers to analyse a situation. In addition to the compilers, betting sites also use algorithms for some smaller odds changes, such as when the time of a match has moved forward slightly or the statistics of a game have changed enough to merit a change in the odds.