Ad Disclosure
Slot tournament UK
Bojoko helps you find slot tournaments at UK casinos. Slot tournaments are a fun way to add some of that extra spice to your playing experience. Competing in an online slot tournament at a UK based casino site gives a chance of winning extra cash while spinning your favourite slots. 
On this page, you'll learn about different types of slot tournaments and find the online casinos offering tournaments listed on Bojoko.
We help you learn all about slot tournaments
Without knowing how the tournaments work, it's easy to bite off more than you can chew. The terms and conditions are also often different between casinos. 
Bojoko helps you to understand what slot tournaments are and where UK players can participate in them.
100%/£200 + 11 bonus spins

1st deposit bonus

VideoSlots (UK) has established itself as a household name, since launching back in 2011. Videoslots has been around for over a decade now and is popular with European onlin... Videoslots.com review (4.3/5) »

Play here »

New UK Customers only. 18+ A minimum deposit of £10 applies to claim welcome bonus Bonus is subject to 35x wagering requirements Games have various weightings towards wagering requirements Please gamble responsibly. Full and Bonus apply.

BeGambleAware.org.

500 bonus spins

1st deposit bonus

NetBet Casino review »

| | |
| --- | --- |
| 1st deposit bonus | 500 bonus spins |
| Bonus code | NBWELCOME500 |
| Minimum deposit | £10 |
| Number of slots | 2400 |
| Launch date | 01/2001 |

NetBet Casino (UK) has gathered together the best online casino games under one umbrella. Since launching in 2001, NetBet has been excelling in providing an all-round entertainm... NetBet Casino review »

Play here »

New UK players only, 18+. A minimum deposit of £10 applies. E-Wallet and Prepaid Cards deposits are exempt from offer. Bonus is subject to a 40x wagering requirement. Various wagering contributions apply. Please gamble responsibly. Full

terms

and Bonus

terms

apply.

BeGambleAware.org.
Read more about slot tournaments
On this page, you can learn all about slot tournaments.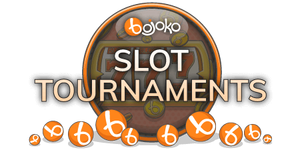 Bojoko helps you find the best slot tournaments
On Bojoko, we want to tell you about slot tournaments in plain English - how, where and when to play. We start with the easy part, explaining what the tournaments are and how they work.
Above, you can find our unique selection tool. We've already hand-picked some casinos offering slot tournaments, but you can also use the tool to build your custom filters. By clicking any of the casino brands, you can read the opinions of our experts and other users. As a registered member, you too can share your experiences and rate casinos.
Our experts test the casinos with real money and tell you about their experiences. They see how the casinos actually work and even verify withdrawals. We want to be sure that the casino pays out to players and does so in a timely manner.
Find slot tournaments
What are slot tournaments?
Slot tournaments are competitions between slot players. So, it's you versus all the other participants in the online casino of your choice.
Even though there are different types of tournaments, most of them have the same basic idea; collecting points by playing slots. 
Generally, the condition for claiming first place in a tournament is to collect the most wins. But, as there are many variants, the winning condition can also be one of these (just to name a few):
Collect most points
Get the largest win on a single spin
Get the longest continuous chain of winning spins
Trigger the free spins with the lowest number of spins
Collect certain symbols or bonus features
Wager more than other players
The bets can be fixed or adjusted freely - this depends entirely on the nature of the tournament.
Slots in online tournaments
Practically, any existing slot can be a tournament slot. Some UK online casinos do, however, favour certain suppliers or slots, and some sites use tournaments to promote new online slots.
EXAMPLE: Video Slots is known for its Battle of Slots tournaments and these often include Play'n GO's slots, like Book of Dead, Reactoonz, Rise of Merlin and Golden Ticket.
In any case, you don't need to learn how the slots work before entering the tournament. It's good to have some basic knowledge of course, like how to click the button that makes the reels spin.
Online tournament variants
Slot tournaments can take up many different forms. If you happen to be familiar with online poker, some of the slot tournaments can be a bit similar to some extent. 
Here you can read more about the most common slot tournament types.
Scheduled Tournaments
The slot site advertises the scheduled tournament in beforehand with the basic information of when the event starts and ends. 
A scheduled tournament is the basic version. You register as a participant and pay the buy-in fee before the tournament begins. After the event is over the buy-in fees are then shared among the best players.
Freeroll Tournaments
Freeroll tournaments are a fairly common sight as a part of the online casino's welcome package for new players. Freerolls are, like the name implies, free for the participants. The players who achieve the highest scores usually receive a moderate award of bonus currency or real cash.
Freerolls also require you to register with them in advance, but there is no buy-in fee.
Sit & Go Tournaments
Sit and Go tournaments have a predetermined maximum number of participants. Also, the length of the tournament is limited. These tournaments begin as soon as all of the player spots have been filled.
Reloader Tournaments
In reloader tournaments, you can choose to re-buy your participation. After you have paid the buy-in and played your allotted time in the tournament, it's possible to pay again to try scoring better points. It depends on the tournament rules whether you may continue your play with the re-buy, or start all over.
Just one spin
While these competitions aren't technically tournaments, they have a lot in common. Each participant gets a single spin on the same slot and whoever gets the highest payout is the winner. Like in a tournament, it's the players versus players and they all have the same starting point. 
These single spin competitions are usually free to enter.
Alternative slot tournaments
Some tournaments don't fit with any of the categories above, so the definition "slot tournament" can actually cover almost anything. 
A good example is the tournaments held by the game suppliers. For instance, Pragmatic Play casinos are often providing access to their 'Drops and Wins' campaigns. These campaigns feature a prize pool that renews daily. Participating is easy as you only need to register at a casino that offers Pragmatic Play's slots. Opening any of the eligible slots by said supplier instantly gives you the option to sign up for the tournament.
How to play in a slot tournament?
To play in a slot tournament, here are the mandatory steps to take:
Sign up to a casino
Get a player ID
Check the available tournaments and their rules
Select a tournament and register as a participant
Pay the buy-in if such is required
Wait for the tournament to start
Signing up
First, you need to be a registered customer at the online casino that holds the slot tournament you're interested in. 
Player ID
Usually, casinos also require you to have a player ID, a nickname, for the tournament. This may have already been done when you first joined the casino, but the casino will ask you for it before the tournament starts at the latest.
The tournaments
Next, it's time to explore the tournaments the casino has to offer. I highly recommend checking the rules and any additional info about the competitions before diving in. The tournament rules also cover the buy-ins, the timeframes, the slot you're going to play and how much currency you're playing with.
It's best to be well-prepared so that you will not miss the start of the tournament, or get surprised by the possibility of limited seatings.
After the tournament
It depends on the casino how they present the scoreboard, but generally only the player IDs in the top 10, 25, 50 or so on will be visible. Of course, when you finish the tournament you will see your cumulated wins or points, and your ranking at the time.
The casino will distribute the prizes to the best players once the tournament is over, or according to their tournament rules. Again, having read the rules you will know if the prize money is paid as wager-free cash, or as bonus money.
Social slot tournaments
In October of 2021, an online casino operator, US-based Rush Street Interactive, launched a software engine that makes multi-player tournaments possible. Named RushArena, the engine runs a game called RushRace - a slots tournament where players can participate at any time the tournament is ongoing.
As to where traditional slot tournaments require the participants to start the tournament simultaneously, RushRace allows the players to join the tournament at any time in the given window. Other differences to traditional tournaments include the freedom of switching the games during the tournament and having a different starting balance.
RushArena will eventually expand and there will be a bigger variety of games available. In the future, the engine might very well be found on several online casinos that seek to offer their clients more gambling options.
Slot tournament strategies
Slot tournaments have generally very little room for building strategies. That is, at least when talking about tournaments where the wagers are fixed and the aim is to get the largest cumulative wins. In competitions like these, there's just one possible strategy; spin, spin, spin.
In tournaments where the bets are freely adjusted, you can strategize - within hard limits. 
Bigger bets mean higher risks but can result in bigger wins. At the same time, smaller bets give more chances to trigger any special features like bonus rounds or free spins.
How to find slot tournaments?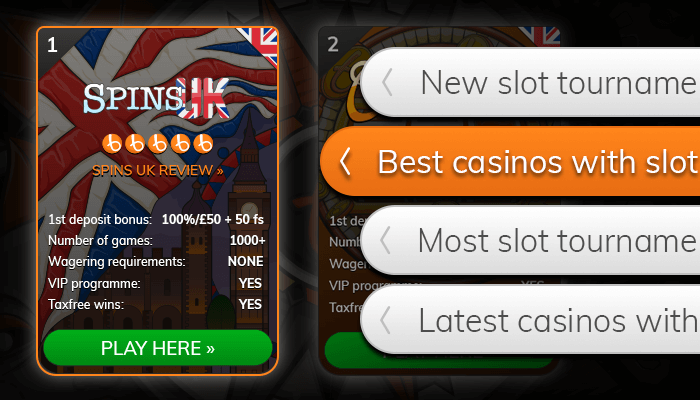 1. Find a casino offering tournaments from our list
Here on Bojoko, we have a long list of casinos. In this list, we've hand-picked you the ones promoting slot tournaments.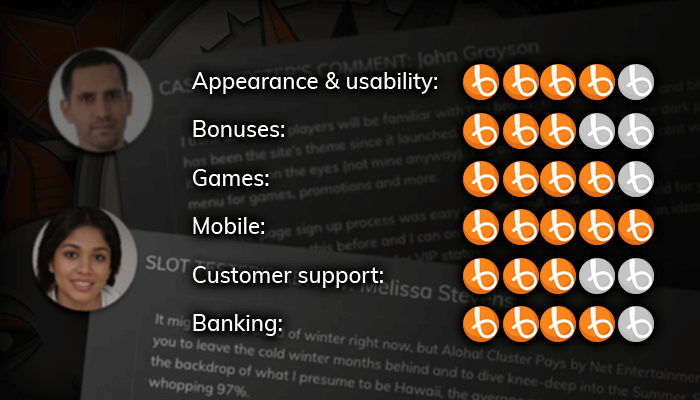 2. Read the expert and user reviews
When you've chosen a casino, you can read the experiences written by our experts and other users. These reviews may help you figure out if the casino is the right one for you.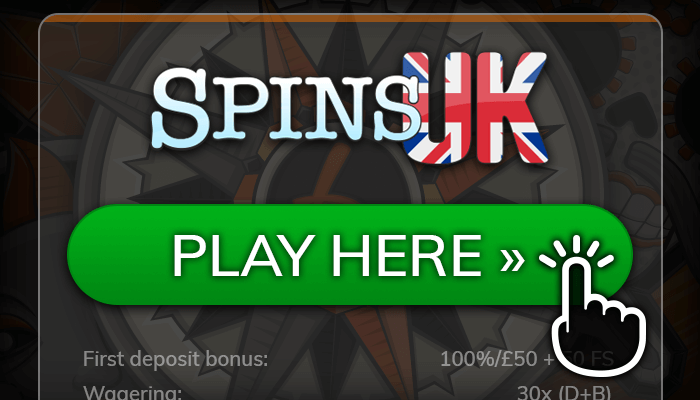 3. Go to the casino
On every review page, you'll find the big green 'PLAY HERE' button. It will take you straight to the casino. If we have a special bonus deal for the casino, that button is the way to claim it.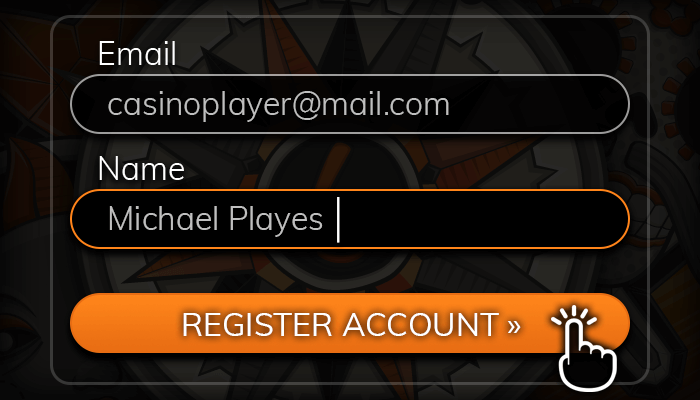 4. Register an account and deposit
When you get to the casino, you need to register first. After filling the required information and doing any additional verification you can make a deposit. Now you're ready for the tournaments!
Find slot tournaments
Where to play slot tournaments online?
Many UK slot sites listed on Bojoko offer a nice variety of slot tournaments - some even have them going non-stop! 
In case you didn't quite know what to look for with our Selection tool, here are some of my personal choices:
VideoSlots Casino is famous for its ongoing Battle of Slots which includes Freerolls, Sit & Go tournaments and sometimes very alluring Jackpot chases. You can earn free tickets to Freerolls as rewards by playing at the casino and collecting trophies.

"Together with their massive product offering they also hold regular slot tournaments, including plenty of FREEROLLS, and offer a pretty cool loyalty system." - Nick Shepherd


Lucky Niki with its vibrant anime mascot offers a variety of tournaments, both buy-ins and freerolls. Buy-ins start as low as £1 and tournaments are held daily.

"LuckyNiki boasts some of the best tournaments I ever laid my eyes on. From daily to weekly to monthly tournaments where you can even win an Audi A1." - Melanie Hart
Play slot tournaments responsibly
Gambling is always risky, so it's essential to make sure you only wager money you can afford to lose. 
If you're on a tight budget, don't choose a tournament where you have to bet more to get points. There are almost always high-rollers who play with £100 spins in these competitions.
Don't keep your eyes on the prize only. If you run out of cash it's better to walk away than deposit more.
Remember that the tournaments should always be just an entertaining extra on top of playing slots. Stay in control, and don't treat gambling as a solution to financial problems or a way to make money.
Slot tournaments FAQ
Slot tournaments are competitions where you and other participants play the same slot game with an allotted time. Everyone starts playing with the same amount of credits and the player with the largest total payout is the winner.
Basic tournaments begin with the players registering as participants and paying the buy-in. The casino tells you when the tournament is held, how the best players are determined and what slot the participants play. 
When the tournament begins, you enter the game from a predefined page (or a tournament lobby) and start spinning the wheels. The tournament ends when you've played a certain number of spins, or when the casino has announced the event being over.
Some online casinos do offer free tournaments. These are called Freerolls and they are free to enter and free to play. Note, that in tournaments like these, you don't get to keep any winnings from the spins as they're only used qualifying the winners.
This depends entirely on the type of tournament. Some can be played using the money in your casino account as to where some tournaments have the players using free credits with no cash value. Generally, reading the terms and conditions of the tournaments will tell you which it is.
You can, but yet again this is determined by the type of the tournament, as the terms and conditions of it. For example, if you enter a Freeroll tournament, you typically do not get to keep any winnings made playing the tournament slot.
Find slot tournaments