Ad Disclosure
3D slots UK
Bojoko helps you discover the beautiful 3D slots online. No, you don't need any special glasses to enjoy 3D slots - just your computer or mobile. Get entertained by the graphics that really pop and make the slots feel more alive than ever.
On this page, we dive head-first into the world of 3D slots; what are they, who makes them and where can you play them.
Experience awesome 3D slots at casinos
Below, you can check out our list of online casino sites offering 3D slot machines. Some of the casinos might have a specific category for 3D slots. But, if the site doesn't have any detailed filters, you just need to know which suppliers are known for making 3D games. Later on this page, we'll introduce some game providers best known for such slots.
Mr Vegas review (3.1/5) »

| | |
| --- | --- |
| Number of slots | 4600 |
| Game suppliers | 104 |
| 1st deposit bonus | 100%/£200 + 11 bonus spins |
| Bonus code | - |
| Minimum deposit | £10 |

Mr Vegas is gaming galore incarnate. This is a casino full of the greatest games available online and the selection just keeps growing day by day. With elegant design and a u... Mr Vegas review (3.1/5) »

Play here »

New UK players only. Minimum deposit: £10. Wagering requirement: 35x. Free spins must be claimed withing 24 hours of deposit. Deposit bonus must be activated within 30 days. Bonus is paid in 10% increments to your account while you wager. You have 60 days to complete the wagering. Bet limit while wagering: 50% or deposit or £20. Full

terms

and Bonus apply.

BeGambleAware.org.

The doctor will see you now. Welcome to Dr. Bet. Dr. Bet brings a touch of class to the world of online gambling. Dark green and gold casino lobby looks elegant with a hint o... Dr. Bet Casino review (4.2/5) »

Play here »

18+. New UK customers only. Opt in required. Minimum deposit: £10. Wagering requirement: 40x. Bonus spin wagering: 50x. Welcome spins are valid for 24 hours. Max bet: £5. Full and Bonus apply.

BeGambleAware.org.
Read more about 3D slots
On this page, you can read all about 3D slots: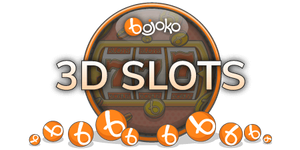 Bojoko helps you find 3D slots
On Bojoko, we've collected relevant information about casinos and slots.  We have made finding casinos where to play 3D slots on Bojoko as easy for you as possible. Above, there is the casino list that introduces online casinos, rated best by our users and experts. 
It's safe to say that all casinos offer at least some 3D slots, as they're highly popular. Also, almost every mainstream supplier has 3D slots in their catalogue.
Our casinos are reviewed by our own experts, who test everything from the games to deposits and withdrawals. The casino reviews should help you to decide if a casino is worth further exploring, and to know if it is the place to find the perfect slot for you.
Find the best 3D slots
What is a 3D slot?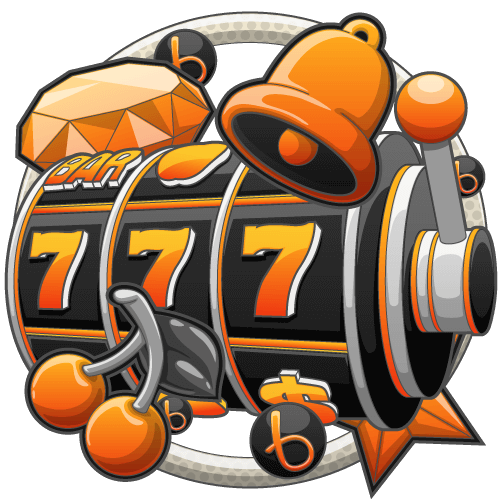 A 3D slot is a slot game that has been enhanced with 3D graphics. No need to dig those old cardboard glasses with red and green lenses, though!
In this case, having 3D graphics means that the slot has been designed with three-dimensional elements. A good example would be Gonzo's Quest because the fully 3D animated main character is easy to spot - even for those who aren't sure what to look at yet.
Having 3D animations can make the graphics highly enticing for the player and the game itself memorable. They can also make the game look more alive, even when the reels aren't spinning.
However, if you've only played mechanical or 2D online slots, you might be in for a surprise. Online 3D slots may have a very different-looking play area and some of them have discarded the traditional reels altogether. If this is the case, I recommend reading about how the slots work first.
3D slot or video slot
Hold on, you might ask, what's the difference between 3D slots and video slots? Certainly, a 3D slot can also be called a video slot, but a video slot isn't a synonym for a 3D slot. 
Technically, all online slots are video slots, because none of them has nor could have any actual mechanical reels. Instead, everything you see on the screen has been created with computer graphics.
If an online slot has three-dimensional graphics and features which couldn't be replicated in a regular mechanical slot, then it is both a video slot and a 3D slot. Don't worry, if you can't get your head around it first - separating these two concepts isn't always a straightforward thing.
EXAMPLE 1: Wild Walker by Pragmatic Play is a video slot and a 3D slot because of its walking wild symbols and unlocking reels.
EXAMPLE 2: Victorious by NetEnt is a video slot but it's not a 3D slot as it could be represented as a regular physical machine.
3D slots on mobile
You can play 3D slots on mobile too. However, many suppliers have chosen to reduce 3D elements when the slot is played on mobile. The smooth playability weighs more than having enhanced graphics.
Some slots might give you the option to select the quality of graphics before starting to play, but this isn't a mainstream feature. Usually, the slot is just a slightly stripped version of the one the PC players get to enjoy. 
Luckily, the slots these days are far better optimized than a few years ago. Because of that, you can't even tell the difference between the graphics of a mobile 3D slot and the PC version.
Suppliers known for 3D slots
Certain game suppliers are more known as 3D slot manufacturers than others - if these games peak your interest, check out:
By any means, these are not the only suppliers holding 3D slots, so be sure to be on the lookout for any hidden gems.
Betsoft, however, deserves to be the first name on the list. They were among the first suppliers to produce slots with eye-captivating graphics that made it possible to create features like never before. 3D graphics, then powered by Flash and later with HTML5, laced the video slots with video intros and cutaway scenes. Eye-candy like this didn't go unnoticed, and Betsoft quickly became like the royalty of 3D slots.
NetEnt and Play'n GO both being very popular suppliers are also known for their beautiful 3D slots, although not exclusively. Yggdrasil and Thunderkick even less, but the 3D slots they have are worth getting to know.
Popular 3D slots in UK casinos
Nowadays, online casinos have a massive selection of video slots and 3D slots. On Bojoko, some of the most popular 3D slot, as rated by our users, include titles like:
Maze: Desire for Power by Evoplay
Street Magic by Play'n GO
Hall of the Mountain King by Quickspin
Gonzo's Quest by NetEnt
Esqueleto Mariachi by RedTiger
While the slots above are great choices for you to check out, I also personally recommend the following 3D slots. I think they introduce the 3D element beautifully, and let you in on how much 3D graphics can affect the gameplay.
Back to Venus by Betsoft
Easter Island by Yggdrasil
Reactoonz 2 by Play'n GO
Spinions by Quickspin
Jack and the Beanstalk by NetEnt
How to find 3D slots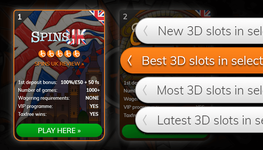 1. Find a casino with 3D slots from our list
On Bojoko, you can easily explore our list of casinos and sort the results to fit your needs. Either use our ready-made filters or make a custom one.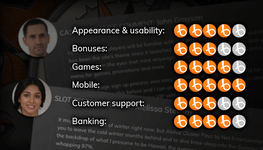 2. Read the reviews of our experts and users
We have a team of experts reviewing casinos, but we also want our users to feel free to tell their experiences. This is why you can read honest opinions of slot sites and let them help you to decide where you want to play.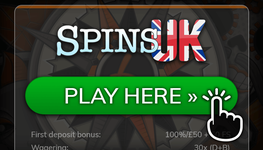 3. Go to the casino
When you read our reviews, you'll find the big green 'PLAY HERE' button. That button is your key to the casino and, if the casino offers a special bonus, clicking the button is the way to claim the deal.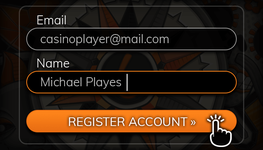 4. Register and play 3D slots
After having found the perfect casino from our list, it's time to register an account and make your first deposit. Then you're ready to play the 3D slots on offer!
Find casinos with 3D slots
Pros and cons of 3D Slots
Apart from looking better than ordinary slots or video slots, having 3D graphics can mean a lot of other things too. Let's see what are the costs and benefits of having 3D animation in a slot.
Pros of 3D slots
Possible intro videos and cutscenes
Many 3D slots open up with a short introduction video that sets the mood or gives the game some sort of background story. This adds depth to the experience and can give the player the impression of an advancing storyline.
Enhanced visuals in the game
During the game, the 3D graphics can liven up the slot - even when you're not actually doing anything. The 3D characters or other elements can also react to what happens on the reels, like cheering with you when there's a big win.
Innovative bonus features
3D graphics make it possible for the slot to have far superior features than regular slots. 
EXAMPLE: The Avalanche feature which makes the reels cascade in Gonzo's Quest wouldn't be possible to make without 3D animation.
Better audio and music effects
With the 3D graphics often comes enhanced audio and music effects, so in many cases, 3D slots sound better than 2D slots.
Cons of 3D slots
3D graphics can be heavy
Not so much of a problem these days when the games run on HTML5 instead of Flash. However, some older slots can still be quite heavy on slower connections or devices as they're not optimised well enough. The heavy graphics can make the reels spin sluggishly or worse. 
Slower gameplay
Usually, the 3D intro videos and/or cutscenes can be skipped. But, sometimes the supplier decides to have a feature in the game that can't be skipped or even speeded up. 
EXAMPLE: In Easter Island, each win in the game starts a mandatory sequence of the Easter Island statues inhaling or spitting symbols and sometimes the reels also extend for a respin.
Play 3D slots responsibly
3D slots are, in many cases, beautiful and enchanting but the animations aren't there just to make the slot look pretty. The smooth animation style and eye-popping features are designed to keep your focus on them and to have a constant feeling of action. Everything in the slot from the happy jingles to funny 3D characters is meant to keep you playing longer.
This is why we on Bojoko want to remind you to play responsibly. 3D slots are easy to get lost into, and as a fast-paced style of gambling, they're also easy to lose money in faster. It's good to understand that casinos are there to make a profit on you. So, the longer you play, the likelier it becomes for the house to win. Never treat gambling as a way to earn money and always play with funds you can afford to lose.
There are easy ways to control your gambling. The casinos offer such tools with which you can limit the money you're spending and your time at the casino. Use these tools and stick to the budget, and don't deposit more to try to make back your losses.
3D slots, like all casino games, should always act as entertainment, not a solution for financial issues.
3D slots FAQ
A 3D slot is an online slot machine that has three-dimensional features, like 3D animated characters, cutscenes and effects. 3D animations are a popular method to make the slot look more alive and interesting, and many new slots do have 3D graphics to an extent.
Many game suppliers do, but the most known names in the industry are Betsoft, NetEnt and Microgaming. You can find many of their 3D slots from almost any online casino on our casino list.
You can play slots at an online casino, using your computer or mobile. The 3D slots run on the browser like any online casino game, so you don't need any additional apps, programs or devices to enjoy them.
You can start playing right now by checking our casino reviews, selecting the site that interests you the most and registering a new account. After that, you can make a deposit and play 3D slots.
There are quite a few 3D slots and they all are different, so it depends on what you think makes the slot best. Here are a few options for you to get you started, each reviewed by our experts:
Jungle Books by Yggdrasil
The Invisible Man by NetEnt
Pirates' Plenty by Red Tiger
If you're after the best RTP, volatility or maximum wins, then the answer would be no in general. But, if the visual experience is an important element for you, then yes. Better graphics can also mean more entertaining bonus features or random events in the game.
Find casinos with 3D slots