Casinos on the Lindar Media platform
Lindar Media Ltd. is a UK based company which has launched several successful bingo and casino sites. Whether they're built from the ground up or published on existing platforms, Lindar Media casinos tend to stand out.
See for yourself in these Lindar Media UK casinos.
List of Lindar Media casinos
Here, you can find all the Lindar Media online casinos that we have tested and reviewed.
On this page
Here, you can learn all about Lindar Media and Lindar casinos.
Overview of Lindar Media
Lindar Media kicked off its journey in 2014 in the historic city of St Albans in Hertfordshire and since then it has been gaining attention as one of the fastest developing online software designers in the industry.
Since its inception, it has created numerous casino, bingo and affiliate sites. It is also the name behind popular bingo brands and thanks to its colourful designs, it is also the big-name behind popular casino Mr Q.
What makes Lindar Media unique?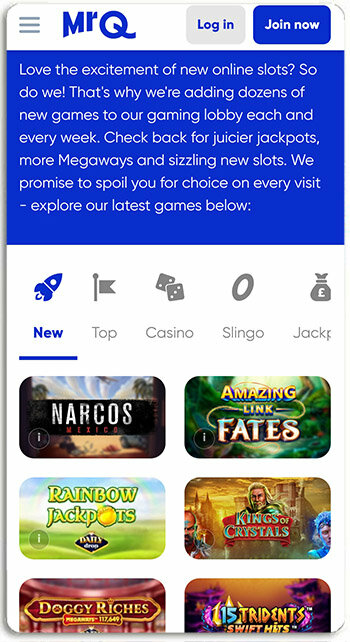 EXAMPLE: MrQ Casino is the flagship of Lindar Media.
Lindar Media did not go down the route most media companies take. Instead, each product that it creates exhibits a unique theme that is custom-made to fit in with the general concept. 
The company is still relatively small but employs talent from various backgrounds. If you want to deal with a local business with an eye of doing things their own way, then Lindar Media casino sites are a natural choice for you.
So what does doing things differently mean? First of all, Lindar Media hasn't settled on just pushing out more of the same via one platform. Instead, Lindar has used both Grace Media platform (formerly known as Nektan) and Dragonfish platform to launch casino and bingo sites with a personal touch. The company has only been in the business since 2014, it has created more than 10 websites from scratch. 
More recently, Lindar has changed their mode of operations from having multiple smaller sites to focusing on one. They have shut down their smaller bingo sites and built something completely new on its own platform.
The company's success lies heavily in its small team of young professionals who inject each project with creative elements that make online gambling a fun experience.
New Lindar Media casinos
Lindar Media has changed how they release new casinos. In earlier days, they released multiple new sites per year. This strategy wasn't what they wanted to do, so instead, they started to focus on singular sites.
Currently, it is unlikely that there are any new Lindar Media casino sites coming out. If there are any, you can find them on our Lindar Media casino list.
Lindar Media slots
Lindar Media casinos are great places to find good slots. They may not have the largest selection of games available online, but the quality of slots is high. There are several big-named game suppliers on board to make sure you get a good experience.
On average, Lindar Media casinos have roughly 500-800 slots.
Lindar Media mobile casinos
If you are a mobile casino fan, then Lindar Media is a good choice for you. Casinos operating on Lindar's platform are all compatible with all modern devices.
They don't require any dedicated apps to play. All you need is your mobile web browser and you can enjoy the casinos to their fullest. Just open the casino's website and you can do everything on your mobile devices that you could with your desktop computer.
Game suppliers
All Lindar Media brands work with leading online game suppliers in the industry. Its casinos mainly offer slot games, some RNG table games and online bingo. You won't be able to find any live dealer games in its game portfolios.
These include amongst others:
Eyecon
Quickspin
Thunderkick
Pariplay
Blueprint Gaming
Payment methods
Lindar Media does not offer the widest of choices when it comes to banking methods, but you can still benefit from a solid collection of some of the most reputable payment vendors, including:
Debit cards, such as Visa and Mastercard
PayPal
Pay by Mobile
Licences
Lindar Media Ltd was originally founded in the UK, and still has a base of operations there. With this, it's not a surprise that they have focused on UK players and licences that matter to them.
Lindar Media is regulated and licensed by:
FAQ
Lindar Media was established in 2014 and is based in the cathedral city of St. Albans, Herefordshire. Lindar Media offers something different from the big players in the industry without losing its ambition.
From building roughly dozen sites from scratch to focusing their knowledge on one site, Lindar Media has over the years learned how to provide the best possible gambling experience for their players.
You can check out all the Lindar Media sites that we have reviewed in our list of Lindar Media casinos.
Lindar Media is somewhat unique when it comes to casino platforms. In comparison, they are a small and nimble company that has more focused view in what they are doing. They have a young and professional team that knows what they are doing and knows what works.
When it comes to casinos, Lindar Media's MrQ Casino is a perfect example of a site that simply works. It has brought together all the know-how that Lindar got from operating multiple casino and bingo sites.
There are rarely new Lindar Media casinos. In the early days, Lindar Media's business plan was to create multiple bingo sites to have little something for everyone. Since then, they have decided to focus their energy on creating one site that has everything in it.
You can see all the Lindar Media casinos, including any possible new Lindar casino sites in our list of Lindar casinos.
Find Lindar Media casinos