How to play blackjack online
Learn to play blackjack online with our help. Bojoko gives you a complete guide to blackjack.
No matter if you're a newcomer or a seasoned player, we've got you covered. We show you how to play online blackjack and explain everything you need to know about the game.  
Discover the ins and outs of playing online blackjack, from blackjack basics to more advanced strategies. We'll provide you with the knowledge you need for a satisfying experience.
Table of contents
What is blackjack?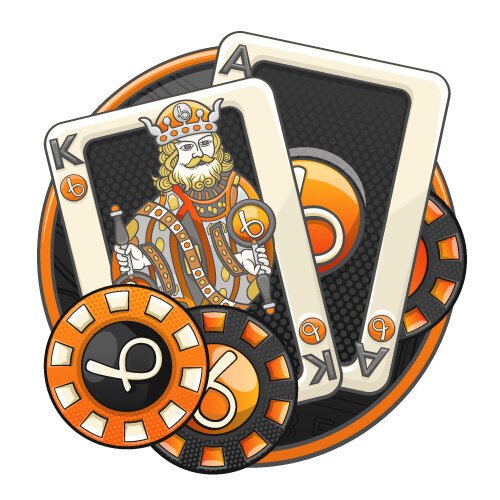 Blackjack is one of the most popular and iconic card games. You play against the dealer, aiming to build a hand that is higher than the dealer's in order to win. Blackjack is a simple game that is great for beginners.
At its core, blackjack is about getting closer to 21 points than the dealer without going over. If you go over 21, you bust and lose. This rule affects both players and the dealer, ramping up the game's excitement.
Success in blackjack is more than just luck; it's about employing the right strategies at the right time. You have to make smart decisions, like deciding when to get another card or when to keep your cards as they are.
Blackjack is a game that combines strategy, skill, and luck. The more you understand these tactics, the more interesting it is to play. 
How to play blackjack
To play blackjack you need to understand the game. Here's how a blackjack hand unfolds.
You choose your bet and place a wager
You're dealt two cards face-up
The dealer receives two cards, one face-up and one face-down
You decide whether to take more cards or stand
The blackjack dealer plays the hand
If your hand is closer to 21 than the dealer's, you win!
You have to make wise moves to reach a winning total. This goes down to the choice of "hit" or "stand". Hit to get another card and stand to keep your current total.
The ultimate goal in blackjack is to beat the dealer's hand. You aim to have a higher total than the blackjack dealer, but not more than 21. 
If you're dealt a low total (like 12), you want to hit for another card. If you have a strong hand (like 18), standing is the better choice. You beat the dealer with any number higher than what they have, as long as you don't go over 21, which is busting.
Learning how to play online blackjack is easy once you get the hang of it. Learn the blackjack basics, and soon you'll make decisions like a pro.
Blackjack table
The blackjack table is a semicircular table with up to 12 playing positions. Although most blackjack tables have seven spots, there are some that only have five. The blackjack dealer stands behind the table, facing the players on the other side.
Understanding the blackjack table:
Betting area - Each player has a designated spot for their bets, facing the dealer. 
Your chips - Choose your bet and place your wagers.
Card display - As the round begins, your cards will be placed on top of your betting area. The dealer's up card is shown opposite you.
Action buttons - Once you have your cards, you'll see buttons for actions like "Hit," "Stand," "Double Down," and "Split."
Game information - You can see the blackjack rules and other information about the variant you are playing.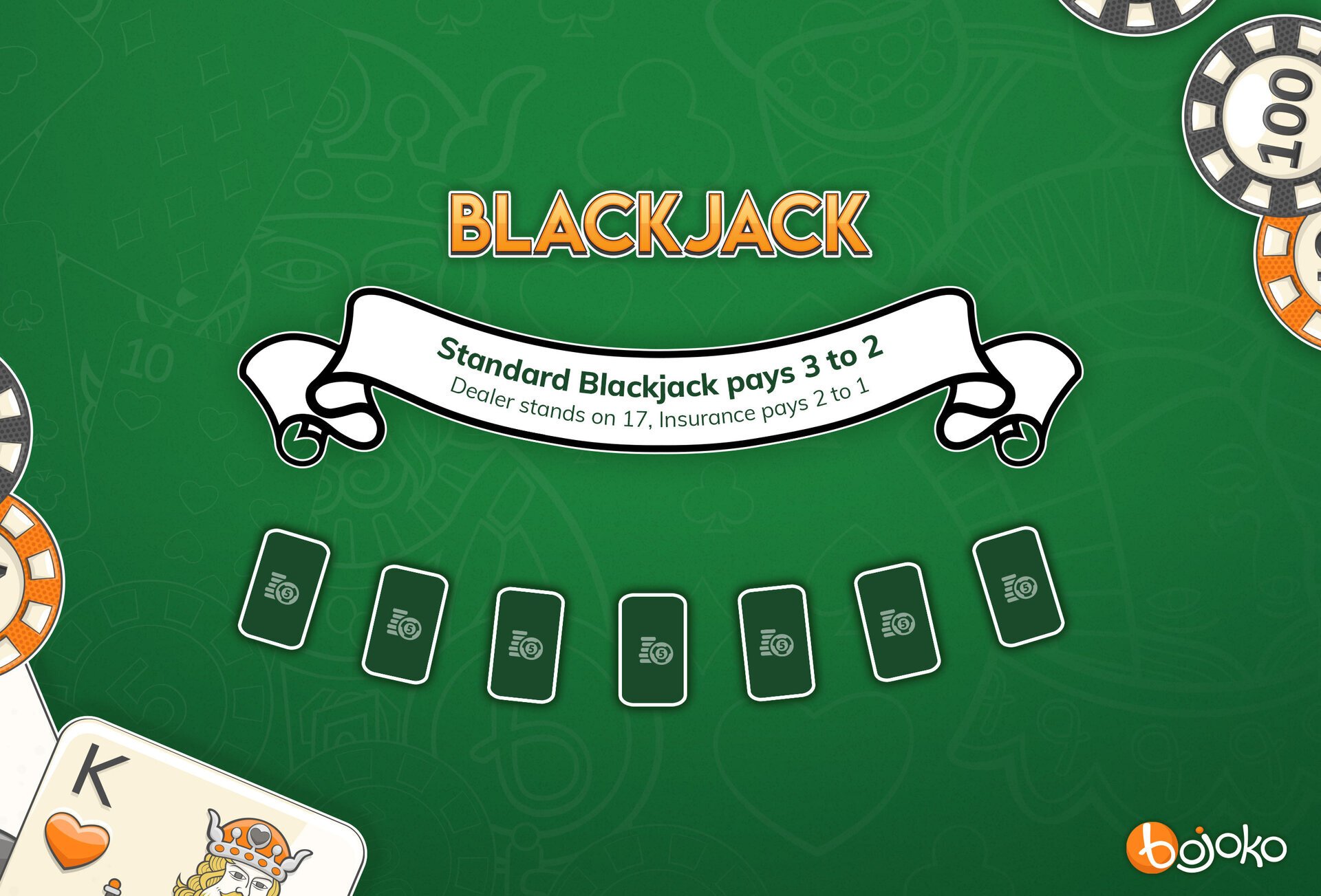 Blackjack cards values
Understanding the blackjack card values is a fundamental aspect of the game. Once you get your first two cards, you must assess your hand's potential and determine your best move. 
Number cards - Cards numbered 2 through 10 hold their numerical value.
Face cards - Each of the three face cards, jack, queen, and king, has a constant value of 10 points. 
Ace - The ace is special. It can be worth 1 or 11 points, depending on what helps your hand.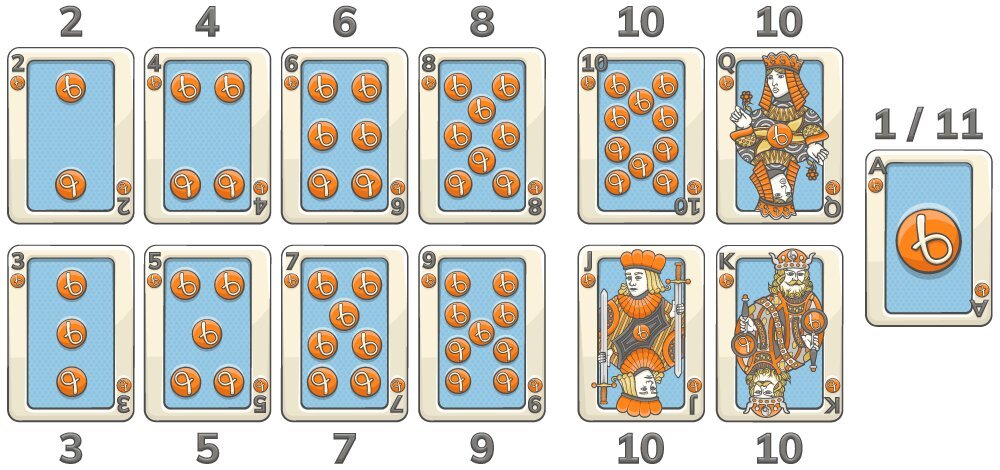 As you assess your blackjack cards and decide on your move, other players' cards also count. For instance, if you have a tough hand of 16 and the player next to you gets a face card, your choice might change. If you want to get better at the game, learning advanced strategies like blackjack card counting can really help.
Blackjack for beginners
Blackjack is an easy game to learn, even for beginners. Learning the blackjack rules and grasping the fundamentals are crucial to play blackjack online.
First off, understanding how to play blackjack requires you to know how to work out the blackjack hand.
This is simple, just add up the card values. For example, if you're dealt a 7 and an 8, your hand is worth 15. If you hit and get a 3 as the next card, your total becomes 18. If you get more than 21, you bust and lose the hand. The same goes for the dealer.
The ace is a special blackjack card. It can be worth either 1 or 11, depending what suits your hand better. If you get a 10 and an ace as your first cards, you have a blackjack – a perfect total of 21.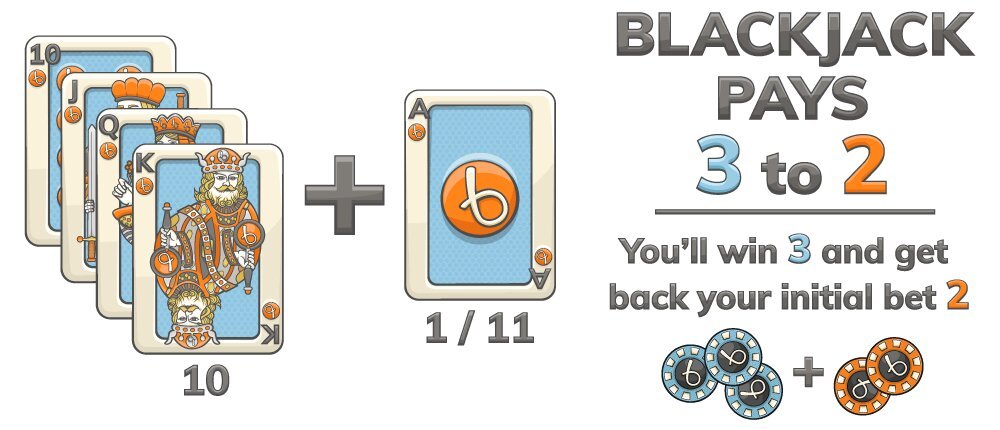 How to play blackjack in an online casino
To play online blackjack, you'll need to follow a few simple steps to get started. Fortunately, playing blackjack online is way easier than in brick-and-mortar casinos. Online blackjack tables are available as live streams from physical studios or as virtual tables.
How to play online blackjack:
Choose a reputable casino with a great blackjack selection. You can browse our blackjack casinos page for all the top-rated sites.
Register and deposit.
Navigate to the blackjack card games section.
Select a blackjack variant that suits your preferences.
You are ready to start playing!
Modern blackjack tables offer an authentic experience. They combine innovative technology and classic gameplay for a dynamic blackjack experience.
You can't learn how to win in online blackjack instantly. Practicing regularly and developing a strong understanding of the blackjack basics are key to succeeding in online blackjack.
Here are online casinos with great blackjack options.
Ad Disclosure
Videoslots.com casino review »

| | |
| --- | --- |
| Number of live games | 500 |
| Minimum deposit | £10 |
| 1st deposit bonus | 100%/£200 + 11 bonus spins |
| Launch date | 04/2011 |
| Bonus code | - |

VideoSlots has established itself as a household name, since launching back in 2011. Videoslots has been around for over a decade now and is popular with European online cas... Videoslots.com casino review »

Play here »

New UK Customers only. 18+. A minimum deposit of £10 applies to claim welcome bonus. Bonus is subject to 35x wagering requirements. Games have various weightings towards wagering requirements. Please gamble responsibly. Full and Bonus apply.

BeGambleAware.org.

Mr Vegas casino review »

| | |
| --- | --- |
| Number of live games | 500 |
| Minimum deposit | £10 |
| 1st deposit bonus | 100%/£200 + 11 bonus spins |
| Launch date | 06/2020 |
| Bonus code | - |

Mr Vegas is gaming galore incarnate. This is a casino full of the greatest games available online and the selection just keeps growing day by day. With elegant design and a u... Mr Vegas casino review »

Play here »

New UK players only. Minimum deposit: £10. Wagering requirement: 35x. Free spins must be claimed withing 24 hours of deposit.. Deposit bonus must be activated within 30 days. Bonus is paid in 10% increments to your account while you wager. You have 60 days to complete the wagering. Bet limit while wagering: 50% or deposit or £20. Full

terms

and Bonus apply.

BeGambleAware.org.
Blackjack rules
The rules of blackjack are simple. Anyone can learn how to play blackjack in little time. This is one of the main reasons the game is so popular.
Basic blackjack rules
The basics of blackjack help you understand the fundamental principles of the game. This starts with the options you have once your cards are dealt.
Depending on your hand, you can do one of these moves.
Hit - Ask for one more card to improve your hand. Be careful, going over 21 means you lose.
Stand - Keep your current hand as it is, with no more cards.
Double Down - Double your original bet and get one more card. 
Split - If you have two cards of the same value, you can split them into two hands. 
You also need to pay attention to the blackjack dealer. The dealer follows blackjack rules that affect the game.

Here are the key points to remember.
The dealer also receives two cards, one face-up and one face-down.
The dealer follows strict blackjack rules. They must hit until their hand reaches at least 17 points and stand once they do so.
If the dealer's gets a blackjack with their initial two cards, you automatically lose unless you also have a blackjack.
Blackjack payouts
The standard blackjack payouts are 1:1 for regular wins and 3:2 for blackjack wins. If you win without hitting blackjack 21, you get paid 1:1. But if your blackjack cards make a perfect 21, that's a blackjack win, and you're paid 3:2. 
These are the main payout rules to remember when you play blackjack online:
If you win by beating the dealer but don't hit exactly 21, you're doubling your bet. For instance, with a £10 bet, winning means another £10 in your pocket.
If your cards add up to 21 - that's a blackjack. Your £10 bet becomes a £15 win.
You get a regular win if the dealer busts.
You get your bet back if your hand equals the blackjack dealer.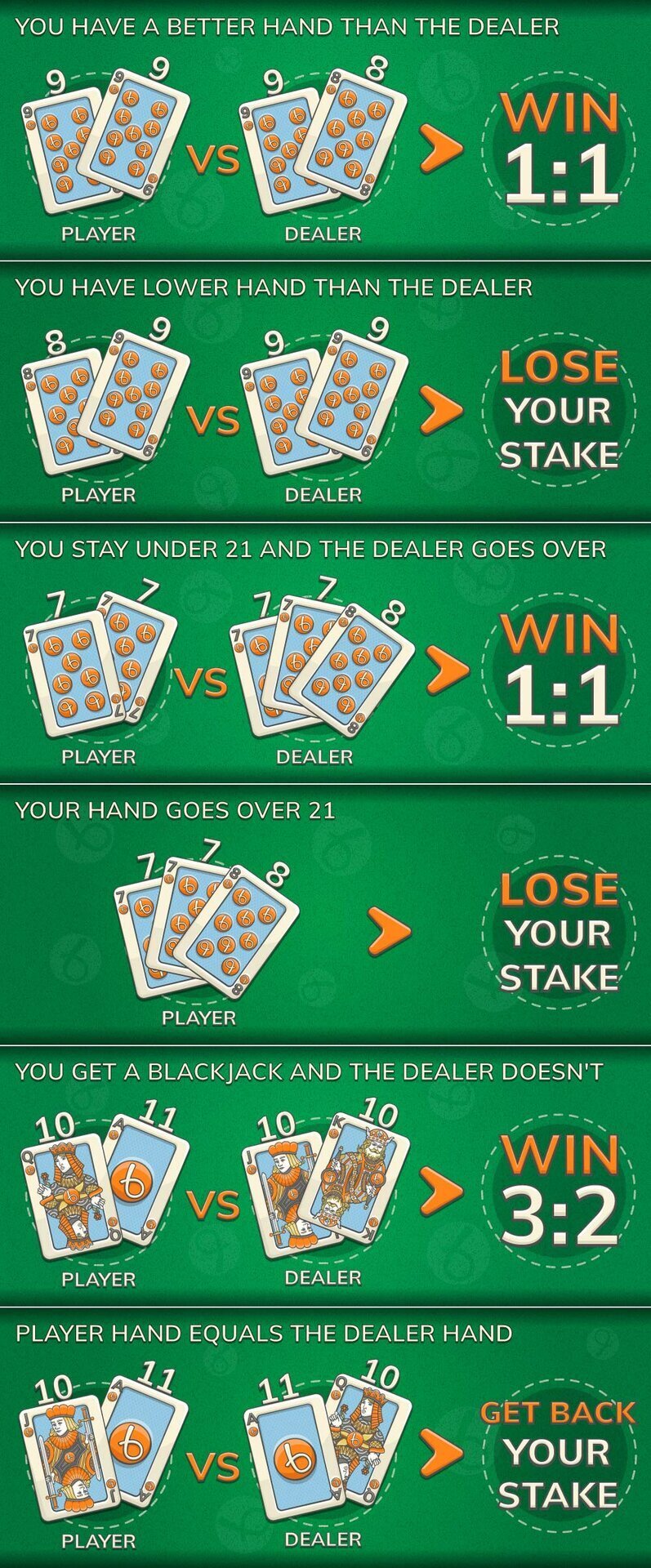 More advanced blackjack rules
There are advanced blackjack rules that experienced players can use. These tactics are not required if you want to know how to win in blackjack online.
Surrender - Some blackjack games let you give up and get back half your bet. This option is rare in online blackjack.
Insurance - Only offered when the dealer's visible card is an ace. It guards against dealer blackjack, costing half your bet. It's often best to avoid this risky option as it does not favour the player.
Even money - Also a side bet for a blackjack hand when the dealer has an ace. It pays out immediately, avoiding a potential tie, but it's often not a favorable choice due to its odds.
Practise playing blackjack
Enhance your blackjack skills through practise and repetition. The more you play, the better you'll become at making strategic decisions and managing your bets effectively. 
If you're looking for a reliable tool to practise, try our free blackjack simulator. This tool includes a full practise mode with play money, basic strategy drills and a chart, card counting drills, and a complete blackjack rules tutorial. It's a fantastic resource to help you hone your skills in a risk-free environment.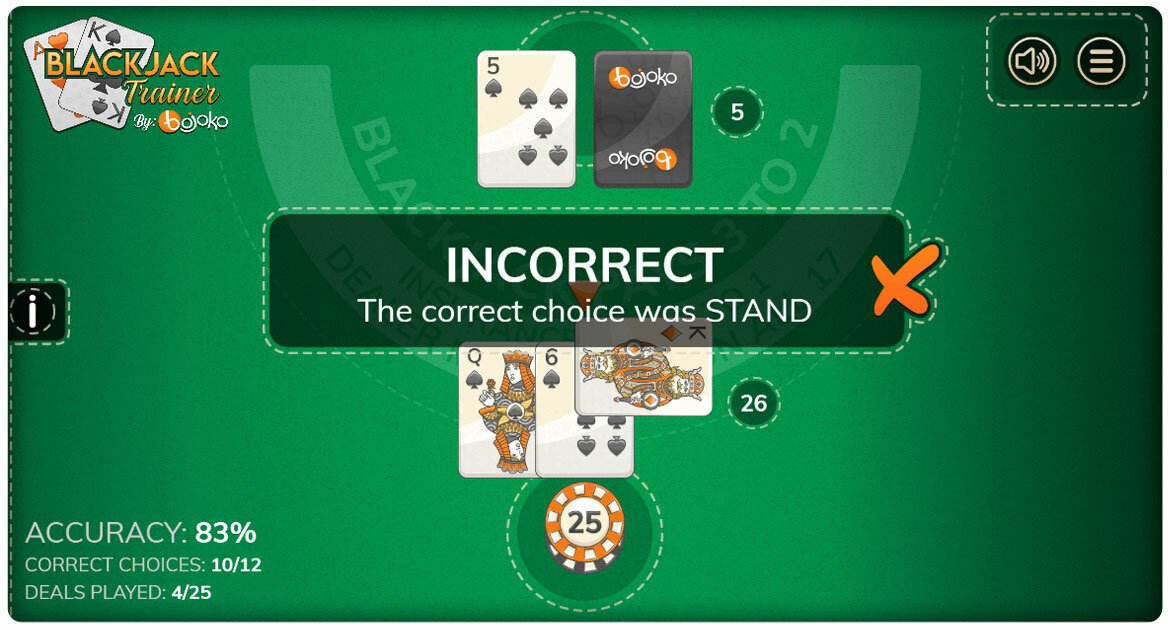 Online blackjack tips - Enhance your odds of winning
Enhance your chances with these online blackjack tips. A well-thought-out strategy will always get you further than going in blindfolded.
By integrating these online blackjack tips into your gameplay, you can refine your strategy and increase your potential for success. Remember, strategic play and prudent decision-making can make all the difference at the blackjack table.
Bankroll management
Effective bankroll management is the cornerstone of successful blackjack play. Allocate a specific portion of your total gambling funds as your blackjack budget.
Experts recommend using no more than 5% of your bankroll for any given session. For individual bets, a common guideline is to wager around 2% of your in-game funds per round. This strategic approach helps safeguard your funds, extend your gameplay, and minimize the risk of substantial losses.
Card counting
Card counting is a way of tracking the dynamics of a deck. As a player, it's advantageous to know when there are more high cards left in the deck and when there are more low cards.
Assign values to cards and maintain a running count based on the cards dealt. By keeping track of the count, you can adjust your bets in response to the changing odds.
In simple terms, you assign values of +1, 0 and -1 to cards in the following way:
Cards from 2 to 6 = +1
Cards from 7 to 9 = 0
Cards from 10 to Ace= -1
While counting cards, you need to keep a mental tally of the blackjack cards played and their total sum, according to the score system explained above. This number tells you when the deck is in your favour.
Blackjack basic strategy
The basic strategy is a mathematically sound guide on when you should hit, stand, split and double down. Basically, using a combination of blackjack odds and statistics, basic strategy shows you how to play all hands in all situations.
Use the blackjack basic strategy to make optimal decisions based on your hand and the dealer's up card. This strategy enhances your decision-making process and minimises losses.
Choose your table
When selecting a blackjack table, opt for those that offer a 3:2 payout ratio for blackjack hands. A 3:2 payout yields greater returns compared to the 6:5 alternative. This choice significantly impacts your winnings, as 3:2 tables offer a better overall return rate.
For example, if you're playing at a 3:2 table and bet £10, blackjack earns you a £15 profit (i.e. 1.5X your stake). This, plus your stake back means your total return is £25. Bet £10 at a 6:5 table and blackjack earns you a £12 profit (i.e. 1.2X your stake).
Prefer fewer decks
Optimize your odds by selecting games played with fewer decks. In general, games with fewer decks contribute to a lower house edge, favoring the player. While more decks may seem to offer more chances of hitting blackjack, the decreased probability of doing so outweighs the advantage.
Blackjack bonuses
Most online casinos offer bonuses to boost your gameplay, with some even tailored for blackjack. You can take advantage of these offers to play more hands and maximise your returns. 
Look for bonuses that:
Can be used on live dealer games
Have high wagering contribution on blackjack
Have low wagering requirements
Have enough time to complete the wagering
View our list of the best blackjack bonuses if you want to find casinos offering these types of bonuses.
FAQ
Blackjack is a popular card game where the goal is to get a hand total as close to 21 as possible without going over.
The basics of blackjack involve getting a hand value close to 21 without exceeding it. Face cards are worth 10, Aces can be 1 or 11, and numbered cards are their face value.
The rules of 21 blackjack are simple, you compete against the dealer. Players are dealt two cards, and they can hit (take more cards) or stand (keep current cards). The dealer follows specific rules for their hand.
The king is worth 10 points in blackjack.
The number of decks in blackjack games can vary, but common choices include four, six or eight decks.