Rizk Withdrawal Time UK
Rizk has made the fairly bold promise to process all withdrawals within 3 hours, but in our tests, they far surpassed this claim to fame. Our testers, with one exception, had their withdrawal requests not only accepted but in their bank accounts within minutes.
The fastest withdrawal time recorded was down at 1 minute, and this was not just for one tester but two. The sole exception to the speedy processing time came from KYC document issues, and once approved the money was still issued within minutes. This issue did however give great insight into what can go wrong when you request a Risk withdrawal and don't worry, we have a solution to it below.
From our experience testing hundreds of casinos, Rizk ranks at the top for having the fastest withdrawal time. 
If you want to see each tester's withdrawal time, the payment methods they used and what they discovered when cashing out from Rizk, simply read on. 
WITHDRAWAL OVERVIEW:
Stated withdrawal time: Up to 3 hours
Avg. withdrawal time in our test: 1.8 hours (Based on 4 testers)
Fastest withdrawal time: 1 minute
Longest withdrawal time: 6 days
MINIMUM DEPOSIT:
Debit Card: £10
Paypal: £10
Prepaid Vouchers: £5
Skrill/Trustly/Neteller: £10
MINIMUM WITHDRAWAL:
Debit Card: £10
Paypal: £10
Skrill/Trustly/Neteller: £10
How to make a withdrawal at Rizk Casino
The Rizk cash out experience is fast, easy and fairly hassle-free. Just follow the below steps and you should have your money within minutes. You can check out the sign-up bonus available by reading our Rizk Casino review.
Select the green balance button on the left-side navigation bar (just under Captain Rizk level up bar).
Within the popup window, select your preferred 'Withdrawal' option.
Enter the amount you wish to withdraw from your balance and click on the 'Withdraw' button. 
Fill in your card details, and equivalent Payment verification details
Confirm your withdrawal
How long does a Rizk withdrawal take?
Four of our five UK testers had their withdrawal approved and sent out within 3 minutes or less. Two testers, in particular, had the withdrawal approved within 1 minute.
This extreme consistency proves that as long as everything runs smoothly, your withdrawal should be approved within minutes, or arguably even seconds.
Unfortunately, there was an extreme discrepancy in our data. One of our testers waited 6 days from his original request until the money was actually approved. Our tester had unfortunately not seen that his withdrawal request was rejected and that he was required to send in his KYC documents.
We try to exclude KYC procedures from withdrawal time estimates, as this is a one-time process and as such not representative. As soon as the KYC documents were accepted the withdrawal request was allowed to go through at the same speed as our other testers.
Confirmed withdrawals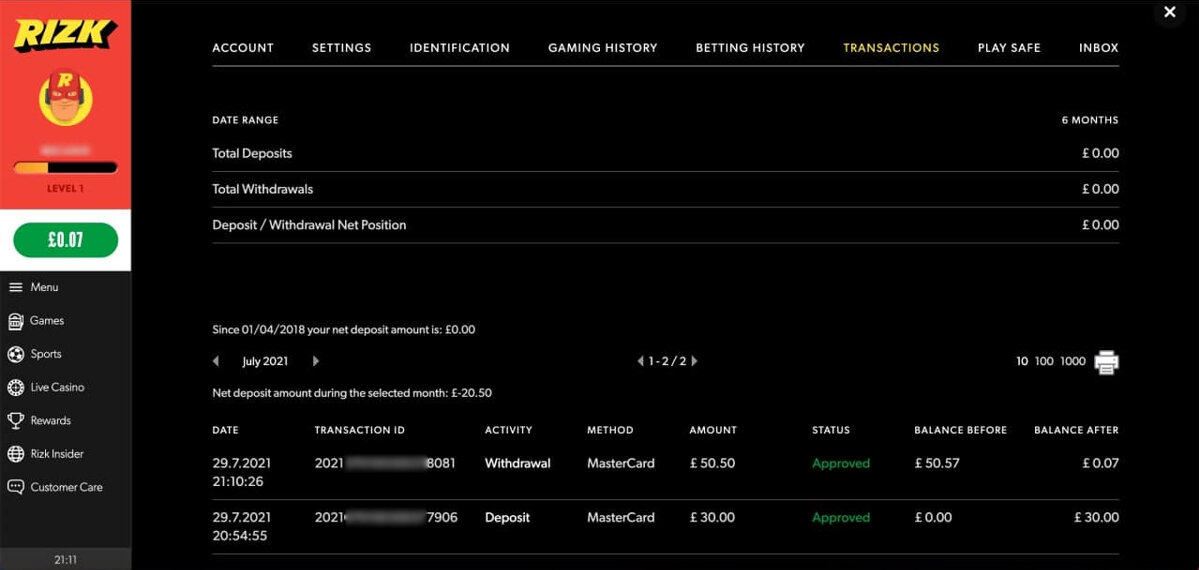 You can find the full overview of each of the 5 confirmed payment withdrawals from UK residents below:
Dylan96
Withdrawal method: Debit
Withdrawal amount: £10
KYC documents requested: No
Weekend cashout: No
Time: 1 minute
MelHart
Withdrawal method: Debit
Withdrawal amount: £50.50
KYC documents requested: No 
Weekend cashout: No
Time: 2 minutes
Natster9
Withdrawal method: Paypal
Withdrawal amount: £10
KYC documents requested: Yes
Weekend cashout: No
Time: 6 days
Khaoula
Withdrawal method: Debit
Withdrawal amount: £10
KYC documents requested: No
Weekend cashout: No
Time: 3 minutes
Dan
Withdrawal method: Debit
Withdrawal amount: £10
KYC documents requested: No
Weekend cashout: Yes
Time: 1 minute
Note: The 6 day withdrawal time was due to complications with KYC verification and is as such, not representative of the general withdrawal time at Rizk Casino. Once the KYCs were accepted it took 3 minutes for the withdrawal to go through.
Rizk Casino cash out experience
Rizk Casino is a fast withdrawal casino as we have witnessed. The key issue that all of our testers reported was that they did not get any notification that their withdrawal request was approved, or in one case, rejected.
All of this information is exclusively in your payment history, and as such you need to manually check each time. The good thing is that if the money went through, you will know within seconds. This means you can refresh the page more or less immediately. 
The only thing you should not do, especially on your first withdrawal, is to assume the money will go through and not check again. It is possible that you will be asked to verify your KYC documents. This is a one time process but can be frustrating as it means getting your money will take longer. Even worse, if you assumed everything went ok and then check-in days later, only to find the rejection, it will not be fun at all. 
So, again, be sure to check that everything went through right away.
Rizk Casino withdrawal methods
We have tested Rizk's withdrawal time on both Debit cards and PayPal. However, we would have liked even more PayPal data to see if it is more likely that PayPal users will be asked for KYC documents.
Rizk Casino PayPal withdrawal time
PayPal casinos are preferred amongst UK players both for making deposits and requesting withdrawals. We were therefore a little surprised when our tester who opted for PayPal was the one who ended up with KYC issues.
These KYC issues were extended longer than usual due to the tester not realising the original request had not gone through until 4 days later. The KYC documents took 2 days, however, as soon as this was sorted the request was approved within minutes.
RIZK debit card withdrawal time
Every single one of the four testers that used a debit card to cash out their funds, was pleased by just how quick the withdrawal time was.
The average time for this group was 1 minute and 45 seconds - and it could be even quicker as the withdrawal history page can only narrow it down to the minute. Extremely impressive to say the least!
Do note that the largest withdrawal in this group was £50 and that there could theoretically take longer for larger withdrawals.
Alternative payment methods
UK players can also withdraw their winnings from Rizk using a traditional bank transfer, Neteller or Skrill. The latter two payment options are e-wallets. We have not tested their speeds, but in general e-wallet withdrawals are immediate. 
Bank transfer is the only option that could theoretically take longer, but as the money is going from one UK bank to another, there should still not be any great waiting time.
Rizk Withdrawal problems
The majority of our testers cashed out without a single issue, with the money almost immediately credited to their accounts. However, each of them noticed that they did not receive any form of notification when their deposit was approved. Unfortunately, as natster9 from Torquay discovered, the same is the case for rejected requests.
It actually took him a full 6 days from his original withdrawal request until the money finally reached his bank account. 
His original withdrawal request was rejected, seemingly due to trouble with PayPal. However, as he expected some kind of notification if there was an issue he simply went about his business. It took 4 days before he started getting frustrated, went to the casino to check and realized what had happened.
To get more information, natster9 contacted customer support, who informed him that he had to upload his KYCs. He was the only one of our five testers asked to submit KYCs and the process took 2 days in itself. 
Once approved, the process was smooth, and with the KYCs uploaded and accepted the situation should not occur again.
Our recommendation is to check in on your withdrawal request shortly after it has been made. 
Alternatives for Rizk Casino
Want to see other casinos with fast withdrawals? Check out these sites where our testers got some excellent results.
Rizk Casino withdrawal FAQs
Yes, all of the payment methods at Rizk Casino are safe to use. Rizk is a UK-licensed casino and only works with reputable and secure payment methods.
Yes, you can cash out at Rizk Casino. Only one of our testers was asked to upload their KYC, so this may not be needed at all - at least not for smaller deposits and withdrawals.
However, the one tester who was asked had to provide:
Passport
Utility bill
Picture related to your payment method
In the case of our tester, Natster9, he was asked to include a screenshot from his PayPal account. 
If you deposit with a debit card you may however need to include pictures of your cards.
Note: Natster9's first screenshot of his PayPal account was rejected as the PayPal logo was not visible. Be sure to include the logo if you are asked to send a screenshot of yours.
Rizk Casino's customer verification process is very easy and straightforward.
Cashing out of Rizk usually only takes a few minutes, and should be entirely hassle-free. The only thing you need to be aware of is that there is no email notification, or another overt alert when your request is approved or rejected.
In general, a withdrawal request should not be rejected, but you may be asked to supply KYC documents. If you have not done so, reload your banking overview page after a couple of minutes to see if anything else is required from you.
If you haven't received your Rizk Casino withdrawal, please contact Rizk's customer service - although this should not be an issue. The 3 hours expected withdrawal time given by Rizk themselves applies, every day. 
One of our testers cashed out during the weekend, and he had the money processed within a minute - which was tied to the fastest processing time.