A big betting site like William Hill can provide great odds to their players. That's one of the reasons why their sportsbook theoretical payout percentage of betting odds is around 94%. The highest odds on the site can be found in ice hockey, where the payout percentage climbs above 97%.
William Hill constantly offers boosted odds, extra bets and double #yourodds promotions. With these features, you can increase your odds even higher, and make a better profit in sports where payout percentages are under average.
How to change odds to decimal on William Hill?
Many bettors wonder how they change to decimal odds on William Hill. Changing the odds display from fractional to decimal at William Hill is actually quite an easy task. Players only need to scroll down to the bottom of the betting page where there is a button where players can change decimals.
See the image below for more information: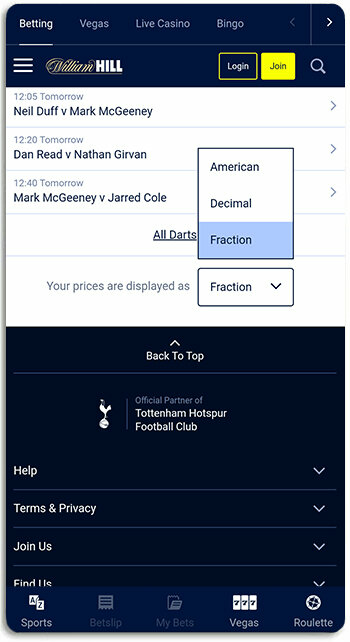 William Hill golf odds
William Hill offers odds for golf events and tournaments. These include major golf championships like the Masters, US Open, British Open, and PGA Championship, as well as smaller tour events.
William Hill odds for golf events are subject to change depending on various factors, such as the players' performance leading up to the tournament. In addition, there are injuries, withdrawals, and other unforeseen circumstances.