Ad Disclosure
Casinos on the Intouch Games platform
Intouch started all the way back in 2001, when they started manufacturing and operating leisure machines, slot machines and jukeboxes. From those humble beginnings, Intouch has evolved into a full-fledged online game developer and casino operator with a unique twist.
Unlike many other casino platforms, InTouch also develops their own games. You can try the games in a well-organised and managed environment, where they can ensure player safety.
Over the years, Intouch Games has grown from a small company to an industry powerhouse. They currently employ more than 400 people in all divisions, all working together to bring you the best possible gaming experience.
Slots, table games, bingo, keno, etc. Intouch has them all. The game selection is wide and covers everything you could want. Intouch is a one-stop company for all your gaming needs.
Check out all Intouch Games casinos listed on Bojoko.
List of Intouch sister sites
Most of the Intouch Games casinos are launched on its own platform. Have a look at all Intouch Games casino sites listed on Bojoko:
On this page
Here, you can learn all about InTouch Games and their Casinos.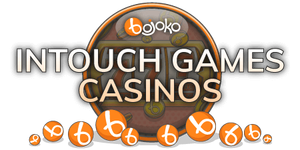 Overview of InTouch Games
Intouch Games Ltd is a company that does it all. Besides offering leading brands on the mobile casino market, it has successfully developed its own range of casino games for UK players to enjoy.
The casino sites as well as the games have all been designed for the mobile market and are fully responsive on both iOS and Android devices. The sites are additionally built using the latest HTML5 technology making them also fully compatible with desktop devices.
Since launching in 2001, Intouch Games have been entertaining thousands of casino players. In addition to a wide range of online slot games, this developer has created its range of bingo, blackjack, roulette and poker games.
Claim a bonus in an Intouch Games casino
When you become a player at an Intouch Games casino, you can rest assured that there are plenty of perks and benefits in store for you.
As always, it is recommended that you read the terms and conditions carefully of any offer you are thinking of claiming. Pay close attention to the bonus wagering requirements, maximum bets, games excluded from wagering contributions and minimum deposit threshold amongst others.
The best UK casino bonuses make way for exciting gameplay, without any unnecessary complications. You can expect to claim one of the below casino bonuses at Intouch Games casinos:
Once you have selected a casino from the above list and read the fine print, simply register for an account, apply any available casino bonus codes and you are good to go.
What makes the Intouch casino platform special?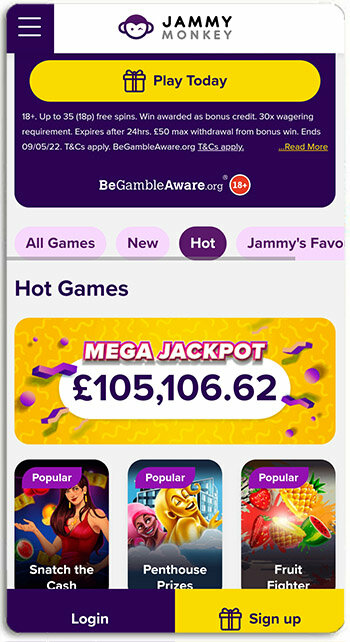 EXAMPLE: Jammy Monkey is a popular InTouch casino.
What makes the Intouch Games casino platform special is the fact that it is one of a kind. This brand excels in delivering its own creations onto one platform without any riff-raff. As a result, you won't find the usual game suppliers hosted on the site.
However, you will find unique games not found elsewhere and only available across Intouch Games brands.
Discover Intouch Games casino games
There are more than 100 unique and thrilling online casino games available at Intouch Games casinos. These games explore a myriad of themes, including Irish luck, genies, African safaris and much more.
These games are only available at Intouch Games casinos paving the way for a unique online gambling experience. What makes the games exciting is the fact that the slot games all come with a jackpot attached.
In addition to slot machines, you can play Blackjack and Roulette as well as online bingo by downloading the app.
Intouch Games live casino
At the time of writing, Intouch Games does not currently offer any live dealer titles. However, you can still avail yourself of RNG card and table games Blackjack and Roulette.
New Intouch Games casinos
InTouch takes the path of quality over quantity when it comes to casino sites. They release on average one new InTouch casino per year.
Amongst some of the most popular casinos include Dr Slot, Casino 2020 and mFortune.
What makes these casinos popular amongst players is the fact that they offer a no deposit bonus upon sign-up, a generous welcome offer and a unique gaming experience. Since the games are developed in-house, you won't find any of these games listed at any other casinos outside of this network.
InTouch Games is continuously working on building up its portfolio, by releasing new games and casinos.
InTouch slots
InTouch casinos are heavily focused on slots, often having basically no other games available.
When it comes to the games available, InTouch is a unique experience. On these casinos, you will find only slots made in-house by InTouch themself. These games are only available on InTouch casinos, so if you want to try them, you have no other options.
Intouch's games come in all shapes and sizes. You can find a lot of different themes, mechanics and styles, as they have something for everyone.
Intouch Games has tried their best to cater to every player. They have classical retro-themed slots, games with a tongue-in-cheek theme, fast-paced action games, relaxing experiences and much more.
Innovative mechanics and great visuals combine to create an everlasting impact. These are games you will remember.
Some of Intouch's popular slots include:
Gold MacDonald - Tending to cute animals and farming fruit can be hard work, but at least it is rewarding. This cute game features a massive maximum win
Alice in Wongaland - The adventures of Alice take her to Wongaland. This slot has multiple special features and interesting visuals
Sherlock: Murdered to Death - Wilds, free spins, gamble feature and even a progressive jackpot are all just stepping stones to solving who was the murderer
Reel Royalty - Join the Royal family for an evening with Her Majesty. The slot features a multiplier mini-game and a ever-growing crown jewel for that big win
Intouch also has a good selection of table games. You can enjoy classics like roulette or blackjack, or go for something a bit more social, like keno or bingo.
If you are looking for progressive slots, then InTouch's games are for you. They don't have separate jackpot slots, but rather all the games share the same progressive jackpot. You can play any of them and still aim for the same networked jackpot.
InTouch mobile casinos
Intouch has been early adopters of mobile technology when it comes to online gambling. They saw the possibilites of mobile gaming very early on and wanted to make their games and services available for every player who wanted to try out mobile gaming.
All of InTouch's casinos are mobile-friendly. You can play on each of them without any worries of missing out on any games or services.
InTouch doesn't use any dedicated casino apps. They have built the casinos on HTML5 technology, which makes them adaptive and compatible. You can play on them on any modern mobile device by just opening their site on your mobile web browser.
Game Suppliers
Intouch Games creates all of its games and are available across its collection of casinos.
You won't find any other game suppliers available on any of their sites. On the other hand, you won't find any of InTouch's games on any other casino site.
Payment Methods
You can avail yourself of a variety of payment methods when playing at any of the Intouch Games casinos, including:
Debit Cards such as Visa or Mastercard
PayPal
PaySafeCard
Pay by Phone
Licences
All Intouch Games casino brands are licenced and regulated by the UK Gambling Commission. This means that sites are monitored on a regular basis for fairness and impartiality.
Interview with Intouch Games' Senior Affiliate Marketing Executive, Hannah Walsh
We caught up with Hannah Walsh, Senior Affiliate Marketing Executive at Intouch Games to learn more about how the brand operates, and the process from game production to casinos.
Tell us more about your CRM and KYC tools.
HW: "Intouch Games Ltd have bespoke CRM tools built in-house, developed from years of industry experience, allowing us to ensure we can target our players in the most efficient way possible.
We track and monitor our customer's lifecycle from start to finish. Focused on providing our customers with a fantastic experience, by giving our players exclusive bonuses and promoting our original casino games. We have a dedicated CRM & data team that analyse our player's behaviour within each specific brand, allowing them to segment our audiences and identify opportunities for growth within our brands. We also have the ability to respond to players' needs within real-time, enabling us to give our players an authentic casino experience to suit their needs and bonus preferences.
Our team ensure we continuously create new and innovative campaigns alongside our key marketing calendar for our players to enjoy, including unique prize draws with large prizes up for grabs. With innovative, fun and easy to understand entry requirements."
KYC Tools
HW: "Here at Intouch Games Ltd, one of our top priorities is to ensure our customer identification is one of the most critical aspects in our process, continuing the fight against financial crime and money laundering.
Our KYC tools provide us with the ability to identify and verify our customers enabling a smooth journey through the registration process, to playing for real across our sites.
We will always need to verify the following information:
First Name
Last Name
DOB
Address
On opening an account we ask our players to verify their phone number on activation of the account, we also give our players the option to activate via email too if they prefer.
We simultaneously perform an IDCheck through our partner TransUnion to verify our player's details seamlessly within the registration journey. TransUnion is able to analyse 6 billion consumer records worldwide.
If the check fails the player must provide ID as required by us that confirms their identity before they can play.
Our ID verification journey is easy for players to use, giving them simple instructions to follow, examples and progress bars to help our players upload the correct documents for us to verify their identity. We continuously review this journey to ensure it is kept up to date and easy to use, keeping customer safety at the forefront of the identification process."
Player Protection Tools
HW: "Once our players have verified successfully we have a number of player protection measures in place that go above and beyond industry requirements. This includes our friendly Responsible Gambling team, who are available 24/7 via our live chat support, to ensure we are providing the best customer care through every step of our player's journey.
We provide the following tools:
Session limits - This is designed to remind players when they've been playing continuously for a set period of time.
Deposit limits - This helps players to limit the amount of money they can deposit over a certain period of time. Limits can be set for a period of 1 day, 7 days or 4 weeks.
Cool-Down period - This gives players the time to consider if they want to proceed with a self-exclusion, or feel okay enough to play after the break is over. Setting a cool-down period will cancel any bonuses, and also lock players out of any of our sister casinos for the set period of time.
Self-Exclusion - An action for players who no longer feel able to gamble safely. Players are also automatically excluded from all of our sister-site casinos. This cannot be reversed under any circumstances.
Access to Customer History – Players can access their full history of transactions and game records for the last 3 months.
Overall, our aim is to consistently give our players the best online casino experience possible. We work to continuously improve their journey to ensure they are protected at all costs."
What do you think makes your brands special and excel in this market?
HW: "Each of Intouch Games' casino brands is designed, developed and marketed in-house. As a company, we also run our UK-based customer service team entirely in-house, 24 hours a day, 7 days a week, 365 days a year.
By having a tight-knit, easily accessible Intouch Games team, it allows us to work efficiently and innovatively when creating our casinos and the games that are available on them. This also ensures that we're well equipped to deliver the best casino experience to our players 24/7.
Generally speaking, the size of Intouch Games is always increasing. From hiring well-trained, high-skilled individuals, to branching into more markets and consistently launching new innovative online brands."
Our team ensure we continuously create new and innovative campaigns alongside our key marketing calendar for our players to enjoy, including unique prize draws with large prizes up for grabs. With innovative, fun and easy to understand entry requirements.
What do your games and your own creations bring to the table?
HW: "When it comes to our casino games, they are designed, built and marketed in-house by an award-winning team. By having this creative freedom we can provide all of our players with regular, innovative casino games that they won't find anywhere else on the market.
Each team works individually and collaboratively to ensure that each and every one of the casino games are created with our player's enjoyment in mind. Our unique casino games are filled with never-seen-before symbols, fun-filled features, exciting themes and mega mini-games!
What's more each of our brands has their own progressive Mega Jackpot that runs across a selection of our games. This means that not only can players win cash credit on our games, but they also have the chance to take home a huge Jackpot prize – simply by playing."
 When it comes to your own game creations, what's the thought process behind them? How do you come up with themes, etc?
HW: "This process begins with our amazing Game Design team. When they are coming up with their initial game concepts there are a few important factors that they take into consideration. Firstly they will look at the casino games already launched to see which of these have been stand out favourites for players and consistently perform well on our sites. They will also take into account industry standard specifications.
Using the information they have gathered, they will then look at the latest trends among our players to identify the balances and themes that are proving successful across each brand. It's important to do this for each brand, as there could be different trends forming and what works well on one casino might not be performing as well on another. The Game Design team will then think about how they can take all the trends that they have identified and put an updated spin on them.
Finally, they will look at external trends and regularly try new innovative ideas to ensure that each new release is sure to be interesting, exciting and give players a fresh experience.
The fact that you offer your own games makes you quite unique on the market. Do you feel that it gives your brands a competitive edge?
HW: "By designing, building and marketing all of our casino games in-house it gives us great creative freedom when it comes to each stage of a new game launch. It allows us to consistently and efficiently adapt to our players wants and needs as well as adopt a player-centric approach to deliver value.
This also ensures that players know that with each new casino game launch, it will be something they have yet to come across from any other brand. All our games are built to operate both as a single native application on iOS and Android, as well as HTML for desktop. As a result, we are able to support an unrivalled 99.9% of all devices. "
How do you make sure that each casino brand stands out from the others?
HW: "Whilst all of our brands have consistent core themes running throughout, we ensure that each brand has key distinguishable features and individual brand identity. When creating each of our casino brands, it was paramount that they had areas of differentiation and unique selling points that would make them appealing to our desired target players and highlight the brand's particular identity.
For example, for one of our newer brands, Casino 2020, we wanted the core message to be that players could receive a simple, first-class online casino experience each and every time they visited our site.
Each of our brands contain unique bonus offers, original casino games with game of the month promotions and no-two seasonal campaigns are ever the same! We want there to be an Intouch Games brand for everyone and with every new casino launch we work hard at ensuring there is something new and exciting to be found for our players."
What are your plans for 2021? Are there expansion plans?
HW: "Intouch Games is always growing both in numbers of staff and number of casinos and we hope to continue this throughout 2021.
December 2020 has seen the launch of our newest casino site, Bonus Boss! We couldn't be more excited about this launch and as we move into 2021 we will be working hard on bringing this innovative casino straight to players' fingertips.
2021 will also see exciting new seasonal campaigns across all of our casinos, including Easter and summer campaigns, as well as regular launches of innovative and original online slots games with never-seen-before features."
FAQ
InTouch Games started out in 2001 as a entertainement electronics manufacturer. They soon noticed that they had a knack for making slot machines, which lead them to a whole different line of business.
When InTouch Games joined the ranks of online casino operators, they solidified their future. From those humble beginnings, InTouch has grown to be a unique force in the UK online casino market.
You can check out our list of all the InTouch online casinos on Bojoko.
InTouch casinos are unique. You will not find these games on any other site and that is the biggest reason to choose an InTouch casino.
In addition, these casinos are well-built with alluring bonus offers. In short, they are solid options through and through.
InTouch's biggest strength is also their biggest weakness. They only have games that are built in-house and nothing more.
InTouch casinos' game catalogue is completely unique, but very limited. If you want to play those popular slots from big-named developers, then you just have to play on some other casino.
InTouch goes for quality over quantity. They are not releasing new sites constantly just to pad out their numbers. There is usually one new casino release per year.
You can check out our InTouch casino list to see the new releases.
Find InTouch casinos