Ad Disclosure
Betfred Casino withdrawal time UK
Betfred Casino promises to process all payment requests within 48 hours, but it is important to remember that processing time is not quite the same as withdrawal time. 
Processing is when the casino approves the withdrawal, while the withdrawal time reflects when the money is actually on your account. This will, to some extent depend on the payment method you choose.
In our test, the general withdrawal time was actually below 48 hours, with a respectable 44-hour average. However, this number is pulled down by two fairly quick withdrawal times, while the majority landed above the 48-hour mark.
This means that when you request a withdrawal from Betfred Casino you will likely need to wait a couple of days before the money reaches your account.
Still quite impressive on Betfred Casino's side as some casinos' withdrawal process can take up to 10 business days. For the fastest withdrawal times, check out the casinos below. 
WITHDRAWAL OVERVIEW:
Stated processing time: 48 hours
Avg. withdrawal time in our test: 44 hours
Fastest withdrawal time: 14 hours
Longest withdrawal time: 63 hours
MINIMUM DEPOSIT:
Debit Card: £5
Skrill/Neteller: £5
Paypal: £5
Bank Transfers: £5
Others: £5
MINIMUM WITHDRAWAL:
Debit Card: £5
Skrill/Neteller: £5
Paypal: £5
Bank Transfers: £5
Others: £5
How to make a withdrawal at Betfred Casino
In order to make a withdrawal at Betfred Casino, you will need to select the balance icon, which rests next to the green deposit button in the top right of the screen. The process from here is quite simple:
Under the 'Chips Transfer' option select 'Withdraw'
Choose your withdrawal method
Enter the amount you wish to transfer
Click 'Withdraw' 
Please note that the withdrawal method you choose must be the same method you used for your deposit.
Remember that you can read our full Betfred Casino review for more info on their payment methods, bonuses, games 
How long does a Betfred Casino withdrawal take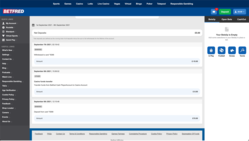 We have run 5 independent UK tests of just how long the Betfred Casino withdrawal times actually are. 
The fastest withdrawal time was actually all the way down at 14 hours, which is also the core reason why the average withdrawal time was down at a reasonable 44 hours.
If we removed this relatively speedy withdrawal, the average withdrawal time would actually have been 52 hours, which is still lower than the three longest withdrawal times in our survey.
The longest withdrawal time we registered clocked in at a full 63 hours, while the second shortest was still resting at 34 hours. In other words, you should not expect to get your money within 24 hours, even for small deposits.
Confirmed withdrawals
Want to see how long each registered Betfred withdrawal time actually was, and what payment methods were used? You will find the full overview below:
Dylan96
Withdrawal method: Debit Card
Withdrawal amount: £10
KYC documents requested: No
Weekend cashout: No
Time: 14 hours
MelHart
Withdrawal method: Debit Card
Withdrawal amount: £25
KYC documents requested: No
Weekend cashout: No
Time: 63 hours 
Khaoula
Withdrawal method: Debit Card
Withdrawal amount: £5 
KYC documents requested: Yes
Weekend cashout: No
Time: 58 hours  
Dan
Withdrawal method: Debit Card
Withdrawal amount: £10
KYC documents requested: No
Weekend cashout: No
Time: 53 hours
Natster9
Withdrawal method: PayPal
Withdrawal amount: £10
KYC documents requested: No
Weekend cashout: No
Time: 34 hours 
Betfred Casino cash out experience
Our testers pointed out that while there seems to be a lot going on on Betfred's site, they have managed to make the withdrawal process very easy. The only issue that kept coming up was the length of the withdrawal times.
Betfred Casino withdrawal methods
Betfred Casino allows withdrawals via debit cards, bank transfers, PayPal, Neteller, Skrill and of course, their own Betfred shops.
You need to be aware, however, that you can only withdraw with the payment method you used for your deposit. This includes the Betfred shops.
Betfred Casino PayPal withdrawal time
It took our tester Natster9 "only" 34 hours to receive his withdrawal via his PayPal account. This was shorter than 3 out of 4 debit cards withdrawals, something which should be quite promising for everyone who has PayPal as their preferred payment method.
Betfred Casino debit card withdrawal time
We have received fairly mixed Betfred Casino debit card withdrawal times, with the shortest being down at only 14 hours and the longest up at a fairly long 63 hours. 
The two other debit card withdrawal times we registered were resting at 53 hours and 58 hours respectively, and we are thus afraid to say that it seems likely you will need to wait more than 48 hours for your money.
Betfred Casino withdrawal problems
None of our independent UK testers ran into any problems with the Betfred withdrawal process. Interestingly enough, no one was even asked to submit KYC documents. The only slight issue here was the longer withdrawal times.
If you prefer fast payout casinos UK, you can follow the link and get a solid overview. If longer withdrawal times do not bother you, Betfred could quite easily be the casino for you.
Betfred Casino withdrawal FAQ 
Yes. Betfred Casino is a UKGC licensed casino and follows strict safety procedures when it comes to deposits and withdrawals.
Betfred has the right to request KYC documents from you, but not a single one of our UK testers needed to upload any documents to receive their money.
No. The average recorded withdrawal time in this test was 44 hours, well above any reasonable limit for what we can call a fast payout casino.
Yes, but exclusive on bank transfers. Betfred will pay the charges for one standard bank transfer every 28 days, but any additional bank transfers within this period will require a fee of £12.
If you made your deposit via a Betfred shop, you can also make a withdrawal of up to £250 and get it over the counter, on the day.
To do this you need to call customer service within their opening hours, which are 10.00 to 21.30. Their number is 0800 032 0878.
Be sure to inform them which shop you wish to receive your withdrawal from, and what time and date you wish to pick it up.
You may also request larger withdrawals over the counter, but in this case, you must allow a 48 hour processing time.
No, you can only withdraw your real money balance. Bonus money can of course be converted to real money by meeting the wagering requirement, and which point these funds will be treated in the exact same way as your deposit.