Genesis Global casinos UK
Genesis Global was an ambitious casino operator, who was known for their quality sites. Started in 2014, Genesis Global grew fast and taken the industry by surprise. Unfortunately, Genesis Global is no more.

Genesis Global filed for banckruptcy in December of 2022.
List of Genesis Global casinos
Here, you can find other casinos that are more reliable and generally better for UK gamblers. Choose a casino that piques your interest and check out what our experts have said about it.
On this page
On this page, you can learn all about Genesis Global and Genesis Global Casinos.
Overview of Genesis Global
Genesis Global kicked off its operations in Israel in 2014 before relocating to Malta in 2017. After the success of its first brand Casino Cruise, Genesis went on to launch more successful casinos, each with a distinct market segment in mind.
Genesis Global casinos have previously had licenses from Malta and UK, and the sites ran on the Genesis Global casino platform.
Why play on Genesis Global casino sites?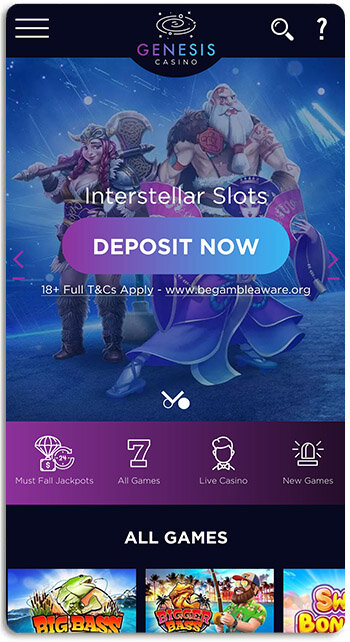 EXAMPLE: Genesis Casino bears the platform's name.
Genesis Global's story started in Israel in 2014, after which they relocated to Malta in 2017.
Instead of just reheating the previous ideas for new players, Genesis Global casinos are a perfect case study of a true multi-brand strategy in action.
One of their big hits were instant play no registration casinos dedicated solely for the Swedish and Finnish markets.
New Genesis Global casinos
Genesis Global had a strong push in the late 2010s, which was their hayday. They were still releasing new casinos once or twice a year until the end.
Unfortunately, there will be no more new Genesis Global casinos, as the company has gone under.
Genesis Global slots
Casinos that operated on the Genesis Global platform supported a wide range of slots. They had many popular big-name developers on board, which means that the player had both quality and quantity when it comes to choosing slots.
On average, Genesis Global casinos had between 1,800 and 2,200 slots for UK punters.
Genesis Global mobile casinos
Genesis Global casinos were a great choice for players looking for a good mobile casino. All were compatible with modern mobile devices, but some even seem like they were design mobile first.
Genesis pushed their mobile-friendly casinos especially on Nordic market, as there, the quick pay'n play style is extremely popular. Players simply want to pick up their phone and get a game running as quickly as possible. This is not possible if the casinos are not suited for mobile devices.
There are no dedicated apps for Genesis Global mobile casinos. They all played in your mobile web browser.
Game suppliers
Since Genesis Global was the home to numerous brands that target different markets, it does well in bringing together leading game suppliers into one place. 
As a result, they offered numerous gaming options, including slots, card and table games, jackpots games as well as live casino games amongst others.
Here are some of the best game suppliers that were on the Genesis Global brands:
Payment methods
Similarly as with the game suppliers, since Genesis Global targets various markets, it had opted for a variety of payments options, including some carefully chosen localised methods:
Debit cards, such as Visa and Mastercard
Paysafecard
Licences
The Genesis Global Group has previously held licences from the UK Gambling Commission, the Malta Gaming Authority and the Swedish Gambling Authority.
In 2022, they lost all their gambling licenses due to regulatory shortcomings. The company was fined in early 2022 for anti-money laundering and social responsibility regulations, and the loss of their license was a continuum of these problems.
FAQ
Genesis Global was a casino operator, who provided a unique and customisable platform for new casinos. They started in 2014,  became a very popular choice amongst players and new casinos, and eventually went bankrupt.
Genesis Global was a paragon of quality. Their casinos had a unique feel and work just the way you'de want them to. Though certain aspects may be very similar, if not copied, amongst their sites, they all have a personality of their own.
Casinos that operate on Genesis Global platform were well-built and offer players a great all-around gambling experience.
Genesis Global was a very popular choice amongst new casinos in the late 2010s. At that point, there were plenty of new casinos released. Since then, the number has dropped, especially since some of the sites are not directed at UK players.
In their last years of operation, on average, there were between one and three new casino releases every year.
Find Genesis Global casinos