Wazdan casinos UK
Wazdan is a game provider specialising in the production of online slots, table games, video poker and online bingo. Since launching in 2010, they have successfully built a collection of more than 150 entertaining slot games. Wazdan has a passion for games that has helped them become a success overnight.
The company is made up of over 170 professionals with vast experience in the gambling industry in both the land-based and online sectors.
Wazdan is based in Malta, and the games can be accessed in casinos across numerous regulated jurisdictions.
Since the start, Wazdan has been nominated for and won various awards. They won the CEEG Online Casino Innovator award, the Hot Product award for their top-performing 9 Lions slot at the G2E Asia Awards, and the Start-up of the Year title at the MiGEA Awards in 2018.
In 2019, the company also received prizes for Malta's Best Gaming New Slots Developer and Malta's Best iGaming Online Product of the Year at the MiGEA Awards. Larry the Leprechaun was crowned as the Slot Game of the Year at the MGA Awards.
In 2022, they won the Best Online Casino Provider title at the CEEG Awards, the silver award for Rising Star Casino at the SBC North America Awards, and two trophies at the BSG Awards for the Best Slots Provider in the Baltics and Rising Star in Nordic Online Casino Technology.
All games are created and designed in-house, from start to finish. This includes visuals, sounds, mathematics, innovative engagement-boosting features, and customisable tools.
Wazdan games allow for an unparalleled level of customisation, including Energy Saving Mode, which allows players to reduce the strain on the battery and extend playing time; the Unique Gamble Feature available on all winnings in every game; the Volatility Levels™ function allowing players to alter the volatility of the game; the Buy Feature allowing players to enter bonus rounds at any time, and more.
Their "Hold the Jackpot" mechanics, which Wazdan pioneered in 2021, was a hit among players around the globe, attracting more and more fans with each new release in the series. In 2022, Wazdan introduced new innovative features that boost player engagement and drive revenue growth for partners: Collect to Infinity™, Cash Infinity™, and Sticky to Infinity™.
Read the interview with Magdalena Wojdyla, Head of Account Management for Europe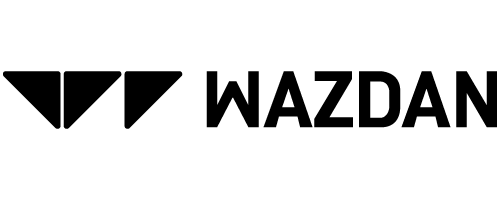 Number of games
Desktop games: 150+
Desktop slots: 140+
Desktop table games: 10
Mobile games: 150+
Live games: 0
Jackpot games: 20+
Game types available
Live dealer games: No
Jackpot games: Yes
Scratch cards: No
Virtual sports: No
Videopoker: Yes
Lottery games: No
General information
Supplier name: Wazdan
URL: wazdan.com
First game released: 06/2012
Licence: United Kingdom, Malta, New Jersey, Michigan, West Virginia, Ontario, Sweden, Romania, Greece, Denmark, Lithuania, Latvia, Estonia, Spain, Portugal, Switzerland, Colombia, Netherlands, Italy, Poland, Czech Republic, Bulgaria
Game currencies: GBP (£), EUR (€) + all currencies and cryptocurrencies
Game language: English, Finnish, Polish, Bulgarian, German, Spanish, French, Hungarian, Armenian, Italian, Portuguese, Russian, Turkish, Simple Chinese, Estonian, Lithuanian, Latvian, Romanian, Swedish, Japanese, Danish, Norwegian, Serbian, Greek, Dutch, Czech
Desktop games
Wazdan strikes a balance between cutting-edge technology and fulfilling the users' needs. The games come with numerous features that help set the games apart from that of their competitors.
The Wazdan slots come with a patented feature, Volatility Levels™, which gives players the opportunity to modify both the win size and the frequency as they play along. This means that players can opt for either small wins on a regular basis, or less frequent but bigger wins to suit their style. Players looking for a more balanced experience can select the Standard mode, where both win size and frequency are more leveled. The Volatility Levels™ feature puts players in complete control of their gameplay!
Additionally, the slot games come with their own Unique Gamble Feature. The Gamble Feature is a highly-sought-after and popular in-game feature, where players have to choose the right symbol out of two options that resonate with the theme of the game. Guess the correct symbol, and you will double your winnings.
Wazdan created a number of thrilling in-game features that increase player retention, by allowing them to win massive prizes. Their newest games offer such engagement-boosting mechanics as Hold the Jackpot, Collect to Infinity™, Cash Infinity™, Sticky to Infinity™, Hold & Collect™ and more.
The game library is diverse and entails various themes, allowing the creative team to push the boundaries. As a result, the games stand out for being well-designed with realistic sound effects.
Playing the games on desktop allows a more immersive experience, as the gorgeous graphics, special features and bonus rounds come to life on a larger screen.
Number of desktop games: 150+
Mobile games
Wazdan's portfolio is built on HTML5 to ensure players have the choice to play the games on a desktop or on the move.
Many of the Unique Wazdan Features are primed for mobile, but these features - such as Energy Saving Mode - also work on desktop, providing laptop users with an innovative and unique function that can lengthen playing time.
Wazdan's UI is sleek, and simple and includes buttons for the Unique Wazdan Features, including the Volatility Levels™ function.
Number of mobile games: 150+
Live games
There are currently no live dealer games in Wazdan's game portfolio.
Number of live games: 0
Jackpot games
Wazdan's Hold the Jackpot series has quickly become a player-favourite, with more and more players worldwide taking to the games for their enticing themes and hefty prizes up for grabs.
With each new title, the Hold the Jackpot mechanic is enhanced to ensure that players get a different experience every single time, bigger jackpots, new bonus symbols, unique reel layouts, new innovative features, and cumulative prizes. For example, Sizzling Bells™ offers massive wins worth up to 15,000x the player's bet, while 9 Coins™ engages players with the innovative Cash Infinity™ feature.
Number of jackpot games: 20+
Licences
Wazdan holds licenses from many regulators and jurisdictions, including the UK Gambling Commission, the Malta Gaming Authority, New Jersey, Michigan, West Virginia, Sweden, Romania, Denmark, Lithuania, Latvia, Estonia, Spain, Portugal, Switzerland, Colombia, Italy, Greece, Netherlands, Poland, Czech Republic, and Bulgaria.
All game licences:
United Kingdom, Estonia, Malta, Italy, Spain, Denmark, Portugal, Romania, Sweden, Greece, New Jersey (US), Latvia, Michigan (US), West Virginia (US), Ontario, Lithuania, Latvia, Switzerland, Colombia, Netherlands, Poland, Czech Republic, Bulgaria
Safe and responsible gambling
Wazdan ensures all of their content is produced to the highest standards, tested by reputable testing bodies, distributed in regulated jurisdictions and certified to the levels required by the respective jurisdictions.
They do their best to provide a safe and fair online gaming experience for the players. Often going over and beyond to exceed players' expectations and demands.
As a result, Wazdan has been awarded licenses by reputable gaming authorities. The games are regularly audited by independent third parties and use Random Number Generators, for fair and impartial results.
Currencies
Wazdan supports all currencies, including cryptocurrencies.
Supported game currencies:
GBP (£), EUR (€), SEK (kr), NOK (kr), DKK (kr), RUB (₽), ZLN (zł), CZK (Kč), USD ($), NZD ($), CAD (C$), AUD ($), ZAR (R), UAH (₴), AZN (ман), TMT (m), GEL (ლ), KGS (C), MDL (L), KZT (〒), AMD (Դ), TJS (ЅМ), TRY (₤), MNT (₮), COP ($), XAF (₣), XOF (CFA), BRL (R$), CNY (¥), IRR (﷼), CLP ($), PEN (S/.), ARS ($), VEF (Bs F), MXN ($), UYU ($), HTG (G), PLN (zł), CHF (₣), BGN (лв), HRK (Kn), HUF (Ft), RSD (din), RON (L), ALL (L), BAM (КМ), ISK (Kr), MKD (ден), BOB (Bs.), PYG (₲), UZS (so'm), BDT (৳), VND (₫), KRW (₩), INR (₨), ILS (₪), JPY (¥), MYR (RM), PHP (₱), SGD ($), THB (฿), TWD ($), NGN (₦), ETB (0), EGP (£), CDF (₣), TZS (Sh), SDG (£), KES (Sh), UGX (Sh), GHS (₵), MZN (MTn), AOA (Kz), HKD ($), IDR (Rp), MMK (K), BYN (Br), ZMW (ZK), ZWL ($), PKR (₨), KHR (៛), mBTC (m฿), DASH (Ð), LTC (Ł), ETH (Ξ), DOGE (Ð), AFN (؋), DZD (DA), AWG (ƒ), BSD (B$), BHD (BD), BBD (Bds$), BZD (BZ$), BMD (BD$), BWP (P), BND (B$), BIF (FBu), CVE (Esc$), KYD (CI$), XPF (₣), KMF (CF), CRC (₡), CUP (₱), DJF (Fdj), DOP (RD$), XCD (EC$), ERN (Nkf)
Languages
Wazdan is constantly expanding the list of supported languages. At present, they support: English, Finnish, Polish, Bulgarian, German, Spanish, French, Hungarian, Armenian, Italian, Portuguese, Russian, Turkish, Simple Chinese, Estonian, Lithuanian, Latvian, Romanian, Swedish, Japanese, Danish, Norwegian, Serbian, Greek, Dutch, Czech
Supported game languages:
English, Finnish, Polish, Bulgarian, German, Spanish, French, Hungarian, Armenian, Italian, Portuguese, Russian, Turkish, Simple Chinese, Estonian, Lithuanian, Latvian, Romanian, Swedish, Japanese, Danish, Norwegian, Serbian, Greek, Dutch, Czech
Check out all the Wazdan casinos on Bojoko
Bojoko Interview: Magdalena Wojdyla, Head of Account Management for Europe at Wazdan

Tell us more about one of the newest Wazdan's features, Collect to Infinity™, how it works and what it brings to players in terms of added value and entertainment?
Frankly, we're delighted by how strongly this new feature has resonated with players. It is being offered as part of our Hold the Jackpot or Free Spins bonus rounds and has had a phenomenal impact. As a truly dynamic tool, the feature works differently depending on the game the player is enjoying. This ensures that each game stands out even more from the competition, but first and foremost, it makes the game more engaging for players and helps operators maximise retention.
At the moment, we offer four games that include Collect to Infinity™: Magic Spins™, Sizzling Eggs™, Sizzling Kingdom™: Bison, and our brand-new Hot Slot™: Magic Bombs. The uptake of these games has been massive and that is due in no small part to the dynamic feature that keeps players on their toes with apparently endless potential combinations.

Your most recent feature, Cash Infinity™, which is currently only available on your game 9 Coins™ is also intriguing, with the unique Cash Infinity™ symbols becoming sticky in the base game until the Hold the Jackpot Bonus game is activated. What do you think is the most appealing part of this feature and what are players missing out on if they have not tried 9 Coins™ yet?
Our new Cash Infinity™ mechanic is a game-changing solution that increases the chances of activating the bonus round. It's an excellent retention-boosting tool that also amplifies casino results, making the player feel more in control of their experience.
9 Coins™ was the first game to include this feature and rapidly proved itself as our best-performing slot of the year. As a result, we recently introduced it to the follow-up game 9 Coins™ 1000 Edition as well. This game boasts an increased Grand Jackpot win of 1000x the player's bet and has all the right ingredients and slots pedigree to become another Wazdan hit.

How did you come up with these two innovative mechanics? Were they challenging to develop?
Innovation is our driving force, and in that way we see ourselves as the facilitators of growth, both for ourselves and for our operator partners. This is why players who discover our games keep coming back for more. That's not to say that every feature is easy for us to create. Quite the contrary, we work tirelessly to ensure that each one will resonate with players, conjuring an unforgettable experience that maximises ROI for our partners.
As a company whose mission was built around a passion for games, we're confident that we'll meet every challenge that comes our way and deliver upon this promise. Thanks to creativity, commitment, and passion for games of our amazing team, we continue to move forward and grow every day.
Both of these new mechanics are linked to bonus rounds. Do you feel that there is still a lot more to discover in making slots' bonus rounds even more engaging?
Constant innovation is our mantra, and it's entirely necessary if the aim is to stay ahead of the crowd. There is always more that can be discovered, and existing tools can always be improved upon. This is because player tastes and requirements are always developing. While it's true that some games and features remain evergreen, for the most part, we need to keep moving because their tastes evolve and become more discerning with time.
The moment you stop trying to be better is the moment you stop being great and that's another philosophy we try to live by when developing or wares further because we never rest on our laurels. Our Collect to Infinity™ and Cash Infinity™ features clearly illustrate that we are at the fore of what the bonus round can offer, and we will continue to drive this narrative forward.

Collect to Infinity™ is currently used in four games and Cash Infinity™ in two. Will there be more games featuring these mechanics?
We've just released Hot Slot™: Magic Bombs with the Collect to Infinity™ feature. What is more, this new amazing game offers a brand-new engagement-boosting mechanic, Sticky to Infinity™. When combined, both features can provide players with massive wins up to 6,000x their bet.
9 Coins was such an instant and phenomenal success that we needed to follow up with 9 Coins™: 1000 Edition and 9 Coins™ Grand Gold Edition, which also feature Cash Infinity™. It's worth mentioning that all of these updates come as a result of player feedback. We're well-known for prioritising the end-user experiences and that has once again served us well.
Cash Infinity™ is built from the ground up to enhance player experience so it plays a prominent role in boosting engagement and amplifying retention rates in this way. We'll also soon release another slot with this player-favourite feature, Power of Sun™: Svarog, so stay tuned!
Question 6: Can you tell us more about the Sticky to Infinity™ feature?
This mechanic aims to keep players immersed in the gameplay for longer. While enjoying the base game and the Free Spins feature, users can hit upon Jackpot Mystery symbols with the Sticky to Infinity™ feature. These symbols stick to the reels right up until the bonus round finishes, increasing player engagement by guaranteeing a Jackpot win. When the Free Spins feature comes to an end, players will be delighted to see the Jackpot Mystery symbols open up one by one, awarding Jackpots and triggering a veritable explosion of wins.

Will you be looking at adding even more special futures in the near future, and if so, can you give us any hints on what they might be.
It's our mission to ensure that our partners have the tools to ensure their continued success. As I said earlier, players and their needs and tastes grow and evolve, so in order to provide this service our features need to do the same. With that in mind, it's safe to say that we'll be introducing more special features in the not-too-distant future and those will reflect the needs of players. Stay tuned!
Check out more game studios