Videoslots withdrawal time UK
Videoslots has a less impressive and fairly relaxed processing time promise of up to 48 hours. We were therefore quite surprised that their average withdrawal time, based on our 5 tests, was 22 minutes.
In fact, the two shortest Videoslots withdrawal times we recorded in the UK were both at the 5-minute mark. The longest recorded withdrawal time was 73 minutes, well below the 48-hour limit.
There appear to be no differences between cashing out during regular workdays and over the weekend, and none of our testers ran into unexpected issues. In other words, the process was consistently fast, regardless of payment method or any other factors that we could find.
Overall the process is pretty seamless and Videoslots has the second fastest time when it comes to withdrawals.
WITHDRAWAL OVERVIEW:
Stated withdrawal time: Up to 48 hours
Avg. withdrawal time in our test: 22 minutes
Fastest withdrawal time: 5 minutes
Longest withdrawal time: 73 minutes
MINIMUM DEPOSIT:
Debit Card: £10
Skrill/Neteller: £10
Paypal/ecoPayz: £10
Bank Transfers: £10
Euteller: £10 (Fee: 1.95%)
Others: £10
MINIMUM WITHDRAWAL:
Debit Card: £20
Skrill/Neteller: £20
Paypal/ecoPayz: £20
Bank Transfers: £20
Others: £20
How to make a withdrawal at Videoslots
Placing a Videoslots Casino payout request is a very simple process. Just follow the quick steps below, and the transaction should be approved in no time. 
Go to 'my profile'
Click on 'withdraw'
Choose the payment method you would like to use
Enter the amount you want to withdraw and click next
If you want to know more about what Videoslots offers read our full Videoslots review.
How long does a Videoslots withdrawal take
The average withdrawal at Videoslots takes a surprisingly fast 22 minutes. This is based on our five independent tests conducted by UK testers, with the majority seeing their money processed within 10 minutes.
The fastest withdrawal recorded took only 5 minutes, and this actually occurred twice. Better, the two testers used different payment methods, Debit and PayPal to be precise. This shows that the two most popular and common withdrawals should not have any distinctions between them.
Do note that the actual listed processing time at Videoslots is up to 48 hours. This means that there may be exceptions to the fast withdrawals we detected. The longest Videoslots withdrawal we have registered so far is 73 minutes long, however, and this is the only test that went over the hour mark.
In fact, this 73-minute withdrawal is the only one that is above the average withdrawal time and the reason why it is as long as it is. If we subtracted the longest withdrawal, the average withdrawal time would actually be at 9 minutes. This is an example of not just how longer withdrawal times can drastically alter the average score, and also how a longer withdrawal time is by no means outside of the realm of possibility.
Confirmed withdrawals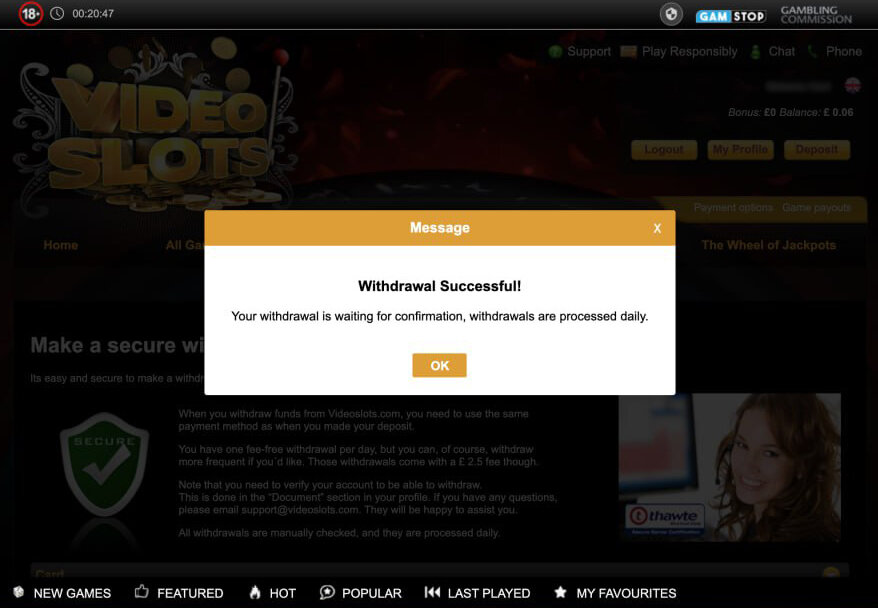 Below you can see the overview of each of the confirmed withdrawal tests. In each case, the UK tester has timed when they requested the withdrawal and when it was processed.
Dylan96
Withdrawal method: Debit Card
Withdrawal amount: £20
KYC documents requested: No
Weekend cashout: No
Time: 6 minutes
MelHart
Withdrawal method: Debit Card
Withdrawal amount: £20
KYC documents requested: No
Weekend cashout: No
Time: 5 minutes
Khaoula
Withdrawal method: Debit Card
Withdrawal amount: £20
KYC documents requested: No
Weekend cashout: No
Time: 73 minutes
Dan
Withdrawal method: Debit Card
Withdrawal amount: £20
KYC documents requested: No
Weekend cashout: No
Time: 21 minutes
Natster9
Withdrawal method: PayPal
Withdrawal amount: £21.75
KYC documents requested: Yes
Weekend cashout: Yes
Time: 5 minutes
Videoslots cash out experience
The cash out experience at Videoslots is surprisingly quick and as simple as we should expect from a large, notable operator. Each of our testers commented on the ease and speed of requesting their withdrawal, and the payment overview gives excellent oversight.
Videoslots withdrawal methods
In our 5 Videoslots withdrawal time tests, we tested both debit cards and PayPal and saw no noticeable difference between them. This implies a very strong consistency across payment methods at Videoslots.
Videoslots PayPal withdrawal time
Our tester Natster9 got his withdrawal approved within only 5 minutes, which is tied for the fastest withdrawal in our test. This withdrawal was made using PayPal and the money was, of course, instantly transferred to his account. A great example of how UK Paypal Casinos can offer fast withdrawal times.
Videoslots debit card withdrawal time
So far 4 of our testers have conducted the Videoslots withdrawal time test using a debit card. The results are all well below the 48 hours Videoslots list as their maximum processing time. The shortest withdrawal took only 5 minutes, while the longest took 73 minutes. 
This latter withdrawal was not only the only withdrawal over the hour mark, but also the only withdrawal over 21 minutes.
Videoslots withdrawal problems
Not a single one of our UK testers ran into any Videoslots withdrawal problems, which is incredibly encouraging. 
That said, none of the testers was asked to supply KYC documents either. This may be requested with larger amounts, and thus change the process somewhat. Of course, KYC procedures only need to be done once, and as such should never be a recurring issue.
Alternatives for Videoslots
Here are some other casino brands where our testers got their withdrawals in a speedy manner.
Videoslots withdrawal FAQ 
Yes, making a withdrawal at Videoslots is perfectly safe. Videoslots is licensed by the UKGC and undergoes the strictest safety precautions.
Yes, there are withdrawal fees at Videoslots, but every day you get one free withdrawal.
Every player is allowed to make one free Videoslots withdrawal a day. Any further withdrawals will actually come with a fee of £2.50. 
There is also a possible fee of 3.9% if the minimum turnover has not been met.
From our tests, the average Videoslots withdrawal time is 22 minutes.
The time Videoslots commit themselves to in their terms and conditions is 48 hours. That means that they promise to process all withdrawal requests within 48 hours. That said, the longest withdrawal time we registered was 1 hour and 13 minutes.
Yes, it's very likely you will be asked for KYC documents at some point when you actively play at Videoslots.
None of our UK testers were asked to submit KYC documents.  We can, therefore, at the very least state that not everyone will be asked. The likelihood of being asked to submit KYC documents will likely increase the bigger the withdrawal request becomes.